Virat Kohli's 10000 Runs In ODI | Fastest Virat Kohli's 10000 Runs Video & Twitter
Virat Kohli is arguably the best batsman of his generation. At a very young age of 19, Virat Kohli lead his side to victory in 2008 Under 19 World Cup, held in Malaysia. Post that, the entire world saw a man rise through the ranks to conquer the biggest stage in less than a decade.
Virat Kohli 10,000 Runs in ODI: Before making his debut in International cricket, Virat Kohli played 270 matches in list A cricket, scoring over 10,000 runs at an average of 54.0. Virat stepped into the International arena in 2008 and has never looked back since. The captain of Indian team made his debut in one-day cricket against Sri Lanka in 2008. He scored his first one-day international century against Sri Lanka in 2009, scoring as many as 107 runs off 114 balls. Perhaps, nobody knew at that time that he would score more than 10,000 one-day International runs in such a short space of time.
Virat Kohli's 10000 Runs in How Many Matches?
In 2018, Virat Kohli became the fastest to reach 10,000 runs in one-day Internationals, reaching the milestone in just 205 innings. Sachin Tendulkar took as many as 259 innings to achieve the feat. From making his debut in 2008 to completing 10,000 runs in one-day international runs, Virat's journey has been worth admiring.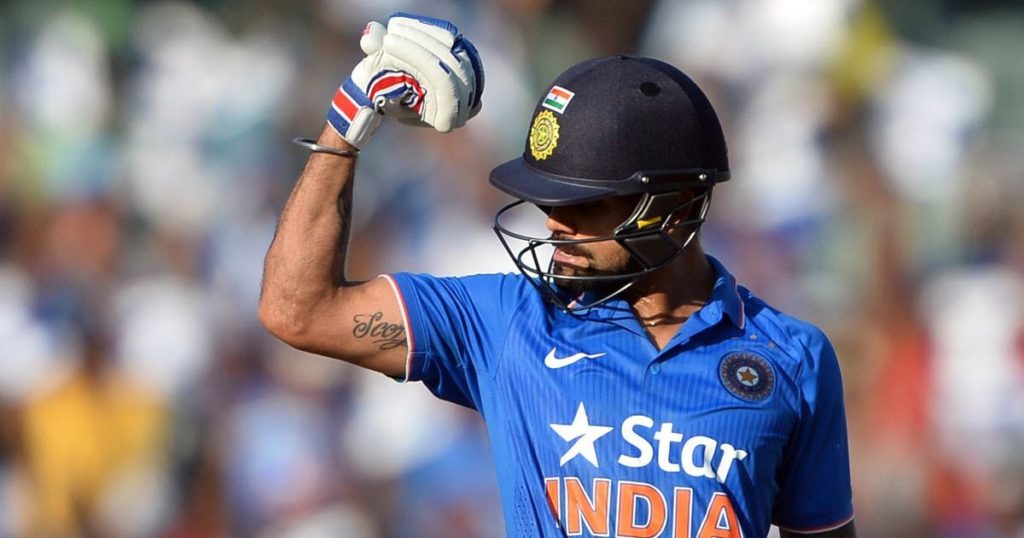 Virat Kohli 10000 Runs In Which ODI Innings?
Virat Kohli completed 10,000 runs in one-day cricket in his 205th ODI innings. Kohli at that time was the fifth Indian batsman and 13th ever to reach the feat. He completed 10,000 runs in one-day internationals in the second ODI against West Indies at Vizag. He scored 157 runs off 129 deliveries in that match, registering his 37th ODI century since making his debut in 2008.
Virat Kohli 10,000 To 11,000 Runs:
Virat Kohli has reached 1000 run-mark for ten consecutive times in his career. In the year 2018, Kohli completed the last 1000 runs in just 11 innings to reach 10,000 run mark. Virat Kohli then took just 17 more innings to complete 11,000 runs in one-day cricket. Kohli reached the feat. in a World Cup match against Pakistan at Old Trafford. Kohli took a total of 222 innings, to reach the mark, while Sachin Tendulkar took 54 innings more than Virat Kohli to reach the milestone. Virat Kohli participated in his first world cup in India's 2011 World Cup-winning campaign. He notched a century in the first match against Bangladesh. The Indian skipper scored 282 runs in nine innings at an average of 35.25. Virat at that time was one of the youngest members in the Indian team. He didn't perform phenomenally, however, given the way he played in the tournament, it was quite apparent that a star was in the making.
Virat Kohli 10,000 Runs in Test Cricket
Virat Kohli made his test debut for India against West Indies at Kingston in Jamaica on June 2011. His first test century came in the year 2012 against Australia in Adelaide. He has played 77 test matches in his career so far, however, is still a long way to go to reach the 10,000-run mark in red-ball cricket. The Indian skipper has scored 6613 runs in 77 tests he has played till now. Virat Kohli has also been exceptional in big tournaments as well like World Cups, Champions Trophy to name a few. The 30-year-old cricketer amassed 176 runs in 5 innings in ICC Champions Trophy 2013, averaging 58.76 and a strike rate of 95.65. Virat was, in fact, the highest run-scorer in 2014 ICC T-20 World Cup, boasting of 319 runs. He was also the player of the tournament, though, team India lost in the final to Sri Lanka.
Virat Kohli helped his side reach semi-finals in 2015 ICC World Cup. He scored 305 runs in eight innings, at an average of 50.83. He scored one-century and 29 fours in the tournament. In 2017, Virat Kohli became the captain of Indian Team in ODIs and T20s, thus becoming the captain of all three formats. In the same year, the Indian skipper broke another Sachin Tendulkar's record of most centuries in successful chases in ODI cricket. At that time, Virat was 2000 runs short of achieving the 10,000-run mark. Recently, the Virat Kohli led his side to reach the top of the points table in the league stage of ICC 2019 World Cup. India's, unfortunately, couldn't win the title, as they suffered a heartbreaking loss to New Zealand in the semi-finals.
Virat, though, couldn't score a century in the tournament, however, the Indian skipper amassed as many as five half-centuries, scoring 443 runs in nine innings. Virat Kohli's 10,000 runs in One-day Cricket: At the age of 30, the Indian skipper has already scored over 11,000 runs in ODI cricket and given his form and fitness standards he maintains, there is perhaps slightest of hope of adding another 7000 runs to reach achieve the feat of achieving 10,000 ODI run mark twice in his career. Virat Kohli has already completed 1000 test runs as Indian skipper outside the country. He reached the feat in 2017 on the third day of the first test against Sri Lanka at Galle.
Virat Kohli also recorded an astonishing feat in the recently concluded 2019 World Cup, reaching 1000 runs in World Cups. He is currently one of the three Indian batsmen who has reached the feat. Former cricketers Sachin Tendulkar and Sourav Ganguly are the other two Indian batsmen who have accumulated more than 1000 runs in the premier tournament.
Watch Virat Kohli's 10,000 Run Video:
Watch Indian skipper, Virat Kohli reaching the 10,000-run mark in the second ODI against West Indies at Visakhapatnam.
Virat Kohli 10,000-Run mark, Twitter Reactions:
Cricket greats from Michael Vaughan to Virender Sehwag took to twitter to congratulate the Indian skipper on achieving the feat.