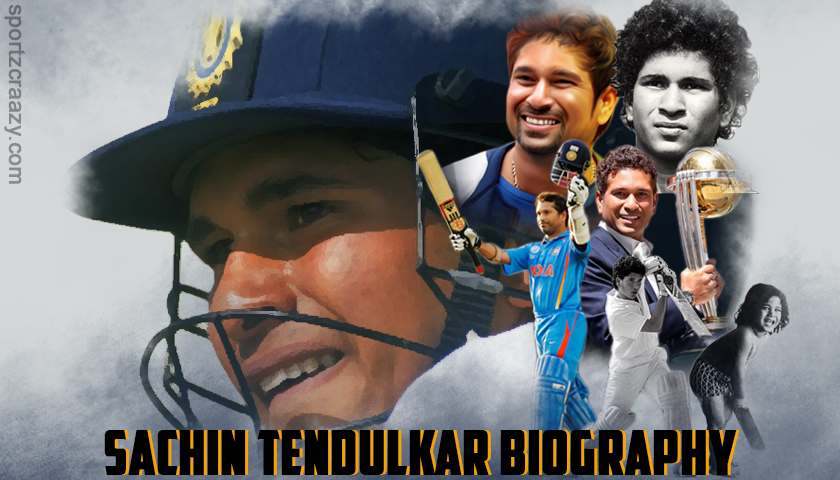 Sachin Tendulkar Biography : Sachin Tendulkar is that one name which doesn't need any formal introduction to the sports fraternity and he is undoubtedly that one person who has been cherished and loved by cricket fans from across the globe, irrespective of their Nationality.
When Sachin first made his debut against Pakistan whilst being a lad of just 16 years, no one ever thought that this curly haired chap would be ruling this gentleman's game in the times to come. Sachin Tendulkar is been deemed as "God of cricket in India" and his big list of memorable performances for his country truly justifies the same honor to every bit. While we are talking about this great cricketing personality, let's take a deep go through towards his professional and personal life down the memory lane.
Sachin Tendulkar Batting Stats
| | | | | | | | | | |
| --- | --- | --- | --- | --- | --- | --- | --- | --- | --- |
| | Mat | Inns | NO | Runs | HS | Ave | SR | 100 | 50 |
| Tests | 200 | 329 | 33 | 15921 | 248* | 53.78 | | 51 | 68 |
| ODIs | 463 | 452 | 41 | 18426 | 200* | 44.83 | 86.23 | 49 | 96 |
| T20Is | 1 | 1 | 0 | 10 | 10 | 10 | 83.33 | 0 | 0 |
| First-class | 310 | 490 | 51 | 25396 | 248* | 57.84 | | 81 | 116 |
| List A | 551 | 538 | 55 | 21999 | 200* | 45.54 | | 60 | 114 |
| T20s | 96 | 96 | 11 | 2797 | 100* | 32.9 | 121.08 | 1 | 16 |
Sachin Tendulkar Bowling Stats
| | | | | | | | |
| --- | --- | --- | --- | --- | --- | --- | --- |
| | Mat | Inns | Wkts | BBI | Econ | SR | 5w |
| Tests | 200 | 145 | 46 | 3/10 | 3.52 | 92.1 | 0 |
| ODIs | 463 | 270 | 154 | 5/32 | 5.1 | 52.2 | 2 |
| T20Is | 1 | 1 | 1 | 1/12 | 4.8 | 15 | 0 |
| First-class | 310 | | 71 | 3/10 | 3.45 | 107.1 | 0 |
| List A | 551 | | 201 | 5/32 | 4.97 | 50.8 | 2 |
| T20s | 96 | 8 | 2 | 1/12 | 7.93 | 46.5 | 0 |
Sachin Tendulkar Biography – Sachin, Being The Little Wonder from his Childhood Days Only!
Source Image
Sachin Tendulkar Biography : Sachin Ramesh Tendulkar was born on 24 April 1973 to Ramesh Tendulkar and Rajni Tendulkar and was youngest of the four siblings in the family. His father Ramesh Tendulkar was a Marathi novelist whilst his mother Rajni Tendulkar was working as an employee in an Insurance company. Moreover, Sachin got his name from Famous Indian Musician Sachin Dev Burman who was also his father's favorite music director.
Sachin used to be a big time bully and used to indulge in lots of irrelevant fights with the kids around and that's where his elder brother Ajit Tendulkar made him join cricket by enrolling into Ramakant Achrekar's cricket academy. After looking at his cricketing skills at an early age, his coach asked him to switch to Sharadashram Vidya Mandir high school due to the school's better sports facilities. That's where "Sachin" the cricketing star started grabbing the attention of numerous people around him with his breathtaking cricketing display in the school cricket. Moreover, he picked all the spotlight from the cricket fraternity after being a part of world records partnership of 664 runs ina school championship with his pal and another famous Indian cricketer Vinod Kambli.
Whilst Sachin was a taking part in the MRF pace academy's trials under the bowling great Dennis Lillee, he switched his focus to batting instead of bowling on his advice. Seems like the other legends did get a clue about another legend in making on the cricket field!
Sachin Tendulkar Biography –

Start of the Dream Journey of the "

Master Blaster

"!
Source Image
Sachin Tendulkar Biography : After grabbing all the headlines in the school cricket, Sachin finally made his debut in the first class cricket in 1988-89 for Mumbai and ended up with the highest scorer of the season as well. Moreover, even luck favored the brave as after playing for just one season for Mumbai, he got selected for the national team against Pakistan in 1989 at a tender age of 16 years.
Although the series was kind of a nightmare for the little champ, he grabbed all the appreciations from some of the cricketing legends like Kapil Dev, Javed Miandad and many others for his unbelievable aggression and technique in batting at such an early age. It was the same year when Sachin also made his debut in the One day internationals for the Indian team. That's where the dream journey for Master blaster started in the International cricket and he never looked back after that. Sachin scored two centuries in India's tour of Australia in 1991-92 and proved his prowess against some of the top class bowlers like Craig McDermott, Bruce Reid and Merve Hughes.
Sachin Tendulkar Biography –

  Sachin as an Opening Batsman
Source Image
Sachin Tendulkar Biography : None would have thought that this little master would repeat the same aggression whilst coming up the order for his team and facing some deadly bowlers around with the new ball as well. During his debut in the opening slot, Sachin played an attacking inning of 82 runs in just 49 balls against New Zealand in 1994. That was the same years when he also made his first hundred against the Australian team. Sachin never looked back and went on to create history with some of the most memorable performances on the cricket field.
Sachin's Rivalry with Warne
Source Image
Sachin Tendulkar Biography : Sachin went on to make a big mark for himself in the international cricket in the coming times and established himself as one of the best batsman on the top level. This was when Australia came to India for a series of Test and Odis in 1998 and the whole tour was been hyped as a " Sachin vs Warne" rivalry which then provided all the high-class entertainment to the spectators in the stadium and on tv in the process.
Eventually, Sachin took the battle home by thrashing not only Warne but whole Aussie bowling line up on his way to two centuries in the match series which also made his team win the three match series 2-
Sachin Tendulkar, the Captain
Source Image
Sachin Tendulkar Biography : After being the stalwart for the India team in most of the matches during his career, Sachin was awarded with the captaincy of the Indian team in 1996 but it didn't turned out to be a good decision for both India and his own individual career.
Finally, after a year full of Disappointments, he gave up captaincy in 1997 in order to focus solely on his batting. Although he took over the captaincy once again in 199 for a brief period, once again it turned out to be a nightmare for both Sachin and the team and once again, he gave up on his short stint as the Indian captain.
Sachin's Domination on the Cricket World for over Two Decades
Source Image
Sachin Tendulkar Biography : Over the next few years, Sachin became one of the most sought after batsman in the world and even the greats like Don Bradman did appreciate his class by saying "I see myself batting when I see him on the field ". Nothing can come bigger for a batsman than the cricketing legend himself praising his for his prolific batting and Sachin justified every bit of it whilst ruling the cricket fraternity for the next many years.
During the 1996 world cup, Sachin went on to become the highest scorers of the tournament and even though India got defeated in the semis by Sri Lanka, Sachin took all the honors with his batting. He carried on the same legacy forward in the next world cup as well and once again came as the highest scorer in the world cup for the second time with 673 runs to his name. Although once again he was unable to make his team win the world cup as India was nailed down by the Australian team in the finals, he was still appreciated for his attacking batting up the order.
Although Sachin went through a rough patch during his career for a brief period, he went to make a splendid comeback in 2007 against his most favorite opponent Australia in the Border Gavaskar Trophy whilst scoring 493 runs in the 4 tests he played in the series.
Claiming the World Cup Glory…Finally
Source Image
Sachin Tendulkar Biography : Although Sachin is one of the few players to feature in the 5 world cups along with Pakistani batsman Javed Miandad, he only got to taste the success of a world cup glory in 2011 whilst playing under the captaincy of Mahendra Singh Dhoni. It was also a World cup victory for the Indian team after a wait of 28 years and Sachin once again showcased his brilliance in batting whilst scoring 482 runs in the tournament which also included 2 centuries to his name.
He got a lap of honor on his teammate's shoulders after the final victory and the view was simply breathtaking and emotional for almost every Indian fan around including Sachin himself.
When Sachin Made Whole India Cry
Source Image
Sachin Tendulkar Biography : The whole world went into a shock after Sachin decided to bid adieu to his celebrated cricket career in the year 2013 after delivering some of the great cricketing memories to the world around. Whilst many did believe that he still has some cricket left in him for the coming years, Sachin felt that this is the right time and his batting and reflexes aren't as perfect as they used to be.
Sachin and His Stint in IPL with Mumbai Indians
Source Image
Sachin Tendulkar Biography : Sachin became a part of the Mumbai Indians franchises whilst being their marquee player in the inaugural season 2008. He then went on to play for the team for the next 6 season whilst being their captain and also led them in 5 of the champion's league tournaments.
One of his best seasons were the 2010 season when he outscored everyone with his prolific batting and a mammoth run tally of 618 runs in the 14 matches he played in the process. This was the time when his other mates Saurav Ganguly and VVS Laxman were reeling down with their performances in the T20 format but Sachin showed everyone why he is been called as a bating legend in almost every format. He is still a part of the Mumbai team as a mentor and helped them to win three IPL titles in the past few years.
Personal Life of the Master Blaster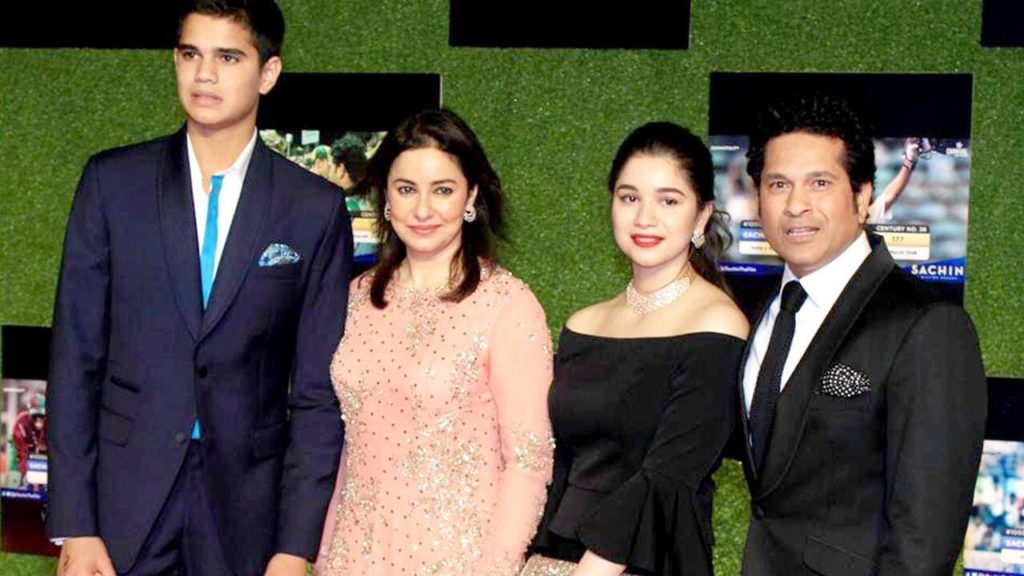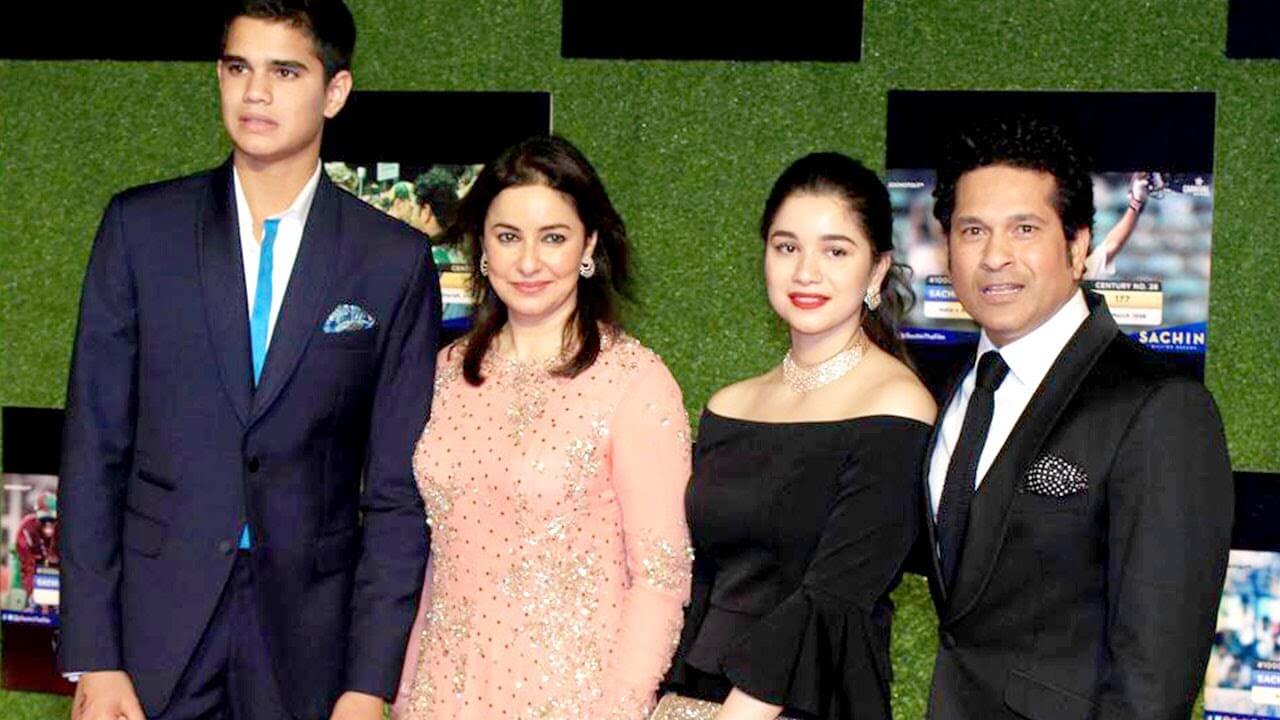 Source Image
Sachin Tendulkar Biography : Sachin was the youngest amongst the four siblings to his parents and also the naughtiest of them all. Whilst everyone knows " Sachin " the great batting legend, it was his elder brother Ajit Tendulkar, who must be given the credit for making of this class cricketer.
Sachin got married to Dr. Anjali in 1995 after both dated for around 5 years. The Couples are blessed with two children with the sin being named Arjun and the daughter named Sara. Quite interestingly, Arjun is also playing cricket at a junior level and aspired to achieve the same class like his father.
Some Unknown Facts About the Sachin
Source Image
Although Sachin always wanted to become a fast bowler, he switched to batting after being rejected in bowling by the Aussie great Dennis Lillee.
During the 1987 world cup, Sachin served as a ball boy for his team whilst India was playing Zimbabwe in a world cup match.
Sachin also fielded as a substitute fielder for the Pakistan team in a practice match at the Brabourne stadium in 1988.
Whilst making his test match debut against the Pakistani team, Sachin wore the pads gifted to him by another Indian cricketing legend Sunil Gavaskar.
Sachin bats with his right hand but he writes with his left hand.
Sachin did receive a bottle of champagne for his first man of the match after his maiden century in 1990 but he was still not allowed to pop the bottle up due to him being underage ( 18 years ).
He is also the first cricketer on the planet who is coming from a non aviation background but still been honored with the group captain rank by the Indian Air force.
Sachin walks in his sleep and he almost created many blunders whilst doing that in his cricketing days.
Most Famous Awards, Records and Recognitions Under Sachin's Name
Source Image
Sachin is the first player on the planet to score 100 centuries in the International cricket.
Sachin still got highest test runs ( 15837 ) to his name and also became the FIRST Indian player to breach the 11000 test runs mark.
He still holds the world record for scoring the most test runs away from home (8705) along with 29 centuries.
The record for scoring the most runs in a calendar year six times.
Scoring most centuries in both ODI and Test matches.
Only player to receive all the three awards: Arjuna award in 1994, Rajiv Gandhi Khel Ratna in 1997 and Padma Shri in 1999.
ICC cricketer of the year in 2010.
Sachin has also won the record number of Man of the series (16) and also the man of the matches(62).
Some of the Most "Infamous" Controversies to Sachin's Name

Source Image
Sachin Tendulkar Biography : Although Sachin has always been quoted as one of the best cricketing personalities both on and off the pitch, he still got his name dragged in some of the most unwanted controversies in the process.
During the cricket season 2001, he has been asked to remove the national flag symbol on his helmet due to the fact that his helmet was been kept with his boots in his cricket kit
Sachin was once gifted with a Ferrari by the Formula one great Michael Schumacher and whilst he was exempted to pay any duty by the government for the same, it sparked a big controversy in the country
During India's tour of South Africa in 2011, Sachin and the team were accused of ball tampering by the fellow South African cricketers. This further resulted in getting the third test deemed as unofficial
During the infamous " Monkey gate's controversy on India's tour of Australia, Sachin acted as a witness to the defense of his teammate Harbhajan Singh and he was bashed by the Australian media for the same
Sachin Tendulkar Net Worth along with his list of Endorsements
Source Image
Sachin Tendulkar net worth is been estimated at a figure of $118 million in 2017 and his house at Bandra is been valued at $5 million.
Although he has retired from cricket now, he still ended up making some great money by endorsing brands like Coca-Cola, BMW, Gillette, MRF.
Sachin owns the football franchisee Kerala blasters in ISL and Bengaluru blasters in Premier badminton league.
Sachin also owns two hotels in Mumbai which are in partnerships with one of his friends.
Sachin has also promoted the sports entertainment brand " Smaash" and he also owns some good shares in the whole firm which is currently been valued more than $100 million.