Ever since the game of cricket has come into the picture, it has seen some of the best players making their way into the record books with some memorable performances on the cricket fields. Moreover, there have been players who have mesmerized everyone with their cricketing charm and unmatched aggression on the pitch. Virender Sehwag is one such player from the Indian cricket fraternity who has not only scored tons of runs in his decade long career but also sent shivers to the spine of almost every bowler he has faced in his career with his destructive batting.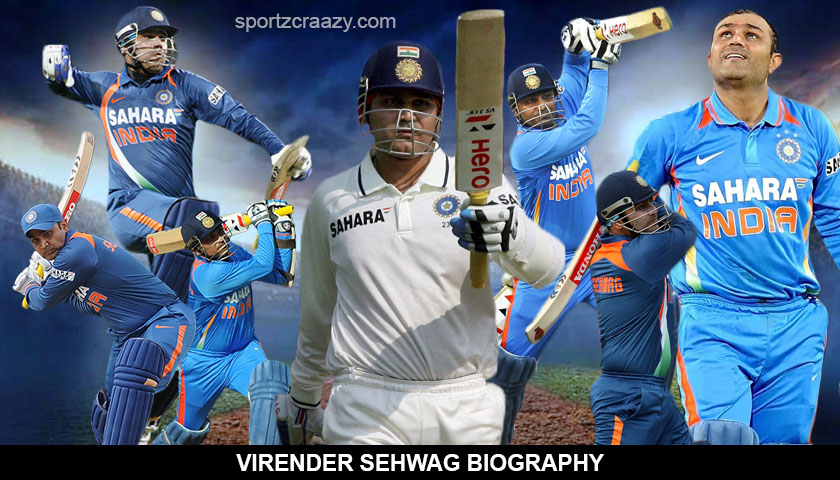 Sehwag has not only proved his prowess as a top-quality batsman up to the order for the Indian team in the past decade but would also be remembered for his pairing with another Indian cricketing legend Sachin Tendulkar in the ODI cricket. Together, they have been known as one of the most threatening opening pairs of all time in the ODI cricket history.
Early life, Family and Start of the Cricketing Passion for little " Viru"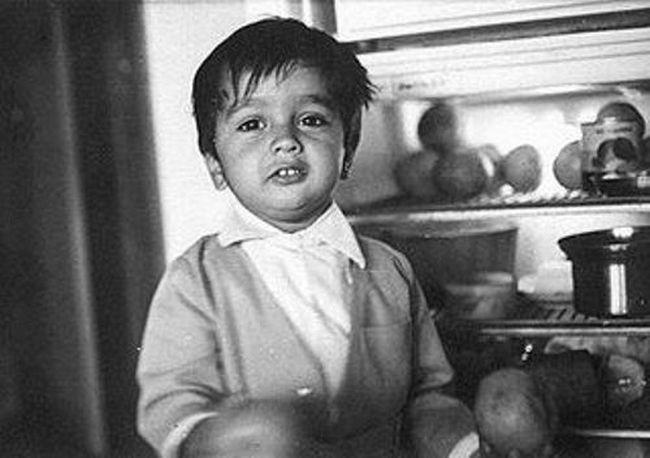 Virender Sehwag was born to a Jat family in Najafgarh, Delhi and whilst his whole family hailed from Haryana, Viru and family shifted to Delhi due to his father's business commitments. His father Krishan Sehwag was a grain merchant whilst his mother Krishna Sehwag was a housewife. Along with his parents, he got three siblings with two sisters Manju and Anju along with younger brother Vinod.
Sehwag got his interest in cricket started at a  tender age of just seven months and that's was the time when he first held a toy bat gifted to him by his father. He went to Arora Vidya School in Delhi to pursue his studies and that was when he insisted his parents let him make his future in cricket only. Sehwag later pursued his graduation in Jamia Milia Islamia and went through his cricket coaching under the supervision of famous coach Amar Nath Sharma. Quite interestingly, Sehwag was an attacking batsman within his childhood only and there was an instance when his father banned him from cricket after he broke someone's tooth with the cricket bat. Well, it was his mother who convinced his father to let little Sehwag pursue his dreams in the cricket world and that's where the journey for " Viru" got kick-started.
Kick Start of Sehwag's Domestic Career
After having a good run in some of the junior cricket tournaments, Sehwag made his debut in the Ranji Trophy for the Delhi team in the 1997 -1998 season and within his first season only, he ended up being the 5th highest scorer of the season for the Delhi team. This was something which landed him a spot in the North Zone team for the Duleep Trophy and without any surprise, Sehwag once again impressed everyone with his blistering batting in the domestic circuit and came down to the fourth spot in the top scorer's list.
Amongst these innings, he scored a splendid inning of 274 runs of just 327 balls against the south zone which was then followed by a score of 187 runs from 175 balls in the Ranji trophy against the team of Punjab. This was something that earned him a spot in the Indian U19 team which toured South Africa. He continued his brilliant run in the cricket world and it was just a matter of time when he was selected for the Indian team in the process.
Virender Sehwag's Journey in the ODIs
Virender Sehwag didn't have a good start to his ODI career when he just got our in his debut match against Pakistan for just 1 run in Mohali in 1999. This was the same match where he also didn't been able to put up any show with his bowling efforts whilst giving 35 runs in his 3 over's. After this, he didn't been able to grab a chance to feature for the next year and a half.
It was in 2000 only during the home series against Zimbabwe when he got his second chance but once again he wasn't been able to put up a good show. Finally, it was during the fourth ODI of the series with Australia, he went on to score a blistering 58 runs off 54 balls and also claimed three wickets in the match which bagged him the man of the match award.
Sehwag's Run Riot being an Opener
While Virender Sehwag wasn't been able to deliver as per the hype created around him, he has promoted up the order due to Sachin's injury and asked to open the innings by the then Captain Sourav Ganguly. This was a revolutionary moment in Sehwag's career and he went on to score his maiden ton in just 69 balls against New Zealand. Sehwag didn't look back ever after and got started with his journey to the top being a prolific batsman for the Indian team in the coming times.
Sehwag went on to score 8273 runs in the 251 matches he played in his decade long career which includes 15 centuries and 38 half-centuries.
Dominance in the Test Arena for "Sultan of Multan"
Virender Sehwag made his debut in the Test cricket against South Africa as a middle-order batsman and scored a century on debut even whilst the home team won the match eventually. Moreover, this was the same match when he has been given a one-match suspension by ICC for over appealing and he only gets to play again for the Indian team again during the home series against England and the Zimbabwe team and after getting to score two half-centuries in the process, he was also promoted to open the innings along with the wicketkeeper-batsman Deep Dasgupta during the England tour.
Sehwag grabbed the opportunity with both hands and scored an impressive 84 in his new role whilst scoring a century in the next match. Whatever happened there after is history for this brilliant Indian opener as he went to create a big mountain of runs to his name with some commendable records in the test cricket.
It was during the test series with Pakistan on their own soil, when he became the first Indian player to score w triple century and this was the same innings which earned him the name " Sultan of Multan".
Virender Sehwag Rough Patch during his Career
Virender Sehwag didn't always have a good run in his International covered and he has given through a rough patch just like any other cricketer on the planet. Moreover, He didn't have a good run in the 2003 world cup as he only scored 299 in the whole tournament when Indians lost to Australia in the finals even after putting some great show in the whole tournament. It was during that time when Sehwag was really struggling for form and he didn't have some bad series against the team of Bangladesh and Zimbabwe as well.
Well, that was just a momentarily issue with this sublime cricketer as he came back in a series against Pakistan in Lahore whilst scoring the fastest double century with 254 runs to his name. Sehwag did seem like having a perfect touch against the Arch rivals Pakistan as he averaged above 90 against that team with four centuries against them in the process.
End of the " Sehwag" Era
Virender Sehwag bid adieu to his celebrated career on 20th October 2015 and whilst he has a brilliant run in both test and ODI cricket for his country, he went on to score 8586 runs in 104 matches that he played in the longer format of cricket.
He further scored 23 centuries and 32 half-centuries which along with 6 double centuries in the process. His retirement left a big void in the Indian national team and the Indian fans did miss his attacking and fearless style of cricket in the times to come.
Awards and Records to Viru's Name
Virender Sehwag holds the record for being the only opening batsman to score more than 7500 runs in both Test and ODI cricket.

He holds the record for scoring the fastest triple century in just 278 balls against Pakistan.

He holds the record for the highest-ever test score with a strike rate of more than 100.

Sehwag also holds the record for scoring the most number of test triple centuries (2) along with Cricket greats like Sir Don Bradman, Brian Lara, and Chris Gayle.

He is also the only cricketer to score two Test centuries and take 5 wickets in an innings.

He also holds the record for having the highest strike rate amongst cricketers scoring more than 2000 runs.

Sehwag received the famous Arjuna award in 2002 whilst getting honored with Padma Shree in 2010.

He also grabbed the award for the ICC test player of the year in 2010.
Sehwag also won the award for being the Wisden leading cricketer in the world for two consecutive years (2008-2009).
Personal life of Sehwag along with Controversies in his life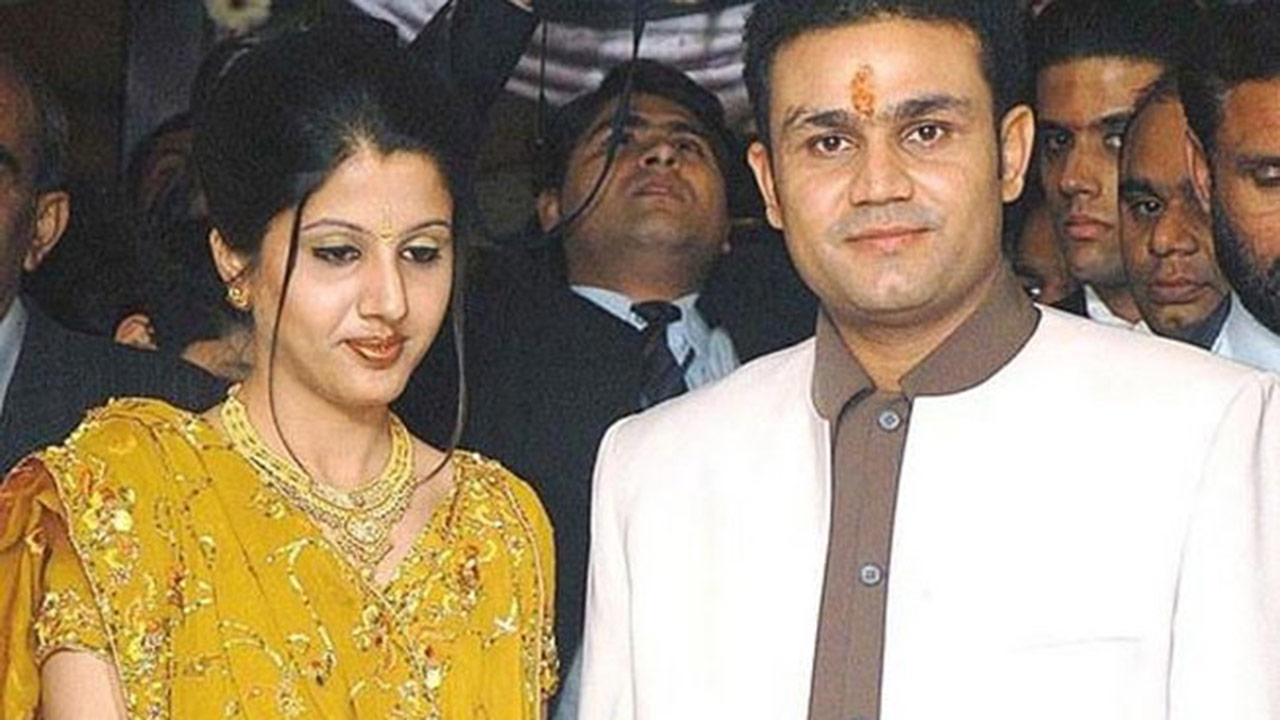 Virender Sehwag got married to Arti Ahlawat in April 2004 in a much-hyped wedding ceremony hosted by then DDCA chairman and Union minister of India, Arun Jaitley at his own residence. They both got blessed with two children namely Aryavir in 2007 and Vedant in 2010.
Moreover, it was his father's dream to open a school where students can pursue their studies along with sports and Sehwag made this dream true by inaugurating his own Sehwag International School in Jhajjar Haryana. The land for the same was allotted to Sehwag by the Haryana government after his brilliant triple century.
Coming towards the controversies he faced, Sehwag did get suspended by ICC for his over appealing in the second test match against South Africa and it was the same match which led to a string of further controversies in the same regards. Moreover, the argument between the two cricket boards along with ICC went that further that ICC warned India that if Sehwag was been allowed to play in the subsequent match, the match would be deemed as "Unofficial" by ICC. In one of the interviews with news channels, Sehwag agreed to the fact that he was thinking of retirement from the test cricket after the same but was been stopped by Sachin at that time.
Some Unknown Facts about Sehwag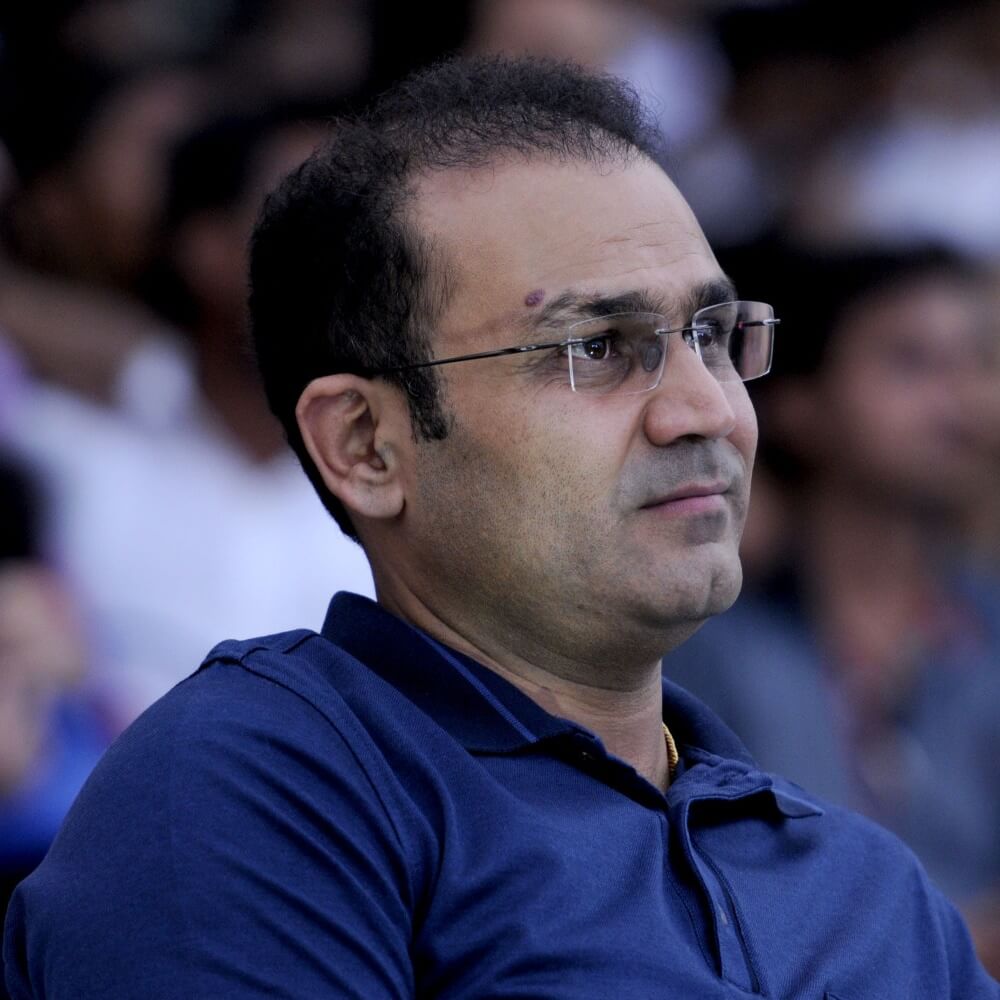 Sehwag is a big-time foodie and his favorite dish is the homemade ' kheer" made by his mother.

Sehwag was usually been known as " Little Tendulkar" simply because of his identical style of play with the other Indian legend.

Sehwag usually loves to listen to Indian music and this is also his favorite time pass activity.

Sehwag is the only captain in the international cricket who has scored a double hundred during his captaincy.

Sehwag announced his retirement from all forms of cricket in 2015 on his birthday and he was surely one of the only cricketers on the planet to do that on his special day.

Sehwag generally believed that if e wasn't been a cricketer, he could have been a farmer just like his father.
Virender Sehwag Net Worth & Endorsement Deals
While Virender Sehwag has earned a lot of name with the entire attacking and fearless cricket he played through to his cricket career, he earned some good money in the process as well. After he got retired from Cricket, he went into the mentor's role for the IPL franchise Kings XI Punjab and got some good money form all the endorsements he did in the process as well. As per the Forbes report in 2017, Sehwag held a net worth of $40 million.
During his career, Sehwag has got some good money by endorsing various brands like Adidas, Reebok, Boost, Samsung Mobiles, Hero Honda, and Karbon mobiles. As of now, he is still endorsing brands like My Team11, Dabur, Dr. Ortho and so on. Apart from his endorsements, Sehwag also earns in the lieu of $3 million from all the tweets he does on social media and he accepted the same fact in on me of his interviews.
He also got some big luxury cars at his places like Bentley and BMW and recently bought a big house for his family in Delhi nearby the Hauz Khas area. Along with that, he got several investments in the hotel and also got a school with the name Sehwag International School in Jhajjar, Haryana.
Please follow and like us: