| | | |
| --- | --- | --- |
| | Full Name: | Virender Sehwag |
| | Nickname: | Viru & Sultan of Multan |
| | Profession: | Cricketer, Cricket Commentator |
| | Date of Birth: | October 20, 1978 |
| | Age: | 41 Years |
| | Birthplace: | Najafgarh, Delhi, India |
| | Nationality: | Indian |
| | Religion: | Hindu |
| | Hobbies: | Cricket and Music |
| | Marital Status: | Married |
| | Height: | 5 ft 6 in |
| | Weight in KG: | 63 kg |
| | Eye Color: | Black |
| | Mother: | Krishna Sehwag (Housewife) |
| | Father: | Krishan Sehwag (Businessman) |
| | Siblings: | 1 (Brother), 2 (Sister) |
| | School: | Arora Vidya School |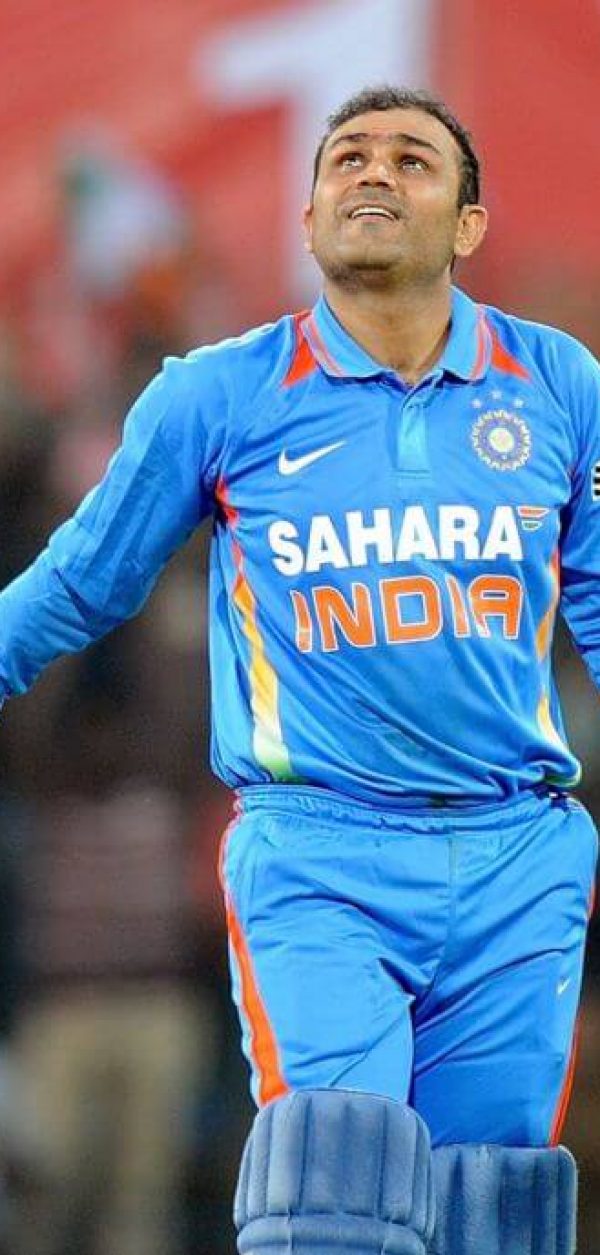 Virender Sehwag's Biography
The swashbuckling former Indian opener, Virender Sehwag is considered as one of the most destructive batsmen in the world. Virender Sehwag is known to clear the ropes in the just the first ball of the innings as his aggressive approach on the field has seen him demolish the opposition's bowling attack. The "Nawab of Najafgarh" has been the nightmare of the opposition bowlers since the day he started opening the innings for the Indian team. 
Sehwag made his International debut against Pakistan in an ODI match in Mohali on April 1, 1999. The 21-year-old came in to bat at the 7th down and he was bundled out cheaply by Shoaib Akhtar. However, he was promoted to bat as an opener in the coming matches and the rest is history. Two years later Sehwag made a cut into the Test team against mighty South Africa where he hammered a century on his test debut. Sehwag has been a great admirer of Sachin Tendulkar due to his batting techniques and loved watching him bat from the non-striker's end. But he himself had a subtle and unorthodox technique of batting, especially for his square cuts and uppercuts. 
Sehwag announced his retirement from the International cricket on 20th October 2015 after getting ignored by the national team selectors for over two years. He played his last international match against Australia in a Test match at Hyderabad in March 2013. Sehwag is currently into a part of the commentary panel and does good commentary in both English and Hindi. 
Virender Sehwag's Personal Information
Sehwag's Date of Birth: Virender Sehwag's birthday is on 20th October 1978. He was born in Haryana but his family shifted to Najafgarh so he spent his childhood in Najafgarh, Delhi. In fact, after his success, people started calling him the "Nawab of Najafgarh". 
Sehwag's Age: Virender Sehwag's age is currently 41 years old and there is still a lot of cricket left in him. Recently, Sehwag smashed 74 runs off 54 balls in the Road Safety Match against West Indies Legends in march 2020 which shows he isn't rusty till now. 
Sehwag's Height: Virender Sehwag's height is 5 ft 6 In (1.67 metres)
Virender Sehwag's Family Information
Virender Sehwag was born in a Jat family involved in the grain business. Sehwag has always lived in a Joint family including his three siblings, sixteen cousins and uncle and aunts. After a few years of his birth, Sehwag family shifted to Najafgarh in Delhi where he attended his school and also enrolled himself into a cricket academy.

Virender Sehwag is the third child of Krishan and Krishna Sehwag after his sisters Anju and Manju Sehwag. Manju Sehwag is a politician of the Indian National Congress and a representative of Ward 180 of Dakshinpuri Extension Delhi. 
Sehwag got married to his longtime friend Aarti Ahlawat. When Sehwag was 21 years old he proposed her and the couple finally tied the knot on 22nd April 2004. The couple gave birth to two sons: Aryavir Sehwag and Vedant Sehwag. Aryavir is the elder son as he was born in 2007 while Vedant was born in 2010. 
Virender Sehwag's Career Stats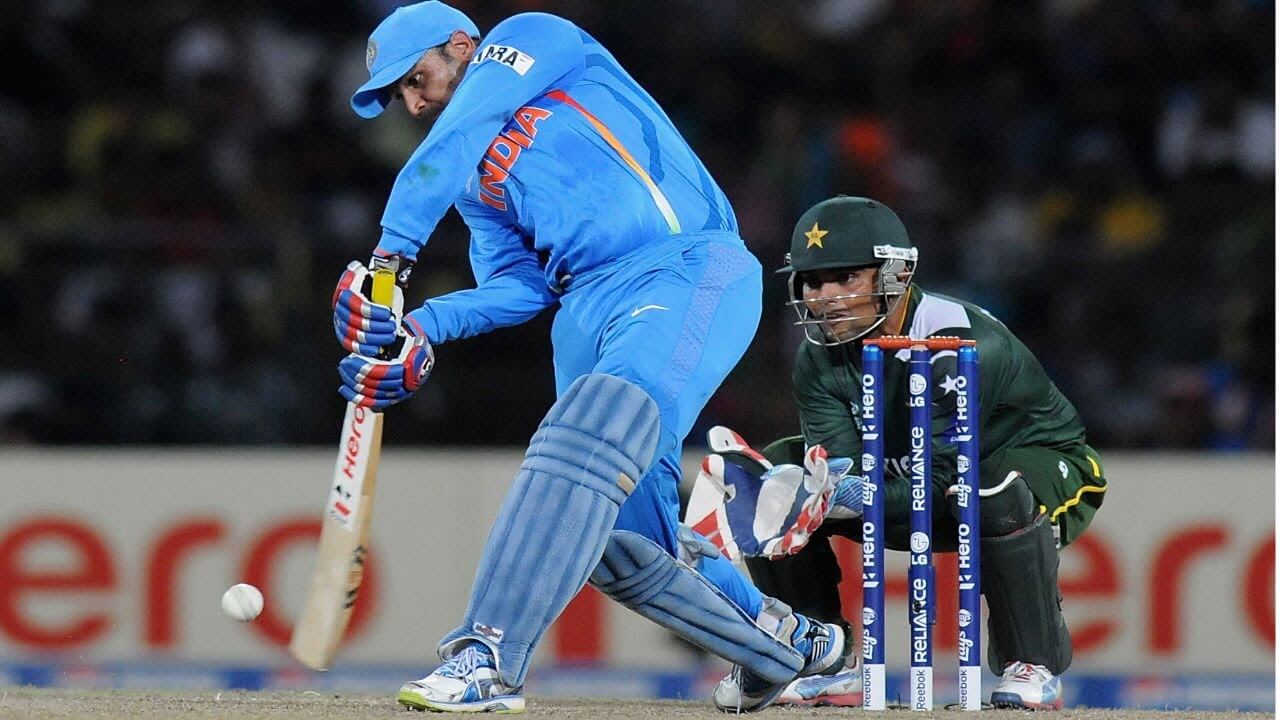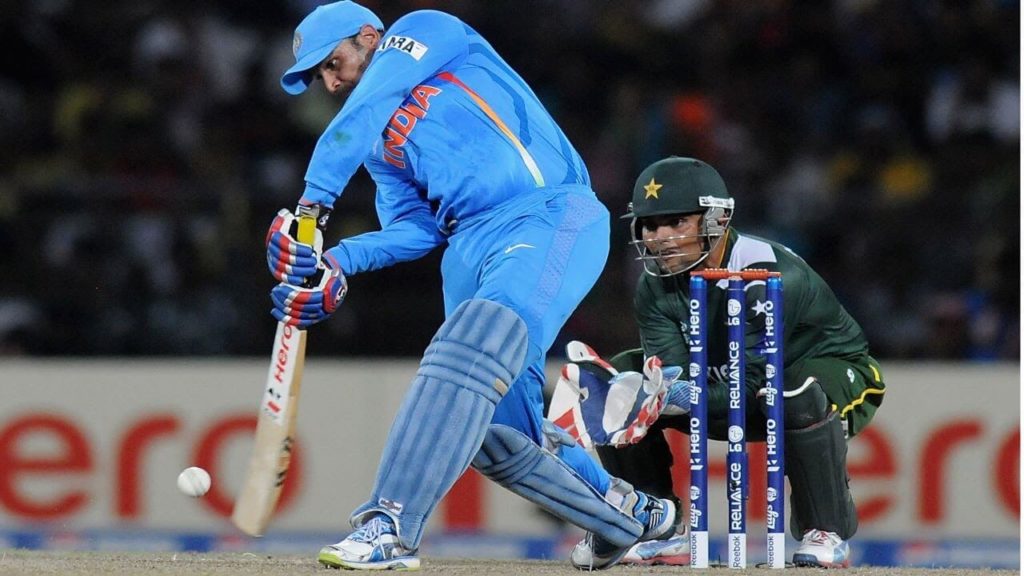 Virender Sehwag started his career as one of the most promising batsmen in the Indian team down the order. Unfortunately, he wasn't able to deliver up to the expectations. It was under the skipper Sourav Ganguly that he was promoted up the batting order and started opening the batting for the side. 
Sehwag made his ODI debut against Pakistan in 1999 but it was not an impressive start to his international career. The right-handed batsman was known to be one of the most destructive batting style. Perhaps, he got a few more opportunities and he did bank on those chances as cemented his place in the Indian side. The 21-year-old Sehwag had a dream debut in the white jersey as he scored a century in his first-ever test match against South Africa. 
A few months later he was promoted as an opener and started opening with the batting great Sachin Tendulkar as the duo went on to have one of the highest opening partnerships in the World cricket, compiling 3919 runs at a combined average of 42.13, 12 centuries and the highest single inning partnership of 182 runs. 
Sehwag has played 104 tests and scored 8586 runs at an average of 49.34 including 24 centuries. In the One Day Internationals, Sehwag has played 251 matches and piled 8273 runs at an average of 35.05. His highest score in ODI is 219 against West Indies in 2011. 
The Swashbuckling opener could only play 19 T20Is, scoring 394 runs at an average of 21.88. To check out his career stats, click on Virender Sehwag's career stats!
Virender Sehwag's IPL Career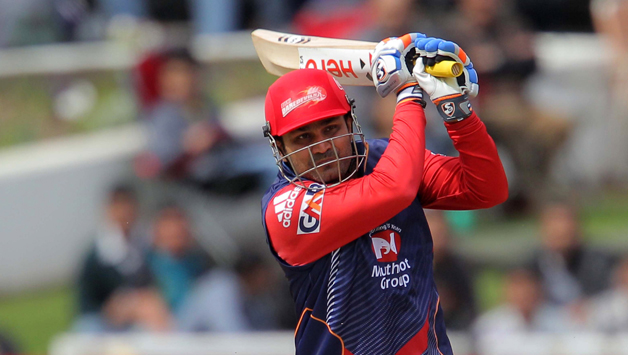 Sehwag was way ahead of the other players in playing the aggressive form of cricket, and when the BCCI came up with the Indian Premier League. Sehwag knew he could use some of his signature shots at will in the cash-rich T20 league as he was roped in by the Delhi Daredevils (now Delhi Capitals). Sehwag was the skipper of the Delhi franchise as he led them to one of the best seasons in 2010 when they reached the semi-finals but lost to Kolkata Knight Riders. 
Sehwag did peak individual success but couldn't win a single title for the Daredevils. In 2014, he joined Kings XI Punjab and with his dashing and destructive form, he led Kings XI Punjab till the finals as he scored 122 runs in the semi-finals match against the Chennai Super Kings. 
Two years after joining the KXIP as a player, Sehwag took over the job of the mentor of the franchise as he mentored them for three consecutive seasons between 2016-2018 before parting ways with them. 
As a player, Sehwag scored 2728 runs in 104 matches in the Indian Premier League at an average of 27.56. His IPL career also includes two centuries, one of which came against CSK in the semi-finals of 2015 season as KXIP advanced into the finals. 
Virender Sehwag's Achievements
# Achievements
Virender Sehwag still holds the record of the highest score in an innings by an Indian batsman in the Test cricket when he scored 319 runs against South Africa in 2008. 

He also holds the record for becoming the first-ever Indian batsman to score a triple century in test cricket when he smashed 209 runs against Pakistan in 2004 at Multan, that earned him the nickname "Sultan of Multan". He has scored two triple centuries in his career. 

He became the first Indian skipper to score a double century in the ODI when he scored 219 runs off 149 balls. He led the Indian team in absence of the regular skipper MS Dhoni. 

Sehwag also holds the record of scoring the fastest triple century in Test cricket in just 278 balls. 

Sehwag has the most number of 290+ scores in test matches (scored triple century on two occasions)

Virender Sehwag's achievements also include him scoring over 7500 runs in both tests and ODI as an opener. 

Sehwag is one and the only cricketer in the world to have a rare feat of taking five wickets in an innings along with two consecutive double-century partnerships in test cricket. 

# Awards
In 2002 Virender Sehwag received the Arjuna Award by the Ministry of youth affairs and sports for his contribution to Cricket. 

In 2007 the former Indian opener received Polly Umrigar Award for international cricketer of the year. 

He was the recipient of the Wisden Cricketer in the World for two consecutive years in 2008 and 2009. 

Sehwag was named the ICC Test Player of the year in 2010. 

In 2010 he was conferred with the Padma Shree Award.
Virender Sehwag's Net worth
Virender Sehwag's net worth is currently $40 million (305 crores) as of 2020 and most of it comes from his business ventures, brand endorsements, and commentary contract with the BCCI. Sehwag is known to be one of the most money-minded cricketers as he already paved the path of his income even after his retirement.

Here is the breakdown of Sehwag's net worth and income:
Sehwag has opened a school and named it Sehwag International School which is located in Jhajjar, Haryana. The school has A-class facilities for the students who aspire to be a sportsman. 

He launched his own sportswear brand named 'VS' which is managed by Viru Retail Pvt. Ltd and Stitched Textiles Pvt. Ltd. With the motive of earning over Rs. 22 crores (estimated) per year, Sehwag launched over 50 stores in the country. 

Sehwag endorses the following brands: Boost, Samsung Mobiles, Adidas, Reebok, Hero Honda, etc. and he charges a hefty amount from them for the endorsement. 

He has his own house in Najafgarh but recently he bought a mansion in the Hauz Khas which is one of the posh areas of New Delhi. 

Sehwag also rakes in a handsome amount from the BCCI for his commentary contract. Besides, he was also the head coach of Kings XI Punjab earning him a good amount of money. 

Sehwag owns one of the most luxurious cars in the world and some of them include Bentley Continental Flying Spur (Rs.3.41 crores) and a BMW series cars. He is one of those cricketers to show his fascination for the Big toys. 

Virender Sehwag is a philanthropist by nature as he donates in various charity foundations and also feeding the migrant labourers. 
Virender Sehwag's Controversies
Seems like diplomacy is not Virender Sehwag's forte as he tends to live his life on a simple and upfront attitude. But when you are a prominent figure and also represented your country for over 15 years, the controversies surely hit on you at least once in any part of your career. Sehwag is known for a free mind and expressing his views, regardless of what others think and opine. 
Here is the list of Virender Sehwag's controversies on and off the field that has caused him troubles on some occasions: 
The cold war with MS Dhoni that barred him from the Indian team: This ought to be the mother of all controversies in Virender Sehwag's career during his playing days. There have been instances when both Dhoni and Sehwag were seen teasing each other in the dressing room which sometimes didn't end up well. The tiff between them caused unrest in the Indian dressing room which was followed by the team's disastrous run in England and Australia in 2011-2012. Sehwag was also going through a rough patch of his career as he was not among the runs for almost a year. Eventually, he was dropped from the side as the youngsters took over his place. Later, Sehwag revealed that MS Dhoni didn't want him along with two other players in the team due to their slow fielding. He also alleged that MS didn't even consult with them before saying it in front of the media. Because of that particular incident, many also criticise Dhoni for literally ending Sehwag's career.
Controversial tweet that incited communal controversy: Virender Sehwag almost put himself in a controversy as he tweeted on an incident in 2018 when a tribal man was killed in Kerala by a mob. Sehwag gave a communal angle to that incident with his tweet but received criticism by the people which led him to delete that tweet in order to not get in trouble. 
Madhu stole 1 kg rice: A mob of Ubaid , Hussain and Abdul Kareem lynched the poor tribal man to death. This is a disgrace to a civilised society and I feel ashamed that this happens and kuch farak nahi padta. pic.twitter.com/LXSnjY6sF0
Banned for excessive appealing against South Africa: This controversy doesn't only involve Virender Sehwag but three other Indian players Deep Dasgupta, Harbhajan Singh and Shib Sunder Das as they were alleged for excessive appealing against South Africa at Port Elizabeth. Match referee Mike Dennes came down really hard on the Indian players as he handed them suspension for the excessive appealing. But the naive Sehwag was the only one who ended up with the suspension. Indian team still picked Sehwag for the test series against England on which ICC issued a statement saying that any match involving Sehwag would be termed "unofficial" until he serves one ban imposed on him.
Missed his century by 1 run: This on-field controversy involving Virender Sehwag and Suraj Randiv takes us back to the tri-series between Indian, Sri Lanka and New Zealand. Apparently, Virender Sehwag was batting on 99* and the Indian team required just one run to win the match. Randiv deliberately bowled a no-ball and Sehwag hammered him for a six. Initially, Sehwag thought that he had earned those six runs as he started celebrating his century and team's victory. But during the post-match presentation when he was adjudged the Man of the Match, he realised that the no-ball denied him his well-deserved century which he immediately cited signifying the length of the no-ball and subsequently, Randhiv was banned for one match while Tillakaratne Dilshan had to give up his one match's fees.
Sehwag has also hit the limelight for some of his cheeky yet sarcastic tweets when he has taken a jibe at some of the current and former cricketers. 
Virender Sehwag's Social Media
The former batsman is known to be a social media buff and his presence can be felt mostly on Twitter as he leaves no stones unturned in keeping his fans engaged and putting his honest opinions.
Sehwag also keeps his fans engaged on Instagram by posting pictures and giving his fans a glimpse of his daily life. The swashbuckling opener has 5.3 million followers on Instagram, 20.6 million followers on Twitter, and 14 million fans on Facebook.