KL Rahul

REAL NAME:

Kannur Lokesh Rahul

BORN:

1992, April 18

ZODIAC SIGN:

Aries

BIRTH PLACE:

Mangaluru, Karnataka

NATIONALITY:

Indian

RELIGION:

Hinduism

HEIGHT:

180 cm | 1.8 m | 5'11"

WEIGHT:

74 KG | 165 LBS

EYE COLOR:

Black

HAIR COLOR:

Black
Batting Career Details
| | | | | | | | | | | | |
| --- | --- | --- | --- | --- | --- | --- | --- | --- | --- | --- | --- |
| | M | Inn | Runs | HS | Avg | SR | 100 | 200 | 50 | 4s | 6s |
| Test | 36 | 60 | 2006 | 199 | 34.59 | 56.46 | 5 | 0 | 11 | 237 | 14 |
| ODI | 24 | 23 | 710 | 111 | 37.37 | 78.45 | 2 | 0 | 4 | 58 | 10 |
| T20I | 34 | 31 | 1138 | 110 | 43.77 | 146.46 | 2 | 0 | 8 | 102 | 50 |
| IPL | 67 | 58 | 1977 | 100 | 42.06 | 138.16 | 1 | 0 | 16 | 176 | 81 |
Bowling Career Details
| | | | | | | | | | |
| --- | --- | --- | --- | --- | --- | --- | --- | --- | --- |
| | M | Inn | Runs | WKTs | Econ | Avg | SR | 5W | 10W |
| Test | 36 | 00 | 00 | 00 | 00 | 00 | 00 | 00 | 00 |
| ODI | 24 | 00 | 00 | 00 | 00 | 00 | 00 | 00 | 00 |
| T20I | 34 | 00 | 00 | 00 | 00 | 00 | 00 | 00 | 00 |
| IPL | 67 | 00 | 00 | 00 | 00 | 00 | 00 | 00 | 00 |
KL Rahul Biography
The 27-year old right-handed batsman, hailing from Karnataka, Kannur Lokesh Rahul or KL Rahul began playing cricket in the grass-less field of National Institute of Karnataka where his father is a professor in the Department of Civil Engineering.
He is young but is blooming with unmatchable talent. He is the first Indian to score a century on One Day international debut and a third Indian o score a century in the three formats of international cricket. He might have faced certain lows in his career, but his team realizing the beauty of his talent didn't stop giving him chances and he stood by those chances always making a comeback from any defeat in his career.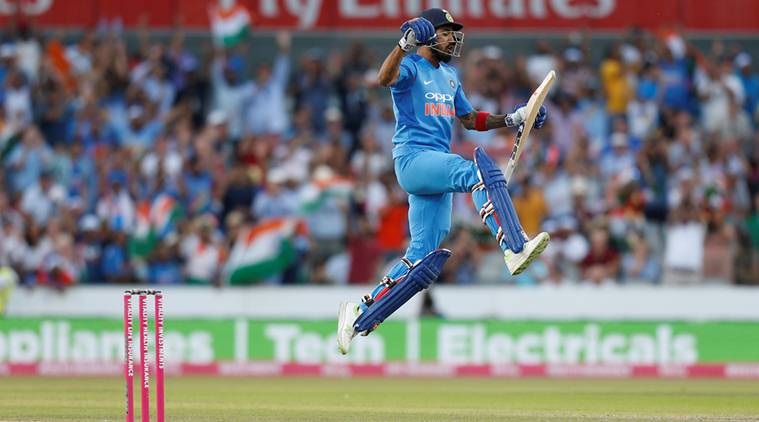 Let's take a glance at his remarkable journey.
KL Rahul Personal Life:
KL Rahul was born on 18 April 1992 in Mangalore and was brought up with his younger sister Bhavna. Both his parents are in the academic profession. KL Rahul's full name is Kannur Lokesh Rahul. His father is an academic in Civil Engineering and his mother is a History professor. In a chat-show, Rahul revealed the secret of his name. He was christened with "Rahul" because of Shahrukh Khan's character in "Kuch Kuch Hota Hai".
Rahul started playing cricket at a young age of 11 and moved from Mangalore to Bangalore at the age of 18 to pursue his career in the sport. He reportedly wanted to grow long hair but his teacher asked him to do so after achieving something in his life.
Till 2018, Rahul was reportedly dating Elixir Nahar, an Indian model, and anchor. Rumors were floating across that Rahul was dating Bollywood actress Nidhhi Aggarwal in 2018. But both of them refused the rumors terming themselves as "friends".
He is considered one of the most stylish Indian cricketers and git his first tattoo at the age of 15. It seems when his mother learned about it, she was upset to the extent that she didn't speak to him for days.
Rahul believes if not cricketer, he would have lived to become a soldier.
He has been trained under Samuel Jayaraj, GK Anil Kumar, Somshekhar Shiraguppi, and Devdas Nayak.
KL Rahul Domestic Career:
His first cricket debut for Karnataka was in the 2012-13 season. He went on to score 1033 runs in the 2013-14 season becoming the second-highest scorer of the tournament.
He also represented India at the 2010 ICC Under-19 Cricket World Cup with a score of 143 runs.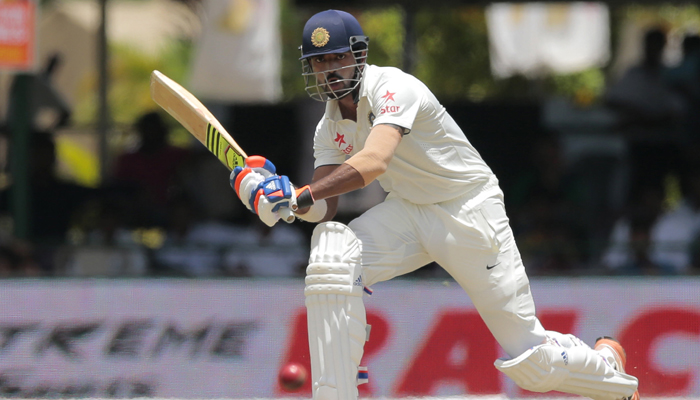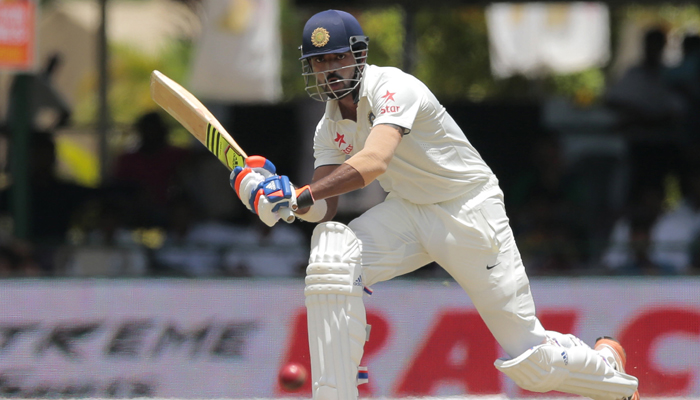 He scored a century in both the innings of the 2014-15 Duleep Trophy final playing for South Zone. 185 off 233 balls in the first innings and a 130 off 152 balls in the second innings. This made him win the "Man of the Match" and earned a Test call for the Australia series down under in 2014.
In the 2014-15 season, Rahul became the first player from Karnataka to score a triple century in first-class cricket. He scored a mammoth 337 off 448 balls against Uttar Pradesh. He scored 188 runs against Tamil Nadu in the finals, finishing the season at an average of 93.11 from 9 matches.
KL Rahul International Career:
He made his Test debut in the 2014 Boxing Day Test at the Melbourne Cricket ground by replacing Rohit Sharma. He made three runs in the first innings and only one run in the second innings. He was low on confidence with his performance but managed to retain his place for the Test at Sydney. His dissatisfaction with his underperformance made him score 110 runs where he opened the innings with Murali Vijay.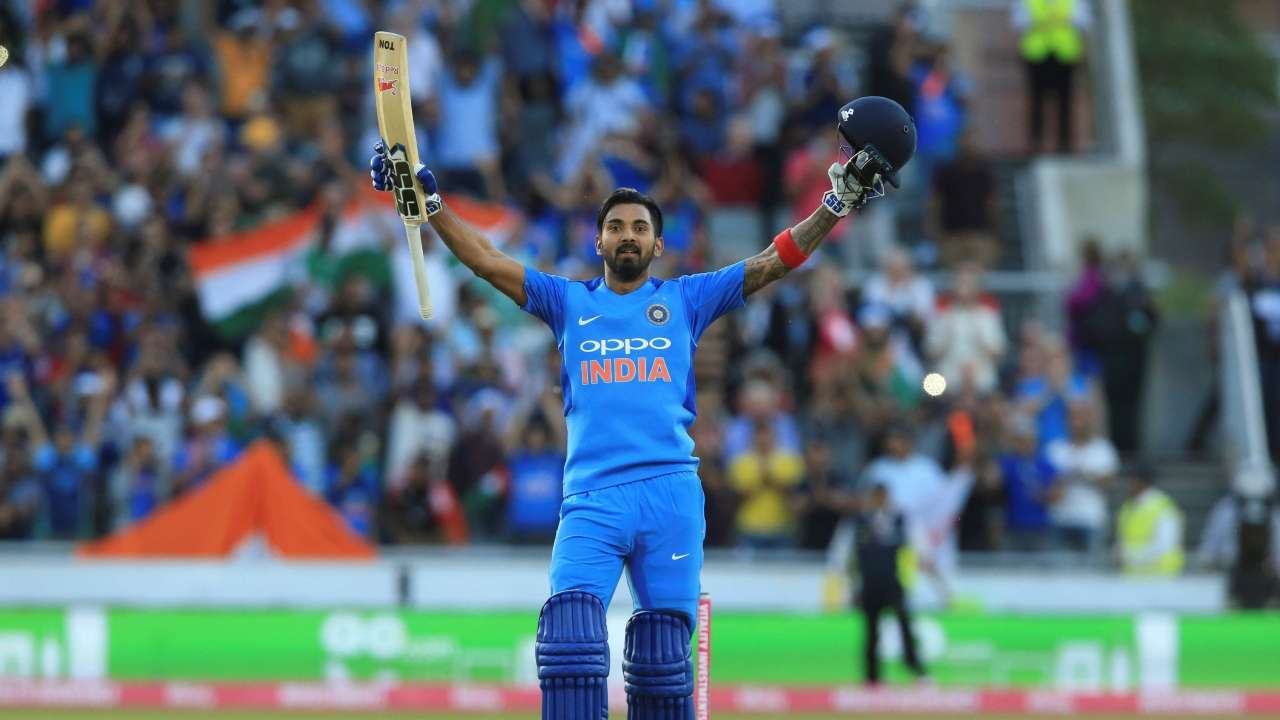 He was named player of the match when he scored his second Test century in the Sri Lankan tour in 2015.
He made his ODI debut for India on 11 June 2016 against Zimbabwe at Harare Sports Club, become the first Indian to score a century in a debut. He has played 13 ODIs with a score of 137 runs at a strike rate of 80.66.
Rahul's career suffered a setback with his poor performance in Test cricket in 218. He struggled through all the overseas tour in red-ball cricket. He failed to grab easy chances even against weak teams hosted in own country. He was eventually replaced by the Test cricket by Mayank Agarwal from Karnataka.
He still managed to bag a massive 11 crore IPL contract and ended up as Punjab's best batsman.
Despite his problems in the career, he has remarkable achievements in his kitty.
He became the first Indian batsman to get out at the first ball for zero in a T20I match. He scored the fastest T20 century for India against West Indies in the United States. He is also the first player in T20 history to score a century while batting at the number 4 position or lower.
In the T20 against England on 3 July 2018, Rahul smashed his second T20 hundred. He is also the first Indian batsman to be dismissed hit-wicket in T20s.
He scored an amazing 158In the second Test at Jamaica against the Windies. Later in the T20I series in the United States, he scored a century off only 46 balls, the fastest by an Indian batsman. Rahul set the record for the fastest batsman to have scored centuries in all three formats in just 20 innings surpassing the record of Ahmed Shehzad who took 76 innings.
He was named in India's squad for the 2019 Cricket World Cup in April 2019.
KL Rahul in IPL:
Rahul's debut in the IPL was with Royal Challengers Bangalore (RCB) in 2013 as a wicket-keeper batsman. Sunrisers Hyderabad signed him for INR 1 crore ahead of the 2014 IPL. He returned to RCB before the 2016 IPL season. He finished the season with 397 runs from 14 matches. He ended up being the 11th highest run-scored and RCB's third-highest run-scorer. He could not play the 2017 season due to a shoulder injury.
Kings XI Punjab bought him for INR 11 crore in 2018. He scored the fastest 50 in IPL history in the team's first match of the season. Sunil Narine's record was broken.
Scoring 90+ three times in 2018, he made his maiden IPL century in 2019; against Mumbai Indians scoring 10 not out from 64.
KL Rahul Controversies
BCCI did not like it when Rahul posted a photo of beer with his friends on Twitter during a day off in West Indies in July 2016. Rahul deleted the photo immediately on orders from BCCI.
The major controversy in KL Rahul's life was in 2019 about sexist remarks along with Hardik Pandya in Karan Johar's talk show "Koffee with Karan". The cricketers made some misogynistic comments in talking about their relationships and crushes.
The BCCI Ombudsman DK Jain directed the two cricketers to donate a sum of INR 1 lakh each to widows of 10 constables in paramilitary forces who lost their lives on duty. They were also asked to pay INR 10 lakh each in the fund created by the Cricket Association for promotion of game for the blind.
BCCI suspended both the cricketers and was sent home before the ODI series against Australia. The fact that the two players were sent back from overseas tours based on disciplinary action was the second time in the 82 years history of Indian cricket.
In 1936, the legendary Lala Amarnath was sent from India's tour of England on disciplinary grounds.
 The suspension a later removed and Rahul re-joined the squad for India A matches.
Rahul scored 50 and 47 in the two-match T20I series against Australia, the first international series since the chat-show controversy.
KL Rahul Career Facts:
| | |
| --- | --- |
| First Test Debut | 26 December 2014 against Australia |
| First ODI Team | 11 June 2016 against Zimbabwe |
| First T20I debut | 18 June 2016  with Zimbabwe |
| Playing Rule | Batting and wicket-keeping |
| Batting Style | Right-handed |
| Bowling Style | Right-arm medium bowler |
Rahul is the recipient of the Game Changer of the Year Award for the contribution against Australia.
In the sixth edition of Wisden India Almanack, he was honored with the "Cricketer of the year".
KL Rahul Personal Information: 
Favorite Cricketers – Rahul Dravid, AB De Villiers, Virat Kohli
Favorite Athlete – Usain Bolt, Roger Federer
Favorite Footballer – Zlatan Ibrahimovic, David Beckham
Favorite Football Club – Manchester United FC
Favorite Actor – Ranbir Kapoor
Favorite Actress – Aishwarya Rai, Alia Bhatt
Favorite Food – Sushi, Bhindi curry
KL Rahul 5 Best Performances in T20Is:
*As discussed above Rahul scored 46-ball century against West Indies in the first match of the T201 series in the United States of America in 2016. It was the second-fastest century in T201 and the fastest by an Indian.
*In a match against England at Manchester, India lost Shikhar Dhawan quite early but Rahul handled the game really well. He scored 10 fours and five sixes in the innings and scored 61.96% of all the runs India made (160 runs).
*Rohit Shama and Rahul opened the wicket against Sri Lanka in Indore in 2017 putting on 165 for the opening wicket. Rohit was dismissed when Rahul was on 46 in 33 balls. Handling the game, he scored 43 in the next 16 balls. India made a record-breaking 260/5 in the innings and won the match by 88 runs.
* He scored 71 runs in 47 balls against England in Nagpur in 2017. This time he opened the match alongside Virat Kohli. Rahul scored six fours and several sixes. Rahul had the responsibility to guide India when the middle-order deserted him after a 30-run opening stand. Remaining at the crease till the 18th over, he helped India eventually win the game by 5 runs.
*2018 was a difficult year for Rahul but he still managed to have some remarkable games in the year. In the second T20I against Ireland at Dublin, Rahul opened the innings alongside the skipper Virat Kohli. Kohli departed early, Rahul in partnership with Suresh Raina slammed six maximums in the knock. Rahul won the Player of the Match award making India score 213 runs in the innings.
KL Rahul Net Worth:
His net worth is estimated at $4 million in 2019 with an annual salary of $2.3 million. In 2014 Sunrisers Hyderabad signed him for Rs 1 crore. In the IP auction of 2018, Kings XI Punjab bought him for 11 crores. He is also a brand ambassador for CURE-FIT. He is in Grade B of the cricketers whose salary is INR 3 crores per year.
IPL Earnings
Year
Team
Salary

2013

Royal Challengers Bangalore

INR 10 lakhs

2014

Sunrisers Hyderabad

INR 1 crore

2015

Sunrisers Hyderabad

INR 1 crore

2016

Royal Challengers Bangalore

INR 1 crore

2017

Royal Challengers Bangalore

INR 1 crore

2018

Kings XI Punjab

INR 11 crore
Life, as they assert, has its ups and downs. Rahul had also had his share of trials and tribulations. He has played only 74 internationals in over four-and-a-half years. He had to miss matches due to dengue or major shoulder surgery. And then the latest "Koffee with Karan" controversy almost seemed like an end of his career but he managed to overcome it as well.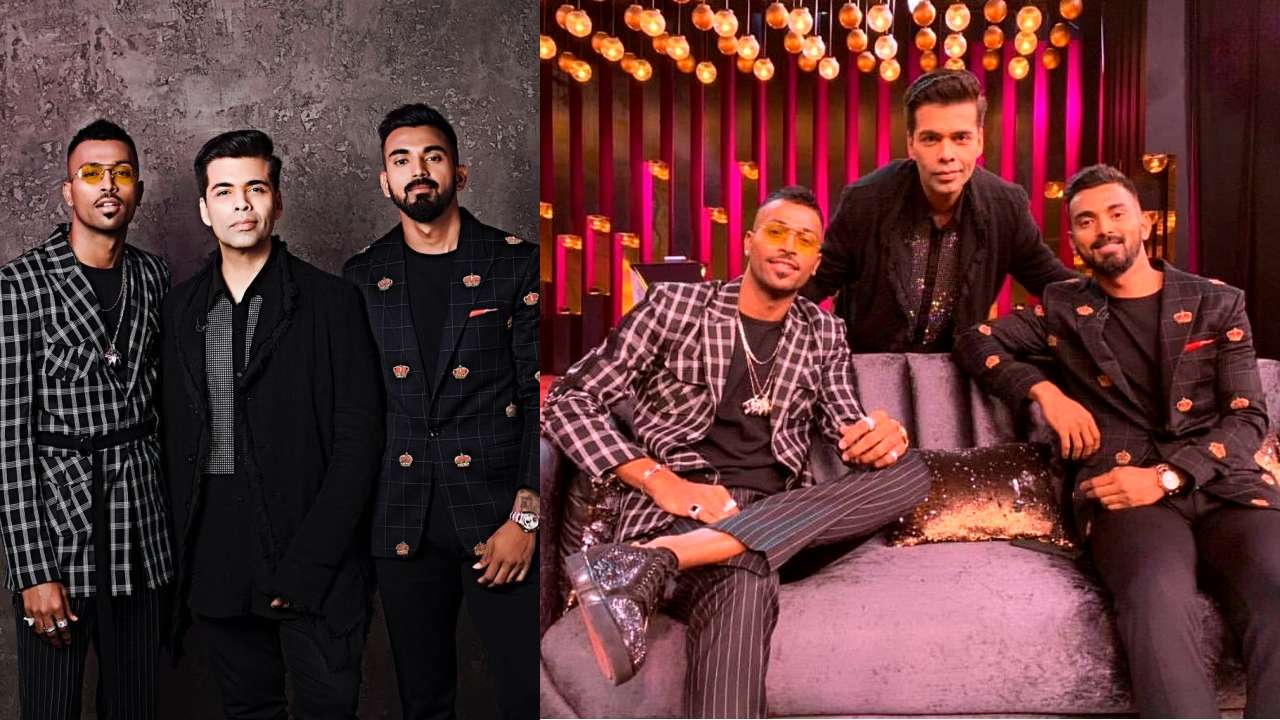 It is not humane to not be affected by such developments. The team management has pushed him to perform his best and given his share of chances despite the occasional technical flaw that every cricketer has to go at a point of time in his career. He started 2018 as a first-choice member of Test eleven; by the end of a frustrating year, he was replaced by exciting fellow-openers Prithvi Shaw and Mayank Agarwal.
About the events of the recent controversy, Rahul says that they changed him as a person. In one of the interviews, he said: "It has humbled me a little bit. I obviously respect the opportunity I have got to play for the country. It is the dream of every kid and I am no different. (It has taught me) to value where I am and keep making the opportunities count, put my head down and keep working on my cricket. I have been four-five years with Team India, learned a lot about the game, where I stand as a person and as a cricketer".
Please follow and like us:
Summary
Name
Nickname
Website
Job Title