T20 Ice Cricket : Cricket played while summer is applied to some of the harshest and most wintry conditions. In winter, Ice cricket is played directly on the ice and there is no any mat laid down.  The results are unpredictable and it provides a different kind of experience and fun. International ice cricket has been played on Lake St.Moritz since 1988.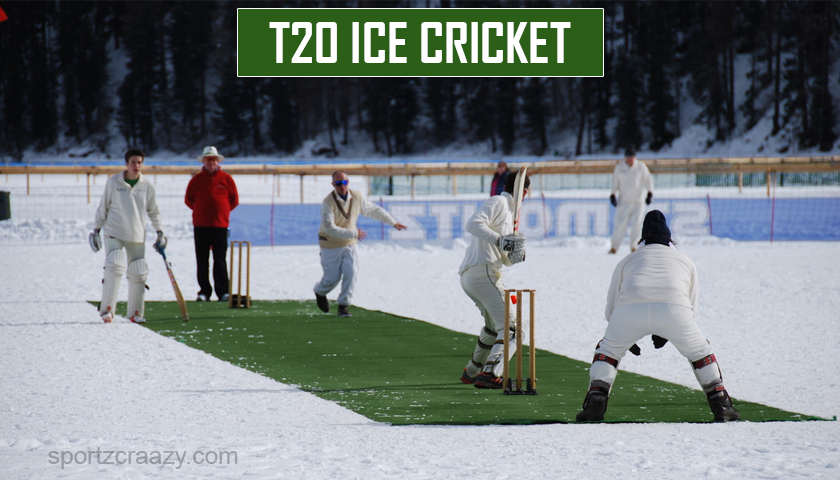 Now, ice cricket has been played in Estonia every year since 2004. The credit for the invention of the Estonian version is to Barry Jason who was a former Estonian cricket president. Ice cricket World Championship is held annually in the Estonian city with a winter temperature of minus 10 to minus 25. Ice cricket tournaments are played on Harku boating lake, which freezes over in early January.
Rules of T20 Ice Cricket
Ice cricket rule is similar to six-a-side rule.
The ball is same as an indoor cricket ball, a red ball which is easy to find if it gets hit into a snowdrift.
The team consists of a maximum of 10 players and a minimum of 6.
Each team must bowl six overs.
Competition depends on the number of teams taking part
It usually follows round robin format with top teams and this is further played to semis and finals.
The boundaries are either snow-banks are patrolled on ice skates.
If you strike a skater 6 runs are added to the score.
Wide ball counts as two extra runs and there is no extra ball.
Cricket has been played on ice in St Moritz for more than 25 years on the lake's incredible thick ice which is able to withstand more than 200 tons of weight. This is not only for the game of cricket but also for house spectators. The second of two matches are played on Friday night (AEDT).
Cricket will become a unique twist when legends face each other and this time it will be in the Swiss Alps at the glamorous St. Moritz. On February 8th and the 9th world witnessed the first Ice Cricket challenge where stars adapt their styles and play two T20 matches in the Swiss Alps.
The game has been played since 1988 on St.Moritz Frozen lake, so this is not the first time that the ice cricket has been played in the picturesque St. Moritz of Switzerland. The woods and leather make contact with the freezing St.Moritz  and it was a great excitement of watching cricket on a new terrain was unmatched.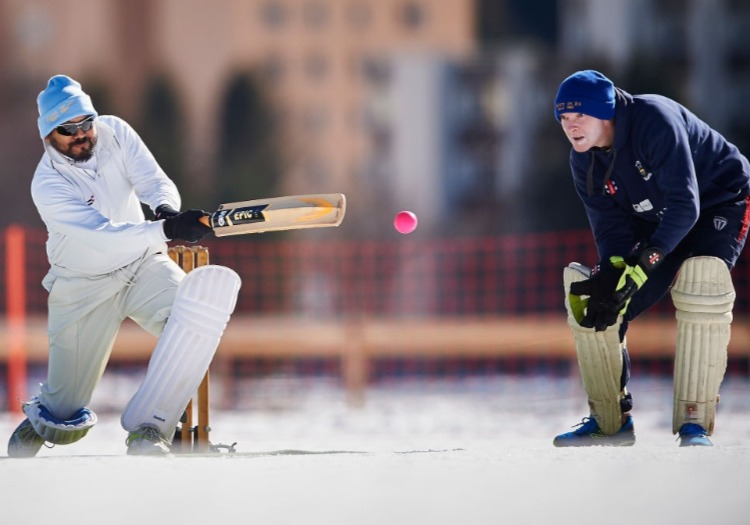 The organizer roped in legendary left-arm pacer Wasim Akram as a mentor. This is not the first time that cricket is played on a different surface. The cricket was played on the Australian shores in the Beach Cricket Tri-Nation Series.
How cricket is played on the lake?  The water body freezes into a thick layer of ice which is covered up by falling snow. During the day, it is expected that the weather will be bright and sunny but the temperature is as low as -20 degree Celsius at night. It is tougher than the ice bucket challenge.
However, tournaments like horse racing and other adventure sports and the match are played on 5910 feet above sea level. The T20 ice cricket started at 3.30- PM and was live aired on Sony Six HD and Sony ESPN.
Cricket took a provisional step into the world of sports in winter with the Ice Cricket Challenge in the Swiss Alps. Some modern T20 match is held in the resort town of St.Moritz below zero degree temperature. The match was played on a frozen, snow-covered lake and instead of pitch, an artificial turf carpet is used. The boundary line for the game is 30 meters. Players use a red ball and they wear normal shoes but not spikes.
Virender Sehwag and Shahid Afridi captained the teams, while Australians Mike Hussey and Andrew Symonds were part of the action. Shewag hitting five sixes and he scored 62 while Symonds finished with 40. Shewag's XI finished with 9-164 from 20 overs.
Afridi's XI won the match when there were five over left. England International Owais Shah was the match winner by hitting five sixes in his innings of 74.
According to the Indian Express report, players would be grossing amount of $40,000-50,000 for the two encounters.
Players of Sehwag's XI & Afridi's XI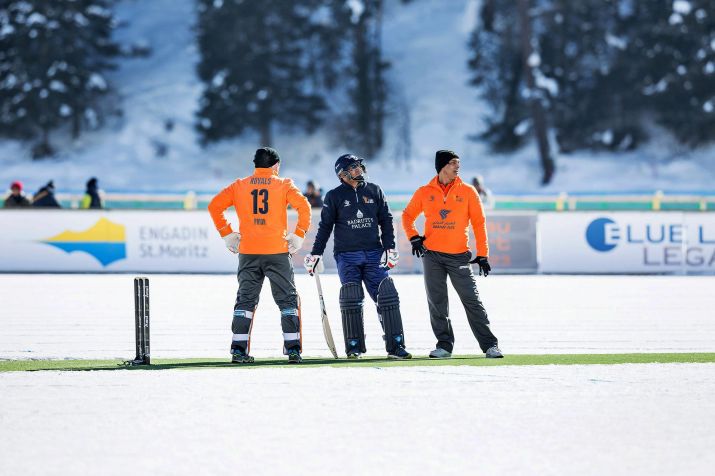 Players of Sehwag's XI team: Badrutt's Palace Diamonds was the team name of Sehwag.
Virender Sehwag (India)

Mahela Jayawardene (Sri Lanka)

Mike Hussey (Australia)

Mohammed Kaif (India)

Zaheer Khan (India)

Lasith Malinga (Sri Lanka)

Ramesh Powar (India)

Ajit Agarkar (India)

Tillakaratne Dilshan (Sri Lanka)

Mithun Manhas (India)

Andrew Symonds (Australia)
Players of Afridi's XI:  Team Royals was the team name of Afridi.
Shahid Afridi (Pakistan)

Abdul Razzaq (Pakistan)

Shoaib Akhtar (Pakistan)

Nathan McCullum (New Zealand)

Daniel Vettori (New Zealand)

Monty Panesar (England)

Grant Elliot (New Zealand)

Owais Shah (England)

Matt Prior (England)

Graeme Smith (South Africa)

Jacques Kallis ( South Africa)
Also Check: