India batting legend Sachin Tendulkar a few months back praised Kiwi all-rounder Kyle Jamieson who played a monumental role in guiding his national side to clinch the first World Test Championship title.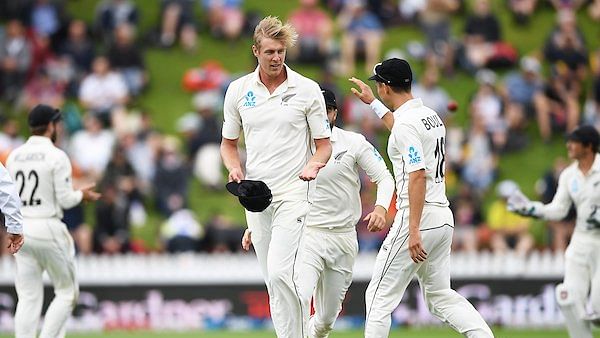 Jamieson took 7 wickets including the priceless wicket of Kohli on both occasions in the Final and scored 21 runs in the first innings to make sure that the Kiwis get a lead of 32 runs in their first innings.
In his short span of Test cricket, he has taken 46 wickets at an unbelievable average of 14.17 in just eight tests.
Tendulkar stated that Jamieson is certainly going to become one of the best all-rounders in world cricket in years to come.
"Jamieson is a fantastic bowler and a utility bowler in the New Zealand team. He is going to become the leading all-rounder in world cricket. When I saw him last year in New Zealand I was impressed with his all-around performance with both bat and ball" Sachin Tendulkar said on his YouTube channel.
Tendulkar also stated that the main difference between Jamieson and other bowlers including the likes of Boult and Southee is that he is a predominantly seam bowler while the other two is swing bowler and due to his seaming ability he was able to take Kohli's wicket in both innings.
The other reason which may have troubled Indian batter is his consistent line and lengths which didn't give an inch to Indian batter to swing their arms in the crunch moments of the game.
After impressing in World Test Championship final and then playing in domestic competitions in England and then currently playing for RCB in the second leg of IPL 2021 where he is finding it difficult to make a mark as he is not been able to take consistent wickets in the UAE conditions and has been in an out from the playing X1 and being an overseas player in IPL you need to bring your A-game in every match otherwise top quality overseas players are waiting in the wings to replace you.
With his inability to adapt quickly in UAE conditions he is not able to make a mark in the ongoing marquee event and even he is expected to score some quick runs down the order which is also not happening at the moment due to which he has been replaced with players like George Garton who has less experience of playing high-level cricket as compare to Kiwi speedster. That is the level of IPL where if you are not the best it becomes difficult for you to make an impression.