Big Show to Headline Netflix: Known as the world's largest athlete & one of the most decorated superstars in WWE history, The Big Show is all set to make a comeback on the TV sets. Wait for a second if you guys think that he is returning to deliver a chokeslam or a Knock Out Punch. The Giant has taken a rest from action for some time, and is looking forward to make you laugh with his fresh collaboration with Netflix for 10-episode comedy series 'The Big Show Show'. Yes, you heard it right, The Big Show has teamed up with Netflix to feature as a lead character for their upcoming series.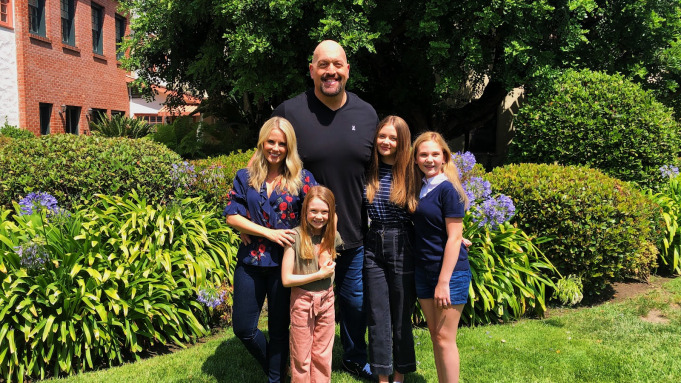 Big Show has been out of action for quite a while now, and with this announcement from Netflix, Big Show (real name Paul Wight) will be playing himself along with the stars named Allison Munn, Reylynn Caster, Juliet Donenfeld and Lily Brooks O'Briant.
The story revolves around a retired world-famous WWE superstar, who comes back to live with his wife and two other daughters, and how he quickly becomes outwitted. Despite being 7 feet tall and weighing 400 pounds, he is no longer the center of attention.
The upcoming 10-episode Netflix family sitcom is executive produced by Josh Bycel, Jason Berger, Susan Levison, and Richard Lowell. Bycel and Berger are the showrunners. Production of the 10-episode half-hour comedy series will commence from Aug. 9 in Los Angeles.
The Big Show Show series marks another collaboration for Netflix and WWE Studios following the green light for a family film called The Main Event.
WWE Studios is the wrestling company's content division that creates and produces scripted and non-scripted series, documentaries and feature films. It has been presenting shows including Total Divas and Total Bellas on E! and Miz & Mrs on USA.
The Big Show is best known for his wrestling in WWE, but he has also had a career as an actor, with TV shows including Happy!, Psych and Burn Notice in his portfolio.
Big Show, as a wrestler, holds a huge amount of fan following across the world. In his successful WWE career, he crossed several milestones that made him one of the strongest heavyweights in WWE history. He is the first Superstar to capture the WWE, WCW and ECW Championships and won the Andre the Giant Memorial Battle Royal at WrestleMania 31.
More than two decades after his in-ring debut, Big Show remains a monstrous threat in the WWE.