KUW vs MAL Dream11 Prediction: In the second match of the ICC Men's T20 World Cup Asia Region qualifiers, Kuwait and Malaysia will face each other. Both the teams are looking in good touch, and are expected to showcase a good level of cricket to get one step closer to qualify for the ICC World Cup T20 next year.
KUW vs MAL Match Details: 
The match will be played at Indian Association ground, Singapore
KUW vs MAL Match Timings:
The match will start at 11:00 PM IST, on 22nd July 2019. Live score updates and live stream will be available.
KUW vs MAL Head to Head (Last 5 Games):
There are no recorded matches of the teams.
KUW vs MAL Recent Form (Last 5 Games):
Malaysia – LLWWW
Kuwait – LLWLW
KUW vs MAL Best Players:
Kuwait
Ravija Sandaruwan – He is one of the top batsmen in the squad, and is capable to up the scoring rate at will. He has scored 317 runs in 7 innings at a strike rate of 172.3. Ravija has 1 century and 2 half-centuries to his name as well in T20I.
Mohammed Aslam – He is a sensational talent in the squad and has an impressive record in the first-class cricket. Still new to this format, he can be a pretty handy bowler who can restrict runs and create pressure.
Malaysia
Syed Aziz – The batting all-rounder strikes the ball at a rate of 141.1 and has 3 half-centuries in 6 innings. He is a handy bowler and can be used at any stage of the game.
Muhamad Syahadat – He is a very skillful player and has the ability to bat down the order and play a good aggressive batting for the team. He can chock the run rate of opposition with his variations in bowling.
KUW vs MAL Team List (Predicted-XI):
Kuwait – M Bhavsar, R Sandaruwan, Naveed Fakhr, Mohammed Aslam, A Idrees, Ilyas Ahmed, Shiraz Khan, S Varathappan, H Jandu, Mohammad Ahsan.
Malaysia – Shafiq Sharif, A Faiz, M Syahadat, S Aziz, F Sham, M Anwar, Anwar Arudin, V Singh, N Liyanage, S Muniandy, N Rahman.
Suggested KUW vs MAL Dream11 Team: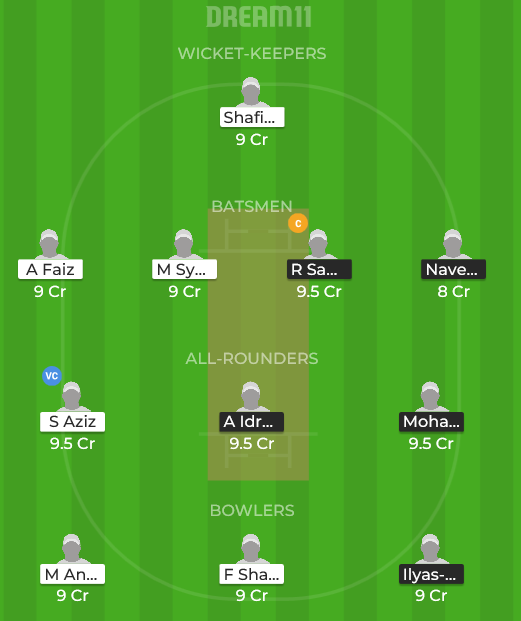 Wicket Keeper
Batsmen
R Sandaruwan (C)
M Syahadat
A Faiz
Naveed Fakhr
All-Rounder

Mohammed Aslam
Idrees
S Aziz (VC)
Bowlers
Ilyas Ahmed
F Sham
M Anwar
Catch all the live updates of KUW vs MAL Cricket Match, including live scores and match report. This time KUW vs MAL Dream11 Prediction will depend on the final team line-ups.
Upcoming Matches Prediction:
1. BN-A vs AF-A Dream11 Prediction
2. SHZ vs SHD Dream11 Prediction
3. KET vs HAM Dream11 Prediction
4. QAT vs SIN Dream11 Prediction
5. KET vs HAM Dream11 Prediction
6. LYC vs VBK Dream11 Prediction
7. DUR vs LAN Dream11 Prediction
Please follow and like us: