SHZ vs SHD Dream11 Prediction: Shandong Luneng will play Shenzhen FC in the next Chinese Super League match. Shandong Luneng is currently ranked 4th in the table, trailing by 15 points to Shanghai East Asia, who are currently at 3rd position, occupying AFC Champions League Qualifier spot. Shandong Luneng would look to go on a winning streak to put pressure on the AFC Champions League spot. Marouane Fellaini is back from suspension and will most probably start for Shandong Luneng.
Shenzhen, on the other hand, is just 3 points above the relegation spot. They are without a win in the last 10 matches. Shenzhen sits at 14th position 1 point behind Shanghai Shenhua at 13th position and 2 points behind Hebei CFFC at 12th position.
SHZ VS SHD Match Details:
The match between Shandong Luneng and Shenzen will be played at Jinan Olympic Sports Center.
SHZ VS SHD Match Timing:
The match will kick off at 5:05 PM, 21st July 2019. The live score and live stream for the Sunday morning match between Shandong Luneng vs Shenzen will be available online.
SHZ VS SHD Head To Head:
Played- 6
Shandong Luneng- 4
Shenzen- 0
Draw- 2
SHZ VS SHD Recent Matches(Last 5 Games):
Shandong Luneng – DLWWLW
Shenzen – DLLDDL
SHZ VS SHD Best Players:
Shandong Luneng
Roger Guedes: The Brazillian forward has scored 7 goals in just 9 appearances. In addition, he has made 2 assists. The 22-year-old is strong at holding the ball up front and dribbling past defenders.
Goals: 7 | Assists: 2
Hao Junmin: The Chinese midfielder has made 4 assists in the League. The 32-year-old takes set pieces for the team. He likes to play long diagonal balls and through balls.
Goals: 1 | Assist: 4
Shenzen
Ole Selnaes: The Norwegian defensive midfielder has scored 4 goals in 15 appearances. The 25-year-old has a tendency to take long shots and cross the ball.
Goals: 4
Cheikh M'Bengue: The Senegal defender has made 14 appearances for the club. The 30-year-old left-back, I strong at aerial duels and ball interceptions. He is also potent when in the attack. He has a tendency to clear the ball quickly.
SHZ VS SHD Team List (PREDICTED-XI):
Shandong Luneng: Dalei, Tong, Lin, Yang, Junshuai, Chi, Fellaini, Junmin, Delgado, Guedes, Pelle.
Shenzen: Wei, Q Wei, Dalong, M'Bengue, Yuan, Selnaes, Qiang, Fujun, Zhen, Mary, Yuanyi.
Suggested SHZ VS SHD DREAM 11 Team: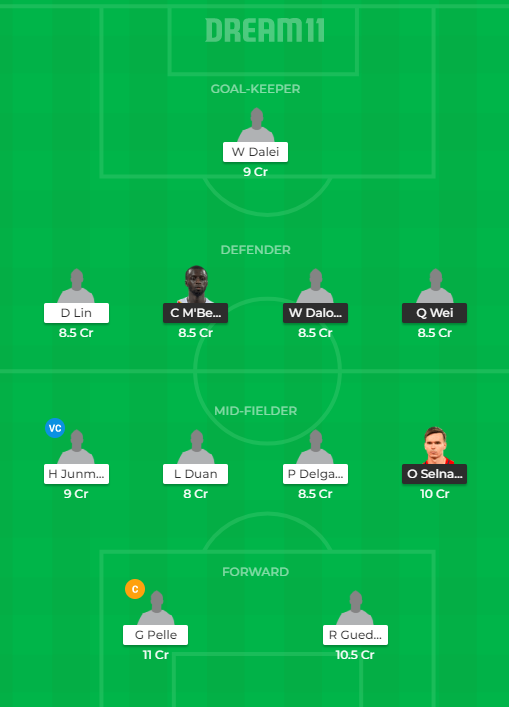 Goalkeeper

Defenders

Q Wei

W Dalong

M'Bengue

D Lin
Midfielders

O Selnaes

H Junmin

L Duan
P Delgado
Forward

Catch all the live updates of SHZ vs SHD Football match, including live scores and match report. This time SHZ vs SHD Dream11 Prediction will depend on the final team line-ups.
Upcoming Matches Prediction:
1. BN-A vs AF-A Dream11 Prediction
2. SHZ vs SHD Dream11 Prediction
3. KET vs HAM Dream11 Prediction
4. QAT vs SIN Dream11 Prediction
5. KET vs HAM Dream11 Prediction
6. LYC vs VBK Dream11 Prediction
7. DUR vs LAN Dream11 Prediction
Please follow and like us: