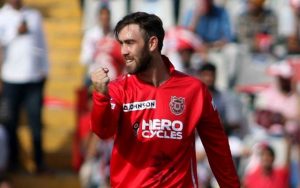 The explosive hitter from Australia, Glenn Maxwell had surprised the whole world by taking a short break because of mental health issues. The attacking batsman made himself available for the IPL 2020 and set his base price to ₹.2 crores.
The Australian T20 specialist finally raked in ₹.10.75 crores on the first day of the IPL 2020 Auctions following a bidding war between the KXIP and Delhi Capitals for his services and he was finally acquired by the KXIP for a massive ₹.10.75 crores.
The Auction which is taking place in Kolkata has 338 players going under the hammer today. Glenn Maxwell was already speculated as one of the most expensive players for the IPL 2020, he will be joining his former teammates in the Kings XI Punjab for the IPL 2020 season.
Maxwell has scored 1,397 runs in the IPL at an average of 22.9 at a rapid strike rate of 161.13. He is one of the five Australians to have their base price set at 20 million rupees (USD 282,000).
Glenn Maxwell announced himself as one of the most promising batting all-rounders in the Seventh Edition of the Indian Premier League. He played for Kings XI Punjab and piled up 552 runs in 16 matches. At the end of the seventh edition, he maintained his average of 34.5 with a strike rate of 187.75.
Glenn Maxwell played for the Delhi Capitals in the previous edition of the Indian Premier League. He is all set to be playing for Kings XI Punjab in the upcoming edition.