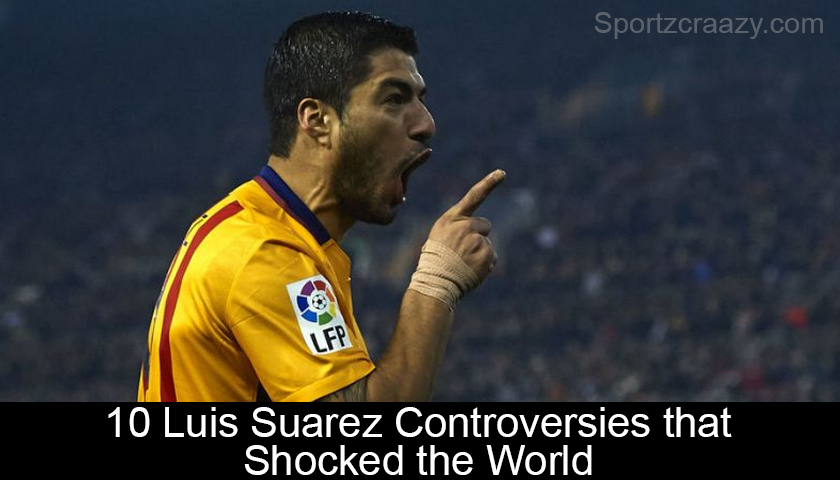 Luis Suarez Controversies : Being one of the best players in the world, Luis Suarez is intelligent, resilient and is a master with the ball. Yet he has been involved in many unpleasant incidents. Let's take a look at some of the controversies he has been involved in:
1. He Bit Otman Bakkal And Was Banned For 7 Games.
Luis Suarez Controversies : This was his first ever biting incident when he was playing for Ajax and bit Otman Bakkal. This incident shocked the entire football fraternity and the fans equally. After the incident, Suarez said, "In football, everything is forgotten in the field." Suarez was given a seven-match ban but his career remains unaffected as he was acquired by Liverpool later.
2. He Also Bit Branislav Ivanovic resulting In A 10-game Suspension.
Luis Suarez Controversies : During Premier League against Chelsea, Suarez has bit Chelsea defender Branislav Ivanovic. This action of Suarez was missed by the referee initially and Ivanovic kept on showing the bite marks to the referee. Since Suarez was not penalized, he scored Liverpool's equalizer. After the match, he was banned for ten games and took to Twitter to make an earnest apology.
3. He Punched A shot Off The line Against Ghana With His fist and Got a Red card.
Luis Suarez Controversies : When Ghana's Dominic Adiyiah was trying to score in the last minute, Suarez flung the ball out of the goal and Uruguay reached the World Cup semifinals. He was shown a red card for handball and Ghana got a penalty which they missed. Uruguay won the game and Ghana fans labeled Suarez as a cheater.
4. He Punched Gonzalo Jara But The Referee Didn't See it.
Luis Suarez Controversies : When Uruguay was playing against Chile, Suarez hit Gonzalo Jara in the jaw. There was an exchange of a few angry words, but Jara didn't make a big deal out of the incident. Suarez's move was clear and was replayed again and again on the big screen, but he was let off without any warning, ban or suspension.
5. He racially abused Patrice Evra in 2011 And Was Suspended For 8 games
Luis Suarez Controversies : In 2011, during the Premier League match against Manchester United, Suarez Racially abused Patrice Evra. He repeated a particularly offensive word many times and was handed an eight-game suspension. Suarez denied his actions. "When I say I'm sorry it's because I regret something,"
Suarez said. "Being sorry implies regret. But they have also sometimes judged me on things that aren't true, such as the racism thing. "I was accused without evidence and that's what grieved me the most. The others were actions when it was me who did wrong. I accepted that and begged forgiveness, but the racism thing, when I was accused without evidence, that did upset me." But next time, when he played against ManU, before the match he didn't shake with Patrice further raging the fire.
6. He bit Giorgio Chiellini during 2014 World Cup and was banned for 4 months
Luis Suarez Controversies : In 2014, during World Cup against Italy, Suarez bit Giorgio Chiellini. The incident took place just 10 mins before full time and Suarez bit Chiellini's arm. He was given a four-month ban by FIFA. He published a Twitter apology.
7. He dived in front of Everton Manager
Luis Suarez Controversies : In 2012, Suarez did a dive in front of Everton manager David Moyes. Moyes criticized Suarez saying that with his way of playing he will turn away football supporters because fans will think that players are conning their way into the results. Angered by this, Suarez made a 14th-minute dive as an answer to Moyes.
8. He Showed Middle Finger To Fulham fans
Luis Suarez Controversies : After facing defeat at the hands of Fulham, Suarez showed a middle finger to Fulham fans. For this, he suffered a one-game ban.
9. He Pulled Rafael's Hair And Was Not Punished For The Same
Luis Suarez Controversies : When he was playing for Liverpool, he got involved in a brawl with Rafael and pulled his hair to retaliate. He did not get any punishment for this.
10.

He Was Called A Cheat
Luis Suarez Controversies : When Liverpool was about to lose to Mansfield during 2013 FC Cup, Suarez sought to cheat. After his goal was saved, he tried his basketball skills and shot the ball in an empty net. And he also celebrated his goal after kissing his wrist but fans were shocked with his move.
Also Check –
Please follow and like us: