Ravindra Jadeja has been the backbone of Indian bowling across all formats for a very long time now. The southpaw has seen various twists and turns during different stages of his career and always stood as one of the greatest performers in the team.
Of late, Jadeja's performance has been making a lot of positive noise and has made his critics eat humble pie. However, the left-hander is not only popular for creating noise on the field but off the field as well. Let's take a look at the 5 instances when Ravindra Jadeja shined on social media.
Awkward Twitter conversation with Sarah Taylor:
There is nothing common between Ravindra Jadeja and Sarah Taylor besides being cricketers. Both are completely contrasting in nature and are poles apart in every aspect. But in 2014, the duo involved in a friendly banter.
The year was 2014 and both men in blue and England women cricket team lost the T20 World Cup finals respectively. Those days Jadeja was completely new to Twitter and sent DM to Sarah Taylor trying to console her about the World Cup final loss. The irony was Jadeja did not follow Sarah Taylor, so Taylor couldn't DM back.
Therefore, she started tagging Jadeja in every tweet, while Jadeja keeping responding on DM. The duo was talking about each other's final match performances and when are they leaving for Bangladesh.  Eventually, by the end of the conversation, the duo decided to meet by the poolside at 10 AM.
@imjadeja thank you. And you 🙂

— Sarah Taylor (@Sarah_Taylor30) April 6, 2014
@imjadeja neither did we! Bad day to bat first

— Sarah Taylor (@Sarah_Taylor30) April 6, 2014
@imjadeja you have to follow me in order to DM

— Sarah Taylor (@Sarah_Taylor30) April 6, 2014
@imjadeja haha all of your fans I believe. Have a good night

— Sarah Taylor (@Sarah_Taylor30) April 6, 2014
@imjadeja tomorrow night. U?

— Sarah Taylor (@Sarah_Taylor30) April 6, 2014
@imjadeja 10am pool

— Sarah Taylor (@Sarah_Taylor30) April 6, 2014
2. When Ravindra Jadeja shuts down a Troller on social media
The Border Gavaskar trophy just ended and Jadeja was on cloud nine after picking up 7 wickets and a quick fire 81 in the first innings of the last test in Sydney.
The all-rounder took to Instagram, asking the fans to suggest a new hairstyle in a post captioned "Guys Any suggestions for hair style!! #hairstyle #stylegoals"
Soon after a user by name Vipin Tiwari tried to troll Jadeja asking him to focus on the game rather than spending time on social media. Tiwari also slammed Jadeja batting skills and his position in the team.
Fuming Jadeja countered back and wrote on Twitter "@tiwari.vipin tere ghar pe tv nai hain kya. Last test match dekha nai, Idiot (Don't you have a television at home? Did you not watch the last Test match, you idiot)"
After receiving the unexpected response, the troller thanked him for the reply and even accepted Jadeja prowess as an all-rounder. He replied "Thanks for the time, kafi time hai apke pas , I commented just for fun and u replied , best wishes for ur career, a good all-rounder is must for the team so is best of you".
3. When "Sir" Ravindra Jadeja came into existence
It was during the match between Royal Challengers Bangalore and Chennai Super Kings, CSK needed 16 runs in the last over and Jadeja and Morris at the crease, Kohli handed the bowl to Rudra Pratap Singh. 14 runs were scored in first four, CSK needed only 4 runs of 2 balls.
On the fifth bowl Jadeja smashed the ball straight into the hands of Ravi Rampaul. Kohli started the celebrations, but later realized that RP singh overstepped and celebrations started in CSK squad.
Later MS Dhoni tweeted
" If you give Sir Jadeja 2 runs to score from 1 ball,  he will win it with a ball left".
When you give Sir Ravindra Jadeja one ball to get 2 runs he will win it with one ball to spare !!

— Mahendra Singh Dhoni (@msdhoni) April 13, 2013
4. Jadeja witty reply to Manjrekar after being called bits and pieces cricketer
The bits and pieces cricketer term was used by Sanjay Manjrekar to define Ravindra Jadeja during the World Cup. The commentator was asked about Jadeja inclusion in the squad for the match against England during the World Cup.
Jadeja took the statement seriously and responded back on Twitter expressing his anger comparing his words to verbal diarrhea. He also advised Manjrekar to respect the other people achievements.
Still i have played twice the number of matches you have played and i m still playing. Learn to respect ppl who have achieved.i have heard enough of your verbal diarrhoea.@sanjaymanjrekar

— Ravindrasinh jadeja (@imjadeja) July 3, 2019
5. Retweeted a witty reply to Virender Sehwag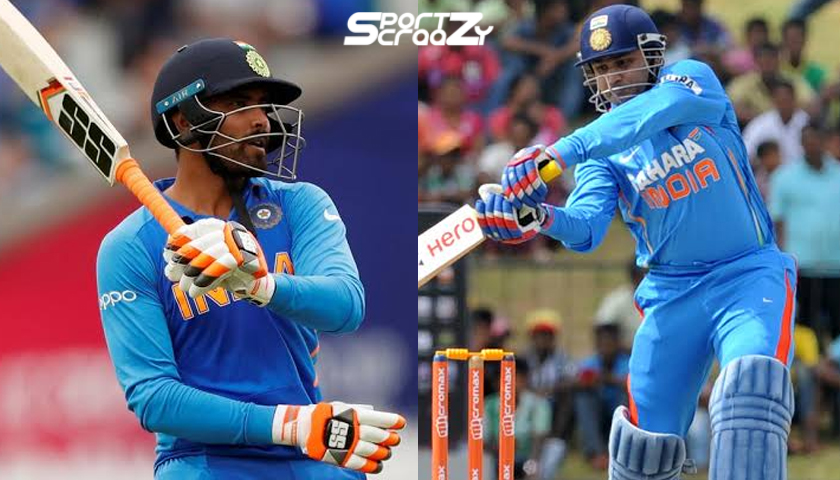 Ravindra Jadeja has been the unsung hero of Indian cricket. Often his exemplary performances have been overshadowed by either Ashwin or any middle order batter.
His success roared when he was picked as number 1 spinner for tests ahead of Ravichandran Ashwin during the Caribbean tour.
During the first test against South Africa at Vizag, he scored unbeaten 30 in the first innings and picked up 2 wickets making his fastest bowler to reach 200 wickets in tests.
His ominous form continued in second innings and scored quick fire 40 and 4 wickets in the fourth innings. Eventually India won the first test by 203 runs giving India lead 1-0.
India ex opener Virender Sehwag posted a tweet congratulating Indian team for outstanding win. He also mentioned the outstanding performers of the match like Rohit Sharma, Mayank Agarwal, Mohammad Shami, Ravichandran Ashwin and Cheteshwar Pujara.
The tweet didn't go to well with Jadeja fans, a fan replied back to Sehwag asking if Sehwag missed Jadeja performances or was taking a power nap during the play.
Jadeja instantly re-tweeted the reply.
Fantastic test match for @ImRo45 , a dream beginning to opening the batting in Test cricket. Wish him the very best. That was a convincing win for India with some great contributions from Mayank, Shami, Ashwin , Pujara . #IndvSA

— Virender Sehwag (@virendersehwag) October 6, 2019