ULM vs CM Dream11 Prediction: Week 3 of the final stage of Basketball Bundesliga 2019-20 season will witness Ulm taking on Crailsheim Merlins at the Audi Dome on Thursday. Both the teams are placed in group A and have a very contrasting record so far. Ulm has won its last two matches while on the other hand, Merlins are 0:2 after two games in the final stage and so far been caused them detriment. Merlins surely need to put out the fire as they face Ulm for the 3rd final stage game. Talking about the league, its resumption has surely brought joy among the German basketball fans, however, watching the matches live in the arenas wouldn't be possible for some time. But ULM vs CM Live streaming will be available on the local sports channels. Indian fantasy basketball overs can follow ULM vs CM Live score on the Fan code app while ULM vs CM Match Highlights will be available on Youtube after the match is over. 
ULM vs CM Team Previews:
Ulm Team Preview:
Ulm have been loquacious with their recent form since the season resumption last week. They come into this matchup after defeating Oldenburg 85:66 today. They surely are the favourites to win this upcoming game against Merlins after winning its last two matches. In the win over the Oldenburg, Ulm outscored them in all of the quarters starting with a 2 points lead at the end of the first quarter. As the 4th quarter approached it was clear that it is going to be a lopsided victory for them. Ulm currently leads the Group A with two wins and four points on their name and they are expected to continue with their same momentum. 
Crailsheim Merlins Team Preview:
Merlins have lost both the matches since the final stage of the BBL 2019-20 has begun. They come into this contest after losing to Bayern Munich 79:110 on Sunday. That surely was a humiliating loss for the Merlins as they conceded 100 points and couldn't even cross 80 points themselves. The first quarter saw them score just 11 points in response to Bayern's 26 points. Merlins did try to bounce back in 2nd and 4th quarters respectively. Merlins last played against Ulm back in December last year which they had won by 91:79 points, so they will be confident on defeating Ulm again in this contest. 
ULM vs CM Match Details: 
Match Date: 11th June 2020
Match Time: 12:00 AM
Venue: Audi Dome, Germany
Broadcast: ULM vs CM Live score & ULM vs CM Match Highlights will be available on the Fan Code App and Youtube. Key Fantasy Basketball Players of ULM vs CM Dream11 match have been listed below.
ULM vs CM Dream11 Basketball Lineups:
Ulm Probable starters:
PG:  Thomas Klepeisz
SG: Archie Goodwin
SF: Patrick Heckmann
PF: Andreas Obst
C: Dylan Osetkowski
Crailsheim Merlins Probable starters:
PG:  Alexa Kovacevic
SG: Sebastian Herrera
SF: Javontae Hawkins
PF: Marvin Ogunsipe
C: Dejan Kovacevic
ULM vs CM Head to Head:
Ulm has been victorious in its last two matches since the season resumption. Their recent form is as follows: WWLWL

Crailsheim Merlins has lost both the matches they have played after the season resumption. They lost to Bayern Munich by 79:110 and Gottingen 89:78. Their recent form: LLWWW

Ulm is 3:2 in the H2H contests with the Crailsheim Merlins in the last five encounters. 
ULM vs CM Key Players:
Ulm Key Players:
Thomas Klepeisz-  The Austrian Points Guard is averaging 13 PPG, 3 RPG and 5 APG this season and he also leads his side in assists which would benefit the fantasy players in ULM vs CM Dream11 prediction team. 
Dylan Osetkowski-  The 23-year-old German Point Guard has been one of the emerging players of this season as he averages 11.9 PPG and leading the side with 6.3 RPG. Dylan could be of great help in ULM vs CM dream11 prediction team and also available for just 11.5 credits. 
Crailsheim Merlins Key Players:
Sebastian Herrera- The 22-year-old youngster has been performing really well for the side lately. He gave 39.9 points in the last dream11 match and owing to his good form, he would be a part of ULM vs CM Dream11 prediction team. 
Javontae Hawkins- Hawkins is in red-hot form this season as he averages 15.9 PPG, 4.5 RPG and 2.1 APG. he gave 18.3 points in the last game and can be very useful in rebounds and steals in ULM vs CM Dream11 team. 
ULM vs CM Dream11 Team: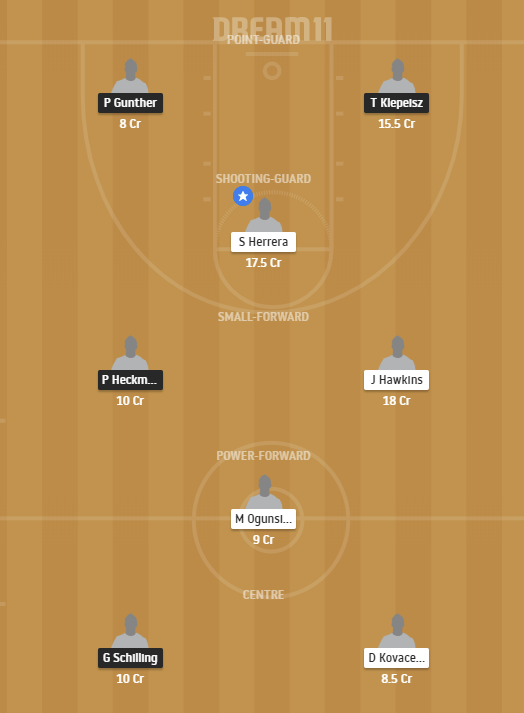 ULM vs CM  live score and Today Match prediction will help you earn money easily. Pick your Dream Team players and play your favourite Nicaragua Basketball League like Head to Head, Hot Contests, Mega Contests, Comeback Contests, Contest of Champions, Winner Takes it All, etc.ll, etc.