ULM vs BGG Dream11 Prediction: The second match of the week 4 of Basketball Bundesliga will be played between Ulm and BG Gottingen at the Audi Dome on Sunday. Ulm have been a dominating side whenever these two teams have met in the past. And the finals stage of the league has them placed together in the Group A where Ulm is leading with three wins and Gottingen is 4th after just one win in three matches. Ulm is really hot at the moment and their roster could make the majority of ULM vs BGG Dream11 team. Basketball Bundesliga matches can be streamed live on various platforms such as Dailymotion and Fan Code app. ULM vs BGG Live score will also be available on the Fan Code app. 
ULM vs BGG Team Previews:
Ulm Team Preview:
Ulm is currently the leader of Group A of the final stage of the league with three wins since the season resumption. Ulm comes into this contest after a convincing victory against Crailsheim Merlins 92:80 and in that match, Ulm shot 48.3 % from the field and 32.1% from the three-pointers, connecting 9 of the 28 throws. Derek Willis scored 14 points in the match as he also led the side with 12 rebounds. Thomas Klepeisz came off the bench as he scored 6 points, 1 rebound and 7 assists. He proved his utility in the offensive end. 
BG Gottingen Team Preview:
Gottingen is playing a bit lowly since the final stage has begun, managing just a single win in the three matches so far. They come down into this contest after a 55:90 loss against Bayern Munich. Gottingen players were completely overwhelmed by the Munich 's defence as they shot only 29.8 % from the field, and 25.9% from the three-pointer, connecting 7 out of 27 attempts. In that loss, only Marvin Omuvwie crossed the 10-points mark coming off the bench. Marvin also led his side with 7 rebounds in his 13 points performance. 
ULM vs BGG Match Details: 
Match Date: 14th June 2020
Match Time: 6:30 PM
Venue: Audi Dome, Germany
Broadcast: ULM vs BGG Live score & ULM vs BGG Match Highlights will be available on the Fan Code App and Youtube. Key Fantasy Basketball Players of ULM vs BGG Dream11 match have been listed below.
ULM vs BGG Dream11 Basketball Lineups:
Ulm Probable starters:
PG: Andreas Obst
SG: Archie Goodwin
SF: Derek Willis
PF: Gavin Schilling
C: Dylan Osetkowski
BG Gottingen Probable starters:
PG:  Bennet Hundt
SG: Dominic Lockhart
SF: Trey Allen
PF: Dennis Kramer
C: Marvin Omuvwie
ULM vs BGG Head to Head:
Ulm comes into this match after a win over Crailsheim Merlins 92:80 (WWWLW)

Gottingen crashed in the last two matches and lost to Bayern Munich by 55:90 yesterday. (LLWWW)

Ulm is the predicted for ULM vs BGG Dream11 basketball match owing to their 4:1 record in the last five H2H contests with Gottingen. 
ULM vs BGG Key Players:
Ulm Key Players:
Derek Willis- Willis has been averaging  8 PPG this season along with 5.1 RPG and 1.3 APG. He is easy to pick in the ULM vs BGG Dream11 prediction team due to lower credits.
Tyler Harvey- The 26-year-old guard has been impressive this season averaging 11.7 PPG and available for 17 credits in ULM vs BGG Dream11 prediction team. 
BG Gottingen Key Players:
Dennis Kramer- 5.6 PPG, 3.4 RPG, 0.8 APG
Bennet Hundt- 9.1 PPG, 1.3 RPG, 3.2 APG 
ULM vs BGG Dream11 Team: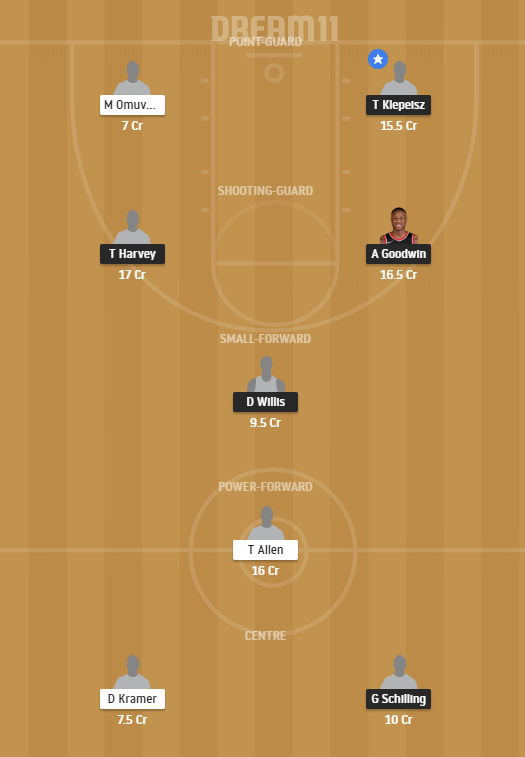 ULM vs BGG live score and Today Match prediction will help you earn money easily. Pick your Dream Team players and play your favourite Nicaragua Basketball League like Head to Head, Hot Contests, Mega Contests, Comeback Contests, Contest of Champions, Winner Takes it All, etc.ll, etc.