Top 5 bowling performances of Mitchell McClenaghan in IPL
In Mumbai Indians' list of leading wicket-takers of all time in IPL, the fourth name is of Mitchell McClenaghan. Whenever the Kiwi was called upon by his captain Rohit Sharma to step up, he delivered. Judging by his numbers, one can say that he is fairly underrated in IPL.
But inside the Mumbai Indians camp, everyone knows his actual worth. This is a reason why, despite often not being a part of the New Zealand limited-overs side, he gets a place in the Indians' playing XI. His debut came in 2015, and since then it has been a decently satisfying journey for him.
Let us have a look at the top 5 bowling performances of Mitchell McClenaghan in IPL:
5. 3/34 vs Royal Challengers Bangalore
Our first mention on the list of top 5 bowling performances of Mitchell McClenaghan in IPL is from a season where he was at the top of his game. In 2017, McClenaghan picked up 19 wickets for the Mumbai Indians. In this match against Royal Challengers Bangalore at the Wankhede Stadium, his team had to bowl first.
Mumbai got off to a good start as Karn Sharma dismissed opener, Mandeep Singh, in the fourth over. A couple of overs later, Mitchell McClenaghan got rid of Bangalore's biggest threat in Virat Kohli. His next few overs did not fetch any wickets, but once again he found his rhythm in the very last over. In two consecutive balls, he dismissed two dangerous finishers in Pawan Negi and Kedar Jadhav.
4. 3/24 Delhi Capitals
The next spell on this list is once again from the 2017 season. In this match, Mumbai Indians hosted Delhi Capitals at their home ground. Batting first, Mumbai could only manage to score 142 runs in a batting-friendly pitch at Wankhede and needed something extraordinary from McClenaghan.
He gave Mumbai the start they desperately wanted. With just his second ball of the match, he got rid of Capitals' opener Sanju Samson. In his next over, he handed Delhi another killer blow as he dismissed their batting kingpin, Shreyas Iyer. In that very same over, he dismissed his fellow Kiwi Corey Anderson. Thus, inside just four overs, McClenaghan already had three scalps to his name. From then onwards, he maintained an impressive economy rate and conceded only 26 runs.
3. 3/20 vs Sunrisers Hyderabad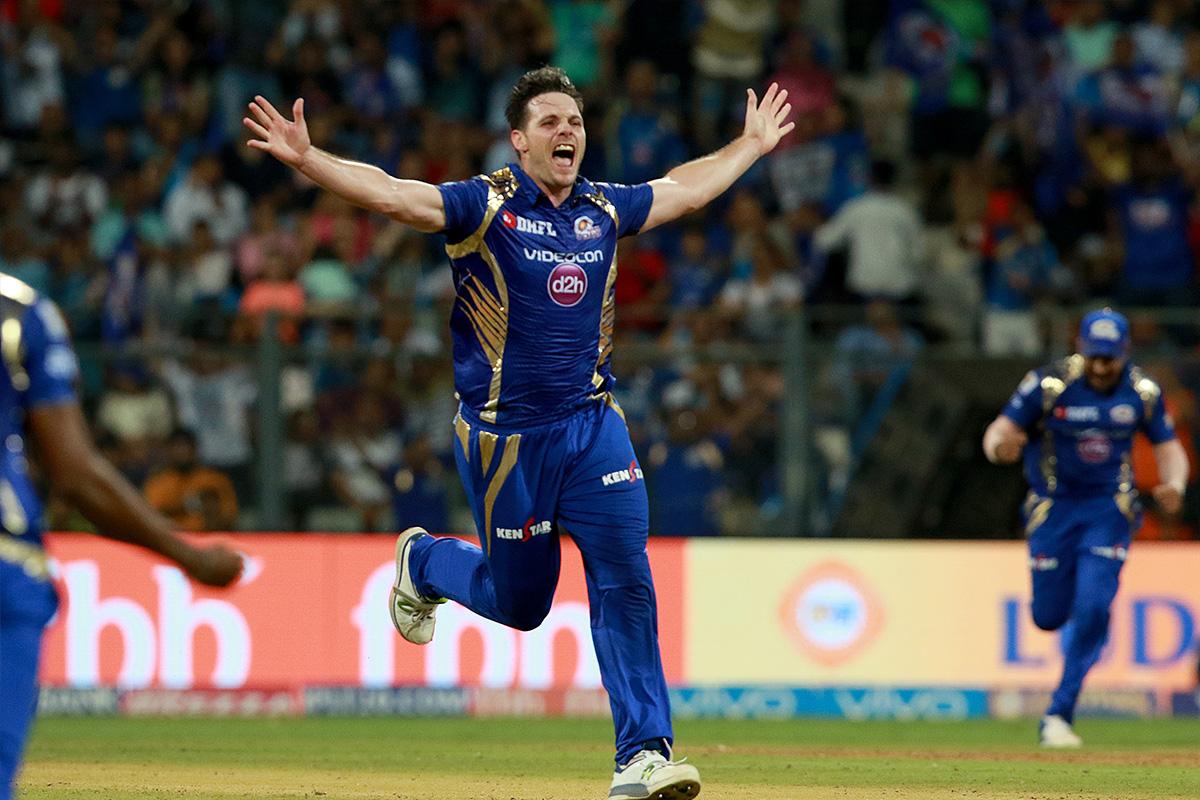 This spell on the list of top 5 bowling performances of Mitchell McClenaghan in IPL is from his debut season of 2015. In IPL, things can go horribly wrong if you fail to perform in your debut season. For the Kiwi pacer, it went perfectly as planned.
Batting first against Sunrisers Hyderabad at the Wankhede Stadium, Mumbai scored 157 runs. Hyderabad had a good start to the chase, but just as the powerplay was about to end, Lasith Malinga got the better of David Warner. Mitchell McClenaghan got rid of the other opener, Shikhar Dhawan, in the next over. His next scalp was KL Rahul, who was looking menacing with his 25. In his next over, he dismissed English all-rounder Ravi Bopara to get his 3-wicket haul, and subsequently propel Mumbai Indians to victory.
2. 3/16 vs Sunrisers Hyderabad
This is once again against the same opposition, and here as well McClenaghan had a 3-wicket haul. But the only thing that is different is, unlike the first three mentions, this match was an away encounter for the Indians. Batting first at the Rajiv Gandhi International Cricket Stadium, Hyderabad lost Shikhar Dhawan to Lasith Malinga in the first over.
In McClenaghan's first over, the speedster got rid of the dangerous David Warner. A few overs later, he dismissed another overseas batter in Eoin Morgan. Hyderabad batters found it extremely hard to deal with McClenaghan and ended up scoring just 16 runs against him. His 3-wicket haul was completed when he got rid of Bhuvneshwar Kumar in the last ball of the innings.
1. 4/24 vs Gujarat Lions
Though McClenaghan's performance in 2016 season was not as good as his performances in 2015 or 2017, this was the year in which he picked up his lone IPL 4-wicket haul. Against Gujarat Lions, Mumbai scored 143 runs at the Wankhede Stadium.
Gujarat lost McCullum early, but Suresh Raina and Aaron Finch set up a great partnership. After much struggle, McClenaghan finally got the better of Raina in the ninth over. His next victim was uncapped Indian batter Akshdeep Nath. McClenaghan's last two wickets came in the penultimate over the match, in the form of James Faulker and Praveen Kumar. But despite his efforts, Gujarat Lions eventually secured the victory in the last over.