| | |
| --- | --- |
| Full Name: | Shikhar Dhawan |
| Nickname: | Gabbar |
| Profession: | Cricketer (Batsman) |
| Batting Style: | Left Handed Bat |
| Bowling Style: | Right-arm offbreak |
| Jersey Number: | #25 |
| Birthday: | 05th December 1985 |
| Age: | 33 Years |
| Birthplace: | Delhi, India |
| Nationality: | Indian |
| Religion: | Hinduism |
| Height: | 180 cm, 1.80 m, 5'11" |
| Weight: | 80 kg, 176 lbs |
| Zodiac Sign: | Sagittarius |
| Mother: | Sunaina Dhawan |
| Father: | Mahendra Pal Dhawan |
| Wife: | Ayesha Mukherjee |
| Coach: | Madan Sharma |
| Net Worth: | ₹75 crore |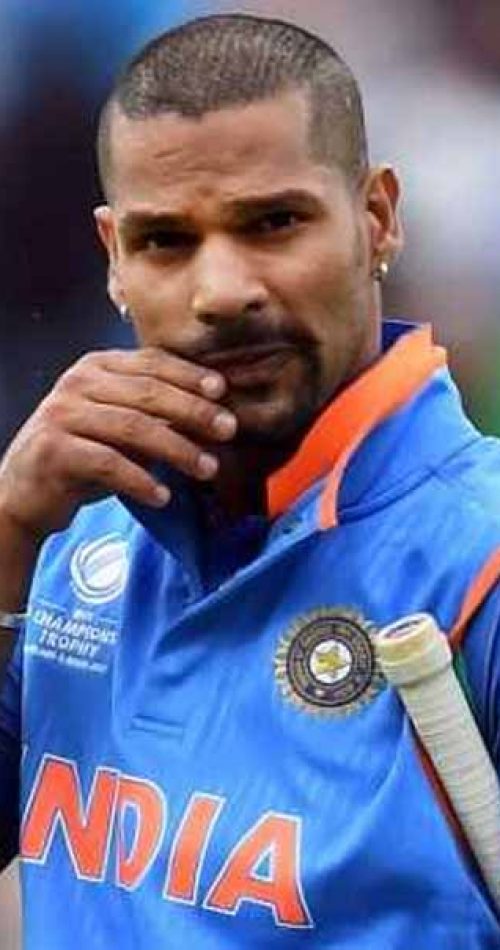 Shikhar Dhawan Career Stats
Test Career
ODI Career
T20I Career
IPL Career
Test Career
#Batting Career Summary
| Match | Inn | Run | HS | Avg | SR | 50 | 100 | 200 |
| --- | --- | --- | --- | --- | --- | --- | --- | --- |
| 34 | 58 | 2315 | 190 | 40.61 | 66.95 | 5 | 7 | 0 |
#Bowling Career Summary
| Match | Inn | Run | Wkts | Eco | Avg | SR | 5w | 10w |
| --- | --- | --- | --- | --- | --- | --- | --- | --- |
| 34 | 5 | 18 | 00 | 2.0 | 0.00 | 0.00 | 00 | 00 |
ODI Career
T20I Career
IPL Career
In a span of just a few years, Shikhar Dhawan has emerged as one of India's most trusted players in the opening role and him along with Rohit Sharma has delivered some most memorable performances for the Indian team I the recent times. Nicknamed as "Gabbar", this southpaw from Delhi has made it big in the International level for the Indian team in the past few years and established himself as one of the most consistent opening batsmen for the Indian team in all the three formats of the game.
Shikhar Dhawan Early Life
Shikhar Dhawan was born on December 5, 1985, to the family of Mahendra pal Dhawan and Sunaina Dhawan who got their roots in the state of Punjab. Apart from him, he also got one younger sister named Shreshtha in her family who has also got married recently. Shikhar started with his schooling in the famous St Marks senior secondary public school in Paschim Vihar and since childhoods only, he got his passion towards cricket, kick-started.
When he was just 12 years old, he was been asked by his uncle to join the Sonnet club, which is one of the oldest and most prestigious cricket clubs in Delhi and whilst playing under the supervision of coach Tarak Sinha, Dhawan proved his prowess at an early age whilst scoring a century for his club in the u15 Tournament. Moreover, he also left his studies after 12th grade in order to put down all his focus on cricket only.
Shikhar Dhawan Personal Info
The love story of Shikhar Dhawan and Ayesha Mukherjee is unique in its own sense and whilst Ayesha belonged to an Anglo Indian family, our "desi jatt" Shikhar Dhawan was simply on the opposite side. Meanwhile, Shikhar gets to know Ayesha via Facebook where she was a mutual friend to another Indian cricketer Harbhajan Singh.
Shikhar sent a Facebook friend request to Ayesha which she immediately accepted and that's where this love story got kick-started. Even after knowing that Ayesha was 10 years older than her whilst been a divorcee, Shikhar chose to get along with his love life with all the dedication and finally after years of speculations, they both tied knots in 2012. Moreover, Ayesha was a kickboxer by profession and she also had two daughters from her previous husband. Even now after the marriage, she has to travel back and forth between Melbourne and India but you can still find her to be always there for her hub during her matches.
Shikhar Dhawan Domestic Career
After having a tremendous run in the U15 tournament for his cricket club in Delhi, Dhawan started playing for the Delhi u16 team in the Vijay Hazare trophy in 2000 and just after one season with his team, he led them to the finals of the same trophy whilst being the highest scorer of the tournament. This was the same performance which made him earn a spot in the North zone U16 team and the Delhi U19 team alongside.
Although he was going through a good string of performances, one of the best moments of his career came in the U19 world cup in Bangladesh where he went on to score 505 runs with three tons and a half-century to his name. Still, he was not been able to grab a spot in the Indian senior team due to the fact that Virender Sehwag and Gautam Gambhir were already going great guns in the opening slot. Dhawan made his first-class debut for the Delhi team against the Andhra team in the 2004 Ranji trophy and he further made his debut in the list A cricket against the team of Jammu and Kashmir in the subsequent year. Even though his career was going through a lot of highs and lows, he kept on continuing with his brilliant run in the International cricket and that's was the same reason which made Delhi as the 2007 Ranji Trophy champions.
Even while he was not been able to perform up to his name in the domestic season in 2010, he came back with great perfection in the 2012 season whilst scoring a century being the Delhi Captain against the visiting English team.
Shikhar Dhawan International Career
With a big list of top-class performances to his name in the domestic cricket, he was finally been able to secure a spot in the National side for the three-match ODI series against the Australian team. Still, he hasn't been able to deliver up to his name as he went on to get out on a duck on just the second ball he faced in the second match of the series. Again he was been selected for India's tour of West Indies in 2011 but still didn't been able to do any good with his bat for the national team in the process. Eventually, he was been dropped from the national team due to his bad run in the International cricket.
Dhawan still didn't give up and kept on continuing with his efforts to gain his form back in the domestic circuit and this was the same reason he got selected in the Indian test squad in a test series with the touring Australian team for a four test match series. He deemed himself lucky as he received his first test cap from the Cricket Legend Sachin Tendulkar and went on to make a big score of 187 runs in his first match only. Moreover, he played along with the other Opening batsman Murali Vijay whilst holding a partnership of 283 runs for the first wicket. This was the same innings where he broke the record of the fastest century on his debut which was earlier been held by the other Indian player Gundappa Vishwanath.
Although Dhawan didn't been able to do well in India's tour of South Africa and New Zealand in 2013, he gained his golden touch-back in the 2014 Asia cup with some good runs to his name. Moreover, he got a perfect start to his world cup career whilst scoring two centuries in the tournament for the national team, and even though Indian did lose in the quarterfinals, he made his mark with superb batting in bowling supportive conditions. He then kept on his perfect run in the series against Sri Lanka and Bangladesh and scored back to back centuries in the process which made him only the third Indian to do so on away tours after Rahul Dravid and Sunil Gavaskar.
Once again, the ghost of injuries started haunting him as he lost a good part of the year 2016 whilst warming the bench due to the same. Still, he didn't give up and made a splendid comeback in the 2017 champion's trophy and once again secured the golden bat award for scoring the most runs for the second time in the same tournament. Although Dhawan didn't have a good run in the recently concluded tours to South Africa and England, he has recently starred in the Asia cup 2018 glory for the Indian team whilst grabbing the man of the series trophy.
Dhawan Deadly Duo with Rohit Sharma
Once Dhawan selected for the ICC champions trophy, he found his new avatar with his new opening partner Rohit Sharma. This is where his dream journey started in the International cricket as he scored 363 runs with two back to back centuries within the first two matches. This was the same tournament where he got awarded the Golden Bat award for being the highest scorer of the tournament.
As of now, Dhawan along with Rohit Sharma stands at no 4 spots for being the highest run-scorers in the opening partnership in International cricket. Even though Dhawan didn't click I the first few series against the teams of West Indies and Sri Lanka, he made up for them whilst scoring big in the coming series against the series of Zimbabwe, Australia, and West Indies. Moreover, his dream partnership with Rohit Sharma made him secure two perfect chases of 350 plus scores against the mighty Australian team.
Shikhar Dhawan IPL Career
Ever since IPL has been started, Dhawan has played for 4 different teams namely Mumbai Indians, Deccan Chargers, Delhi Daredevils, and Sunrisers Hyderabad.
In the past few years, his association with the Hyderabad team has paid them great dividends as he has been one of the biggest reasons for their IPL title victory in 2015. Moreover, he has recently been traded by the Hyderabad team to the Delhi Capitals team for the IPL 2019.
Shikhar Dhawan Achievements
Dhawan stands as the only player on the planet to grab two consecutive golden bat awards in the ICC champions trophy tournament.

Dhawan's 183 against Australia in his first match is the fastest test century by a debutant and he improved on the previous record set by another Indian player Gundappa Vishwanath.

In the year 2017, he was been picked as the CEAT international player of the year.

Dhawan's 505 runs in the U19 world cup still stands as the highest score by any player in the same tournament.
Unknown Facts about Shikhar
Dhawan is popularly been known by the name "GABBAR" for his Bollywood mimics whilst standing in the slip for the Indian team.

Dhawan initially started his career at the club level as a wicketkeeper whilst playing for the Sonnet club in Delhi.

As of now, Dhawan has played for four IPL teams namely Delhi Daredevils, Mumbai Indians, Sunrisers Hyderabad, and Deccan Chargers.

Dhawan used to bowl off-spin bowling but ever since he was been reported for a suspect action in the test series against South Africa, he never bowled again in his career.
Shikhar Dhawan Controversies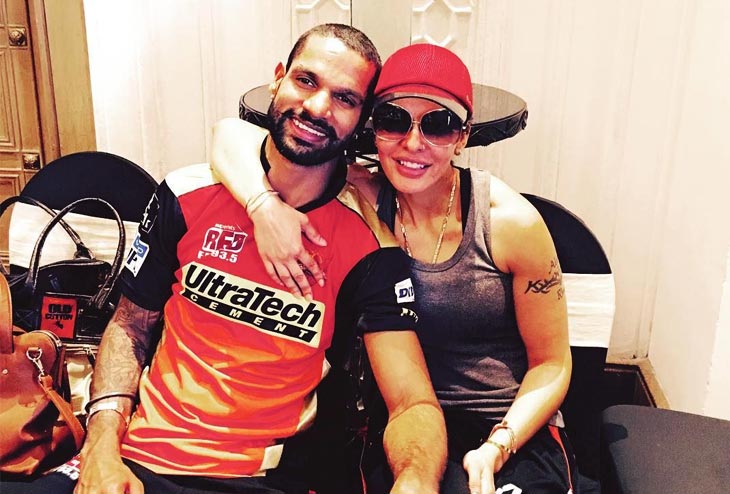 Shikhar Dhawan has always been that one man who has never found himself in the midst of any controversy but it was only once within his personal life when he married Anglo Indian Ayesha Mukherjee, he faced a lot of heat from the cricket fans and his relative around. Everyone from his family argued the fact that Ayesha was a divorcee and also carrying two daughters with herself from her previous marriage. Moreover, it was been quoted that she is 10 years older than Dhawan and Dhawan might need to leave the citizenship of Indian after getting married.
Still, it was his mother who stayed with him during the same process and amidst all the controversies and hassles, he finally got married to Ayesha in 2012.
Dhawan boasts many sponsorships and business ventures. Although it is not as eye-catching as the likes of Virat Kohli and MS Dhoni, the figures will light a spark on your eyes. So without further ado, we take a look at The Net Worth of Shikhar Dhawan. To find out, we have taken into account, his salary, endorsements, bonuses, and assets.
The stylish batsman from Delhi has endorsements worth a hefty sum of Rs 5.2 crores. Most recently, an Indian based brand Alic Sports roped him as their brand ambassador. In Shikhar Dhawan's net worth, he also earns a mammoth amount in all the formats of the games while representing India. He gets Rs 5,00,000 from BCCI for a Test match while Rs 3,00,000 for ODIs and Rs 2,00,000 for the T20Is. Moreover, he gets a fee of Rs 4 crore from his Indian Premier League franchise Sunrisers Hyderabad. Furthermore, he gets an annual retainer fee from his franchise worth Rs 1 crore.
Shikhar Dhawan is still playing for the Indian team and comes under the grade b of the BCCI contract. Moreover, Shikhar Dhawan's net worth stands at around $11 million and that includes all of his income from cricket, IPL, and other sources.
As far as the numbers of cars he owns are concerned, he currently got BMW, Benz, Rolls Royce, and Jaguar to the list and the net worth of these cars comes at Rs 9 crore. Shikhar Dhawan currently resides in Delhi and he bought a home in the same area in 2014 which got valued at 12.8 crores at that time. Apart from all the cricket earnings and other investments, Dhawan gets a big chunk of his income from all the commercial endorsements he does around the year. Some of the major brands he has endorsed include Berger paints, Pepsi, Ultratech Cement, Alcis sports, Ramsons Perfume, Daone Homes, Canar bank, Allied blenders, Big Bazaar and Nerolac.