Best Bowling Performances of Harry Gurney in IPL
T20 cricket, the shortest format of the gentleman's game, is often not very gentle on the bowlers. In a format that is tailor-made for the batsmen to enjoy their lives to the fullest, even the most disciplined and fast bowlers have had troubles. This is why comparatively slower, witty pacers are assets for every franchise in IPL. A certain James Faulkner was one such asset for Rajasthan Royals, and now Kolkata Knight Riders have a similar bowler in Harry Gurney.
Not only do they take the pace off the ball which makes it harder for the batters to dispatch the ball to the boundaries, they also often provide crucial breakthroughs. This is what Harry Gurney has done in his first season in India.
5 Best Bowling Performances of Harry Gurney in IPL
While KKR have unadulterated pace in their ranks in Lockie Ferguson and Prasidh Krishna, Harry Gurney is known to bamboozle the opposition batters with his trickery and slower deliveries.
Let us have a look of top bowling performances of Harry Gurney in IPL:
5. 0/20 vs Mumbai Indians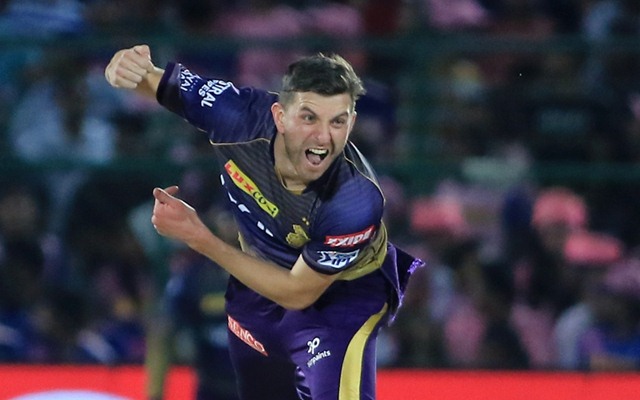 Since Gurney has played only eight IPL games so far, not many wonderful spells are assigned to his name. However, the spell against Mumbai Indians in the very last game of KKR's season was far more impressive than what the numbers might suggest.
The Riders only managed to score 133 runs, and Mumbai chased that down with great ease. Experienced bowlers like Sunil Narine and Andre Russell were handed a thrashing by Rohit Sharma and Suryakumar Yadav. Gurney was the rare bowler who managed to keep a check on the flow of runs. In his 3 overs, he conceded 20 runs at a rate of just over run-a-ball.
Read More: Top 5 Bowling Performances of Piyush Chawla in IPL
4. 1/41 vs Kings XI Punjab
Best Bowling Performances of Harry Gurney in IPL: At the IS Bindra Stadium, Gurney was not as economical, but he didn't needed to be. The match was a high-scoring one and the bowlers' primary job was to take wickets. Punjab's batters were looking in good form and at one stage, they were looking on course to get to the 200-run mark.
Gurney curbed all possibilities of that once and for all, by picking up a crucial wicket at a very crucial stage. In the 18th over, he dismissed Mandeep Singh who was looking dangerous. This breakthrough helped KKR restrict Punjad to 183, which Dinesh Karthik's men managed to chase down.
Read More: Top 5 Bowling Performances of Chris Woakes in IPL
3. 1/37 vs Chennai Super Kings
Just like the Kings XI Punjab encounter, Gurney was slightly on the more expensive side against Chennai Super Kings. Having said that, he once again managed to give the men in purple and gold a big breakthrough. Batting first, KKR managed to score only 161.
With their star-studded batting lineup, CSK were the favourites to win. But Gurney soon drove KKR into the drivers' seat by getting veteran Shane Watson out on the fourth over. Unfortunately for Karthik's men, it was not enough as Suresh Raina and Ravindra Jadeja helped CSK get over the line.
Read More: Top 5 Bowling Performances of Imran Tahir in IPL
2. 2/37 vs Mumbai Indians
Top Bowling Performances of Harry Gurney in IPL: Gurney seems to have a special liking for Mumbai Indians. But when he met them at Eden Gardens, his batting fellow-mates gave him a much bigger target to defend. Thanks to an unforgettable innings from Andre Russell, KKR scored 232 runs.
However, the game was far from done since Rohit Sharma always tends to play a heroic knock at the Gardens. But that wasn't the case to be this time as Gurney dismissed him for just 12. Despite that, Indians were looking menacing, thanks to a fiery knock from Hardik Pandya. At one stage, most expected Mumbai to narrowly get over the line. Pandya was dispatching every delivery into the stands and was batting on 91 from just 33 balls. Karthik needed someone to stop the carnage, and his pleas were answered by Gurney. His dismissal helped KKR earn the two points.
Read More: Top 5 Bowling Performances of Andre Russell in IPL
1. 2/25 vs Rajasthan Royals
Gurney's only man of the match-winning performance came against Rajasthan Royals. At a malignantly strange game at Jaipur, Royals scored only 139 runs from their 20 overs. What's surprising about their scoreline is that they only lost three wickets.
Two of those wickets were taken by Gurney. He dismissed the dangerous Jos Buttler, and his current teammate Rahul Tripathi. Gurney also managed to maintain a highly commendable economy rate of just over 6 runs per over. The target of 140 was chased easily by KKR, with over six overs to spare.
Read More: Top 5 Bowling Performances of Sam Curran in IPL