| | |
| --- | --- |
| Full Name: | Suryakumar Ashok Yadav |
| Nickname: | SKY |
| Profession: | Cricketer (Batsman) |
| Team: | Mumbai Indians |
| Birthday: | 14th September 1990 |
| Age: | 27 Years |
| Birthplace: | Mumbai, Maharashtra, India |
| Nationality: | Indian |
| Religion: | Hinduism |
| Height: | 180 cm, 1.80 m, 5'11" |
| Weight: | 75 kg, 165 lbs |
| Zodiac Sign: | Virgo |
| Mother: | Swapna Yadav |
| Father: | Ashok Kumar |
| Wife: | Devisha Shetty |
| Coach: | Vinod Yadav |
| Net Worth: | ₹10.2 Crore |
Suryakuma Yadav Career Stats
IPL Career
# Batting Career Summary
| Match | Inn | Run | HS | Avg | SR | 50 | 100 | 200 |
| --- | --- | --- | --- | --- | --- | --- | --- | --- |
| 92 | 78 | 1777 | 79 | 29.13 | 134.32 | 9 | 0 | 0 |
# Bowling Career Summary
| Match | Inn | Run | Wkts | Eco | Avg | SR | 5w | 10w |
| --- | --- | --- | --- | --- | --- | --- | --- | --- |
| 92 | 1 | 8 | 00 | 8.0 | 0.00 | 0.00 | 00 | 00 |
Suryakuma Yadav Biography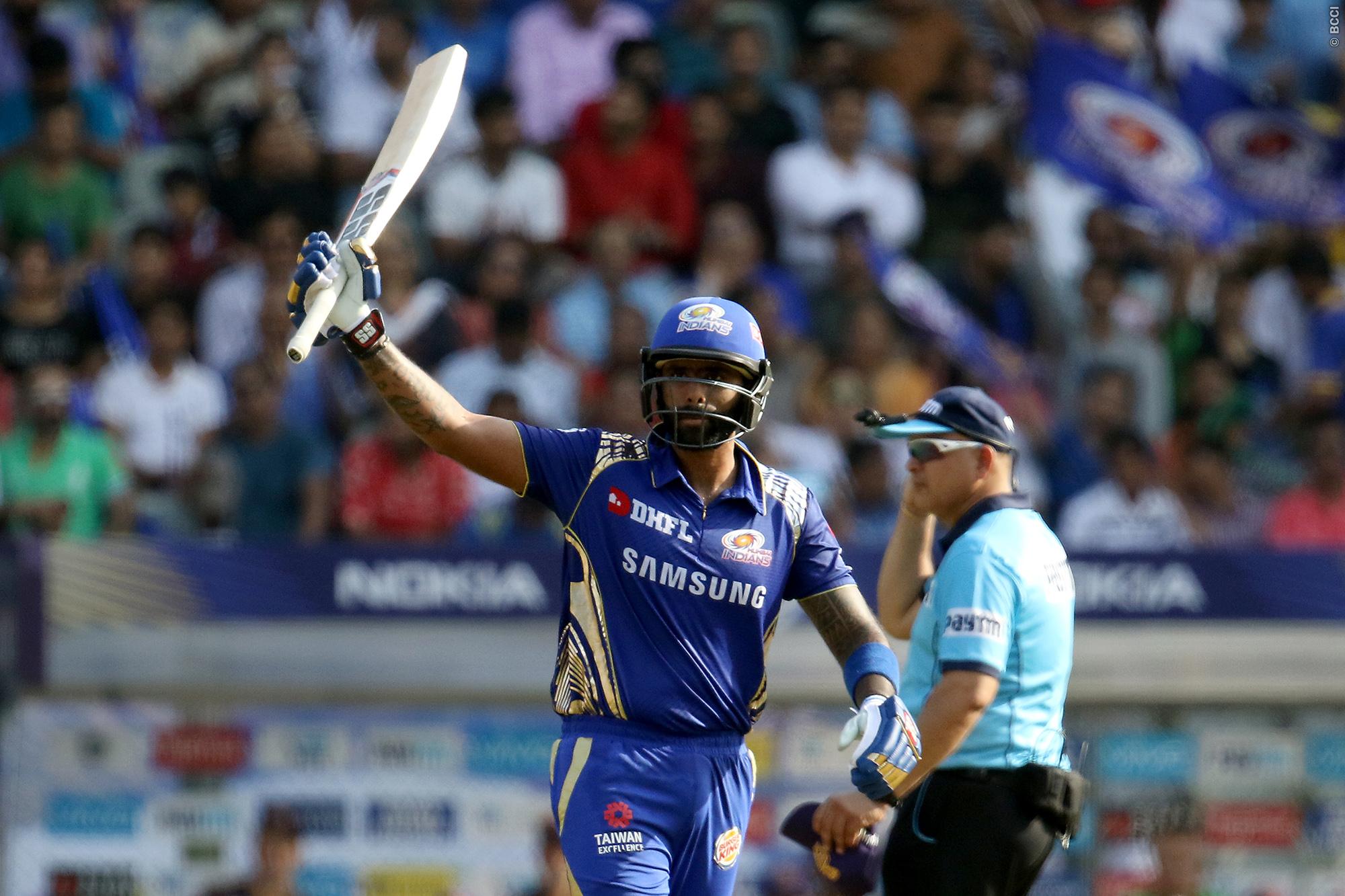 The year was 2015, and things were going exactly as per everyone's prediction. Rohit Sharma had played a great knock at his happy hunting ground, the Eden Gardens. Mumbai Indians were cruising towards an easy victory against the side they absolutely love to play against – Kolkata Knight Riders. What was not in the prediction, was a knock by a certain Suryakumar Yadav.
The player, who happens to be a Mumbaikar, changed the complexion of the game single-handedly. His sublime shots to the leg side boundary was a visual treat to many. Not many might have expected a heroic from Suryakumar Yadav, but Ashok Kamath surely would have. Yadav was just 8 years of age when he was spotted by Kamath during a practice session. He predicted right then that Yadav or 'Sky' would make it big.
Suryakumar Yadav Early Day's
Suryakumar Yadav was born on 14 September 1990, in Mumbai, Maharashtra. His father's name is Ashok Kumar Yadav. Ashokkumar Yadav used to work at the Bhabha Atomic Research Centre, as an electrical engineer. He is originally from Ghaziabad in Uttar Pradesh. His mother's name is Sapna Yadav.
Yadav completed his education from the Atomic Energy Central School of Mumbai. He pursued his higher education from Mumbai's Atomic Energy Junior College. Yadav has also studied at the Pillai College of Arts, Commerce and Science of Mumbai. He has a bachelors degree in commerce.
Yadav used to play both badminton and cricket as a kid. His father encouraged him to pick any one sport and pursue it with full dedication. Ashok kumar Yadav realized his son's potential when he has just 12 years of age. He enrolled his kid in the Elf Vengsarkar Academy, run by former Indian cricketer Dilip Vengsarkar.
Yadav loves to get inked. He has tattoos of his parents' name, their face, two tribal style tattoos, and also two quotes – "Life is what you make it" and "Take one step one at a time".
Suryakumar Yadav is married to Devisha Shetty.
The swashbuckling batsman from Mumbai loves dessert. He also loves cars and bikes. He has a BMW 5 Series 530d M Sport, a Suzuki Hayabusa, and a Harley Davidson. He was just 10 years of age when his family shifted to Mumbai.
Currently, Yadav is playing for Mumbai Indians in IPL. His first cricket mentor was Vinod Yadav, who is also his uncle.
Suryakuma Yadav Domestic Career
Yadav got his List A debut against Gujarat on February 11, 2010. In that match at Ahmedabad, he played a brilliant knock of 41. His T20 debut came about a month later, against Hyderabad at Indore. This debut wasn't as impressive though, as he scored only 5 runs. His first-class debut came in December of the same year. In the Ranji Trophy Group A clash against Delhi, Yadav scored a brilliant 73 in the first innings.
Suryakuma Yadav Achievements
Suryakumar Yadav has scored a double-century against Odisha in domestic cricket.

In IPL 2018, he was the highest run-getter for Mumbai Indians. Sky scored 512 runs in that season.

He has been a part of both the 2018–19 Deodhar Trophy and the 2019–20 Deodhar Trophy.

He has been the vice-captain of Kolkata Knight Riders.