Best Innings of Ravindra Jadeja in IPL
When cricket fans hear the name of Ravindra Jadeja, they associate him with clever bowling and electrifying fielding. Because of his excellence in these fields, one aspect of his game goes massively overlooked. For all of his brilliance with the ball and in the field, he is also a very handy batsman. Though Jadeja is yet to score a half-century in IPL, he has scored many valuable thirties and forties.
Ravindra Jadeja started his IPL career with Rajasthan Royals, and lifted the trophy in his debut season itself. After three years with the Royals, Jadeja found himself in Kochi Tuskers Kerala. It could have been the start of a legacy, but Kochi were disbanded after one season, and Jadeja continued his legacy in a Chennai Super Kings kit.
Best Innings of Ravindra Jadeja in IPL
The yellow army bought him INR 9.8 crores in 2012. and there has been no looking back since. In the years CSK were not a part of the tournament, Jadeja represented the Gujarat Lions. Let us have a look at Best Batting Performance of Ravindra Jadeja in IPL:
5. 36* (25) vs Kings XI Punjab
For our first mention, we go back to the very first season. Rajasthan Royals faced Kings XI Punjab, who batted first and scored a respectable 166. In the run chase, Royals lost both openers Mohammad Kaif and Kamran Akmal inside the first five overs.
Shane Watson and Darren Lehmann managed to steady the ship, but they were going under the required run rate. Hence, when Jadeja came in, he needed to accelerate. Jadeja played a crucial innings of 36 not out from just 24 deliveries. He hit five boundaries and one maximum, as his exploits helped Royals go over the line in the eighteenth over.
Read More: Best innings of Karun Nair in IPL
4. 42 (32) vs Mumbai Indians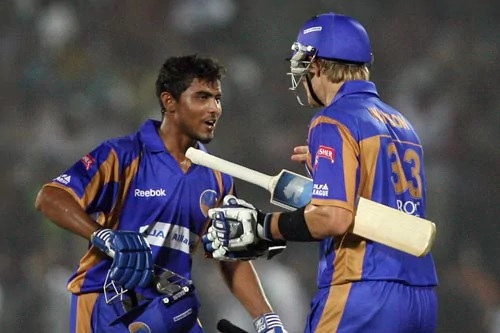 Best Innings of Ravindra Jadeja in IPL: This time around, we move a year ahead and travel back in time to 2009. By this time, Jadeja had already proved what he was capable of doing, and was promoted up the batting order to number four. In the match against Mumbai Indians, Greame Smith and Rob Quiney gave Rajasthan Royals a slow yet solid start.
But Royals lost Smith and then Yusuf Pathan in a span of three overs. Hence, Jadeja once again needed both to accelerate and build a partnership. He played an important knock of 42 runs from 32 balls. He hit four boundaries and one six in this innings, and built up a strong 61-run partnership with Rob Quiney.
Read More: Best Innings of Mayank Agarwal in IPL
3. 38* (20) vs Royal Challengers Bangalore
Best Innings of Ravindra Jadeja: In purely emotional terms, most of the fans would put this innings as Jadeja's best ever in IPL. When Chennai Super Kings hosted Royal Challengers Bangalore at the M.A. Chidambaran Stadium back in 2013, the neutrals got a treat of their lives, while fans of both sides lost all of their nails.
Batting first, Bangalore put up a challenging total of 165. CSK lost both opener Michael Hussey and Murali Vijay very early, but then Subramaniam Badrinath and Suresh Raina steadied the innings. After their dismissals, Jadeja built up a good partnership with Mahendra Singh Dhoni. CSK fans hoped that their skipper would see them over the line, but Dhoni lost his wicket with 11 balls to spare. From then, Jadeja played a blinder of a knock and took CSK over the line with just a ball to spare.
Read More: Best innings of Hardik Pandya in IPL
2. 44 (26) vs Pune Warriors India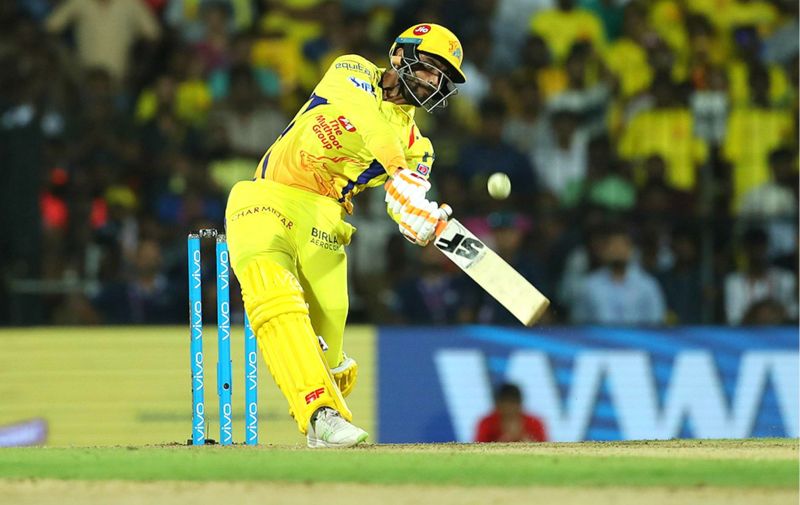 Best Batting Performance of Ravindra Jadeja in IPL: 2013 was as latest as we would go back for this listicle, and now let us focus on this magical night at the splendid MCA International Stadium, when Pune Warriors India faced Chennai Super Kings in 2012. Batting first, CSK lost Murali Vijay early, but the Suresh Raina and Faf du Plessis built up a good partnership.
After their dismissals, the partners-in-crime Mahendra Singh Dhoni and Ravindra Jadeja united once again to unleash all hell on the Pune bowling unit. While Dhoni played the anchor's role, Jadeja was dispatching everything into the stands. In just 26 balls, he scored 44 runs. His innings helped CSK reach the competitive total of 155.
Read More: Best Innings of Suryakumar Yadav in IPL
1. 49 (28) vs Deccan Chargers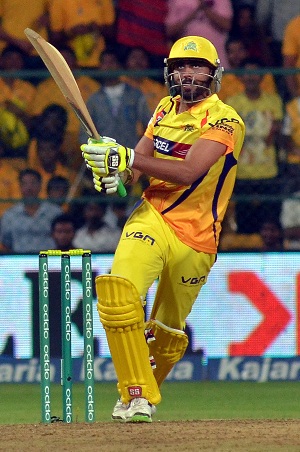 Batting way down the order might have prevented Jadeja from getting a fifty in IPL, but for his dismissal in the game between Chennai Super Kings and Deccan Chargers in 2012, he only has himself to blame. Faf du Plessis and Submramaniam Badrinath set up a good foundation for CSK, who batted first.
After they departed, Ravindra Jadeja started his exploits. He batted in fifth gear from the first ball and came agonizingly close to a half-century. He was just a couple of runs short from his maiden IPL fifty when was dismissed hit-wicket. It remains as Jadeja's highest score with the bat thus far in this competition.
Read More: Best Innings of Harbhajan Singh in IPL