Best Innings of Karun Nair in IPL
Now at 28 years of age, when Karun Nair will be look back and analyze how his career went, he would probably question himself – where did it go wrong? At some moments, Nair always looked set to be a dependable batsman for both India, and whoever IPL franchise he played for. A triple century in his maiden Test match, numerous fifties in IPL, Nair had the stats in his favour.
But then again, the amalgamation of all the factors was far from perfect. Sometimes it was because of things he had no control over, and he sometimes he faltered at the exact time when all eyes where on him. Nevertheless, he still managed to be fairly successful in the IPL.
Best Innings of Karun Nair in IPL
Let us have a look at 5 Best Batting Performance of Karun Nair in IPL:
5. 64 (45) vs Rising Pune Supergiant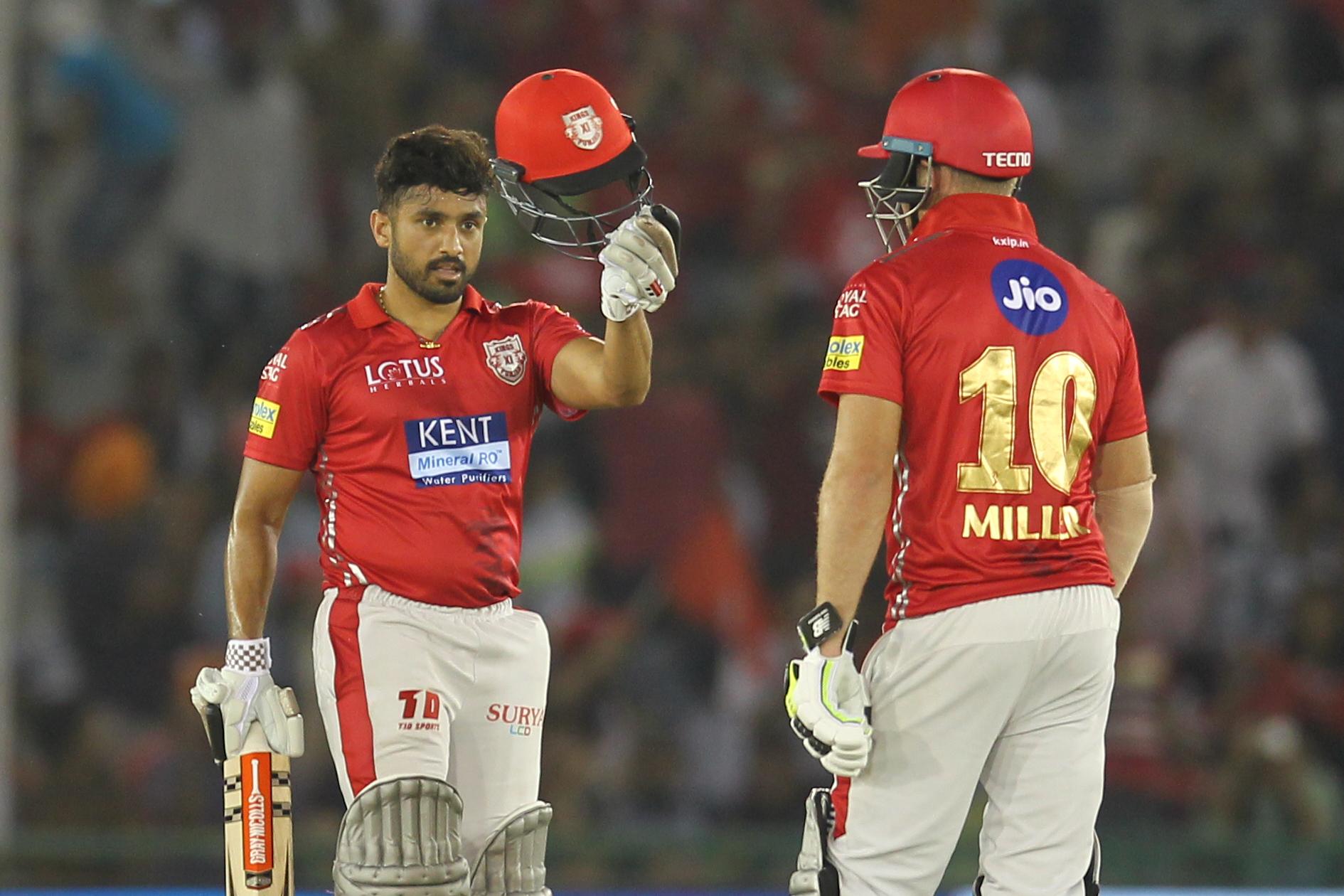 Currently, Karun Nair is at Kings XI Punjab, where he might earn a fat pay cheque, but opportunities are hard to come by. But things were a bit different when he was with the Delhi Capitals back in 2017. In this particular match against Rising Pune Supergiant, he was at his best.
Batting first, the Capitals decided to push Nair up the order to the opening slot. Delhi lost Sanju Samson and Shreyas Iyer very early, but Nair and Rishabh Pant built a good partnership. Even after Pant's dismissal, Nair carried on and lost his wicket only at the nineteenth over. He scored a solid 64 from 45 deliveries, which helped Delhi reach a total of 168.
Read More: Best innings of Shreyas Iyer in IPL
4. 54 (26) vs Chennai Super Kings
Best Batting Performance of Manish Pandey in IPL: When we say opportunities are hard to come by for Karun Nair in a Kings XI Punjab shirt, we are referring to how things panned out last season. Back in 2018, Nair was one of Punjab's trump card and ended up becoming their third highest run-scorer in that season.
In this match against Chennai Super Kings, Punjab had the worst start one could imgine. They lost 3 wickets for just 16 runs, but the David Miller used all of his experience to stop the carnage. Once he was gone, it was Nair's turn to turn the table on Dhoni's men. He played a sublime knock of 54 runs from just 26 deliveries. While at one stage Punjab looked miles away from 150, his knock helped them score three more than that.
Read More: Best innings of Faf du Plessis in IPL
3. 61* (38) vs Delhi Capitals
Though Nair reached great heights with Kings XI Punjab in 2018, it was in a Rajasthan Royals kit when he first got his name registered in the selectors' notebooks. This match against Delhi Capitals in 2015 might well be a reason behind his international call up a few months later.
Royals batted first in this game, and Ajinkya Rahane and Shane Watson set up a 52-run first-wicket stand. After the Australian's dismissal, Nair joined the party. He scored 61 runs from just 38 deliveries, which included six boundaries and a couple of biggies. Royals eventually ended up winning this encounter.
Read More: Best innings of Steve Smith in IPL
2. 73* (50) vs Delhi Capitals
Best innings of Karun Nair in IPL: This is a match against the same oppositions where Nair played a similar knock, but this is a year older. Delhi batted first in this match, and could only manage to score 152. Royals lost Ajinkya Rahane early in this run chase, but nair found a worthy partner in Sanju Samson.
They set up a 51-run second-wicket stand, which put Royals in the drivers' seat. After Samson's dismissal, Nair kept continuing with Rajat Bhatia as his current partner. He remained not out on 73 as Rajasthan Royals chased the target down with an over and three balls to spare.
Read More: Best innings of Faf du Plessis in IPL
1. 83* (59) vs Sunrisers Hyderabad
Though some of Nair's best ever knocks in IPL came against Delhi Capitals, his best ever knock was for the team from the capital city. This match against Sunrisers Hyderabad took place in 2016. Hyderabad batted first and managed to up a decent yet below par total of 158.
Once again, Nair found himself in a precarious situation as Delhi's opener Quinton de Kock departed for the dugout in the second over itself. Nair built up an 81-run partnership with Rishabh Pant, which brought Delhi back in the game. After Pant's dismissal, he found veteran South African Jean Paul Duminy at the other end. While the others got good starts but could not capitalize, Nair once again batted till the very end. His unbeaten knock of 83 runs had 8 boundaries and 3 sixes in it.
Read More: Best innings of Shreyas Iyer in IPL