Top 5 bowling performances of Pat Cummins in IPL
Pat Cummins's first appearance in the Indian Premier League was in 2014. Back then, he was a young and talented Australian who was signed by Kolkata Knight Riders for only INR 1 crore. Now, he is back with the purple and gold brigade, but his status has changed for certain.
Currently, Cummins is regarded as one of the best pacers in the world. It was expected that he would fetch huge bids in the auction, but his price tag of INR 15.5 crores is something not many saw coming. Though a tremendous success for Australia, Cummins has struggled in IPL. He will need to produce some great spells to live up to his price tag.
Let us have a look at the top 5 bowling performances of Pat Cummins in IPL:
5. 2/ 39 vs Kolkata Knight Riders (2017)
Interestingly, the first mention on our list of top 5 bowling performances of Pat Cummins in IPL is from a spell against Cummins' current side, KKR. Delhi Capitals welcomed the Knights at the Arun Jaitley Stadium. Batting first, they scored a respectable 168.
KKR lost opener Colin de Grandhomme in the very first over, while Cummins dismissed Robin Uthappa in the next over. From there on, Manish Pandey and Yusuf Pathan formed a match-winning partnership for the visitors. After Pathan was dismissed, Cummins got the better of Suryakumar Yadav to further pressurize KKR. But ultimately it was of no avail as Manish Pandey stood tall and took his side over the line.
4. 2/30 vs Gujarat Lions (2017)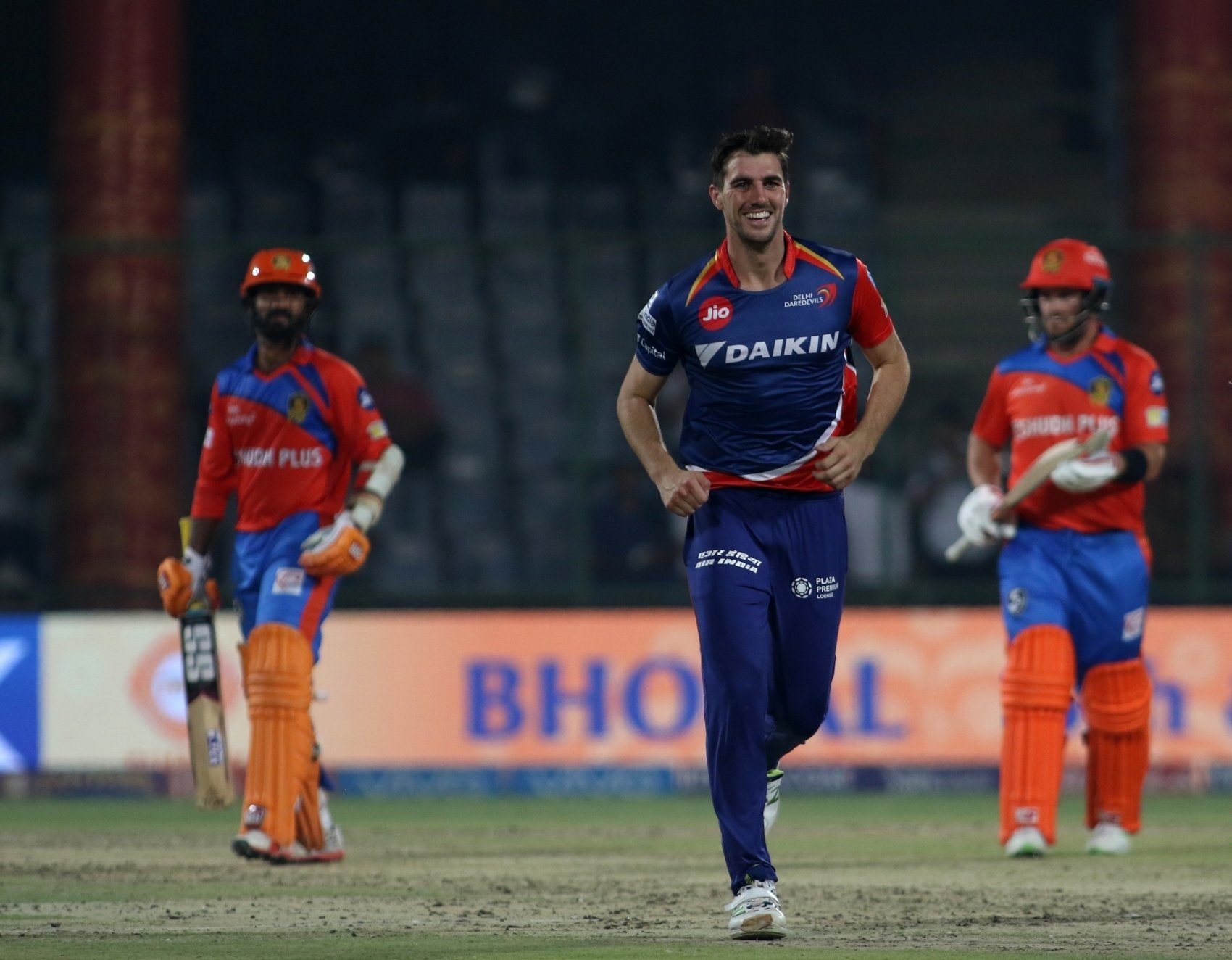 Though Cummins made his IPL debut in 2014, he played only 4 games prior to the 2017 season. Even in those games, he was very off-colour. Hence, all the mentions on this list will be from the 2017 season, when Cummins represented Delhi Capitals. This particular spell came when Delhi hosted Gujarat Lions at the Arun Jaitley Stadium.
Batting first, the Lions lost both openers inside 8 balls. But Suresh Raina and Dinesh Karthik set up a scintillating 133-run third-wicket stand. After Raina has dismissed courtesy a run-out, Cummins dismissed Karthik in the very next over. A few overs later, he took the wicket of Ishan Kishan. Cummins' spell helped Delhi restrict the visitors to 208, which they managed to chase down.
3. 2/24 vs Rising Pune Supergiant (2017)
Just like the previous one, this mention on our list of top 5 bowling performances of Pat Cummins in IPL is against a defunct side. It was very early on in the 2017 edition when Delhi travelled to the MCA's International Stadium to take on Rising Pune Supergiant. Batting first, Delhi scored more than 200 runs, courtesy a sublime century from Sanju Samson.
Pune had a horrific start in their chase and lost 4 wickets with just 52 runs on the scoreboard. Cummins then joined the party and claimed the wicket of dangerous Ben Stokes. His second wicket of the match came in the 17th over, in the form of Ashok Dinda. Delhi managed to bundle Pune out for just 108 runs.
2. 2/23 vs Kings XI Punjab (2017)
A few days after the Pune match, Delhi welcomed Kings XI Punjab at the Arun Jaitley Stadium. Batting first, they scored a very impressive 188. Punjab had a very poor start to their run chase. They lost all of their top 3 inside the fifth over.
Just as when Eoin Morgan and David Miller were forming a partnership for the visitors, Cummins played a spoilsport for the neutrals. His first wicket of the game was of Eoin Morgan's, which came in the last ball of the 10th over. He later added to wickets column by getting rid of Mohit Sharma in the penultimate over of the innings.
1. 2/20 vs Mumbai Indians (2017)
This spell came when Delhi travelled to the Wankhede Stadium to take on IPL big-shots Mumbai Indians. Batting first, Jos Buttler provided Mumbai with a fiery start. After the openers were dismissed, Cummins didn't allow the likes of Nitish Rana and Rohit Sharma to settle down.
The got the wicket of the former in the 8th over, while also gave terrible headaches to the latter. While Sharma's wicket was soon taken by Amit Mishra, Cummins' second wicket came in the form of Kieron Pollard at the death. His spell helped Capitals restrict Mumbai to a mere 142 in a batting-friendly track, but Delhi batters faltered terribly and failed to seal the deal.