| | |
| --- | --- |
| Full Name: | Nitish Rana |
| Profession: | Cricket (Batsman) |
| Batting Style: | Left Handed Bat |
| Bowling Style: | Right-arm off-break |
| Birthday: | 27th December 1993 |
| Age: | 24 Years |
| Birthplace: | Delhi, India |
| Nationality: | Indian |
| Religion: | Hinduism |
| Height: | 173 cm, 1.73 m, 5'8″ |
| Weight: | 63 kg, 139 lbs |
| Eye Color: | Black |
| Coach: | Sanjay Bharadwaj |
| Net Worth: | Not Known |
| Hobbies: | Swimming, Travelling |
| Girlfriend: | Sacchi Marwah |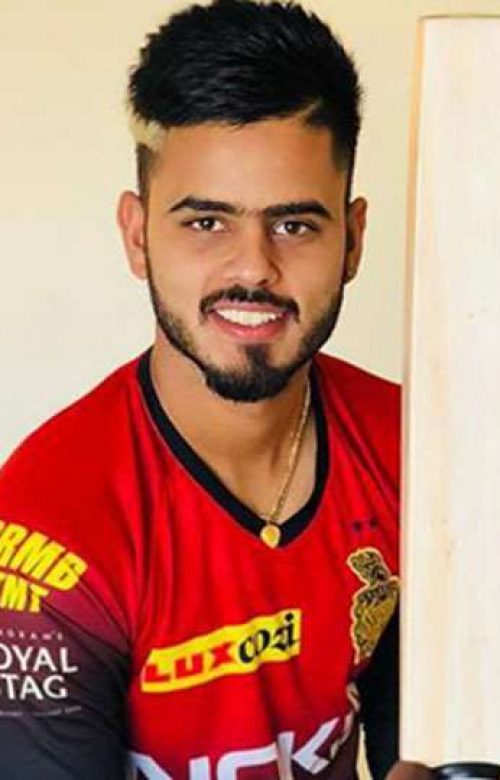 IPL Career
# Batting Career Summary
| Match | Inn | Run | HS | Avg | SR | 50 | 100 | 200 |
| --- | --- | --- | --- | --- | --- | --- | --- | --- |
| 52 | 47 | 1226 | 85 | 27.86 | 135.77 | 9 | 0 | 0 |
# Bowling Career Summary
| Match | Inn | Run | Wkts | Eco | Avg | SR | 5w | 10w |
| --- | --- | --- | --- | --- | --- | --- | --- | --- |
| 52 | 13 | 126 | 7 | 7.79 | 18.0 | 13.86 | 00 | 00 |
Nitish Rana was just eight years old when his father asked him to pick one between a bat and a book. Rana, without a single doubt in mind, picked his bat and never looked behind since.  
Hailing from the capital city of Delhi, Nitish Rana was born and brought up in Model Town. His father worked as a Maths professor, while his mother is a homemaker.
The entire family was a cricket lover. Nitish Rana, his brother and his father, all had different cricketing idols. The KKR batsman was a huge Saurav Ganguly fan, while his father and brother would adore Sachin Tendulkar and Rahul Dravid respectively.
Growing up, Nitish Rana would often lock his room and cry whenever Saurav Ganguly would get out.
"We used to have fight in our family. My brother was a Rahul Dravid fan, I was a Sourav Ganguly fan and my father adored Sachin Tendulkar. My father would tell me something every time Ganguly used to get out. I would run to my room and lock it and then cry and get angry," Nitish Rana said in an interview with Cricbuzz.
Nitish Rana very rarely made headlines during his age-group cricket career but was slowly rising through the ranks and scaling heights in his career.
Nitish Rana Domestic Career
Nitish Rana made his debut in first-class cricket in the 2015-16 Ranji season. He immediately made a significant impact, amassing 557 runs at an average of 50.63. He ended as Delhi's highest run-getter that season.
He followed it up with a stellar 2015-16 Vijay Hazare season. He became the second-highest run-scorer in that season, with 218 runs to his name.
In 2015-16 Syed Mushtaq Ali Trophy, Rana scored 299 runs in 8 innings at a strike rate of 175.88 and an average of 42.71.
In the first 3-4 seasons of the Indian Premier League, Nitisha Rana would often go to Feroz Shah Kotla Stadium to watch his idols such as Virender Sehwag, Gautam Gambhir, Akshay Kumar, and AB De Villiers. He would often sit and ask if would ever be able to showcase his potential at such a big stage.
"I never thought that I can be a part of IPL. For 4 or 5 seasons I used to got to Feroz Shah Kotla stadium to watch matches because I liked Akshay Kumar and he was with Delhi Daredevils back then. I used to like AB de Villiers and even Gautam Gambhir was in Delhi then. Virender Sehwag was also there. I used to think if one hasn't seen them play, then they have seen nothing." KKR batsman told Cricbuzz.
An exceptional 2015-16 first-class season meant that his IPL contract wasn't too far away. Rana's dream turned into reality when Mumbai Indians bought his services ahead of the 2016 Indian Premier League.
2017 IPL: Things weren't going too good for Rana and what was needed was a great IPL season. This time, he did get opportunities. Turning up for Mumbai Indians for the second season, Rana scored 333 runs in 13 matches at an impressive average and strike rate of 30.27 and 126.13.
2018 IPL: Impressive performance in the 2017 IPL saw him moving to Kolkata Knight Riders ahead of the 2018 Indian Premier League. Playing his first season for KKR, Rana accumulated 304 runs in 15 matches at a not-so-impressive average of 23.40. However, he came back strongly in the following season, where the left-hander played some outstanding knocks for KKR, scoring 344 runs in 14 matches, striking the ball at a rate of 146.38.
Nitish Rana, today, has become a household name in the Indian Premier League, scoring consistently for last 3 years. In his IPL career, Rana has played 46 matches so far, in which he has accumulated 1085 runs at an average of 29.32 and a strike rate of 134.61.
Nitish Rana Personal Info
Nitish Rana was born on 27th December 1993 in Delhi. His father, worked as a maths professor while is mother is a homemaker. Nitish Rana has a sister named Vishakha. Nitish is engaged to Sacchi Marwah, who is an interior designer by profession.