What do the fans love? Match with a high score? Match with one-sided domination? Match with more number of sixes or fours or the match with more number of wickets? No, fans love the close shaves and crunch games. Nothing can match the curiosity which the nail bitters give. It has the excitement of the fans and cheers in the stadium which boosts the entire progress of the tournament. The aggression with the close games is something rare and worth watching. What are those crunch games? In today's column let us discuss about the Top 10 Crunch Matches in IPL of all Time.
10) Rajasthan Royals vs Chennai Super Kings, 2008
Image Source
It was not just a league game; it was the all important and all meaningful final. It was the final which was to decide the first winner of the IPL history. Chennai Super Kings led by Dhoni locked horns with Shane Warne's Rajasthan Royals. The game was a humdinger as it went on till the last ball of the last over. Rajasthan Royals needed one run from the last ball which was scored by Sohail Tanvir of Pakistan which gave Rajasthan Royals the first IPL trophy in the very first edition.
9) Kings XI Punjab vs Mumbai Indians, 2008
Video Source
In the 2008 IPL, the clash between Kings XI Punjab and Mumbai Indians in the league stage was the match no one thought will go to the last ball until the beginning of the last over. Mumbai Indians needed 19 runs from the last 6 balls and Yuvraj tossed up the ball to VRV Singh. He gave away 17 runs in the first 5 balls, needing two runs of the last ball, the batsman met the ball with his bat and was running a single comfortably, but Yuvraj Singh collected the ball and dived towards the stumps to execute a fantastic run out which gave Kings XI Punjab a thrilling 1 run win and they took away the two points to stay in the top part of the table.
8) Chennai Super Kings Vs Kings XI Punjab, 2010
Image Source
It was 2010 IPL, Kings XI Punjab lost first three games on the trot, it was their 4th game and it was against one the best side which was Chennai Super Kings. Kings XI Punjab was looking for their first win and Chennai Super Kings were looking for their hat trick win. Kings XI Punjab batted first and was restricted under 140. Odds hugely favored Chennai Super Kings to chase down the target easily may be in 16 overs. But the game had other ideas. Kings XI Punjab bowled extremely well under pressure and pulled the game back in last 10 overs and Chennai Super Kings just managed a tie which took the game to the super over. In the super over, a reverse sweep from Yuvraj Singh of Muralitharan sealed all important victory for Kings XI Punjab.
7) Mumbai Indians vs Chennai Super Kings, 2010
Video Source
It was 2010 IPL final, the rivals Chennai Super Kings and Mumbai Indians met in which Mumbai was favorites to lift their maiden title. The game was going neck to neck and then slowly was going towards Chennai Super Kings against odds. But Pollard was still battling out there and the game was still going on in crunch manner. A brilliant field set up from Mahendra Singh Dhoni got rid of the dangerous Pollard which closed the curtains on the hopes of Mumbai Indians and Chennai Super Kings lifted their Maiden IPL title.
6)  Royal Challengers Bangalore vs Deccan Chargers, 2009 IPL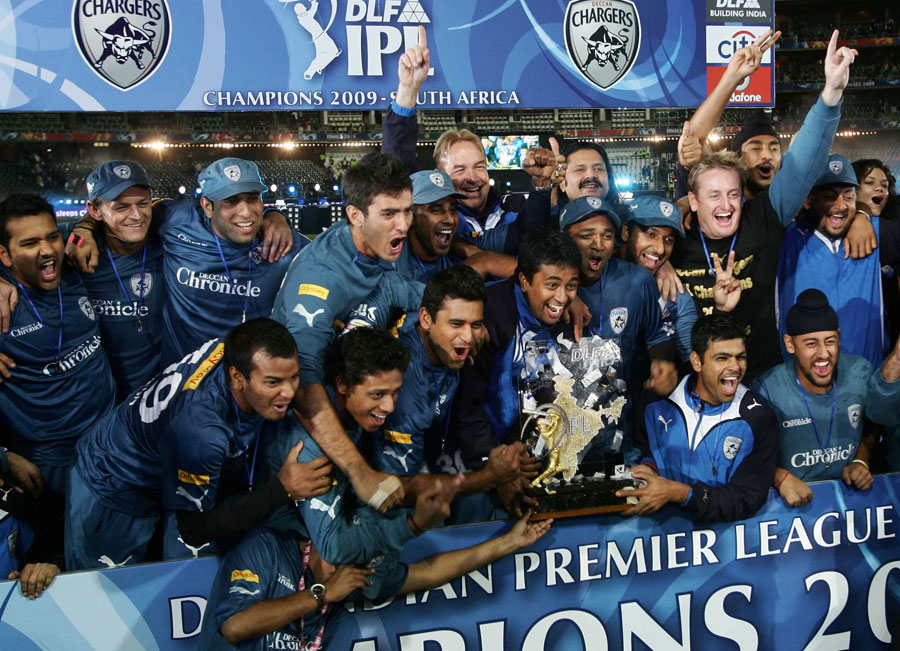 Image Source
It was 2009 IPL final and Royal Challengers would have won the IPL as they needed only a few runs in the last over. But fate had other ideas had Deccan bowled extremely well and royal challengers chocked in the final over to let go of the trophy which was in their hand before the start of the final over. It was one of the close games and Bangalore fans would still feel bad for it. Their quest for their maiden trophy still continues.
5) Sunrisers Hyderabad vs Royal Challengers Bangalore, 2016 IPL
Image Source
Sunrisers Hyderabad and Royal Challengers Bangalore met in the grand finale of the IPL and Sunrisers scored 200 plus to set up a massive target for Royal Challengers Bangalore. Royal Challengers were well on the chase as Captain Virat Kohli and Chris Gayle gave them a blistering start. But sadly they fell short by 9 runs as their middle order did not shine much. The game went on to crunch mode.
4) Kings XI Punjab vs Kolkata Knight Riders 2014
Video Source
2014 IPL was the best IPL for Kings XI Punjab and they scored a massive score of 199 with the help of century from Wridhiman Saha. KKR chased well and heroic innings from Manish Pandey helped KKR clinch a final to life their second IPL title.
3)  Chennai Super Kings vs Sunrisers Hyderabad, 2018 IPL
Video Source
It was qualifier 1 and Chennai Super Kings were chasing a moderate total around 140. They were 7 down for 90 runs and SRH looked to reach the final first. But du Plessis the fantastic South African had other plans, he started his power hitting and finished off the game to send CSK directly into the final in their comeback edition after 2 years.
2) Mumbai Indians vs Rising Pune Supergiant, 2017
Image Source
2017 IPL final is one of the best IPL final ever. From 69-7 to 127 all out, Mumbai recovered well but was not enough to win an IPL. But they bowled superbly as they won by 1 run in thrilling last ball finish which gave them their third IPL trophy.
1) Chennai Super Kings vs Royal Challengers Bangalore, 2013
Image Source
Last ball from Royal Challengers Bangalore bowler RP Singh needed two runs for Chennai Super Kings to win and Jadeja got out in the ball but it was signaled no ball and Chennai was the winner. Celebration mode was shifted to Chennai camp from the Bangalore camp.
Also Check: