| | | |
| --- | --- | --- |
| | Full Name: | Yuvraj Singh Bhundel |
| | Nickname: | Yuvi |
| | Profession: | Cricketer |
| | Date of Birth: | December 12, 1981 |
| | Age: | 37 Years |
| | Birthplace: | Chandigarh, India |
| | Nationality: | Indian |
| | Religion: | Sikhism |
| | Hobbies: | Travelling, Listening to Music |
| | Marital Status: | Married |
| | Height: | 185 cm, 1.85 m, 6'1" |
| | Weight in KG: | 80 kg, 176 lbs |
| | Eye Color: | Dark Brown |
| | Mother: | Shabnam Singh (Housewife) |
| | Father: | Yograj Singh (Actor) |
| | Siblings: | 1 (Brother) |
| | School: | DAV Public School, Chandigarh |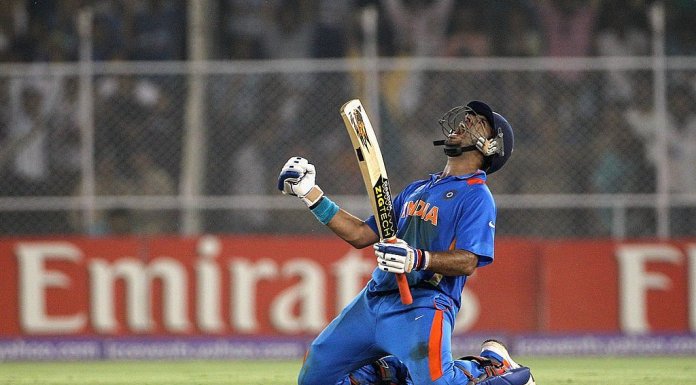 An elegant looking left-handed batsman, Yuvraj Singh caught everyone's attention the moment he stepped onto the international cricket. Hailed as one of the greatest match-winners the game has ever seen, Yuvraj Singh has mesmerised the cricket lovers with his stellar display of batting for many years. 
With his majestic batting skills, Yuvraj Singh has helped India win numerous matches. A man of big occasions, the Indian cricketer always relished playing in big tournaments and stood like a rock in big matches. 
There's no denying that the Southpaw loved taking on strong oppositions. Even when he wasn't in a great run of form, his runs started to come on big stages. Not to mention his agile fielding skills and spin bowling, which has helped India a great deal. All in all, Yuvraj Singh was a proper limited over's package.
Yuvraj Singh's Personal Information
Yuvraj Singh's Age: As of 3rd July 2020, Yuvraj Singh is currently 38 years old. He will turn 39 this December.
Yuvraj Singh's Birthday: Yuvraj Singh celebrates his birthday on 12th December.
Yuvraj Singh's Height: Standing at 6 foot 1 inch, Yuvraj Singh is one of the tallest cricketers Indian Cricket has ever had.
Yuvraj Singh's Personal Information
Born on December 12, 1981, Yuvraj Singh was raised by his parents, Yograj Singh and Shabnam Singh with all the best things in life. Given his father, Yograj was a former Indian fast bowler, cricket was certainly in his veins from the beginning. He started his studies and cricket alongside at the DAV Public School in Chandigarh and his father used to train him for every single bit of cricket skill he learned from the sport himself.
Quite interestingly, Yuvraj was more into Tennis and Roller skating and even won a gold medal in the under 14 roller skating championship. Still, His father was always adamant to make him a cricketer and also threw his medal won in skating in order to insist him to put all his focus towards cricket only.
To learn more about his family members including his wife. Click Here
Yuvraj Singh's Career Stats
Yuvraj Singh has been piling on runs right from his junior-level cricket days. Impressive performances in the under-16 level led him to get selected in Punjab's Ranji side. He made headlines after scoring a majestic 359 runs in the final of Cooch Bihar Trophy against Bihar Ranji team in 1999. 
Yuvraj Singh became the Man of the Series in the Under-19 World Cup. 
He made his International debut in the ICC Knockout Trophy in 1998 against Kenya. He didn't play a great knock in his debut game but impressed one and all after playing a scintillating 84-run knock against Australia, which also helped him get the Man of the Match trophy. 
To know about Yuvraj Singh's complete journey from piling on runs in domestic cricket to becoming a match-winner in International Cricket. Click Here
Yuvraj Singh's IPL Career
Yuvraj Singh was selected as the icon player ahead of the inaugural edition of the Indian Premier League. He led Kings to reach the playoffs in the first edition. It's the farthest the team has reached till date in the history of the tournament. 
However, owing to inconsistent performances, he was relieved from the captaincy duties in 2010 and Kumar Sangakkara took over from him. 
2011 edition saw him leading a new side in Pune Warriors. The team fared badly but Yuvraj Singh finished as the highest run-scorer for the team. 
Yuvraj Singh was the most expensive player in the 2014 edition of the tournament, with RCB purchasing his services for INR 14 crores. The next year saw him moving to Delhi Capitals.
Yuvraj Singh was the most expensive player in the auction for both the editions, but couldn't turn up with good performances in either of the season. 
Overall, Yuvraj Singh has played 132 matches, in which he has scored 2750 runs at an average of 24.77. 
Yuvraj Records and Achievements
1. Yuvraj Singh holds the record for the second-highest fourth-wicket partnership in one-day internationals. He added 256 runs with MS Dhoni for the fourth wicket against England in 2017. 
2. Yuvraj Singh is the most expensive player sold in the IPL. He was purchased by RCB for 16 crores in the 2014 edition of the IPL. 
3. Yuvraj Singh is the only bowler to have taken two hat-tricks in a single edition of IPL. 
4. In 2011 World Cup, Yuvraj Singh became the first player ever to take a five-for and hit a half-century in a World Cup match. 
5. Yuvraj Singh is the only player to have won Man of the Series in both the Under-19 World Cup and 50-over World Cup. 
6. Yuvraj Singh was the first player to score more than 300 runs and take 15 wickets in a single edition of the World Cup. 
7. Yuvraj Singh holds the record for hitting the fastest fifty in T20 Cricket. He scored a half-century in just 12 balls in the T20 World Cup against England. 
8. Yuvraj Singh is the only player to have hit six sixes in six consecutive deliveries in a T20 World Cup. 
9. He was honored with the Arjuna Award in the year 2012 and again, the Padma Shri Award in the year 2014.
10. In the year 2014, Yuvi was honored with the prestigious FICCI most inspiring sportsperson of the year 2014.
Yuvi's Battle with Cancer
After making a significant impact in the 2011 World Cup, Yuvi left everyone shocked after it was revealed that he had been diagnosed with cancer. He went through months of treatment and chemotherapy in order to win the battle against cancer.
He was a fighter not just on the field but off the field as well. Just like he has won every battle on the cricket pitch with this prolific batting, he defeated cancer as well and made a comeback in 2012. However, Yuvraj Singh was just a pale shadow of his past after his comeback. 
His performance in the final of 2014 World Cup was criticized heavily and wasn't even included in the 2015 World Cup. 2017 ICC Champions Trophy was the last ICC Trophy where Yuvraj Singh took part in.
According to caknowledge.com, the Yuvraj Singh net worth figure is estimated to be around $35 million as of March 2020. The Yuvraj Singh net worth figure includes his earnings from the Board of Control for Cricket in India (BCCI) as a former Indian cricket player. His net worth also comprises his several brand endorsement deals, sponsorship and past Indian Premier League (IPL) contracts.
Yuvraj Singh's Social Media
Yuvraj Singh isn't someone who wants to stay low-key but rather loves to express himself off the field as well. He stays quite active on all his social media handles and boasts of a significant amount of followers on Instagram and Twitter. He has more than 9 million followers on Instagram. 
To know about his followers on all the social media accounts and his most popular social media controversies. Click Here