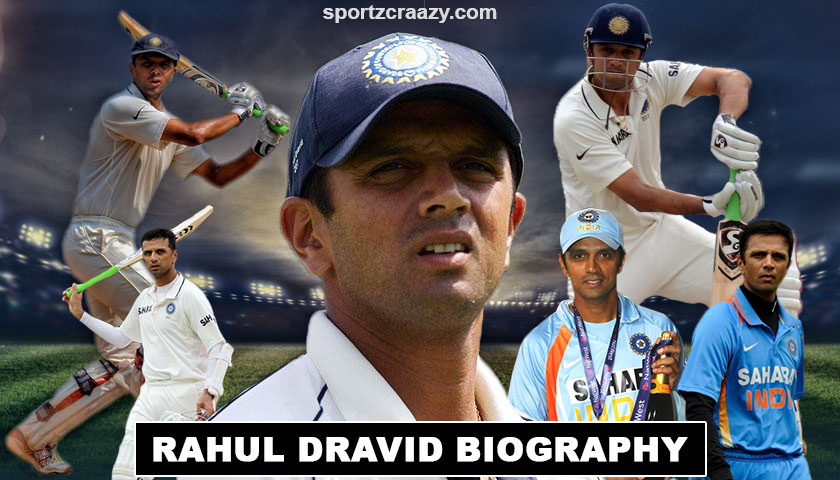 Ask him to walk on water and he will say, Okay! How many kilometres? Ask him to jump from a cliff in the form he's in and he'll say, here's your parachute I don't need it." –Harsha Bhogle on Rahul Dravid
Once Harsha Bhogle said "Ask him to walk on water and he will say, Okay! How many kilometers? Ask him to jump from a cliff in the form he's in and he'll say, here's your parachute I don't need it." This is how he described Rahul Dravid, the epitome of Indian Batting.
Over the past few decades, Indian cricket has seen some of the most prolific batsmen making a big mark on International cricket with their extraordinary skills and talent. Rahul Dravid is one of those few names which have made it into this list and can be considered as one of the best cricketers ever produced by India.
While being known as "The Wall", "Jammy" and " Mr. Dependable" of Indian cricket, Rahul Dravid has proved his prowess in the International cricket with his exceptional batting and cricketing skills over the past one decade. Although most of the people know him for his magnificent batting and perfect technique, not many are aware of the fact that he has taken the most number of catches in International Cricket. Despite all the great batting records to his name, this cricketer has always been known as a humble personality on and off the field.
Batting Stats
| | Mat | Inns | NO | Runs | HS | Ave | BF | SR | 100 | 50 | 4s | 6s | Ct | St |
| --- | --- | --- | --- | --- | --- | --- | --- | --- | --- | --- | --- | --- | --- | --- |
| Tests | 164 | 286 | 32 | 13288 | 270 | 52.31 | 31258 | 42.51 | 36 | 63 | 1654 | 21 | 210 | 0 |
| ODIs | 344 | 318 | 40 | 10889 | 153 | 39.16 | 15284 | 71.24 | 12 | 83 | 950 | 42 | 196 | 14 |
| T20Is | 1 | 1 | 0 | 31 | 31 | 31 | 21 | 147.61 | 0 | 0 | 0 | 3 | 0 | 0 |
| T20s | 109 | 101 | 7 | 2586 | 75* | 27.51 | 2271 | 113.87 | 0 | 13 | 311 | 34 | 23 | 0 |
Bowling Stats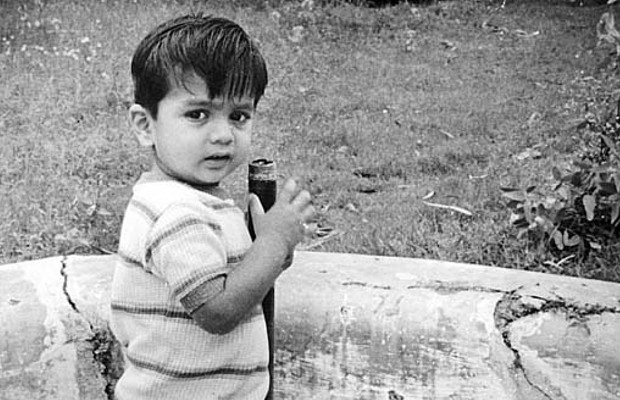 Rahul Dravid was born on January 11th, 1973 to Sharad Dravid and Pushpa Dravid at the Indore city in Madhya Pradesh and his parents got their roots from the state of Maharashtra. Whilst his father used to work at "Kissan" (which later hired Dravid as their brand ambassador and gave him the name, " Jammy"), his mother Pushpa was a professor of architecture at Bengaluru University. Along with his parents, he also got his brother named Vijay Dravid who was younger to him.
Dravid did his schooling at St Joseph's Boys High School in Bengaluru and did his graduation from St Joseph's College of Commerce within the same city.
Start of his Cricketing Career
Dravid started playing cricket at a tender age of 12 years and went on to play for the state of Karnataka at different age groups like U-15, U-17, and U-19 levels. Whilst he was pursuing his cricketing dreams in his teenage at a cricket training camp at Chinnaswamy Stadium Bengaluru, he was discovered by another former Indian player Keki Tarapore for his unbelievable technique and batting talent. This was just the starting of his cricketing journey as he scored a hundred on debut for his school cricket team and caught the attention of many cricketers around.
Moreover, apart from his batting, he also did some wicket keeping for his school team and that was something which made him act as a wicketkeeper in numerous matches for the Indian team. Still, he was advised by the cricket legends like Roger Binny, Gundappa Vishwanath, Brijesh Patel, and Keki Tarapore to leave wicket keeping and concentrate on his batting only in the future.
Dravid made his debut in Ranji Trophy whilst playing against Maharashtra in Pune in 1991 and this was the time when he was still finishing up his education at St Joseph's College of commerce in Bengaluru. Whilst featuring for the first time in Ranji Trophy, he scored a magnificent 82 runs whilst playing at the number 7 spot and although the match ended in a draw, he gets to play along with names like Javagal Srinath and Anil Kumble who went on to represent the Indian team in much International game and became a legend of the game in the process.
Dravid played the entire season for his state in the year 1991-1992 and scored a mammoth 380 runs with an average of 63.30 with two centuries in the process. This further made him secured a spot in the Duleep trophy whilst playing for the South Zone.
Dravid's First Step in the International Cricket
After a good run in the domestic cricket, Dravid finally gets to play for the Indian national team and he made his debut against the Srilankan team in an ODI series in Singapore in 1996. Although he hasn't been able to do much in the ODI format, he did have a memorable test debut along with another Indian cricketer Sourav Ganguly against England in the same year. Whilst Ganguly was been able to score a hundred on debut, Dravid missed it by some margin but still won many accolades for his performance in his first match only.
Well, it was not too tough for him to score his debut ton and he did achieve that landmark against the South African team in 1996-97. Moreover, he finally scored a half-century in the ODI cricket against Pakistan whilst playing in the Sahara Cup. That was where his cricketing legacy got to start in the International cricket and he became only the third cricketer after Sunil Gavaskar and Vijay Hazare to score a century in both the innings for his team whilst playing against New Zealand. Dravid didn't look back after this and went to achieve some ore landmarks in his cricketing career.
His journey towards becoming the "Wall" for the National team
By that time, Dravid was been recognized as a strong pillar for the Indian team and there were numerous instances when he stood like a rock in front of all the opposition bowlers. One of his most memorable innings of 180 runs against the mighty Australian team at Kolkata in 2001 has been considered as one of the best test innings ever played on a cricket pitch and he along with VVS Laxman stood tall against the Aussie team as the Indian team became only one of the few teams to win a test match after being followed on. This was the same skill set which got Dravid, the name as  " The Wall" and his prolific record in both test and ODI cricket speaks best about his success story.
Dravid went on to become the highest scorer of the 1999 world cup and even though the Indian team couldn't qualify for the finals, he came out to be their best player on the field with two consecutive centuries to his name. Between 2003 and 2004, Dravid went on to score three double centuries to his name against the most renowned teams like Australia, Pakistan and New Zealand and this was an achievement in itself for the Indian cricket.
End of a Prolific Cricketing Career
After serving the country and the world with some brilliant cricketing memories and performances, this ace cricketer from Indian finally retired from both test and ODI cricket in 2011 left everyone with bouquets of some marvelous cricketing legacy behind him.
He scored a total of 13,288 runs in the 164 test matches that he played with a blistering average of 52.31. This included 36 centuries and 63 half-centuries and whilst we talk about his ODI career, he scored in a total of 10,889 runs in the 344 matches that he played with 12 centuries and 83 half-centuries. Although he got retired from all forms of cricket, he continued to play IPL with Rajasthan Royals for the next few years.
Awards and Achievements of Rahul Dravid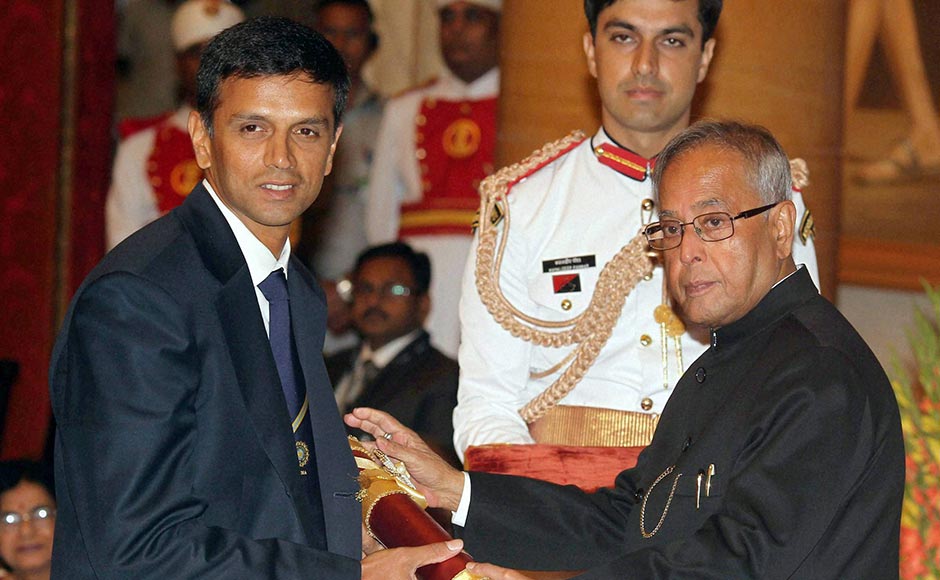 Dravid was awarded the prestigious Arjuna Award in 1999 for his precious contributions towards Indian cricket.

Dravid was honored with " Man of the Tournament " in the 1999 world cup.
He was also been rewarded with the ICC Player of the year in 2004 (also known as Sir Garfield's sobers trophy).

Dravid received the Padma Shri Award in 2004.

He was also been named as the captain of the ICC test cricket team of the year.
Along with late Dev Anand, he was honored with NDTV Indian of the year Lifetime achievement award in 2011.
Records under Rahul Dravid name in International Cricket
Record for highest numbers of balls faced along with the longest time spent on the pitch as a batsman
Rahul Dravid, who has always been quoted as one of the best players ever produced by the Indian cricket has faced the highest number of balls in the test cricket whilst spending the most time on the crease for his team in the process.T ill the end of his Test career, Dravid has faced 31,258 deliveries and spent 44,152 minutes on the crease in the process. Quite interestingly, the second most close to him in this record is another Indian cricketing legend, Sachin Tendulkar.
Being the first test player to score a century against all the 10 playing nations
Apart from all the blistering records to his name, Dravid has been the only player to score centuries against all the other 10 test playing nations during his International career. While he was playing, the 10 countries with the test status were England, West Indies, New Zealand, Australia, South Africa, Zimbabwe, Pakistan, Sri Lanka, Bangladesh, and India.
A player with the most number of runs at No 3
Dravid has been the only player in the International cricket that has scored more than 10000 runs in his career whilst batting at number 3 spot. Moreover, he has scored in total 10524 runs in the 219 test innings that he has played in his decade long career. Also, these runs included 28 centuries and 50 half-centuries.
The highest partnership runs in International cricket
Dravid also holds the record for the highest number of partnership runs i.e. 32,039 and this further included 126 half-century stands and 88 century stands in the process. Apart from that, Dravid holds the record for the most number of runs shared with Sachin Tendulkar in a partnership of 6920 runs which included 20-century stands as well.
The highest number of catches in International cricket
Even though Dravid has kept wickets for the National team quite sometimes, he has still been the only non-wicket keeping player to hold s record of most catches to his name in international cricket (210). What's more interesting here is the number of matches(164) in which he has achieved this feat.
Interesting Facts about Rahul Dravid
Dravid's father used to work in a jam factory and that was the same company ( Kissan) which went on to hire Dravid as their brand ambassador whilst giving him the name " Jammy".

He is the only Indian to score 4 consecutive hundreds.

He is the only non-Australian player to address the Bradman oration on December 14, 2012, at the war memorial in Canberra.

He was recognized as the sexiest personality in sports in India by an online survey in 2004-05 where Yuvraj Singh and Sania Mirza were other players in contention.

Whilst he has always been recognized as a seasoned player for India, not many people know that he got a passion for hockey and also featured for his team in junior state hockey before heading towards cricket.

It was once been said by the great Aussie bowler Glenn McGrath, "If there's any player who can feature in the great Australian team of the 90s, Its Rahul Dravid".

He also holds a record for being the only player to stay not out for 120 innings even without scoring a single run in the process.

His score of 270 runs against Pakistan has been registered as one of the most intense and marathon innings by most of the fellow cricketers
Personal life and Controversies in Dravid's Career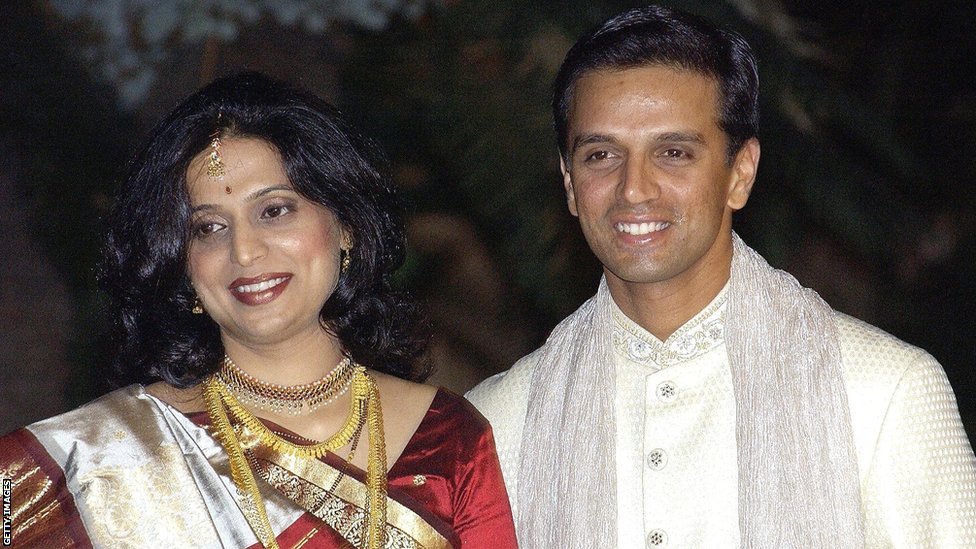 Dravid was born to a Maharashtra family in Madhya Pradesh and his father Sharad Dravid used to work in a jam factory of famous brand Kissan. On the other hand, his mother was a professor whilst they have his younger brother Vijay Dravid as their only other member of the family.
Dravid married his childhood love Vijeta Pendharkar who was a surgeon by profession and there love story was all about love at first sight. They both tied the knot on 4th May 2003 at the BSF training centre in the outer areas of the city.
Controversies in Rahul Dravid's Career
Although Dravid hasn't been someone who has been involved in many controversies during his career, it was one of those rare events when Greg Chappell was been slammed by Sachin Tendulkar for being a "Ring Master" in the team and Dravid maintained his silence over the whole issue.
Another controversy that surrounded his career was him declaring the innings whilst Sachin Tendulkar was playing on 194 against Pakistan in a test match at Multan and there sparked a big debate on the whole issue of " why he didn't let Sachin complete his double hundred"?.
Rahul Dravid Net Worth and Endorsements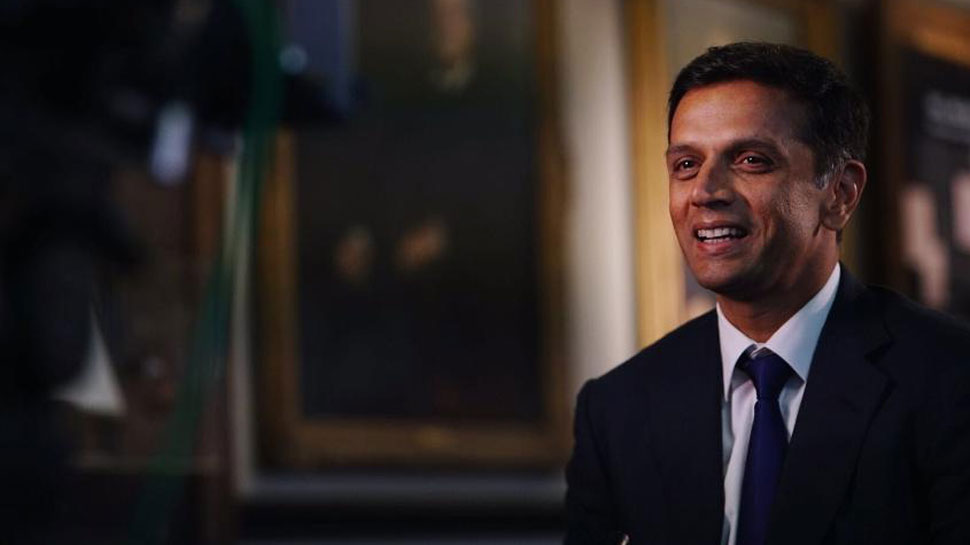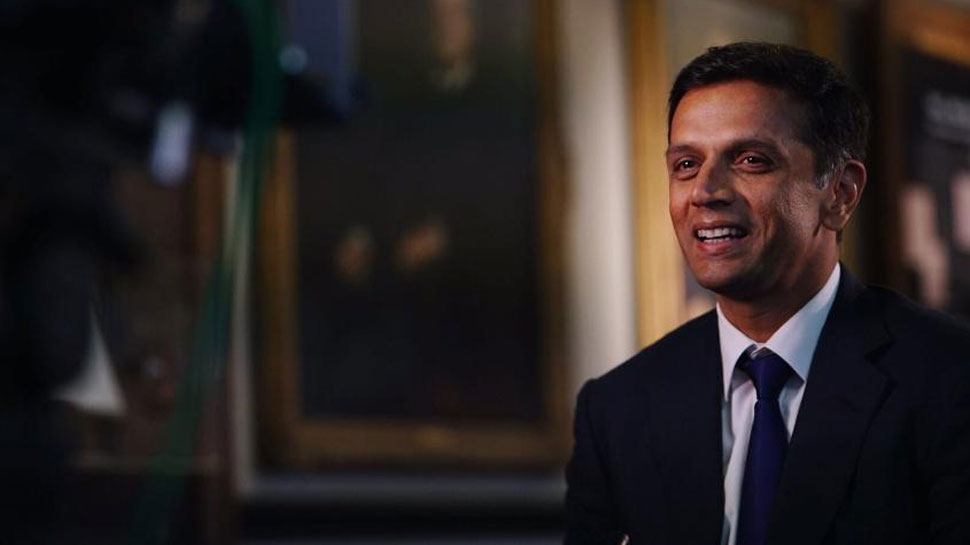 Although Dravid has been retired from international cricket, he is still playing a big role as the coach of the India and U19 team outfit and this takes his net worth to close around $14.3 million. Apparently, he receives an annual salary of Rs 5 crore and apart from that, he won some good luxury cars like Benz, BMW, and an Audi which are worth 6 crores in total.
The current value of his luxury house in Indira Nagar Bengaluru is estimated to be around 4.2 crores and he has been a part of numerous endorsements like Reebok, Pepsi, Kissan, Castrol, Hutch, Karnataka Tourism, Max Life, Bank of Baroda, Citizen, Skyline Construction, Sansui, Gillette, and Samsung. Endorsements of these brands earn him a hefty sum of Rs. 3.5 crores.
Please follow and like us: