| | | |
| --- | --- | --- |
| | Full Name: | Rahul Sharad Dravid |
| | Nickname: | The Wall, Jammy |
| | Profession: | Cricketer |
| | Date of Birth: | January 11, 1973 |
| | Age: | 46 Years |
| | Birthplace: | Indore, Madhya Pradesh, India |
| | Nationality: | Indian |
| | Religion: | Hindu |
| | Hobbies: | Music and Reading Books |
| | Marital Status: | Married |
| | Height: | 180 cm, 1.80 m, 5'11" |
| | Weight in KG: | 76 kg, 168 lbs |
| | Eye Color: | Black |
| | Mother: | Pushpa Dravid |
| | Father: | Sharad Dravid |
| | Siblings: | 1 (Brother) |
| | School: | St. Joseph's Boys' High School |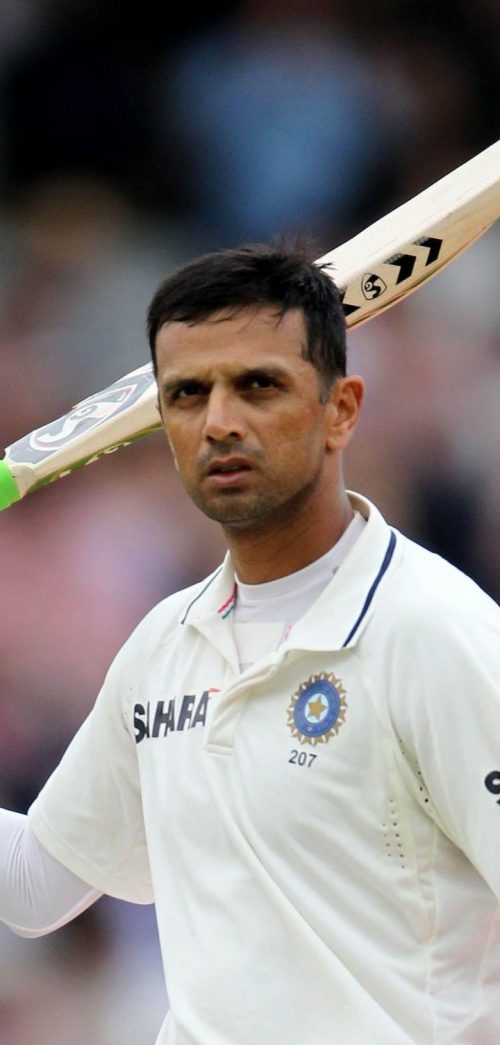 A man who scored tirelessly for India and kept his country above all personal achievements, Rahul Dravid is regarded as "The Wall" of Indian cricket. One who has faced the most number of deliveries in Test Cricket, Rahul Dravid is, undoubtedly, one of the greatest Indian batsmen ever to play the game.
Dravid is one of the few Indian batsmen who have scored a century in all test playing nations. In his illustrious career, he has scored nearly 25,000 international runs.
Facing the new-ball with ease and thereby soaking all the pressure was Dravid's biggest strength. Rahul Dravid was as a good a batsman in sub-continent conditions as overseas.
Rahul Dravid's Personal Information
Rahul Dravid Age: Rahul Dravid is currently 47 years old. He made his international debut at 23 years of age and played for 15 years at the highest level. He played his last Test match on 24th January 2012.

Rahul Dravid Birthday: Hailing from Karnataka, Rahul Dravid was born on 11th January 1973. This year marked Rahul Dravid's 47th birthday.
Rahul Dravid Height: Standing at 5'11 inches, Rahul Dravid was one of the fittest cricketers in Indian cricket during his time. Dravid's adequate height always helped him in playing tall bowlers comfortably.
Rahul Dravid Education: Rahul Dravid completed his education from St. Joseph's Boys' High School, Karnataka. He did his graduation from St. Joseph's College of Commerce, Bangalore University, Karnataka.
Rahul Dravid's Family Information
Rahul Dravid was born on 11th January 1973 in a Marathi Family. His father, Sharad Dravid worked in a company that makes jams and preserves, while his mother, Pushpa worked as a professor of architecture at the University Visvesaraya College of Engineering, Bangalore.
Rahul Dravid is married to Vijeta Pendharkar, a surgeon from Nagpur. The duo has two children. To know more about Rahul Dravid's family and his love story with Vijeta: Click Here
Rahul Dravid's Career Stats
Domestic Cricket: Rahul Dravid made his Ranji Trophy debut in February 1991. He exhibited a stellar performance in the 1991-91 season, scoring 380 runs at an average of 63.30. The excellent performance meant he was selected for the South Zone Cricket Team in Duleep Trophy. Dravid performed consistently in the first-class cricket for the next few years; however, what caught everyone's attention was his performance for the India-A team against England-A in 1994-95. As a result, on 20th June 1996, he made his international debut against England.
International Cricket: Rahul Dravid's first step in international cricket was during the India-England Test series in 1996. He made his Test debut on 20th June 1996 against England and exhibited his class in only his first innings of his international career. Coming in a difficult period, Dravid struck a well compiled 95 before getting out of Lewis. His knock made sure India register a substantial lead in the first innings.
He made his One-Day International debut on 3rd April 1996 against Sri Lanka. He didn't take too long to become a mainstay in the Indian team across formats. In his illustrious career, Rahul Dravid has not only scored in sub-continent conditions but was also a rock-solid player in overseas as well.
In his illustrious career, Rahul Dravid has scored nearly 25,000 international runs.
To know about his journey from his junior cricket days to international cricket: Click Here
Rahul Dravid Awards & Achievements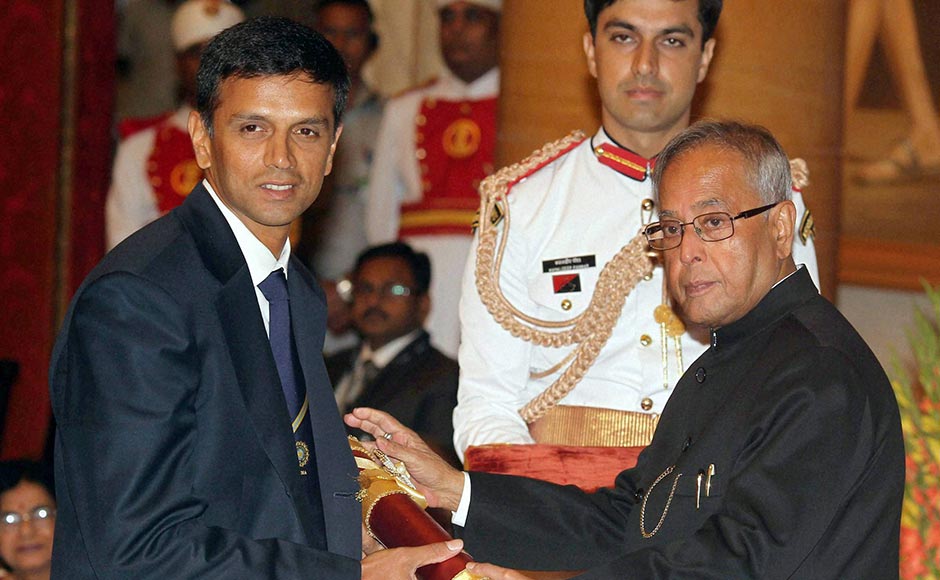 Achievements:
1. Dravid was awarded the prestigious Arjuna Award in 1999 for his precious contributions towards Indian cricket.
2. Dravid was honoured with the "Man of the Tournament award" in the 1999 World Cup.
3. He was also been rewarded with the ICC Player of the year award in 2004 (also known as Sir Garfield's sobers trophy).
4. Dravid received the Padma Shri Award in 2004.
5. He was also been named as the captain of the ICC test cricket team of the year.
6. Along with late Dev Anand, he was honoured with NDTV Indian of the year Lifetime achievement award in 2011.

Records:
1. Rahul Dravid holds the record for the highest numbers of balls faced along with the longest time spent on the pitch as a batsman. In his career, he has faced 31,258 deliveries and spent 44,152 minutes on the crease.
2. Rahul is among the few Indians to have scored a century against all the Test-playing nations.
3. Rahul Dravid is the only player to score more than 10,000 runs at number three position in Test cricket. He has scored in total 10524 runs in the 219 test innings, studded with 28 centuries and 50 half-centuries.
4. Dravid also holds the record for the highest number of partnership runs i.e. 32,039 and also holds the record for the most number of runs shared with Sachin Tendulkar in a partnership of 6920 runs which included 20-century stands as well.
5. Rahul Dravid holds the record for taking the most number of catches in international cricket. He has 210 catches to his name in international cricket.
Rahul Dravid's: Lesser Known Facts
1. Dravid's father used to work in a jam factory and that was the same company (Kissan) which went on to hire Dravid as their brand ambassador whilst giving him the name "Jammy".
2. He is the only Indian to score 4 consecutive hundreds.
3. He is the only non-Australian player to address the Bradman oration on December 14, 2012, at the war memorial in Canberra.
4. He was recognized as the sexiest personality in sports in India by an online survey in 2004-05 where Yuvraj Singh and Sania Mirza were other players in contention.
5. Whilst he has always been recognized as a seasoned player for India, not many people know that he got a passion for hockey and also featured for his team in junior state hockey before heading towards cricket.
6. It was once been said by the great Aussie bowler Glenn McGrath, "If there's any player who can feature in the great Australian team of the 90s, it's Rahul Dravid".
7. He also holds a record for being the only player to stay not out for 120 innings even without scoring a single run in the process.
Rahul Dravid's Controversies
1. When Rahul Dravid declared the innings with Sachin batting on 194: Unarguably, this is the biggest controversy in Rahul Dravid's career. The Multan Test in 2004 is famous for Virender Sehwag's 309. However, what followed after that knock in that test became a huge controversy. Post Sehwag's heroics, Sachin Tendulkar got hold of the innings and smashed Pakistan to all parts, taking India past 600-run mark. Sachin Tendulkar was batting at 194 and Yuvraj Singh fell in the form of the fifth wicket. To everyone surprise, stand-in captain Rahul Dravid declared the innings, leading to a huge controversy. By his own admission, Rahul Dravid has been questioned his decision to declare for more than 1000 times in his career.
2. Ball-Tampering in 2004: Rahul Dravid was accused of ball-tampering during the Australia series in 2003. In the game against Zimbabwe, Rahul Dravid was caught on TV, rubbing a cough lozenge on the shiny side of the white ball. But with the evidence on camera going against, Lloyd decided to take action against Dravid under clause 2.10 of the ICC's code of conduct. The coach John Wright, however, had backed him later stating that it was unintentional from Dravid.
3. Greg Chappel Controversy: Although Dravid hasn't been someone who has been involved in many controversies during his career, it was one of those rare events when Greg Chappell was been slammed by Sachin Tendulkar for being a "Ring Master" in the team and Dravid maintained his silence over the whole issue.
1. Rahul Dravid's net worth is estimated to be around $23 million.
2. Dravid reportedly earned around 5 crores per annum in the last 2 years of his stint as the head coach of the India A and India Under-19 teams.
3. Having become the head of NCA, he draws a much higher check.
4. Dravid boasts of some good luxury cars like Benz, BMW, and an Audi which are worth 6 crores in total.
5. The current value of his luxury house in Indira Nagar Bengaluru is estimated to be around 4.2 crores.
6. A lot of his income comprises of brand endorsements which include big brands like Reebok, Pepsi, Kissan, Castrol, Hutch, Karnataka Tourism, Max Life, Bank of Baroda etc.
Rahul Dravid's Social Media
While his compatriots like Sachin Tendulkar, Sourav Ganguly, VVS Laxman are on all social media, Rahul Dravid prefers to stay out of it. Rahul Dravid isn't very active on social media platforms. He has a Facebook account that has more than 1 million followers but doesn't post a lot of stuff there.
Click Here to know some of his lesser-known social media activities and why he is not on social media.