Sachin Tendulkar's Career Stats
| | | |
| --- | --- | --- |
| | Full Name: | Sachin Tendulkar |
| | Team: | India |
| | Club: | Mumai Indians (MI) |
| | Past Clubs: | Mumai Indians (MI), Yorkshire |
| | Jersey No.: | #10 (India), #10 (MI) |
| | Batting Style: | Right Handed Bat |
| | Bowling Style: | Right-arm legbreak |
| | Coach: | Ramakant Achrekar |
| | Test Debut: | 15th November 1989 (PAK) |
| | ODI Debut: | 18th December 1989 (PAK) |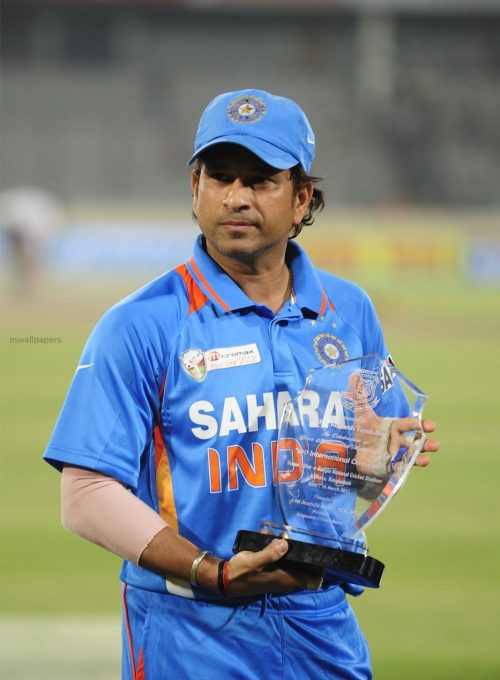 Sachin Tendulkar's Cricket Stats
Test Career
# Batting Career Summary
| Match | Inn | Run | HS | Avg | SR | 50 | 100 | 200 |
| --- | --- | --- | --- | --- | --- | --- | --- | --- |
| 200 | 329 | 15921 | 248 | 53.79 | 54.08 | 68 | 51 | 6 |
# Bowling Career Summary
| Match | Inn | Run | Wkts | Eco | Avg | SR | 5w | 10w |
| --- | --- | --- | --- | --- | --- | --- | --- | --- |
| 200 | 145 | 2492 | 46 | 3.53 | 54.17 | 92.17 | 0 | 0 |
ODI Career
T20I Career
IPL Career
Arguably, the greatest batsman ever to play the game, Sachin Tendulkar is an inspiration to many across the globe. A man who has scored over 30,000 runs in his illustrious career, Sachin Tendulkar is one of the biggest reasons why India, today has become a cricket-obsessed nation. Sachin Tendulkar has touched a million hearts through his effortless display of batting during his cricketing career.  
Sachin Tendulkar Jersey Number: 10
On the back of impressive performances at the junior level, Sachin made his way into the first-class cricket at just 14 years of age. He was selected to play for Bombay in the 1987-88 season, however, he couldn't make into the eleven in any of the matches that season. He made his debut in the 1988 season against Gujarat and ended up scoring 100 not out in that game. Tendulkar was 15 years and 232 days old at that time.
Tendulkar finished the season as the highest run-scorer for Bombay, scoring 583 runs at an average of 67.77 and was the eighth highest run-getter overall.
Sachin Tendulkar is the only player to score a century in all three domestic tournaments (Ranji Trophy, Iran Trophy, and Duleep Trophy).

Sachin Tendulkar total runs in domestic cricket: 47,395.
Sachin Tendulkar's International Career
Impressive performances in the domestic circuit helped him getting selected for the Pakistan tour in 1989, at a tender age of 16.
Although the series was kind of a nightmare for the little champ, he grabbed all the appreciations from some of the cricketing legends like Kapil Dev, Javed Miandad, and many others for his unbelievable aggression and technique in batting at such a young age.
It was the same year when Sachin also made his debut in the One-Day internationals for the Indian team. The journey for Master blaster had started in International cricket and he never looked back after that. Sachin Tendulkar's career is certainly one to adore.
114 at Perth in 1992- Sachin's best knock in Test cricket?
Sachin scored two centuries in India's tour of Australia in 1991-92 and proved his prowess against some of the top class bowlers like Craig McDermott, Bruce Reid, and Merve Hughes. However, his knock in the fifth Test at Perth is said to be Sachin Tendulkar's best knock in Test Cricket. By his own admission, Sachin Tendulkar calls it as the turning point of his career.
"One innings that changed my career or gave shape to my career was in Perth, 1992. Perth, at least at that time, was regarded to be the fastest wicket and the hostility of the Australian fast bowlers was something which was difficult to handle. I was able to score a 100 and I was only 19".
The Turning Point in Career
In 1994, Indian tour New Zealand to play 4-match ODI series. Sachin Tendulkar by that time has had enough experience of international cricket and wanted captain Mohammad Azharuddin to make him open the batting.
In the second ODI of the series, Sachin was sent up the order and what followed was a blistering 49-ball 82 run knock, which helped India win the match with 160 balls remaining in the game. The decision proved out to be a masterstroke and Sachin became a phenomenon in the next two years while opening the batting for India.
The Captain of Indian Cricket Team: After playing for seven years for the Indian side, Sachin was awarded the captaincy of the Indian team in 1996 at the age of 23 but it didn't turn out to be a good decision. Conflicts among senior players meant India couldn't perform too well under his leadership and as a result, Sachin gave up the captaincy in 1997 in order to focus solely on his batting. Although he took over the captaincy once again in 1998 for a brief period, it turned out to be a nightmare for both Sachin and the team, and once again, he gave up on his short stint as the Indian captain.
Sachin's Domination in the Cricket World
Over the next few years, Sachin became one of the most sought after batsmen in the world and even the greats like Don Bradman did appreciate his class by saying "I see myself batting when I see him on the field". Nothing can come bigger for a batsman than the cricketing legend himself praising his for his prolific batting and Sachin justified every bit of it whilst ruling the cricket fraternity for the next many years.
# 1996 Cricket World Cup: Sachin Tendulkar played as many as six World Cups in his International career. 1996 world cup was perhaps one of the best tournaments with the bat. Sachin ended the tournament as the highest run-getter, though India got defeated in the semis by Sri Lanka. He scored 523 runs in seven matches at an average of 87.17, including two mouth-watering centuries.
# 2003 Cricket World Cup: Sachin Tendulkar was at his best in the 2003 World Cup. He scored consistently throughout the World Cup and thereby helped India reach the finals. India, though, lost the final against Australia by a huge margin. Sachin tallied 673 runs in 11 matches at an average of 61.18. Sachin scored one century and six half-centuries in the tournament. However, the dream of winning a World Cup got postponed to a later date.
# Sachin's Stellar Knocks in the Finals of Tri-Series In Australia, 2008: Until 2008, winning a series in Australia had always been a dream. But under the leadership of MS Dhoni, Indian finally made it possible in the Tri-series, held in Australia in 2008. Sachin Tendulkar played a massive role in India's triumph. In both the finals, Sachin played match-winning knocks. In the first final, scored an unbeaten 117 runs and helped India chase down a target of 240 runs in 46 overs. In the second final, Sachin top-scored with 91, guiding India to a first-innings total of 258 runs. Australia, in reply, could muster 249, handing India 9-run victory thereby the series.
# 2011 Cricket World Cup: By the year 2011, Sachin Tendulkar had achieved everything in cricket besides a Cricket World Cup title. The 2011 edition was his last chance to realise that dream. And much to the delight of every Indian cricket fan, India held their nerves in the knockouts and won the semi-finals and then the finals this time. Once again, Sachin Tendulkar made a significant contribution to the team's cause and ended the tournament as the second highest run getter in the series.
Although Sachin is one of the few players to feature in the 5 world cups along with Pakistani batsman Javed Miandad, he only got to taste the success of a world cup glory in 2011 while playing under the captaincy of Mahendra Singh Dhoni. It was also a World cup victory for the Indian team after a wait of 28 years and Sachin once again showcased his brilliance with the bat.
He got a lap of honor on his teammate's shoulders after the final victory and the view was simply breathtaking and emotional for almost every Indian fan around including Sachin himself.
# When Sachin Made Whole India Cry: The whole world went into a shock after Sachin decided to bid adieu to his celebrated cricket career in the year 2013 after delivering some of the great cricketing memories to the world around. Whilst many did believe that he still had some cricket left in him for the coming years, Sachin felt it was the right time.
Sachin's Rivalry with Warne
Shane Warne played his first international series against India. It proved out to be a nightmare for the leg-spinner as the Indian batsmen looked at complete ease against him while scoring all around the ground.
However, in the coming years, Shane Warne established himself on international circuit and became a force to be reckoned with.
Australia came to India for a series of Tests and ODI in 1998 and the whole tour was hyped as a "Sachin vs Warne" rivalry which then provided all the high-class entertainment to the spectators in the stadium and on TV.
Eventually, Sachin took the battle home by thrashing not only Warne but whole Aussie bowling line up on his way to two centuries in the match series which also made his team win the three-match series 2-1.
Sachin Tendulkar's Centuries
Sachin Tendulkar holds the record for hitting the most number of centuries and half-centuries in international cricket. Sachin Tendulkar's century count is something that tells you about his domination in world cricket. Sachin Tendulkar centuries in International cricket tells you why is regarded as the god of cricket.
The Indian cricketer has hit 100 centuries in international cricket. He has struck 49 centuries in ODIs and 51 centuries in Tests. The little master has hit 68 half-centuries in Tests and 96 half-centuries in Tests.
Indian Premier League (IPL)
Sachin became a part of the Mumbai Indians franchises whilst being their marquee player in the inaugural season 2008. He then went on to play for the team for the next 6 seasons whilst being their captain and also led them in 5 of the champion's league tournaments.
2010 season proved to be the best one where he outscored everyone with his prolific batting, scoring 618 runs in the 14 matches he played in the process. This was the time when his other mates Saurav Ganguly and VVS Laxman were reeling down with their performances in the T20 format but Sachin showed everyone why he is called a bating legend. He is still a part of the Mumbai team as a mentor and helped them to win three IPL titles in the past few years.
Sachin Tendulkar's Records
1. Sachin Tendulkar is the leading run-scorer in Tests and One-Day Internationals. He has scored 15,921 runs and 18,426 runs in One-Day and Tests respectively.
2. Sachin Tendulkar still stands as the only cricketer to have scored more than 30,000 runs in international cricket.
3. Sachin Tendulkar holds the record for having the most number of centuries in international cricket. He has scored 51 centuries in Test Cricket and 49 centuries in One-Day Internationals.
4. Sachin Tendulkar stands at the top for playing the most number of Tests and One-Day Internationals. He has played 200 Test matches and 463 One-Day Internationals in his cricketing career.
5. Sachin Tendulkar holds the record for scoring 1000 runs in a calendar year for the most number of times. He has reached the feat for as many as 7 times.
Sachin Tendulkar's Personal Life:
Born on 24th April 1973 in Mumbai, who knew that the child would go on to become the greatest batsman in world cricket. Sachin was born to Ramesh Tendulkar, who was a Marathi novelist, and Rajni Tendulkar, who worked in an insurance company. He was the youngest of his four siblings.
To know more about his personal life: Click Here
Sachin Tendulkar's Social Media
While he has retired from the game, he keeps his fans updated about his life via social media. Sachin is active on Facebook, Twitter, and Instagram and has millions of fans on all his social media handles.
To know more about his social media activities: Click Here