Rahul Dravid's Personal Life
| | | |
| --- | --- | --- |
| | Full Name: | Rahul Dravid |
| | Education: | Degree in Commerce |
| | Mother: | Pushpa Dravid (Housewife) |
| | Father: | Sharad Dravid (Businessman) |
| | Siblings: | 1 (Brother) |
| | Marital Status: | Married |
| | Marriage Date: | 04th May 2003 |
| | Wife: | Vijeta Pendharkar (Surgeon) |
| | Son: | Samit Dravid, Anvay Dravid |
| | Houses: | Bangalore |
The Wall of Indian cricket, Rahul Dravid doesn't need any introduction. From batting at number 6 to becoming India's prominent number three batsman, Rahul Dravid is counted amongst the greatest batsmen to have played the game for India. A man of who have always kept the team's interest above all his personal records, Rahul Dravid is an inspiration for the generations to come.
In his illustrious career, Dravid has scored nearly 25,000 international runs which include 48 centuries and 146 half-centuries. He is currently serving as the Director of Operations at National Cricket Academy. Here's a look in details about all his family members: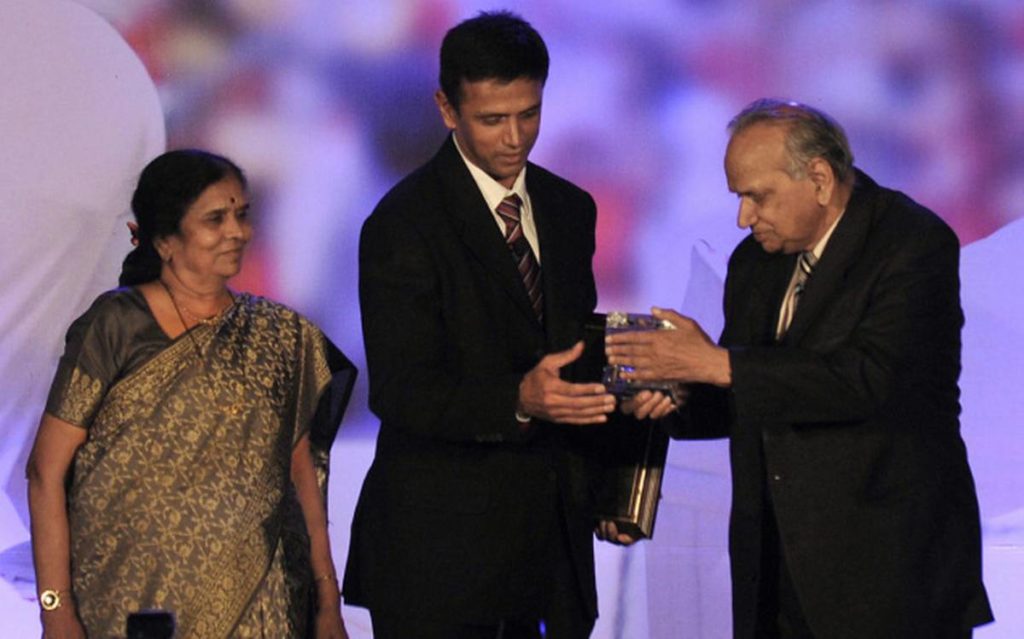 Rahul Dravid's Father: Rahul Dravid was born on 11th January 1973 to Sharad Dravid and Pushpa Dravid. His father, Sharad was a General Manager in Kissan, a company known for making jams. Because his father worked in a company that produces jams and Rahul's obsession with jams, he was given a funny nickname called Jammy.
His father used to play cricket for the matches held by Kissan and Rahul Dravid, who was just three years old, would often accompany him. Rahul's love for the game started from there. Rahul Dravid's father would watch all his matches and would often record the former's innings as well.
On 3rd July 2013, Rahul Dravid's father passed away at his Indiranagar residence. Sharad was suffering from health problems for quite some time and at 79 years old, he left the world.
Rahul Dravid's Mother: Rahul Dravid's mother, Pushpa Dravid worked as a professor of architecture at the University Visvesvarava College of Engineering (UVCE) at Bangalore. Her mother never watched her son's matches as it would make her nervous. For her, the greatest moment in Rahul's career which made her feel proud was when he narrated his speech at the Sir Donald Bradman Oration.
Rahul Dravid's mother made sure she instilled the power of concentration in her children. Another quality that Rahul Dravid has taken from her mother is patience. Rahul Dravid certainly owes a lot to her mother for making him a star batsman.
Rahul Dravid's Brother: Rahul Dravid has an elder brother, named Vijay Dravid. During their childhood days, both would spend a lot of time playing cricket. Rahul Dravid's brother also played a significant role in helping the former play at the highest level.
Rahul Dravid's Wife: Rahul Dravid's wife, Vijeta Pandherkar is a doctor by profession. The couple tied the knots in 2003. Both their fathers knew each other for a very long time. The duo has two sons, named Samit and Anvay.
Love Story of Rahul Dravid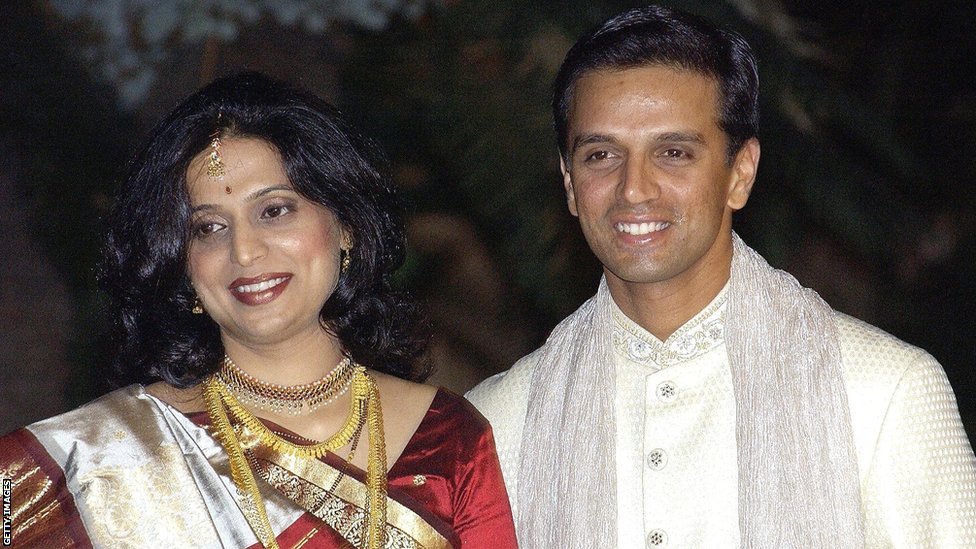 Rahul Dravid-Vijeta Pandherkar isn't the most celebrated couple in the cricketing world but their love story is certainly worth reading.
Both Rahul and Vijeta's fathers knew each other for a very long time. Vijeta Pandherkar's father was an Indian Air Force commander, while her mother was a dietician. Considering the fact that her father was in Army, the family shifted a lot. Originally from Nagpur, Vijeta's family shifted to Bangalore between 1968 and 1971. During this period, both the family came quite close and Rahul too started to take a liking for Vijeta.
The bond between the two grew stronger and the duo came close to each other in a very short space of time. In an interview in 2003, before the Vijeta and Rahul Dravid marriage, some old childhood friends of Vijeta shared that Rahul would often make it a point to meet Vijeta whenever he visited Nagpur.
The couple finally tied the knots on on 4th May, 2003, in the Border Security Force (BSF) Training centre at the outskirts of the city. It was private wedding affair as no photos or videos went reached social media. Only two cricketers, Anil Kumble and Venkatesh Prasad were invited to the occasion.
The duo was blessed with their first son named Samit in 2005. Anvay Dravid, who is four years younger than Samit, took birth in 2009.
The elder son, Sami is currently following the footsteps of his father and making no stones unturned in becoming a successful cricketer. He is currently 15 years old and plays junior level cricket for Karnataka.

Samit Dravid is an attacking batsman and first came to light when he struck 125 runs in an under-14 game against Frank Anthony Public School.
In the under-14 Karnataka State inter-zonal cricket match, Rahul Dravid's son scored a stellar double century against Dharwad Zone. He smacked 201 off 250 balls which were studded with 22 boundaries.
Lesser Known Facts About Rahul Dravid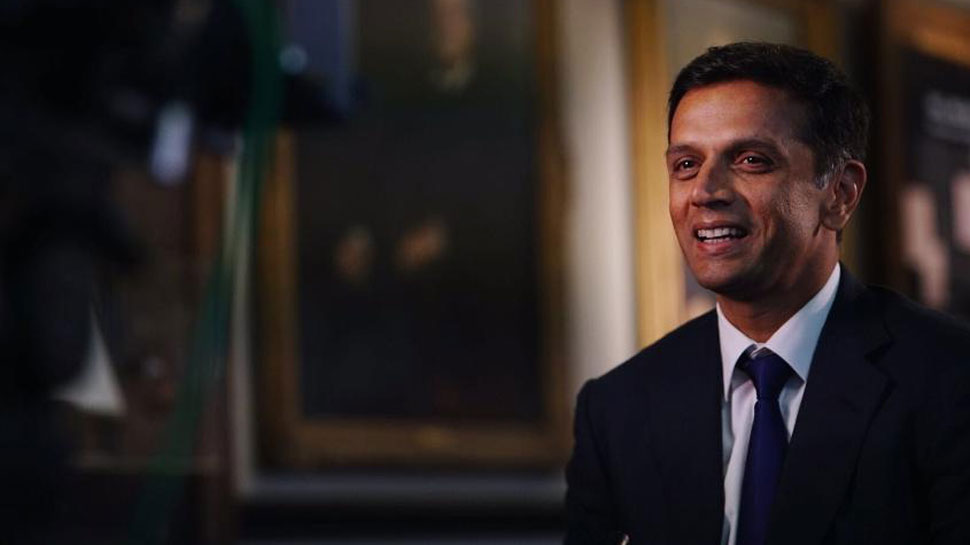 1. Not many people know that before making a name in cricket, Rahul Dravid also played Hockey and also represented Karnataka's junior state team.
2. In Bangalore, a local cricket tournament is held after his nickname named Jammy Cup.
3. In 2004-05, Rahul Dravid was voted as the sexiest sports personality in India which also had contenders with the likes of Sania Mirza and Yuvraj Singh.
4. Rahul Dravid made his Test debut in 1996 against England and scored 96 runs in that game.
5. In the 1999 World Cup, he was the highest run-scorer in the tournament, finishing with 461 runs at an average of 65.86, which includes 2 centuries and 3 half-centuries.
6. Rahul Dravid is the only Indian to have scored four hundred in four consecutive matches in Test cricket.
7. Rahul Dravid has faced the most number of balls in Test Cricket. In his career, he has faced 31,258 runs. No other batsman has even scored faced 30,000 deliveries.
8. Rahul Dravid's favorite cricketer is Sachin Tendulkar.
Rahul Dravid's: A Short Bio
A fine top-order batsman, Rahul Dravid is one of the most celebrated cricketers in India. He has scored a plethora of runs in his international career. He has 13,288 runs and 10,889 runs to his name in international and domestic cricket respectively.
Rahul Dravid had been making headlines since his domestic cricket days. Playing for Karnataka, he started his domestic cricket career in 1991-92. He made his international debut in the year 1996. Rahul Dravid went onto score runs in all parts of the world. He holds the record for being one of the few cricketers who have scored a century in all Test-playing nations.
To know about his complete junior from performing in the junior cricket level to making a name in the international cricket, Click Here
Rahul Dravid's Social Media
Rahul Dravid likes to live a very simple life and has quite a reserved personality. Rahul Dravid is not an avid social media user and instead prefers to stay away from it as much as possible. He has a Facebook account that has more than one million followers.
To know more about his social media activities and why he doesn't like social media: Click Here