Harbhajan Singh Career Stats
| | | |
| --- | --- | --- |
| | Full Name: | Harbhajan Singh |
| | Team: | India |
| | Club: | Chennai Super Kings (CSK) |
| | Past Clubs: | Mumbai Indians (MI) |
| | Jersey No.: | #3 (India), #3 (MI) |
| | Batting Style: | Right Handed Bat |
| | Bowling Style: | Right-arm offbreak |
| | Coach: | Charanjit Singh Bullar |
| | Test Debut: | 25th March 1998 (AUS) |
| | ODI Debut: | 17th April 1998 (NZ) |
Test Career
ODI Career
T20I Career
IPL Career
Domestic Career
Test Career
# Bowling Career Summary
| Match | Inn | Run | Wkts | Eco | Avg | SR | 5w | 10w |
| --- | --- | --- | --- | --- | --- | --- | --- | --- |
| 103 | 190 | 13537 | 417 | 2.84 | 32.46 | 68.54 | 25 | 5 |
# Batting Career Summary
| Match | Inn | Run | HS | Avg | SR | 50 | 100 | 200 |
| --- | --- | --- | --- | --- | --- | --- | --- | --- |
| 103 | 145 | 2225 | 115 | 18.24 | 64.83 | 9 | 2 | 0 |
ODI Career
T20I Career
IPL Career
Domestic Career
Born on 3 July 1980, Harbhajan Singh is regarded as one of the best spinners India has ever produced. He is also the former captain of IPL team Mumbai Indians and led Punjab for the 2012–13 Ranji Trophy season.
Harbhajan made his Test and One Day International (ODI) debuts in 1998. His initial career faced criticism because of the legality of his bowling action, as well as several of his disciplinary incidents. However, following leg spinner Anil Kumble's injury in 2001, his international career was revived by Indian captain Sourav Ganguly who trusted on his inclusion in the team for the  Border-Gavaskar Trophy tournament
At 15 years of age, he made his debut for the under-16 side against Haryana. Bhaji impressed everyone his art of spin bowling, taking 32 wickets in the tournament. He was soon selected for the North Zone Under-16s team.
He kept delivering consistent performing as his first class debut wasn't far away. He made his debut in the first-class competition for Punjab in 1997-98 Ranji Trophy season.
In his Illustrious domestic cricket career, Harbhajan Singh has played 198 first-class matches in which he has picked 780 wickets at an average 29. As far as his List-A career is concerned, he has played 334 matches and has picked 393 wickets at an average of 32.
# Under-19 World Cup (1998): Harbhajan Singh played the under -19 world cup in 1998. Against Kenya, Bhaji picked 3 wickets for just 5 runs in 7.2 overs, helping his side bundle Kenya out for just 78 runs. Bhaji came into the tournament as one of India's lead spinners and played a pivotal role in the team.
International Cricket Career
Harbhajan Singh made his Test debut against Australia in the 1997-98 series. He played his first-ever test match in the third test of the series. He ended the match with just one wicket to his name. In the same year, next month he made his ODI debut against New Zealand in Sharjah.
Controversies early during his career and competition in the spin department didn't allow Harbhajan Singh to flourish for some years after that.
However, he kept performing for Punjab, taking wickets consistently. It, eventually, bore fruits as he was once again called in for the 2001 Border-Gavaskar Trophy in the absence of Anil Kumble.
# Turning Point in Harbhajan Singh's Career: Having completed three years to his career, Harbhajan Singh didn't have a lot of accolades to boast about. He needed one outstanding series to make a show his class on the international stage and 2001 Border-Gavaskar series gave him that chance. The then skipper Sourav Ganguly was keen to add the Punjab spinner into the team.
Harbhajan Singh took the Australian side by surprise, spinning a web around them in the series. He took the world by storm after picking 13 wickets in the second test at Eden Gardens, helping the team win the test by a massive margin of 171 runs.
# Hat-Trick At Eden Gardens: His performance at Eden Garden was highlighted with a brilliant hat-trick he took on the opening day of the second test at Eden Gardens. He accounted for the wickets of Ricky Ponting, Adam Gilchrist, and Shane Warne.
"To tell you the truth I was apprehensive if I would justify my selection. Australia had lost just one wicket in the first two sessions. They were just belting us. (Mathew) Hayden's wicket gave us the breakthrough." Harbhajan Singh said after his performance at Eden Gardens.
"One wicket led to another. I was happy to get Mark Waugh. And then three in a row. Ponting was a prized wicket because he can be unsparing. There was not much turn and I just looked to bowl wicket-to-wicket. I was lucky in the sense that the ball went straight, did not turn." He added
He made sure he tells everyone that his performance in the second test wasn't just a fluke as he came up with an even better performance in the next test match. He picked as many as 15 test wickets in the third test, helping India win the test by the 2 wickets and thereby take the series 2-1.
# 2003 World Cup: Harbhajan Singh was preferred over Anil Kumble in the 2003 World Cup. Playing as a first-choice bowler, Harbhajan took 11 wickets at an average of 30.45 and economy rate of 3.92. in 10 games. Bhajji took an average of 2 wickets in every match and had played every match except the Pakistan game in the group stage. He was the fourth leading wicket-taker amongst all Indian bowling.
In the final match of the 2003 World Cup, Harbhajan Singh was the only bowler to have taken a wicket, ending his figures with 2/49 from eight overs. India, though, lost that final and with that, the hope of winning a world cup title for the first time after 1983.
Harbhajan Singh remained a force to be reckoned with in India's spin department until the Indian Premier League came into existence. The Indian spinner was accused of losing his art of wicket-taking ability.
# 54 vs Australia, 1st Test at Bangalore, 2008: One Of The Highlights of the Series: Many believe the partnership between Zaheer and Harbhajan in this game helped turn the tide over Australia in 2008. Australia had put up 430 and India was in danger of following on at 195 for six, when Harbhajan joined Sourav Ganguly. Though India managed to avoid the follow on, Ganguly was soon dismissed – which left a huge task for the two bowlers. Zaheer and Harbhajan frustrated the Aussies as their fifties kept them at bay. Harbhajan had a relatively sedate outing with his 54 off 110 balls, with only five fours, but had done the job for India.
In his illustrious international career, Harbhajan Singh has played 103 Tests, 236 ODIs and 28 T20 internationals, in which he has managed to take 417, 269 and 25 wickets respectively.
Harbhajan Singh has scored a lot of runs in domestic cricket. Apart from his heroics from his bowling, Harbhajan Singh was also an able batsman and had in fact started his career as a batsman only.
However, he surprised everyone when he smashed a ton against New Zealand in the second test in 2010.
He stitched a 105-run partnership for the final wicket with Sreesanth and took India to 472 runs in the first innings. Harbhajan Singh scored 111 runs off 116 balls, including 7 fours and 7 sixes in his knock. The match, however, resulted in a draw.
# Six Against Pakistan-Asia Cup, 2010: The fourth match between India and Pakistan saw a nail-biting contest. Harbhajan Singh was yet again into the spotlight. Yes it's the same game where we saw on-field banter between Harbhajan Singh and Shoaib Akhtar. Bhaji had the last laugh as he took India home in the end with one ball remaining to be played in the game.
Batting first Pakistan posted 267 runs on the board. In pursuit of the total, India were left in all sorts of trouble when Ravindra Jadeja got all in the 45th over of the game, with India still needing 48 runs needed in the final five overs. Suresh Raina needed someone to stick to the wicket and help him achieve the target.
Harbhajan Singh played a solid hand, scoring 15 runs off 11 balls. When Raina got out on the second ball of the last over, the onus was on Harbhajan Singh to take India home. He struck a six of the fifth ball of the final over of Mohammad Amir and thereby win the game for India. Bhaji celebration after winning the game with a six is remembered more than the victory.
Indian Premier League (IPL)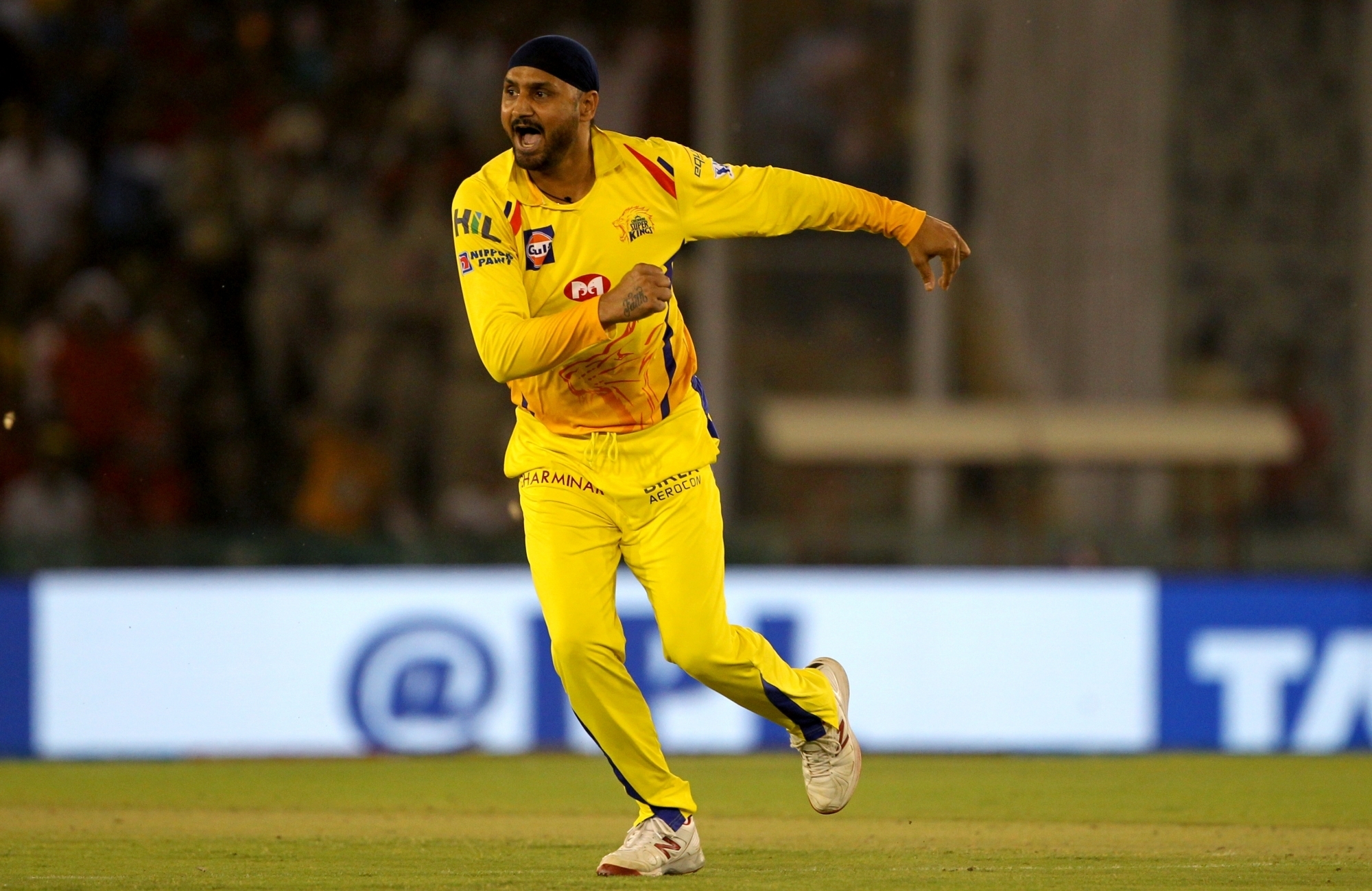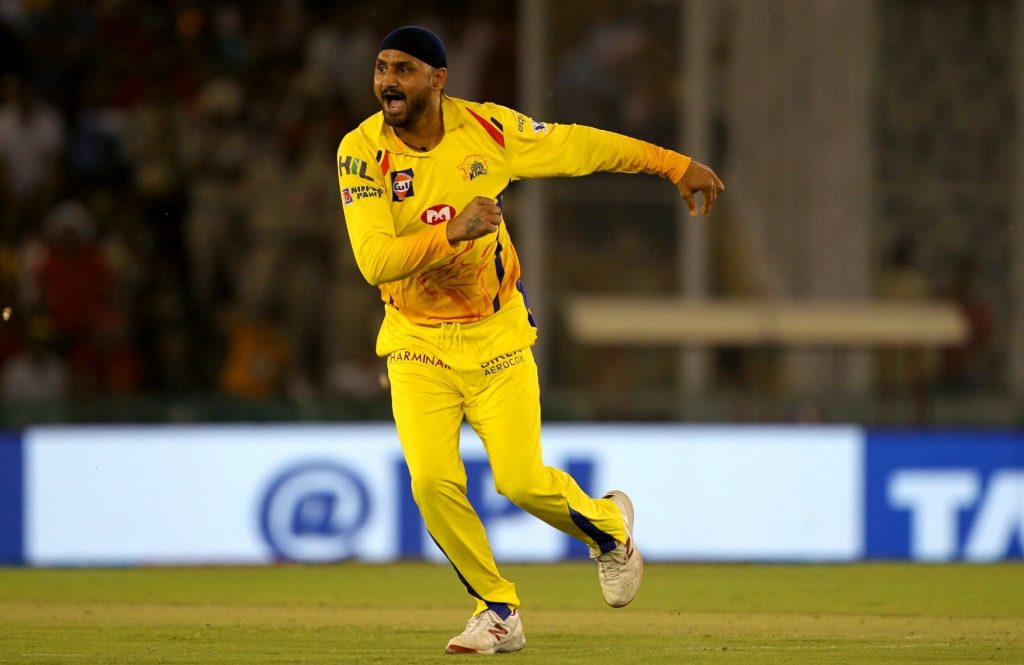 Harbhajan Singh is one of those veterans who have been around in the Indian Premier League since its inaugural season. The Indian spinner had been one of the vital cogs in Mumbai Indian's wheel and helped the side clinch the title for as many as three times.
Harbhajan played only three matches in the first season but since then had been a crucial member in the side. The 39-year old performed consistently for the franchise and even captained the side once.
Harbhajan played a vital role in Mumbai's 2013 title-winning season, where he accumulated 24 wickets in 19 matches at an average of 19 and an economy of 6.51. 2013 IPL season was, arguably, Harbhajan's most celebrated one.
Ahead of the 2018 Indian Premier League season, Chennai Super Kings bought the services of the Indian spinner and has been an integral part of the franchise ever since.
Overall, Harbhajan Singh has played 160 matches in Indian Premier League, taking 150 wickets at an average of 26.44. The Indian spinner has played 24 matches, picking 23 wickets.
Harbhajan Singh's Personal Life
Harbhajan Singh was born on 3rd July 1980 in Jalandhar, Punjab. He completed his education from Jai Hind Model School.
His father, Sardar Sardev Singh Plaha was a businessman, who ran a ball-bearing factory while his mother, Avtar Kaur is a housewife.
To know more about Harbhajan Singh's personal life, including his wife, daughter, sisters etc.: Click Here
Harbhajan Singh Social Activities
Harbhajan Singh is very active on social media and has a huge fan following on all social media platforms. He has more than 4m followers on Instagram and more than 10million on Twitter.
To know more about his Harbhajan Singh's social media activities: Click Here