| | | |
| --- | --- | --- |
| | Full Name: | Harbhajan Singh Plaha |
| | Nickname: | Bhajji and Turbanator |
| | Profession: | Cricketer |
| | Date of Birth: | July 3, 1980 |
| | Age: | 39 Years |
| | Birthplace: | Jalandhar, Punjab, India |
| | Nationality: | Indian |
| | Religion: | Sikh |
| | Hobbies: | Cricket and Music |
| | Marital Status: | Married |
| | Height: | 180 cm, 1.80 m, 5'11" inch |
| | Weight in KG: | 71 kg |
| | Eye Color: | Dark Brown |
| | Mother: | Avtar Kaur (Housewife) |
| | Father: | Sardar Sardev Singh Plaha (Businessman) |
| | Siblings: | 4 (Elder), 1 (Younger) |
| | School: | Jai Hind Model School, Parvati Jain High School |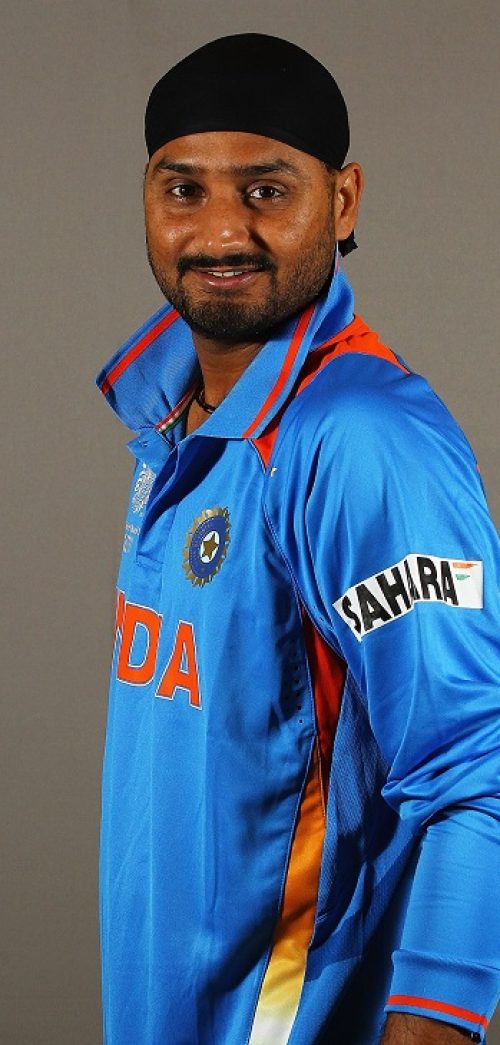 Harbhajan Singh's Biography
Arguably, India's greatest off-spinner, Harbhajan Singh needs no introduction. The former Indian spinner carried the flag of spin bowling for many years for the country. Known for his aggressive nature, Harbhajan is a passionate cricketer and always wears a heart on his sleeve.
Making his debut in the year 1998, Harbhajan Singh played for many years. Though he still hasn't taken the retirement from international cricket, his career is perhaps all but over. In his illustrious career, Harbhajan Singh has played 103 Test matches, 236 One-Day Internationals, and 28 T20 Internationals. He has taken more than 500 wickets across formats in international cricket.
Harbhajan Singh's Personal Information
Harbhajan Singh's Date of Birth: Harbhajan Singh was born on 3rd June 1980. Considering his date of birth, Harbhajan's zodiac sign is Cancer. 
Harbhajan Singh's Age: Harbhajan Singh will turn 40 years old this July. Despite his age, the Indian spinner is still one of the fittest cricketers in India going around.
Harbhajan Singh's Height: Standing at, 5'11, Harbhajan Singh is also one of tallest players in the Indian cricket fraternity. Being a fit athlete, Harbhajan's height was ideal to play the sport.  
Harbhajan Singh's Family Information
Harbhajan Singh was born on 3rd July 1980 to Sardar Sardev Singh Plaha and Avtar Kaur. He is the only son in the family and has five sisters. Harbhajan's father was a businessman, who ran a ball-bearing factory.
Being the only son in the family, Harbhajan Singh was destined to take up his father's business; however, his father wanted him to become a cricketer. Harbhajan started playing the sport at a very young age. In his initial years, he was trained under the watchful eyes of his first coach, Davinder Arora, and wanted to become a batsman. However, the untimely death of his coach and the coming of a new coach in Charanjit Singh Bhullar led Bhaji to take up spin bowling as his primary skill.
To know more about Harbhajan Singh's family information: Click Here
Harbhajan Singh's Career Stats
Domestic Career: Impressive performances in the junior level cricket meant he was soon drafted in Punjab's under-16 team. At 15 years of age, he made his debut for the under-16 side against Haryana. Bhaji impressed everyone his art of spin bowling, taking 32 wickets in the tournament. He was soon selected for the North Zone Under-16s team.
He kept delivering consistent performing as his first-class debut wasn't far away. He made his debut in the first-class competition for Punjab in 1997-98 Ranji Trophy season.
International Career: Harbhajan Singh made his Test debut against Australia in the 1997-98 series. He played his first-ever test match in the third test of the series. He ended the match with just one wicket to his name. In the same year, next month he made his ODI debut against New Zealand in Sharjah.
In his illustrious international career, Harbhajan Singh has played 103 Tests, 236 ODIs and 28 T20 internationals, in which he has managed to take 417, 269, and 25 wickets respectively.
Harbhajan Singh has made a host of records during his international as well as domestic cricket career.
To know about his career stats and delve deeper into Harbhajan Singh's career information: Click Here
Harbhajan Singh's IPL Career
Harbhajan Singh is one of those veterans who have been around in the Indian Premier League since its inaugural season. The Indian spinner had been one of the vital cogs in Mumbai Indian's wheel and helped the side clinch the title for as many as three times.
Harbhajan played only three matches in the first season but since then had been a crucial member in the side. The 39-year old performed consistently for the franchise and even captained the side once.
Harbhajan played a vital role in Mumbai's 2013 title-winning season, where he accumulated 24 wickets in 19 matches at an average of 19 and an economy of 6.51. 2013 IPL season was, arguably, Harbhajan's most celebrated one.
Overall, Harbhajan Singh has played 160 matches in the Indian Premier League, taking 150 wickets at an average of 26.44.


Harbhajan Singh's Awards & Achievements
Harbhajan Singh is counted as one of the best off-spinners India has ever produced.

Harbhajan Singh is the first Indian bowler to have taken a hat-trick in Test Cricket. He achieved this feat at the Eden Gardens on 11th March, 2001.

Harbhajan Singh wreaked havoc in the historic 2001 Test series against Australia. He ended as the leading wicket-taker in the series, picking as many as 32 wickets.

Owing to his excellent performances for Indian cricket, Harbhajan Singh was conferred with Arjuna Award and Padma Shri award.

Seeing his performance in the Australia-Indian series in 2001, he was designated with the position of Deputy Superintendent in Punjab Police.

Harbhajan Singh is currently the third-highest wicket-taker in Test among all Indians behind Anil Kumble and Kapil Dev.




Harbhajan Singh was part of Mumbai Indians' set up which won titles in 2013, 2014, and 2017.

In the 2018 edition of the cash-rich league, he helped CSK win the title.

Harbhajan Singh has 150 IPL wickets to his name and is currently the third joint-highest wicket-taker.
Harbhajan Singh's Net Worth
Harbhajan Singh's net worth is estimated to be $12 million.
Most of his earning come from franchise tournaments and advertisements. Harbhajan Singh's home is located in Mumbai.
Harbhajan Singh runs a film production company called BM Media Productions to produce Punjabi films.
Harbhajan Singh owns a luxurious SUV Hummer H2 which he imported from London in the year 2009. Given, his birth date is 3 and so is his jersey number, Harbhajan Singh's car number is 0003. 
Harbhajan Singh promotes endorses a variety of brands such as Reebok, Pepsi etc. 
Harbhajan Singh's Controversies
During his cricket career, Harbhajan Singh was involved in several controversies, most prominent being with Andrew Symonds and S. Sreesanth.
Monkeygate Incident: During the 2008 Australia series, the Monkey Gate scandal came to light where Harbhajan Singh was accused of passing racist remarks to Andrew Symonds, calling him a monkey. It led to a widespread controversy as ICC summoned New Zealand High Court judge John Hansen to look into the matter. Harbhajan Singh was handed a three-match ban in the end.
BCCI threatened to pull out of the tour but decided not to. India went on to win the next test match in Perth but lost the series 2-1.
When Harbhajan Singh Slapped Sreesanth: During a game between Mumbai Indians and Kings Eleven Punjab, a fierce Harbhajan Singh was accused of slapping S. Sreesanth followed which the latter was seen crying at the ground. Harbhajan Singh later did apologize to him in the dressing room. This sparked a huge controversy in world cricket.
Harbhajan Singh's Social Media Accounts
Harbhajan Singh has a very strong social media presence. The Indian cricketer posts regularly on his social media accounts and have millions of followers on his social media platforms. Here's a look at his social media handles: 
Instagram Profile: https://www.instagram.com/harbhajan3/

Facebook Profile: https://www.facebook.com/HarbhajanTurbanatorSingh/

Twitter Account: https://twitter.com/harbhajan_singh
To know more about Harbhajan Singh activities on Social Media: Click Here