Yuvraj Singh's Personal Life
| | | |
| --- | --- | --- |
| | Full Name: | Yuvraj Singh |
| | Zodiac Sign: | Sagittarius |
| | Education: | 10th Standard |
| | Mother: | Shabnam Singh (Housewife) |
| | Father: | Yograj Singh (Actor) |
| | Siblings: | 1 (Brother) |
| | Marriage Date: | 30th November 2015 |
| | Wife: | Hazel Keech |
| | Houses: | Chandigarh, India |
| | Fav Food: | Kadhi-Chawal, Gobhi Ka Paratha |
| | Fav Car: | Bentley Continental, Porsche 911 |
A true cricket fan would agree that India haven't managed to find as good a middle-order player as Yuvraj Singh in over two decades. A true match-winner, Yuvraj Singh won countless hearts with his magical cover-drives and sumptuous flicks. For India, it hasn't been easy to replace Yuvraj Singh as their search a proper number four batsman ran for several years until they settled with Shreyas Iyer. 
Even if he was suffering from the worst run of form, Yuvraj Singh always stood out on big occasions. He played a key role in helping in India win 2007 T20 World Cup and 2011 World Cup. His stellar performance in the 2011 World Cup also helped him earn the Man of the Series award. 
In his illustrious career, Yuvraj Singh has played 304 ODIs and 40 Tests, scoring 8701 and 1900 runs respectively. Yuvraj Singh has often credited his stupendous success in International cricket to his family. By his own admission, his family has played a key role in helping him succeed on both a professional and personal level.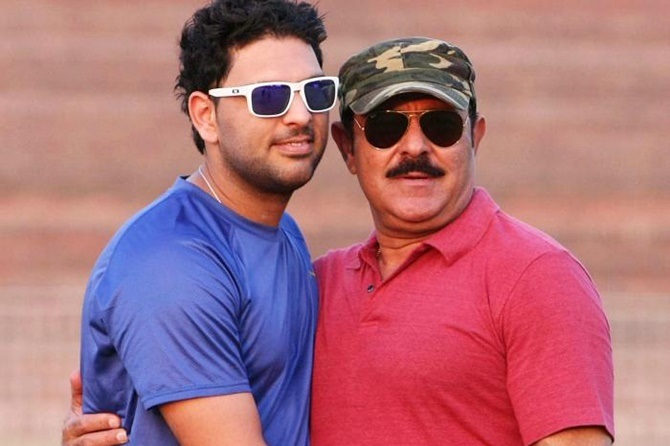 On that note, let's look in detail about Yuvraj Singh's family members. 
Yuvraj Singh's Father: Hailing from the village of Kanech, in Ludhiana district of Punjab, Yuvraj's father, Yograj Singh himself was a former cricketer. He played one Test and six one-day internationals for his side. His career was put to a full stop after suffering from an injury. Yograj Singh joined the Punjabi film industry after that and is considered a legendary actor in Pollywood.
He has also worked in Bollywood movies such as Bhag Milkha Bhaag, Singh is Bling etc.
Yograj Singh married to Yuvraj Singh's mother, Shabnam Singh but took divorce. He later married to Neena Bundhel aka Satveer Kaur. He has a total of four children, namely, Yuvraj Singh and Zoravar Singh (from the first wife), Victor and Amarjeet Kaur (from the second wife). 
Yograj Singh always had a dream to make his son an Indian cricketer. Yuvraj Singh in his younger days had a keen interest in Tennis and Skating. But his father told him to forget everything and focus on cricket. 
Yograj Singh would train Yuvraj every day and nourish his cricketing skills during the former's early days. 
Yograj Singh has often blamed former Indian skipper, MS Dhoni, for ruining his son's career. He often put allegations against Dhoni for not including him in ICC 2015 World Cup. 
Though, recently, he took a u-turn and praised MS Dhoni for his decision-making skills and called him as a legendary player.
Yuvraj Singh's Mother: Yuvraj Singh's mother, Shabnam Singh has been the biggest strength for Yuvraj Singh since his childhood.
"Mother has been the strength of pillar in my journey to become a good cricketer and in my recovery from dreaded cancer. She gave me hope. She gave me strength. She was always there by my side. Always," Yuvraj just reveres his mother. Yuvraj recently expressed his love for his mother on Mother's day.
Yuvraj Singh's mother acted as the biggest motivational force when the Indian cricketer was going through the toughest period of his life after winning the 2011 World Cup. The duo maintains a friendly relationship with each other.
Being a single mother, life hasn't been easy for Yuvraj Singh's mother. However, she faced every calamity which he came her way and dealt with utmost courage.
Yuvraj Singh's Wife: Hazel Keech
Yuvraj Singh's wife, Hazel Keech hails from Essex, England. She completed her education from Beal High School in Redbridge, London. During her school days, she learnt various dance forms such as Indian classical, western contemporary etc. 
Hazel has worked in Indian television programs and numerous Bollywood films. She has acted in films in Bodyguard, Bills etc and also made her appearance as a contestant in Big Boss 7 in 2013. 
On 30th November 2015, she tied the knot with Indian cricketer, Yuvraj Singh.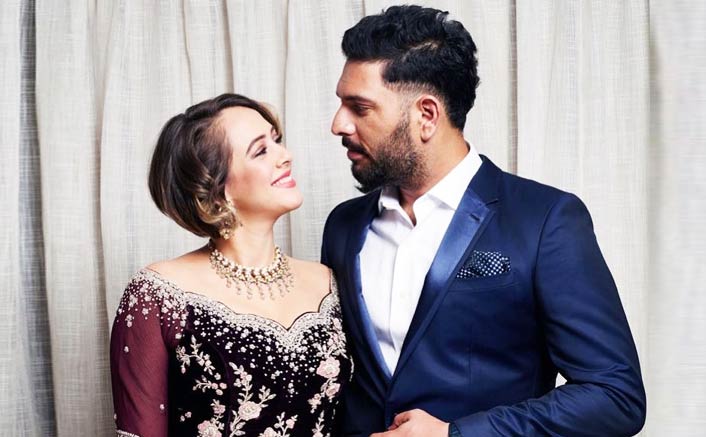 Yuvraj Singh and Hazel Keech are one of the most celebrated couples in the sports industry. Yuvraj Singh and Hazel Keech took a lot of time to become friends, forget about dating.
Yuvraj Singh first saw Hazel at his friend's party. The Indian cricketer found the latter pretty and loved her smile. 
"I first met Hazel in 2011 at a friend's birthday and what caught my attention was her delightful smile. As it happens, she wasn't smiling at me. But I did catch her attention later that evening; I even complimented her work in the film Bodyguard. Hazel, however, wasn't interested." Yuvraj told in an interview. 
"I must have asked her out for coffee seven to eight times, but she kept ignoring the topic! I have been shot down earlier but to be refused so many times was something else – she left me bewildered. I guessed she was dating someone else and decided to move on," he added. 
With Yuvraj being diagnosed with cancer at that time, the duo lost contact. In 2014, the southpaw saw her in his friend's Facebook friend list and the relationship once again took off.
"In 2014, I saw her on my friend Angad Bedi's [actor] Facebook friend list. Surprised that she had become friends with him after just a brief introduction, I told Angad to stay away from her because I liked her. I then sent her a request but she accepted it only after three months. We became friends after knowing each other for three years and three months, and I told her that I had earned a date with her after all these years. This time, she agreed." 
After dating for a year, Yuvraj finally proposed Hazel on a beach in Bali, to which she agreed. The couple later announced that they are engaged and are all set to start a new partnership, hoping to last forever. 
The couple tied the knot on 30th November 2015.
A career which spanned more than 15 years, Yuvraj Singh contribution to Indian cricket speaks for itself. Through his destructive batting, especially on big occasions, the Indian cricketer has made a special place in people's heart. In his illustrious career, Yuvraj Singh has played 304 One-Day Internationals and 40 Tests, scoring 8701 and 1900 runs respectively. 
To know about his complete journey from piling runs in domestic cricket to become one of the greatest match-winner for India in International cricket. Click Here
Yuvraj Singh's Social Media
Yuvraj Singh has a strong social media game. He remains quite active on social media. The southpaw is known for his witty comments and popular for uncanny tweets.
He has more than 9 million followers on Instagram and closes to 5 million followers on Twitter. To know more about his social media activities and his biggest social media controversies. Click Here