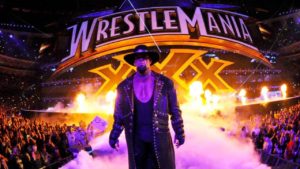 As the "last ride" series on The Undertaker kicked off in its finale episode, The Undertaker announced his retirement which came as a shocker to many. The day when he announced his retirement, wishes began to pour on Twitter with fellow wrestlers giving heartfelt tributes to him.
The latest episode of WWE Smackdown also celebrated his journey where several superstars talked about him, stating that how their life changed because of him.
From Roman Reigns to Jeff Hardy, everyone paid their respect to the legend. Meanwhile, WWE released a new music video to signify the Undertaker legacy.
The 2 min 16 seconds video posted by WWE portrays some of his best performances on the WWE ring. It also signifies how Undertaker remains a private man despite being a superstar and big name in the public domain.
Though Undertaker has revealed part of his personal life in "The Last Ride", it still remains a topic of discussion.
The 55-year-old has been one of the oldest superstars in the promotion and modern-day fighters have expressed their respect and gratitude towards the dead man.
The Undertaker has been one of the best fighters in WWE till date and he doesn't wish to get back inside the WWE ring again as he feels that he has nothing left to prove now and the camaraderie he shared with Mr.Vince McMahon can be clearly seen as he said that he will only return to WWE if Vince McMahon is in trouble.