An Introduction to Smackdown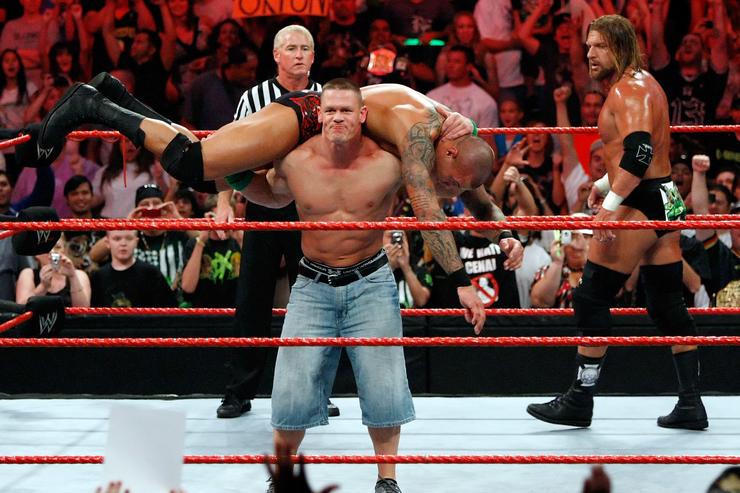 WWE Smack Down is by far one of the world's most famous professional wrestling programs. It debuted on the date of April 29th, 1999, a day that many fans revere as one of the very best days of their life. The program shares its name with the WWE brand, Smack Down, a quite popular brand where WWE allocates a lot of its workers.
Whether we actually like it or not, Smack Down is a part of all our lives. There are indeed very few places where one would not overhear a conversation about the recent Smack Down match, or indeed be themselves participating in one. This show that took wrestling to undiscovered new heights has a popularity that is indeed matched by very, very television programs.
The show celebrated its 15th anniversary on the date of October 10th, 2014, along with obtaining the elite status of 1000th episode aired on October 16th, 2018.
When does it Air?
Presently, Smack Down is broadcasted live on Tuesdays, but the organizers soon plan to move the very reputed show to another network, with a different time slot pushed back to Fridays. It debuted in the US on the UPM television network, but soon began airing on the CW.
It has been aired live from over a stunning 160 different arenas, all with their own advantages and disadvantages posed to the wrestlers. One can find evidence of the fact they have toured all over the world, when one comprehends the fact that Smack Down has been broadcast from over 148 towns and cities, a number that is simply stunning. Whether one is talking about cage matches, free for all, or just an exhibition match, if its wrestling you want, Smack Down is the best choice for you.
Some of SmackDown's Greatest Stars
Smack Down is one of the most popular shows on the planet, with a fan and subscriber count that increases by thousands every day, as more and more people as exposed to the raw glory of the WWE stars, live on the silver screen. But, there are some stars who deserve a special mention in any article about Smack Down, as these were the core stars who helped make Smack Down the marvelous show it is today.
Dwayne 'The Rock' Johnson
This is a man that requires no introduction! Dwayne Johnson is unanimously and unilaterally one of the very best WWE stars of all time. Miraculously, his talents do not end there! The Rock has transcended the ring, going on to achieve worldwide fame as one of the best actors and heroes of this decade. His movies are packed with some of the best action scenes in film history, and are thus a true favorite among one of the largest fan bases ever seen.
Brock Lesnar
This man is doubtlessly one of the very best wrestlers there are. Even though Lesnar himself is not one of the oldest or most experienced wrestlers, as he is a fairly new addition, he has taken on some of the very best and famous, and has not only lived to tell the tale, but emerged victorious on all counts! Part of a new generation of wrestlers, who are quickly becoming absolute fan favorites, Lesnar is absolutely unbeatable in the ring!
Kurt Angle
While, Kurt Angle is not a full time professional wrestler, this on-screen general manager has been responsible for some of the most epic matches in recent history. He is not afraid to take on the legends of yesterday, as he has battled in the past with absolute wonders of biology such as the Undertake (the famed Deadman!) and Rey Mysterio (one of the most agile wrestlers there ever were!).
Roman Reigns
This young superstar got one of the fastest journeys to stardom there ever were, as a young amateur wrestler took on some of the best, and absolutely obliterated them in the ring. Part of the famous Anoa'i family of wrestlers, he lives up to the name, as the name Roman Reigns is both respected and feared throughout the entire wrestling industry. However, he is currently fighting leukemia, and we hope to dear God that he emerges victorious here too!
Some of the Best Matches in WWE Smack Down History
WWE is one of the most iconic shows so far, with each and every single episode, giving fans insurmountable amount of satisfaction that only increases with each episode. However, wrestling fans around the world agree that there are some particular matches that are the most satisfying to watch: a balance of awesome chemistry between the wrestlers, an unmatchable venue and an atmosphere that one is very hard to find, these matches can be watched over and over again:
Brock Lesnar vs. Hulk Hogan- August 8th, 2002
This is by far one of the best matches in recent history. Neither of the wrestlers requires an introduction, as Brock Lesnar is one of the best-known wrestlers of this decade, and Hulk Hogan is one of the champions of yesteryear. Lesnar, that absolute bear of a man, absolutely pulverized Hogan, with Hogan ending up with massive internal bleeding.
Randy Orton vs. Christian- May 6th, 2011
Ask anybody, they know who Christian is. Winner of the World Heavyweight Title, this legend defended his title against Randy Orton, who accepted the match through fan demand. While both of the wrestlers have an unmatchable chemistry that flows like peanut butter and jelly, Orton ultimately lost to Christian's leap off the turnbuckle.
Rey Mysterio vs. Chris Jericho- July 10th, 2009
Rey Mysterio is by far one of the most famous wrestlers there are. He has been present in the ring for many years, and has remained a total fan favorite. In comparison, Jericho is no sun-kissed daisy either, as this wrestler has taken on some of the best and lived to tell the tale. These two legends clashed at the Intercontinental Championship, which ultimately ended in Mysterio tacking up another win on his excellent record.
John Cena vs. Eddie Guerrero- September 11th, 2003
While this match is certainly not a recent event, it remains one of the most controversial moments in the history of WWE, as the all-time legend of wrestling, John Cena, declares open season on Champion Eddie Guerrero. This fight is absolutely amazing to watch, as Cena keeps pounding Eddie, but is ultimately defeated with the help of Chavo.
JBL vs. Eddie Guerrero
Following the old rules, two legends of the wrestling industry, JBL and Eddie Guerrero, settled their differences in a cage fight. With the Championship in the balance, these behemoths pounded each other for the better part of half an hour. However, the Latino heat was defeated by a mystery luchador, whose true identity would shock the crowd!
Also Check: