Sourav Ganguly's Personal Life
| | | |
| --- | --- | --- |
| | Full Name: | Sourav Ganguly |
| | Education: | High School |
| | Mother: | Nirupa Ganguly (Housewife) |
| | Father: | Chandidas Ganguly (Businessman) |
| | Siblings: | 1 (Brother) |
| | Marital Status: | Married |
| | Marriage Date: | 21st February 1995 |
| | Wife: | Dona Ganguly |
| | Daughter: | Sana Ganguly |
| | Houses: | Kolkata |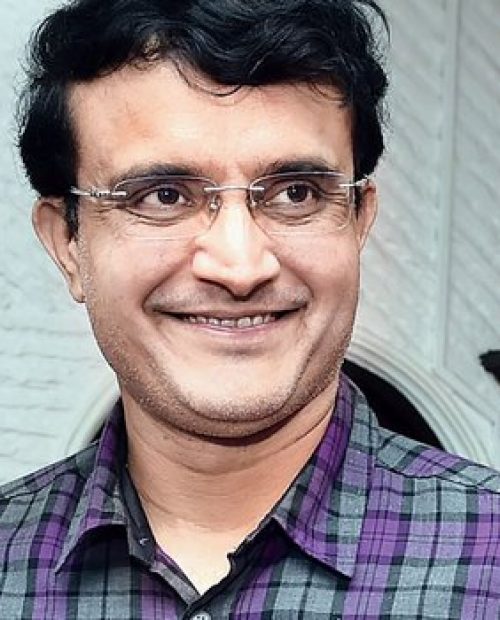 Born on 8th July 1972, Sourav Ganguly was the youngest member of the Ganguly family. His parents called him "Maharaja" as they always believed he had those leadership qualities which would help him in peaking success in the future. Sourav's inclination towards the sport was clearly noticeable as he enjoyed seeing his brother practising. Sourav was a right-handed as he did everything with the right hand but his brother Snehasish was a left-handed batsman. So in order to play cricket and Sourav switched to left-handed batting in order to user his elder brother's kit. 
When he was in class 10, Sourav Ganguly's mother and father enrolled him to a cricket academy so he could pursue his passion for that sport and the rest is history since the day he took to cricket as his full-time career. It was his brother who assisted him and helped him with his training. Sourav's passion and commitment towards the sport made him the captain of St. Xavier's School's cricket team. 
Sourav completed his schooling from St. Xavier's School and later went on to pursue his graduation in the St. Xavier's College in Kolkata. Sourav was a graduate in Commerce and he was later awarded the honorary PhD owing to his sincerity towards his studies. His leadership qualities helped him pave a path towards the Ranji team of Bengal and later went on to lead the Indian Cricket Team.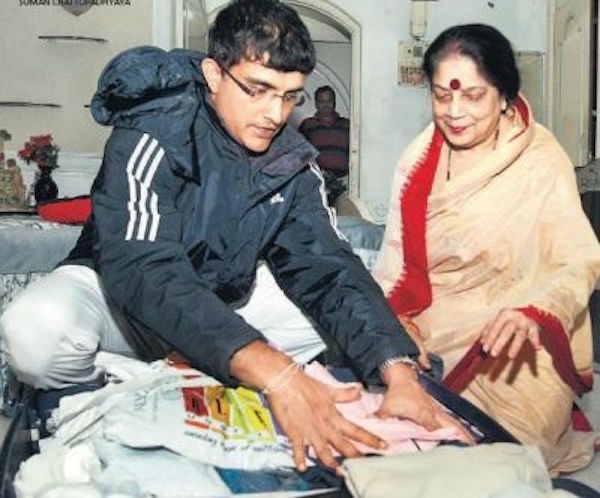 Sourav Ganguly's Father: Sourav Ganguly's father Chandidas Ganguly was one of the most successful businessmen in Calcutta. Chandidas Ganguly had 3rd largest printing press in the whole of Asia and that showed his business prowess and affluence in his line of business. He loved his sons and always encouraged them in pursuing their dreams because doing that helped him in becoming a successful businessman in the early stages of his life. Chandidas Ganguly used to call Sourav as "Maharaja" and the elder son as Snehasish as "Raja". 
Unfortunately, he passed away on February 21, 2013, after a prolonged illness and a heart attack at the age of 75. He left a legacy that his elder son Snehasish controls as he successfully runs the printing business established by him. 
Sourav Ganguly's Mother: Nirupa Ganguly gave birth to Sourav and Snehasish Ganguly and she continues to live with them at their Behala's residence in Kolkata. She has been suffering from a heart ailment and continues to battle her illness. She is a Septuagenarian and last year she was hospitalized due to her heart ailments when Sourav Ganguly was on his commentary duty in England during the World Cup. 

Sourav Ganguly's Brother: Snehasish Chandidas Ganguly is the elder son of Chandidas and Nirupa Ganguly and he is currently 55 years old. He is a former Indian First-class cricketer turned businessman and now runs his father's printing press business in Kolkata. In fact, he has proven to be a successful businessman so far as he became a member of the Board of Directors of soap-making company Lux. Apart from managing his father's printing business, Ganguly also acquired NK Gossain Printers (based in Kolkata) and flourished the company as one of the most successful printing press in the north-eastern region of Kolkata. 
Snehasish got married to a Mohiniyatam dancer Momm Ganguly and the couple had a daughter in 1998 and named her Sneha Ganguly. 
In cricket, Snehasish was a Left-handed batsman while he did r-arm off-break bowling when he played First-class and List A matches.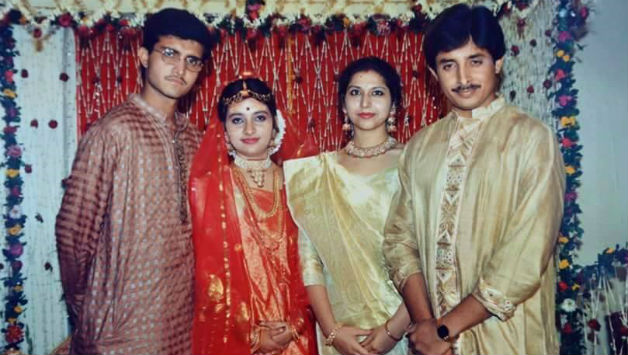 Sourav Ganguly tied the knot with his longtime childhood friend Dona Ganguly after he returned from the England tour in 1997. The couple finally got married on February 21, 1997, after so many disagreements from both the sides of their families. 
Dona is an Indian classical Odissi dancer and she also belonged to an opulent family from Behala who happened to be one of the business rivals of the Ganguly family. 
Dona owns a dance school in Kolkata named "Diksha Manjari" which was inaugurated by the legendary Indian singer Lata Mangeshkar. Dona provides the dance lessons to the enrolled students and the academy also has teachers for Yoga, Drawing, Karate and Swimming under the single roof.
Sourav Ganguly's Daughter
Sourav and Dona got married on February 21, 1997, and four years later, they gave birth to a girl on 3rd November 2001 and named her Sana Ganguly. Sana is currently 18 years old and currently pursuing graduations from the Oxford University in London. She did her schooling from the La Martiniere for Girls and Loreto House School which is considered one of the most prestigious schools in Kolkata. 
Sana has inculcated most of the qualities of her parents as she loves watching cricket and also loves to dance (Indian Classical). Last year she performed an Indian Classical form at a Museum in Kolkata on Holi festival. Sana is quite active on social media with around 70K followers on Instagram. Besides, she has also made her screen debut alongside her father in a jewellery advertisement. 
Sourav Ganguly's Short Bio
Sourav Ganguly is a former Indian cricket team captain who is currently serving as the President of the BCCI. Ganguly made his debut in 1992 against West Indies at the Benson & Hedges World Series in Australia. Ganguly was appointed as the skipper of the Indian cricket team in 2000 after a match-fixing scandal and since then he gave a new face to the Indian Cricket team. He believed in the youngsters and gave them the opportunity which was well appreciated by everyone. 
Ganguly was the first Indian captain to have registered the highest test wins in overseas and that was because of his aggressive captaincy skills and his trust on the players. As a player he also has an impressive record in ODI, amassing over 10,000 runs (11,363 runs), taking 100 wickets, and also 100 catches. 
In his career, Ganguly played 311 ODI matches and scored 11,363 runs at an average of 41.02, while scoring 22 centuries and 72 half-centuries. He played 113 Test matches and scored 7212 runs at an average of 42.17. His highest score in tests is 239 runs while his highest score in ODI is 183 runs that came against Sri Lanka in the 1999 Cricket World Cup. 
Sourav Ganguly was the President of Cricket Association of Bengal (CAB) from 2015-19 and in 2019 he was appointed as the 39th President of the BCCI.
For more about Sourav Ganguly's career stats, Click Here!
Sourav Ganguly's Social Media
Sourav Ganguly is active on social media, especially on Twitter and Instagram. He keeps his fans updated with new developments in his life, thereby keeping them cognizant about his daily life. Besides, he also uses social media for advertisements and endorsements purposes. It keeps his fans intrigued with the exciting posts that they like to see them and remain updated with their favorite cricketer's life happenings.