Sourav Ganguly's Career Stats
| | | |
| --- | --- | --- |
| | Full Name: | Sourav Ganguly |
| | Team: | India |
| | Club: | PWI (2011-2012) KKR (2008-10) |
| | Jersey No.: | #24 (India), #24 (MI) |
| | Batting Style: | Left Handed Bat |
| | Bowling Style: | Right-arm medium |
| | Coach: | Snehasish Ganguly |
| | Test Debut: | 20th June 1996 (ENG) |
| | ODI Debut: | 11th January 1992 (WI) |
Sourav Ganguly's Cricket Stats
Test Career
ODI Career
IPL Career
Test Career
# Batting Career Summary
| Match | Inn | Run | HS | Avg | SR | 50 | 100 | 200 |
| --- | --- | --- | --- | --- | --- | --- | --- | --- |
| 113 | 188 | 7212 | 239 | 42.18 | 51.26 | 35 | 16 | 1 |
# Bowling Career Summary
| Match | Inn | Run | Wkts | Eco | Avg | SR | 5w | 10w |
| --- | --- | --- | --- | --- | --- | --- | --- | --- |
| 113 | 99 | 1681 | 32 | 3.24 | 52.53 | 97.41 | 0 | 0 |
ODI Career
IPL Career
The prince of Kolkata, the legend of Indian cricket and arguably the best captain India has ever produced, Sourav Chandidas Ganguly was born on 8th July 1972 in Behala, Kolkata. Famously nicknamed as Dada, Sourav Ganguly was the "God of the Off-side". This left-handed legend started his international career in the year 1992 against the West Indies during the 

Sourav Ganguly's Jersey Number: Here's a look at Sourav Ganguly's stats in domestic as well as international cricket: #24
Sourav Ganguly was introduced to the world of cricket by his elder brother Snehasish Ganguly. Ganguly did his schooling from one of the most famous schools of Kolkata, St Xavier's School Park Street. In his early days, Dada used to played for his school teams and also represented his state in various tournaments such as Ranji Trophy and Duleep Trophy. His brother Snehasish was a First-class cricketer himself supported him in his practice after school. But who knew one day his younger brother would replace him in the Ranji team.
Sourav made a cut into Bengal's Ranji team replacing his brother as he cemented his place. Ganguly was initially fascinated by the game of football. Ganguly got his big break while playing for India on their tour of England when he just traveled with the team as a rookie. He scored 131 runs and sealed his permanent spot in the squad in both the formats. His place in the squad was assured after a successful performance in a series against Sri Lanka, Pakistan, Australia, and winning the man of the match awards.
Sourav Ganguly's Domestic Career
Ganguly played for Bengal from 1990 to 2010. In 2000 he signed his contract for the English county club Lancashire. In 2005 for Glamorgan, and in 2006 for Northamptonshire. He has played 254 first-class games all through his career. After a total inning of 399, DADA scored 15,687 runs at an average of 44.18. His highest score in first-class cricket is 239 runs. He has taken 168 catches with a total number of half-centuries being 89 and total centuries beings 33.
In List A cricket, Sourav Ganguly has played 437 matches. He played 421 innings and made 15,622 runs in total. He has stayed not out 43 times and made the highest score of 183 runs with an average of 41.32. He has taken 131 catches with 97, half-centuries and 32, centuries.
Sourav Ganguly's International Career
Sourav Ganguly has entertained and contributed for India 16 long years from 1992-2008. He made his international debut on 11th January 1992 against West Indies. He made his test debut on 20th June 1996 against England. Looking at the stats of the international career of Sourav Ganguly. He played 113 test matches and scored 7,212 runs with a batting average of 42.17. With a total of 16 centuries and 35 half-centuries, he became a legend of the game. Also a successful medium-pace bowler, Dada took 32 wickets in the test with the best bowling figure of 3/28.
Dada has played 311 ODIs with a batting average of 41.02. He made 11,363 runs in total. He made his maiden ODI century against Sri Lanka at Colombo on 20th August 1997. He scored 113 runs at a strike rate of 89.68. With a total number of centuries of 22 and half centuries of 72, the Prince finished his ODI career against Pakistan on 15th November 2007. Sourav Ganguly's record in the ODI format can be rated as one of the best for an Indian skipper. 
Finally, Dada played the last international match of his career against Australia in Nagpur on 6th November 2008.
Indian Premier League (IPL)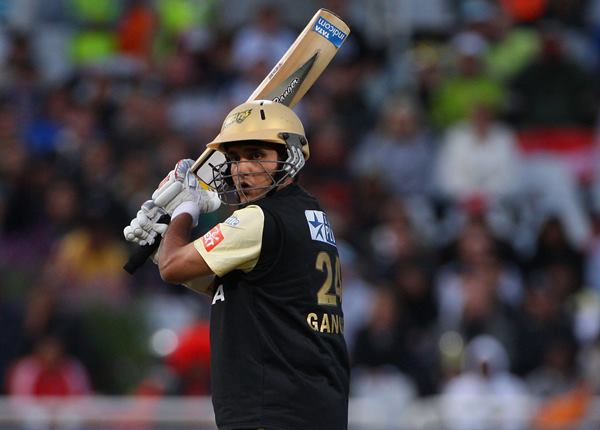 Sourav Ganguly kickstarted his IPL career when he was acquired by the Kolkata Knight Riders franchise owned and co-owned by the Bollywood star Shahrukh Khan and Juhi Chawla. Ganguly was made the skipper of the side owing to his exceptional leadership skills. The first season saw KKR become one of the most popular IPL teams as Sourav Ganguly led the side with his usual aggression. Ganguly finished with 349 runs in that season at an average of 29.08 and his highest score was 91 runs.
Ganguly continued to play for the side but due to the management's decision, Brendon McCullum was made the skipper of the side as Ganguly felt ignored. That last minutes change cost them the whole season as KKR ended up the bottom of the team standings, followed by a disastrous season. Ganguly himself managed a meagre 189 runs in as many as 13 matches which were quite upsetting for his fans and the franchise. The next edition i.e., IPL 2010 saw him rise again and it was one of his best seasons so far as Ganguly smashed 419 runs at an average of 37.92 and also one of the contenders to win the orange cap. Sourav Ganguly's stats in that season would easily surprise any critic and enough to shut down any hater as he still had so much cricket left in him. 
Ganguly spent the last two seasons of his IPL career with the Pune Warriors India and played 19 matches for the side in 2011 and 2012 season. Ganguly has scored 1349 runs at an average of 25.45 and the strike-rate of 106.80 as he hanged his boots from the Indian Premier League as well. 
For Kolkata Knight Riders: (2008, 2009 & 2010)
For Pune Warriors India: (2011 & 2012)
Sourav Ganguly's Personal Life
Sourav Ganguly had a luxurious childhood as he was the son of a successful businessman and one of the most popular men in the city. He was nicknamed as 'Maharaja' meaning the 'Great King'. He has hobbies of listening to music and playing soccer. He was married to Dona Ganguly in 1997 who is a famous Odissi Dancer. His daughter, Sana Ganguly was born on November 2001.
To know more about Sorav Ganguly's Personal Life and his family members, Click Here!
Sourav Ganguly's Social Media
Sourav Ganguly keeps his fans updated mostly on Instagram and Twitter. He does have an official Facebook page but posts rarely there. Ganguly has been seen promoting brands on his official social media handles and he also posts about his old pictures, his personal pictures, and making sure that the fans don't miss out on his life activities.