Best Fielders For SRH
The importance of a good fielding unit in all forms of cricket, let alone T20, is plain for all to see. Something as simple as saving a certain boundary or taking an unexpected catch can be a morale boost for the whole team and turn a match on its head.
Luckily for SRH, they have been blessed with some excellent fielders during their time in the IPL, so let's take a look at the 5 Best Fielders in SRH in IPL history:
Top 5 Best Fielders For SRH in IPL
#5. Kane Williamson
Years and years of cricket have shown that New Zealand produces excellent fielders, and Kane Williamson certainly carries on that tradition. The New Zealand skipper is not just one of the best batsmen in the IPL, he is also one of the most athletic fielders in the tournament.
As captain of the Sunrisers, he usually places himself in the circle so that he can be close to the action, and makes plenty of crucial diving stops along the way. He definitely features in every conversation about SRH's best batsmen, and his superior athletic ability wins him a place on this list of the 5 best fielders for Sunrisers Hyderabad in IPL matches too.
Read More: 
#4. Yuvraj Singh
Although Yuvraj Singh has played for several different IPL franchises with varying degrees of success, one thing he has definitely brought to each team he has played for is great athleticism in the field. One of the best fielders India has ever produced, Yuvi patrolled the point and cover region for many years and has given Indian cricket fans several unforgettable moments in the field. Capable of pulling off the spectacular at any given moment, be it a whole-hearted stop in the field, spectacular run-out, or brilliant diving catch, he can pull it all off, which is why he makes it into this list of the 5 Best Fielders in SRH in IPL history.
Read More: Best Fielders in RCB
#3. Manish Pandey
Manish Pandey has been an important part of the middle order of teams like Royal Challengers Bangalore and Kolkata Knight Riders in the past and performs a similar service for SRH as well. However, besides contributing valuable runs to the team, Pandey adds value with some electric work in the field too.
Whether it's close in or on the boundary, Pandey is an excellent fielder who isn't afraid to throw himself around, and also happens to possess a reliable pair of hands. For his electrifying diving stops and the numerous catches he has taken for the team, Pandey deserves the third spot on this list of the 5 best fielders for SRH in IPL history.
Read More: Best Fielders in SRH
#2. Trent Boult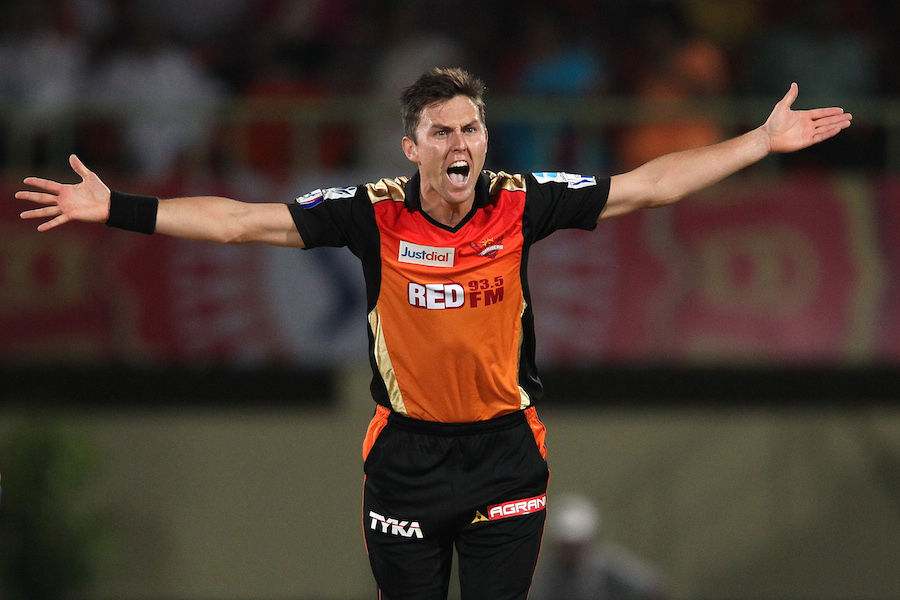 It's quite uncommon to see bowlers feature on lists of great fielders, but times have changed, and players like Trent Boult and Sheldon Cottrell, for example, set great examples with their work on the field. Like most fast bowlers, Boult can usually be found patrolling the boundary rope, which he can get around fairly quickly thanks to a rapid turn of pace.
He also possesses an accurate and strong arm to help get the ball back to the keeper quickly and is also a dependable fielder who takes his fair share of catches. His time in the IPL is studded with memories not just of the wickets he has taken, but the spectacular grabs he has made as well, which is why he deservedly takes the second spot on this list of the 5 Best Fielders in SRH in IPL matches.
Read More: Best fielder in KXIP
#1. David Warner
David Warner's passion for the game is clear for all to see whenever he takes to the field, and it translates into his game when he's batting or fielding. An incredibly aggressive batsman who likes to get involved in the game right from the off, Warner is an animated character on the field who absolutely loves the ball coming to him.
Like most other players on this list of the 5 best fielders for Sunrisers Hyderabad in IPL history, Warner is a safe bet to take most catches that come his way. However, some would say that his best attribute in the field is his ability to cover the ground at a rapid rate, which is why he's usually posted on the ropes at the first time of asking. He routinely saves fours and sixes and is involved as a catcher in lots of wickets, another reason why he's such a valued member of the SRH squad.
Read More: Best fielder in CSK