Best Fielder in KXIP
Be it a narrow win or a crushing defeat, a magical delivery or a stunning catch, the IPL has given cricket fans innumerable moments to cherish over the years. While bowlers and batsmen are remembered for years and years after delivering those performances that are backed up by all manner of stats as well, the art of fielding seems to be an underappreciated skill in all forms of the game.
Dropped catches stick in the memory of cricket fans, but easy catches and diving stops are soon forgotten. And yet, those small things can come together to win your side the match! Kings Xi Punjab have been lucky to have some unbelievable fielders take the field for them over the years, so here's a look at the 5 best fielders for KXIP in IPL matches over the years.
#5 Mandeep Singh
A handy squad member to have on your team, local lad Mandeep Singh might not be one of the big names in the team, but he certainly adds value to it! Having scored some important runs for his local side, Singh has also done his part while fielding. He is a dream for any captain – a willing runner, reliable catcher, and overall livewire who not only saves runs in the circle but also cuts off boundaries and gobbles up skiers while on the rope. With that being said, his place on this list of the 5 best fielders for Kings XI Punjab in IPL games is well-deserved.
Read More: Best fielder in CSK
#4 Axar Patel
There's more to Axar Patel as a cricketer than just a talented left-arm spinner – he's also a handy batsman to have down the order and does his bit on the field as well! Tall, wiry, and athletic, Patel seems to have made the point position his own no matter which team he plays for, even shunting Ravindra Jadeja into the covers while on India duty! The Gujarat player is not afraid to throw his body around for his team, which is why his inclusion in this list of the 5 best fielders for Kings XI Punjab in IPL matches is justified.
Read More: Best fielders for RCB
#3 Yuvraj Singh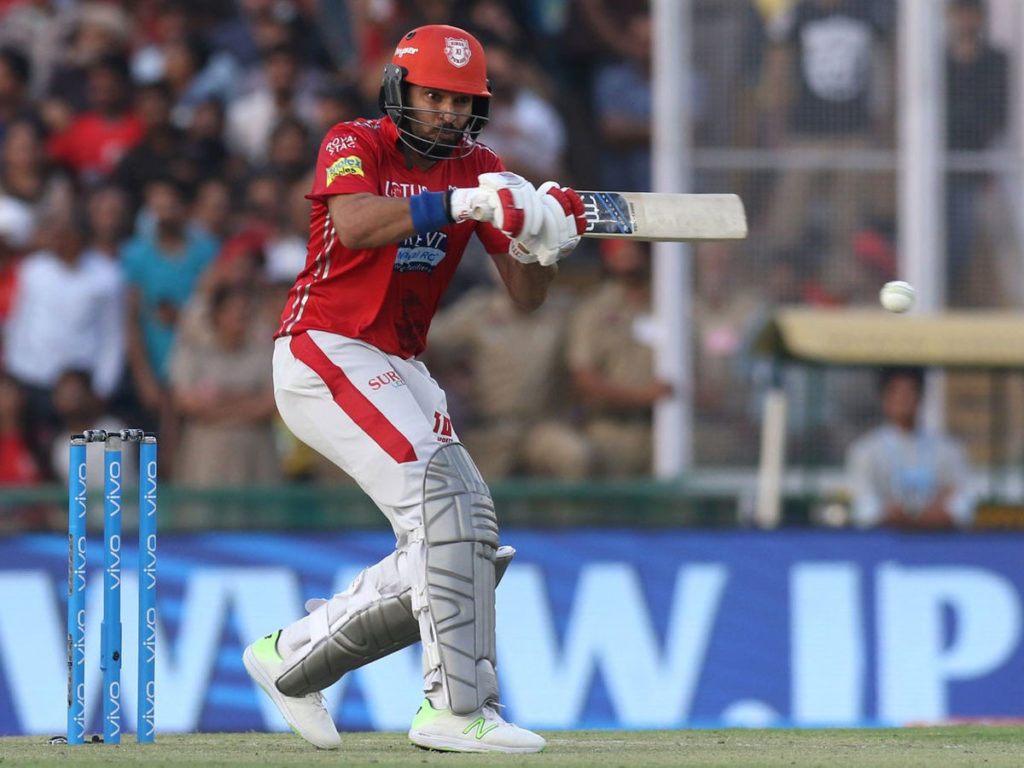 Yuvraj Singh is not just one of the 5 best fielders for Kings XI Punjab in IPL history, but also has a legitimate claim for being one of the best fielders India has ever produced. Alongside Mohammad Kaif, Suresh Raina, and the like, Yuvraj transformed the Indian side into a superb fielding unit, producing some spectacular diving grabs over the years. Kings XI Punjab had the pleasure of having their local hero on their books for the first three years of the IPL, and Yuvi was excellent while patrolling his favoured point and cover regions.
Read More: Best Fielders for SRH
#2 David Miller
It's a well-known fact that South Africans are some of the most supremely-fit cricketers on the world stage, which is why David Miller's inclusion on this list of the 5 best fielders for Kings XI Punjab in IPL history will not come as a major shock to anyone. One of the rare overseas players that always seems to be picked when available, Miller has produced countless match-winning moments for Punjab over the years, with many coming while he was fielding too!
Read More: Best fielder in MI in IPL
#1. Glenn Maxwell
Glenn Maxwell is unquestionably one of the most entertaining and talented players to ever have featured in the IPL and Kings XI Punjab has been lucky to retain his services for multiple years. Maxi is the sort of player who can single-handedly turn a match on its head in a variety of ways – with the bat, with the ball, or even in the field. His athleticism while fielding close in has always been clear for all to see, while his ability to hang on to seemingly-impossible catches in the outfield sees him atop the rankings for the 5 best fielders for Kings XI Punjab in IPL matches.
Read More: Best Fielder for DC in IPL