Best Fielders in RCB in IPL
Fielding is an integral (and often criminally underrated) part of cricket, especially when it comes to the T20 format. When games are frequently won and lost by a margin of one or two runs, the importance of saving runs and taking catches increases exponentially.
The IPL has been graced by a number of excellent fielders over the years, and a number of them have turned out for Royal Challengers Bangalore as well.
Top 5 Best Fielders in RCB
Here's a list of the Best fielders for RCB in IPL history for you to enjoy, plus a couple of honorable mentions!
#5. Brendon McCullum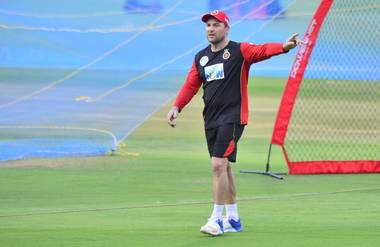 Brendon McCullum's first act in the IPL was flaying the Royal Challengers Bangalore attack to all parts of the ground in the very first IPL match itself, scoring a brilliant 158* as his side Kolkata Knight Riders cruised to an easy win. 10 years later, McCullum would be turning out for the side he battered so mercilessly in the first match of the IPL after he was picked up in the 2018 auction.
A supremely athletic wicket-keeper at the start of his career, McCullum relinquished the gloves and took up a place in the outfield to prolong his playing days, and was an asset for every team that he turned out for. His electric pace, phenomenal flexibility, and safe hands make him a worthy inclusion in this list of the 5 best fielders in RCB in IPL history.
Read More: Best Fielder for CSK in IPL
#4. Yuvraj Singh
Although he has played for a whole host of franchises over a lengthy IPL career, Yuvraj Singh would undoubtedly be considered one of the top fielders for each one, which is why he must feature in this list of the 5 best fielders for RCB in IPL history.
Yuvi's move to Bangalore in 2014 was the most expensive player purchase in the history of the IPL auction at the time. Although he didn't perform to the best of his abilities (376 runs in 14 matches) he added a lot of value in his customary fielding position at point or in the covers, where he made a name for himself as an extremely agile and reliable fielder.
Read More: Best Fielder for KXIP in IPL
#3. Manish Pandey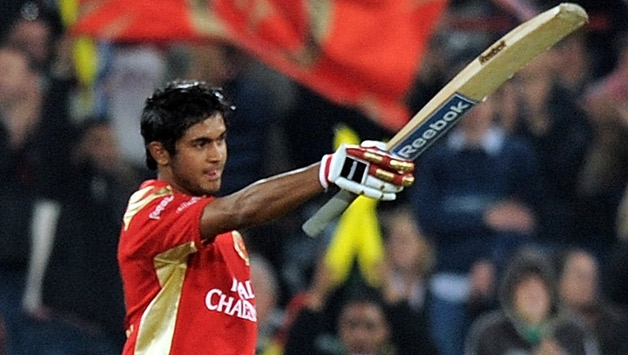 A member of the victorious Indian side at the 2008 U-19 World Cup alongside Virat Kohli, Manish Pandey was picked up by his local IPL side Royal Challengers Bangalore in the first season in 2008. During his time with RCB, he became the first Indian to score an IPL ton, and also forced his way into the national side, following in the footsteps of his former U-19 captain.
Although he has since moved on to Sunrisers Hyderabad (with a couple of other stops along the way) on the IPL scene, Pandey is still in and around the national side when it comes to limited-overs cricket. This is in no small measure also down to his phenomenal fielding ability, as he is a great athlete who always saves runs and takes several catches for his team whether he's fielding in the circle or out on the boundary.
Read More: Best Fielder for KKR in IPL
#2. Virat Kohli
Not only the best batsman to have played for Royal Challengers Bangalore, Virat Kohli is also one of the 5 best fielders for RCB in IPL history. He was picked up in 2008 after he led the Indian U-19 team to a World Cup win and has been an asset that the team has guarded jealously ever since. He is an inspirational leader who loves to lead by example, whether it's with the bat or out on the field. Kohli can always be seen diving around in an effort to save runs when he's fielding in the circle, retreating to long-on during the slog overs because of his ability to cover the ground rapidly and pouch catches as well.
Read More: Best Fielders for SRH
#1. AB de Villiers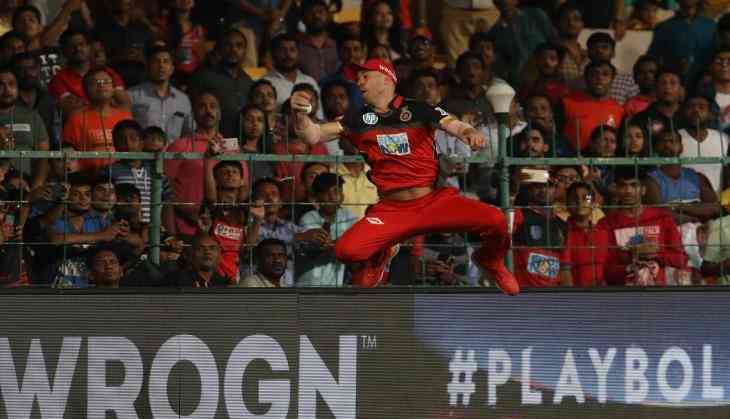 One of the most universally-loved overseas players to have featured in the IPL, AB de Villiers is not just one of the best batsmen that Royal Challengers Bangalore have ever had, but also one of the 5 best fielders for RCB in IPL matches. Like McCullum, ABD is also a former wicket-keeper who gave up his gloves to prolong his playing career and became one of the world's best fielders in the process. Electric in the field, he also has the knack of pulling off the spectacular from time to time, with the best example being his one-handed mid-air stunner that he grabbed on the boundary against Sunrisers Hyderabad in 2018.
Read More: Best Fielders in IPL
Honourable Mentions: Mohammad Kaif, Dinesh Karthik
Although Kaif and Karthik played just the single season for Royal Challengers Bangalore and didn't feature much during their time there, they can consider themselves quite unlucky to miss out on a place on this list of the 5 best fielders in RCB in IPL matches. Both Kaif and DK (when he didn't have the wicket-keeping gloves on) took fielding standard to new heights when they played, leaving a veritable highlight reel of spectacular moments in their wake.