| | |
| --- | --- |
| Full Name: | Ambati Thirupathi Rayudu |
| Nickname: | Amba |
| Profession: | Cricket |
| Jersey Number: | #5 (India), #9 (IPL) |
| Date of Birth: | 23rd September 1985 |
| Age: | 35 Years |
| Birthplace: | Guntur, Andhra Pradesh |
| Nationality: | Indian |
| Religion: | Hinduism |
| Hobbies: | Farming, Music |
| Height: | 170 cm, 1.70 m, 5'7″ |
| Weight: | 65 kg, 143 lbs |
| Eye Color: | Black |
| Mother: | Vijayalakshmi |
| Father: | Ambati Sambasiva Rao |
| Wife: | Chennupalli Vidya |
| Coach: | Vijay Paul |
Ambati Rayudu Career Stats
ODI Career
Test Career
IPL Career
ODI Career
# Batting Career Summary
| Match | Inn | Run | HS | Avg | SR | 50 | 100 | 200 |
| --- | --- | --- | --- | --- | --- | --- | --- | --- |
| 55 | 50 | 1694 | 124 | 47.06 | 79.05 | 10 | 3 | 0 |
# Bowling Career Summary
| Match | Inn | Run | Wkts | Eco | Avg | SR | 5w | 10w |
| --- | --- | --- | --- | --- | --- | --- | --- | --- |
| 55 | 9 | 124 | 3 | 6.15 | 41.33 | 40.33 | 00 | 00 |
Test Career
IPL Career
Once touted as the next big thing in Indian cricket, Ambati Rayudu is counted among the most unfortunate talented cricketers who, perhaps, couldn't do justice to their talent. Having made his first-class debut at a small age of 16, Ambati Rayudu had all the ingredients necessary to be a world-class player, except controlling his emotions.
Ambati Rayudu led India's under-19 team in the 2004 World Cup and helped the side reach semi-finals of the tournament. Here's a look at his journey from the start in his biography:
Ambati Rayudu's Early Years
Ambati Rayudu was born on 23rd September 1985 in Guntur district of Andhra Pradesh. Ambati parents, Ambati Sambasiva Rao and Vijayalakshmi.
Rayudu started playing at a very early age, thanks to his father who enrolled him in a cricket coaching camp when he was only in the third standard. His father took him to Hyderabad's former cricketer Vijay Paul's academy to learn and excel in the sport.    
Ambati Rayudu's father worked at the archives department. He was equally involved in his son's cricketing career as he would take him on to his scooter to different grounds for matches. According to Rayudu's coach, his father would stand 50metres away from his son and watch him bat during practice sessions.  
Rayudu completed his schooling from Bhavan's Sri Ramakrishna Vidyalaya, Sainikpuri.
Ambati Rayudu's class was evident since his childhood days as he was one of the most consistent batsmen for his club. He gradually began playing for the Hyderabad youth team. Excellent performances at the junior level led him to represent India at the under-15 level at the ACC Under-15 trophy in 2000. He ended as the leading run-getter in the tournament.
While playing at the age-group level, Rayudu's talent seemed unmatchable. At the age of 16, he made his debut in first-class cricket while playing for Hyderabad in January 2002. Though he only played a single game that season.
Ambati Rayudu's Domestic Career
Best Ranji–Trophy Season: Rayudu wreaked havoc in the 2002-03 Ranji Trophy season, where he amassed as many as 698 runs, averaging 69.80. He finished as the third-highest run-getter in the series. In what was his third Ranji game, Rayudu smashed 210 and 159 not out in first and second innings against Andhra Pradesh, becoming the youngest batsman to score a century and a double ton in a single Ranji game.

As the Captain Of Under-19 Team: He was soon made the captain of India's under-17 team and a year later he was announced as the captain of India's under-19 team. He led India in the U-19 World Cup in 2004. He helped India reach the semi-final of the tournament before they lost to Pakistan in the knockout by 5 wickets. Rayudu couldn't play the semi-final game against Pakistan because of breaching the ICC code of conduct in the previous game.

The Switch from Hyderabad Team to Andhra Ranji Team: Ambati Rayudu always had issued with controlling his emotions and that remained one of the biggest hindrances in excelling in his career. Due to a rift with the Hyderabad coach, Rajesh Yadav, Rayudu left the Hyderabad Ranji team and played for Andhra in the 2005-06 season. He played some fine knocks with the team and averaged 35 that season.
The next season saw him getting back to the Hyderabad side, as the Vivek Jaisimha was appointed the new coach of the Hyderabad team. Perhaps, things only went downhill from there onwards. Upon his arrival into his home side, he suffered an injury and thus could only play three games, though he had scored 62 and 110 not out in two games out of those.
The Downfall: Ambati Rayudu, in his cricketing career, has made some ugly decisions, and playing in ICL was perhaps the biggest of them. In the year 2007, the Indian Cricket League was formed which was strictly opposed by BCCI. The Board of Control for Cricket in India has said that those playing in the ICL will be banned from the Indian domestic cricket. Rayudu among many other players had already signed up for the league and expressed their interest in the league as it was an opportunity for all the domestic players to play with foreign players and showcase their talent on TV.
"I didn't want to play ten years of domestic cricket and feel that I have not played any international-quality opposition." He added that it was a chance "to play against quality opposition for three years and it will also be telecast on TV. People will hopefully see me perform. And I want to perform for my own personal satisfaction." He said in an interview at that time.

Comeback in The Domestic Cricket: Though, BCCI, later in 2009, granted amnesty to 79 Indian players, allowing them to come back in the Indian domestic cricket. Rayudu made a comeback in the Hyderabad with a mission to score as many runs and hopefully get a place in the Indian Premier League. He played seven games in the 2009-10 Ranji Trophy and averaged 34 in the tournament.
Sensing his selection in the Indian team, Rayudu kept on piling runs in the domestic circuit. 2012-13 Ranji side saw him scoring 666 runs at an average of 60.54, including a hundred and seven fifties. In the Deodhar Trophy that followed, he ended as the highest run-getter.
Ambati Rayudu's International Career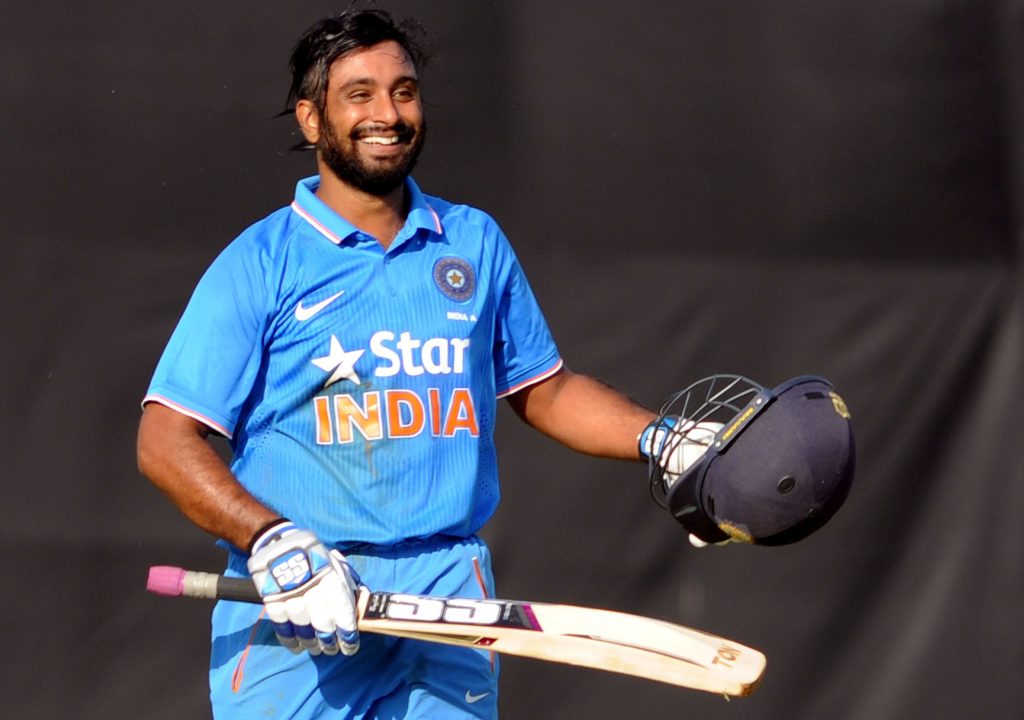 2013 saw a shining light in Rayudu's International career as he was selected in the ODI team for the first time for the 2013 Tri-series in West Indies. Though, he did not play any match in the series. Later that month, Rayudu was once again selected for the tour to Zimbabwe and this time he did feature in the series. On 24th July 2013, Ambati Rayudu made his One-Day International debut for Zimbabwe.
He was involved in a match-winning partnership with skipper Virat Kohli. He scored 63 in his debut game, becoming the twelfth Indian batsman to score a half-century on Indian debut. While Rayudu continued to be part of the Indian squad for the series that followed thereafter, he got very less chances in the playing eleven to showcase his talent. He played all the games in the 2014 Asia Cup. He batted on three occasions, with scores of 58,18 and 9 not out to his name.
In the third ODI of England tour in 2014, Rayudu picked his maiden wicket of Alastair Cook, besides scoring 64 with the bat, helping the team register a six-wicket win. In the fifth ODI, he played another half-century in the series.
Ambati Rayudu scored his maiden century against Sri Lanka in the second ODI in 2014. Chasing a steep 274-run total played a match-winning 121-run knock off 118 deliveries, helping his team win the game by 6 wickets and thereby take the lead 2-0.
Thanks to his consistent run in International as well as domestic cricket, Ambati Rayudu was selected in India's 2015 World Cup squad. However, he did not play any game for India in the perennial tournament.
In the Zimbabwe tour which followed, Ambati Rayudu was awarded the man of the series for his excellent performances with the bat. He scored 124 and 41 in the first and second ODI respectively before getting ruled out of the series owing to an injury.

International Retirement: Ambati Rayudu wreaked havoc in the year 2018. Given India's lookout for the number four position in the World Cup 2019, Ambati Rayudu piled a plethora of runs to cement his place in the middle order. Months before the World Cup, the Indian skipper Virat Kohli went onto to say that they have found their number four batsman in Ambati Rayudu for the World Cup. Rayudu scored 392 runs in 11 matches in 2019 at an average of 56.

To everyone's surprise, Rayudu's name was excluded from the World Cup squad, with management deciding to opt for Vijay Shankar instead of the former. This raised huge questions over the selection committee and the Indian captain. Vijay didn't perform too well in the competition and India exited from the tournament following the semi-final loss against New Zealand.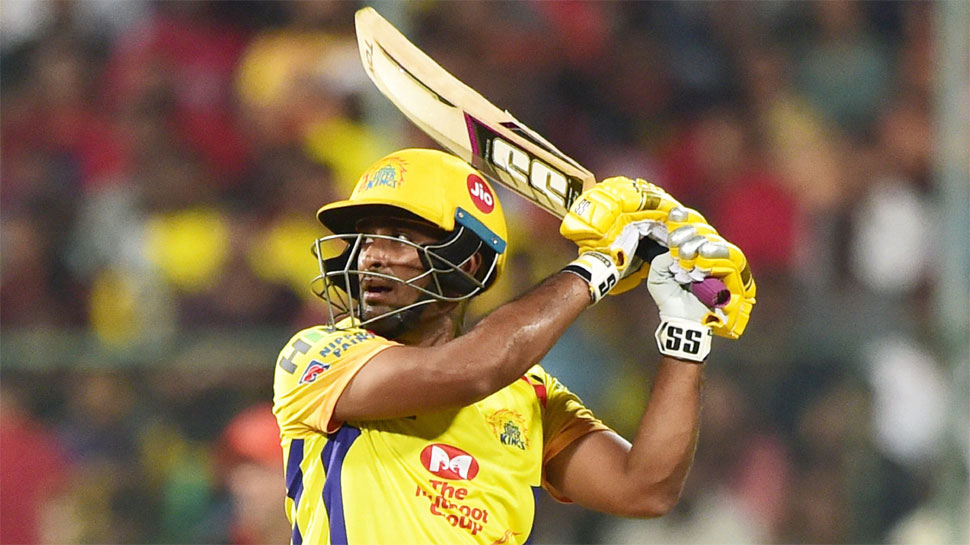 Ambati Rayudu played his first season of the Indian Premier League for Mumbai Indians in 2010. He scored 356 runs in 14 matches at an average of 27.38. From that season, he remained with Mumbai Indians till 2017 before moving CSK in 2018. Ambati Rayudu has played an instrumental role for Mumbai Indians and helped the team clinch titles three times. 2012 IPL season was perhaps his best for the franchise where he accumulated 333 runs in 17 matches at an average of 37 and the highest score 81 not out.

Ahead of the 2019 IPL, Ambati Rayudu was snapped by Chennai Super Kings in the auctions. Rayudu piled up as many as 602 runs at an average of 43, making it the best season of his IPL career. The next season, though, was anything but disappointing for the CSK player.
He averaged only 23.50, amassing 282 runs in 17 matches.

Nonetheless, Rayudu has been a prolific run-scorer in the Indian Premier League. In his IPL career, he has scored 3300 runs in 147 matches at an average of 28.69.
Lesser Known Facts About Rayudu
Growing up, Ambati Rayudu was more interested in Studies than cricket. It was his father who insisted in taking cricket as his profession and instilled the love for the game in him.

Ambati Rayudu scored a half-century in the first One-Day International game in 2013, thereby becoming the twelfth Indian batsman to score a half-century on debut.

Ambati Rayudu made his Ranji Trophy debut at the age of 16 and also holds the record for being the youngest player to score a century and a double century in domestic cricket.  Playing his third Ranji game, Rayudu scored 210 and 159 in the first and second innings against Andhra Pradesh.

Due to a rift between Hyderabad coach Rakesh Yadav, Ambati Rayudu made a switch to Andhra team for 2005-06 season, before coming back next year.