One of the top-ranked mixed-doubles players, Valiyaveetil Diju has always made India proud with a list of achievements. V. Diju & Jwala Gutta was ranked 7th in the world ranking. His performances along with Jwala Gutta have never failed to make headlines, achieving medals at both national & international events. The Indian athlete has been honoured with numerous prestigious awards including Arjuna Award & G. V. Raja Awards.
EARLY LIFE
Growing up, the personality Valiyaveetil Diju admired the most was Thomas Kurien. He has always followed whatever he did. The one thing that he was impressed with was his work ethic. Thomas always reached on court sharp at 6.30 a.m, even if nobody else was there. The young athlete loved practicing with Thomas. He even roomed with him whenever Diju was in Kochi.
The most memorable Phase of his sporting career was the period when he partnered with Jwala Gutta. No Indian duo in history has acquired the heights that V. Diju along with his partner Jwala scaled during their sporting career. They ranked No. 18 at the beginning of 2009 & after their victory at the Korean Open Super Series, the partners secured a rank of 7.
PERSONAL LIFE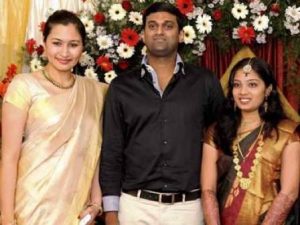 Valiyaveetil Diju was born on 04 January 1981 in Ramanattukara, Kozhikode, Kerala, India. He was born to Karunakaran and Lalitha. V. Diju also has an elder brother named Dinu. The badminton player completed his schooling from the Government Model Boys School in Thrissur. He did his graduation at Farook College. In 2012, he tied the knot with Dr. Soumya on 16th September. They also have a son named Ivaan. His family has always supported the player throughout his journey and accepted his every decision. Today, he is working as the Manager in Oil and Natural Gas Corporation in Chennai.
PROFESSIONAL LIFE
In 1997, Valiyaveetil Diju began his career by representing his country for the Price Asian junior badminton championship in Hong Kong. Diju and Sanave Thomas achieved victory in 2002 Indian National Badminton Championships in the doubles event at Lucknow by beating Jaison Xavier and Jaseel P. Ismail. Diju along with Jwala Gutta acquired the Birburger Open Championship title that was held in Germany. This ultimately became the very first mixed-doubles Grand Prix triumph.  Diju is also a four-time National champion (mixed-doubles). In 2006, he earned a bronze medal at the Commonwealth Games in Melbourne. In 2002, Diju has earned the National doubles title along with his partner Sanave Thomas. In 2009, Diju and Jwala were runner up at Indian Open in Hyderabad. They lost to Vita Marissa & Flandy Limpele in the final round.
In 2009, Diju and Jwala (mixed doubles pair) became the first Indian pair to make it to the quarterfinals of the World Badminton Championship in Hyderabad. The pair secured 8th position and got qualified for the second round. In the third round, Diju & Jwala defeated Nadiezda Kostiuczyk & Robert Mateusiak in a 31-minute clash. In the quarterfinal, the pair went down to play against champions Lilyana Natsir & Nova Widianto from Indonesia. The duo got beaten 16-21, 14-21 in 27 minutes.
In 2009, Diju with Jwala Gutta became the first Indian badminton pair (mixed doubles) to earn a Grand Prix Gold title. The pair defeated Vita Marissa & Hendra Gunawan of Indonesia at the final round of Chinese Open. The world No.7 pair from India defeated Yoo Hyun-Young and Shin Baek-Cheol of Korea in the quarterfinal. In the semi-final match, Diju and Jwala succeeded over Liu Ying Goh & Peng Soon Chan of Malaysia (21-11, 17-21, 24-22).
In 2009, Diju along with his doubles partner Jwala outreach at the final of World Super Series Masters in Malaysia. The pair defeated Nadiezda Kostiuczyk & Robert Mateusiak of Poland (21-19 21). In the final round, the mixed-double pair went down to the World Championship bronze medallists Joaquim Nielsen & Christinna Pedersen (21-14, 21-18).
In the year 2010, Valiyaveetil Diju earned the silver medal at the Commonwealth Games along with Jwala Gutta.
In 2011, he was also titled as the winner of the Ranchi National Games.
In 2012, Valiyaveetil Diju began his Olympic campaign with Jwala Gutta in the mixed doubles event. Unfortunately, the Indian pair lost their opening match (16-21, 12-21) in just 25 minutes at the Wembley Arena in the London Olympics.
AWARDS
Arjuna Award in 2014
V. Raja Awards for 2012-2013
Jimmy George Award in 2014
Vivekanandha Sports Excellence Award in 2014
Youth Excellence Award in 2014
ACHIEVEMENTS
COMMONWEALTH GAMES
Silver: 2010, New Delhi: Mixed Team
Bronze: 2006, Melbourne: Mixed Team
SOUTH ASIAN GAMES
Gold: 2006, Colombo: Mixed Doubles
INDIAN BADMINTON CHAMPIONSHIPS
Winner: 2002: Mixed Doubles
BITBURGER OPEN CHAMPIONSHIPS
INDIAN OPEN
WORLD BADMINTON CHAMPIONSHIP
CHINESE TAIPEI GRAND PRIX
WORLD SUPER SERIES MASTERS
PERSONAL INFORMATION
Name: Valiyaveetil Diju
Nickname: V. Diju
Sport: Badminton
Events: Mixed Team & Mixed Doubles
Country: India
Father's name: Karunakaran
Mother's name: Lalitha
Elder brother: Dinu
Wife name: Dr. Soumya
Son: Ivaan
Coach: NOT UPDATED
Height: 1.86 m (6 ft 1 in)
Weight: NOT UPDATED
Handedness: Right-handed
Highest Ranking: 6 (in XD)
Eye colour: Black
Hair colour: Black
Date of birth: 04 January 1981
Age: 38
Birth place: Ramanattukara, Kozhikode, Kerala, India
Education: Farook College, Calicut, Kerala
Zodiac sign: Capricorn
Nationality: Indian
Hometown: Kerala
Religion: Hindu
CONTROVERSY
Apart from his glorious performances and achievements, the Indian badminton player hit headlines when Diju and Jwala Gutta, who was a winning pair at major international tournaments, split after 2010 following an issue.
NET WORTH 
The primary net worth and income of Valiyaveetil Diju comes from his job as a manager in Oil and Natural Gas Corporation, Chennai & also his sporting profession.
SOCIAL MEDIA HANDLES 
FACEBOOK- https://www.facebook.com/diju81
INSTAGRAM- NOT UPDATED
TWITTER- NOT UPDATED