Treesa Jolly Biography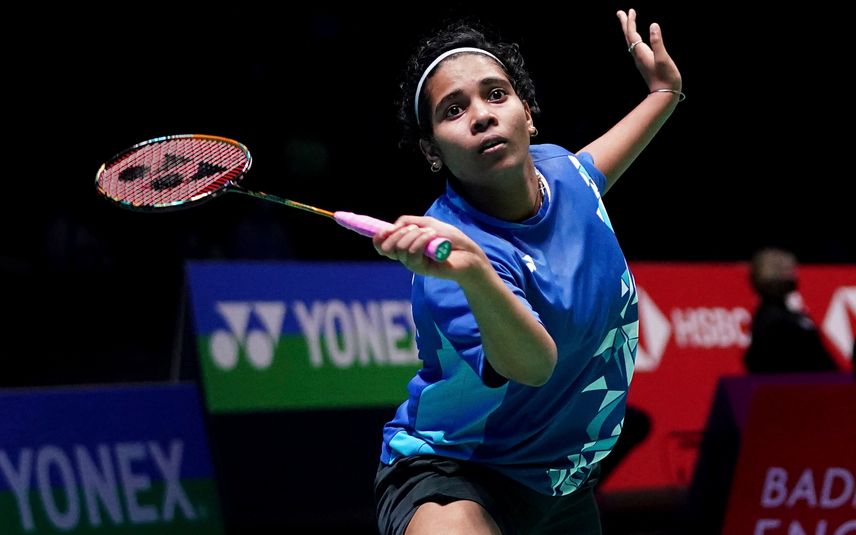 Treesa Jolly is an Indian Badminton player and was born on May 27th, 2003 in Cherupuzha, Kerela, India. Treesa Jolly always loved the game of badminton from an early age. 
| | |
| --- | --- |
| Name | Treesa Jolly |
| Nickname | Treesa  |
| Profession | Badminton Player |
| Birthplace | Kannur, Kerela |
| Date of Birth | May 27th, 2003 |
| Age | 18 years old (As of now) |
| Nationality | Indian |
| Religion | Christian |
| Fathers Name  | Jolly Mathew Thaickal |
| Mothers Name  | Daisy Joseph |
| Category | Women's & mixed doubles |
| Highest Ranking in women's double's | 35 with Gayatri Gopichand |
| Highest Ranking in mixed double's | 138 with Arjun M.R |
| Marital Status | Single |
| Height | 5'7 |
| Weight | 57 |
| Eye Colour | Black |
| Siblings | NA |
Treesa Jolly Early Life:
Treesa Jolly is an 18-year-old badminton player who represents India on the international level. Hailing from Kannur, Kerela Tressa Jolly participated in her first major tournament at the age of 7 in the U-10 state championship appearance for Kannur. 
Later on, Treesa Jolly represented Kerala at the U-13 national championship.
Treesa Jolly Professional Life:
Treesa Jolly hails from a region where hardly anyone played badminton but Treesa had different plans regarding her career choice she started making a wave for herself in state and national championships. After watching her work ethic, her father started training her by himself but he made her join the Pullela Gopichand Academy and which was also part of the project, Target Olympic Podium Scheme which comes under her potential (Based on the Rankings). 
As she started training under Pullela Gopichand where she met Gayatri Gopichand, daughter of Pullela Gopichand and the Indian duo started training together. 2019 was a breakout year for both Treesa Jolly and Gayatri Gopichand as the duo won multiple titles in international tournaments.
The Young Indian duo's main achievement was when women's double pair ranked 46, Treesa Jolly and Gayatri Gopichand advanced to the semi-finals of the All England Championships by a record win over Korean 2nd rank pair Lee Sohee and Shin Seung-chan, a 14-21, 22-20 and 21-15.
Later on, The duo went on to win U-19 International Junior Grand Pix and also finished third in women's U-19 doubles at the Yonex German Junior Cup.
Treesa Jolly Commonwealth Games 2022:
The Indian Pair, Treesa Jolly, and Gayatri Gopichand's fantasy run continued as a young Indian duo making it to the Indian badminton team for Commonwealth Games 2022 and Asian Games after performing at an elite level at the selection trails.
Commonwealth Games 2022: Full List of Indian Athletes Qualified for CWG 2022
Now the Junior women's pair are focusing on the upcoming major tournaments and want to win a medal for their nation while ranked in the Top 10 badminton players and also qualified for the Paris Olympics in upcoming years.
Treesa and Gayatri became the first women's pair to reach the All England semifinals, winning the Odisha Open Super 100 and reaching the finals of Syed Modi Super 300.
Treesa Jolly Family:
Treesa Jolly belongs to a sports background family, as Treesa Jolly's father, Jolly Mathew Thaickal was working as a physical education teacher and used to be a beach volleyball coach and used to train school-level kids at the St. Joseph's Higher Secondary School.
Treesa Jolly's mother, Daisy Joseph is a teacher at St Joseph's Higher secondary school. Both the parents have been very supportive of their daughter pursuing badminton as her career choice. Especially her father, Jolly Mathew Thaickal who is a great fan of sports and himself is a coach knew the hard work required to represent India on an international level. 
Coming from the small village in Kannur district is mainly known for agriculture but Jolly Mathew Thaickal being a volleyball coach always mentioned the international player Joby Joseph belongs to the same place.
Treesa Jolly Records and Achievements: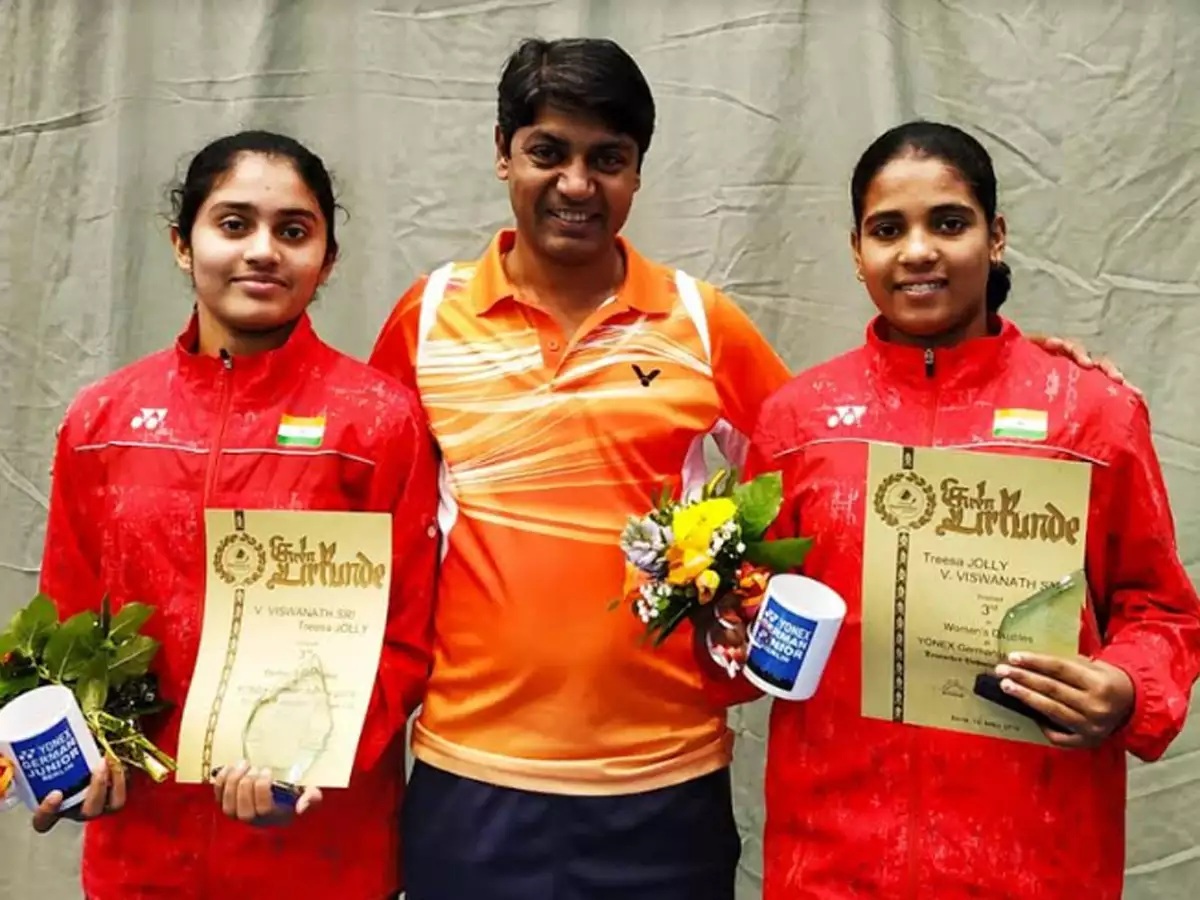 Treesa Jolly won bronze in the women's doubles at the U-19 International Junior Grand Pix held in Pune.

Treesa Jolly won the bronze medal in women's U-19 doubles at the Yonex German Junior Cup.

Treesa-Gayatri the Indian duo won their maiden Super 100 title at the Odisha Open 2022 and placed runners-up in mixed doubles with Arjun M.R.

The Indian duo, Treesa- Gayatri finished runners-up in Syed Modi International 2022.

Treesa Jolly-Gayatri Gopichand finished first place in the 2021 Indian International Challenge after beating Tanisha Crasto and Rutuparna Panda.

Treesa Jolly and Gayatri Gopichand finish runners-up at Welsh International Badminton Championship.
Treesa Jolly Controversy:
As of now, there is no controversy related to Indian badminton player Treesa Jolly.
Treesa Jolly Unknown Facts:
Indian duo Treesa Jolly and Gayatri Gopichand became the first Indian pair to reach the semifinals of the All England championships.

Treesa Jolly gained the Top 10 junior rankings released by the Badminton World Federation (BWF).

Treesa Jolly is also the highest-ranked Indian in junior women's.
Treesa Jolly Social Media:
Treesa Jolly Facebook: NA
Treesa Jolly Twitter: NA
Treesa Jolly Wikipedia: https://en.wikipedia.org/wiki/Treesa_Jolly
Treesa Jolly Instagram: https://www.instagram.com/jolly_treesa/