Gayatri Gopichand is an Indian Badminton player and was born on March 4th, 2003 in Hyderabad, Telangana, India.
A born superstar of India became one of the talking points following her enormous run at the All England Open 2022. Gayatri Gopichand along with her doubles partner Treesa Jolly reached the semifinals of the major tournament.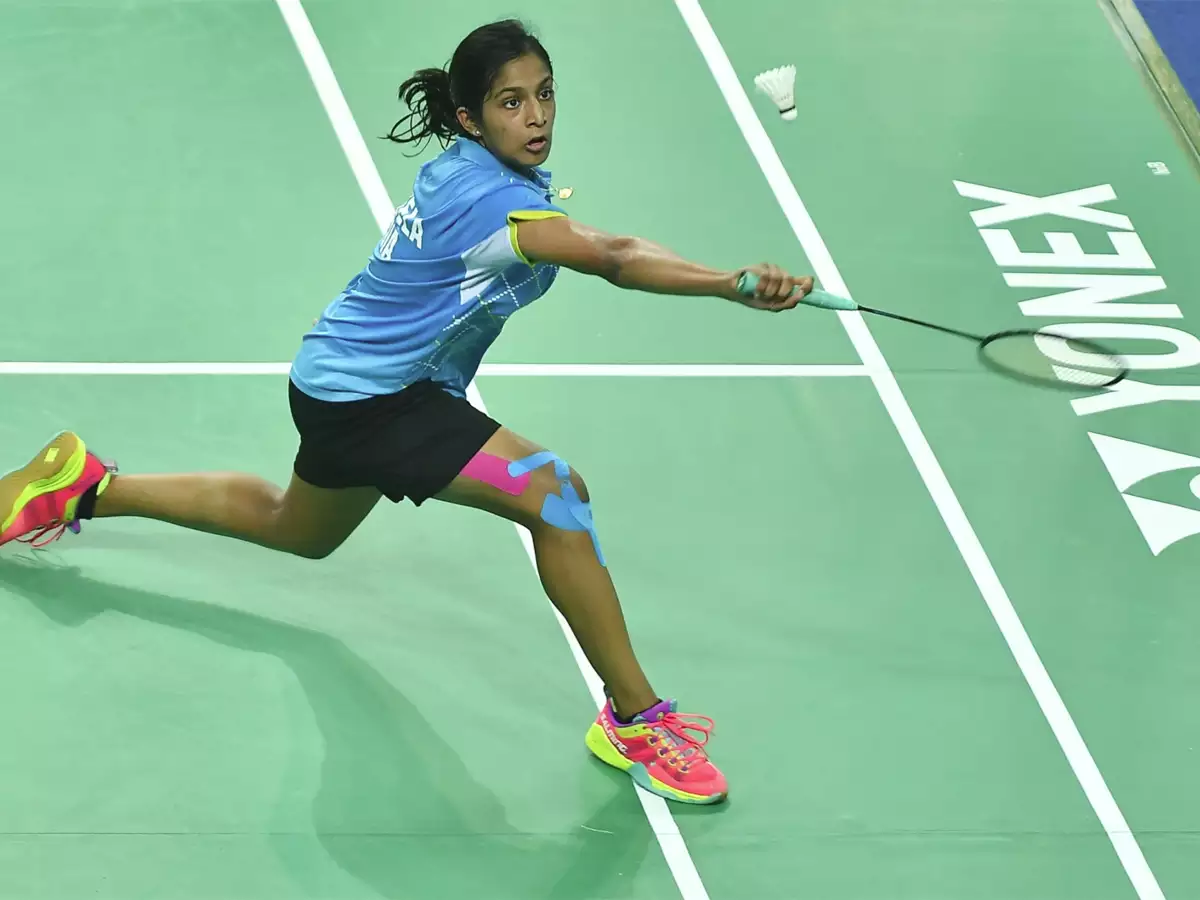 Gayatri Gopichand Biography
| | |
| --- | --- |
| Name | Gayatri Pullela Gopichand |
| Nickname | Gayatri |
| Profession | Badminton Player |
| Birthplace | Hyderabad, Telangana |
| Date of Birth | March 4th, 2003 |
| Age | 18 Years old (As of now 2022) |
| Nationality | Indian |
| Religion | Hindu |
| Fathers Name  | Pullela Gopichand |
| Mothers Name  | P.V.V Lakshmi |
| Category | Women's & mixed doubles |
| Highest Ranking in women's Single's | 197 (14th January 2020) |
| Highest Ranking in women's double's | 35 with Treesa Jolly |
| Marital Status | Single |
| Height | 5'6 |
| Weight | 54 |
| Eye Colour | Black |
| Siblings | Sai Vishnu |
Gayatri Gopichand Early Life: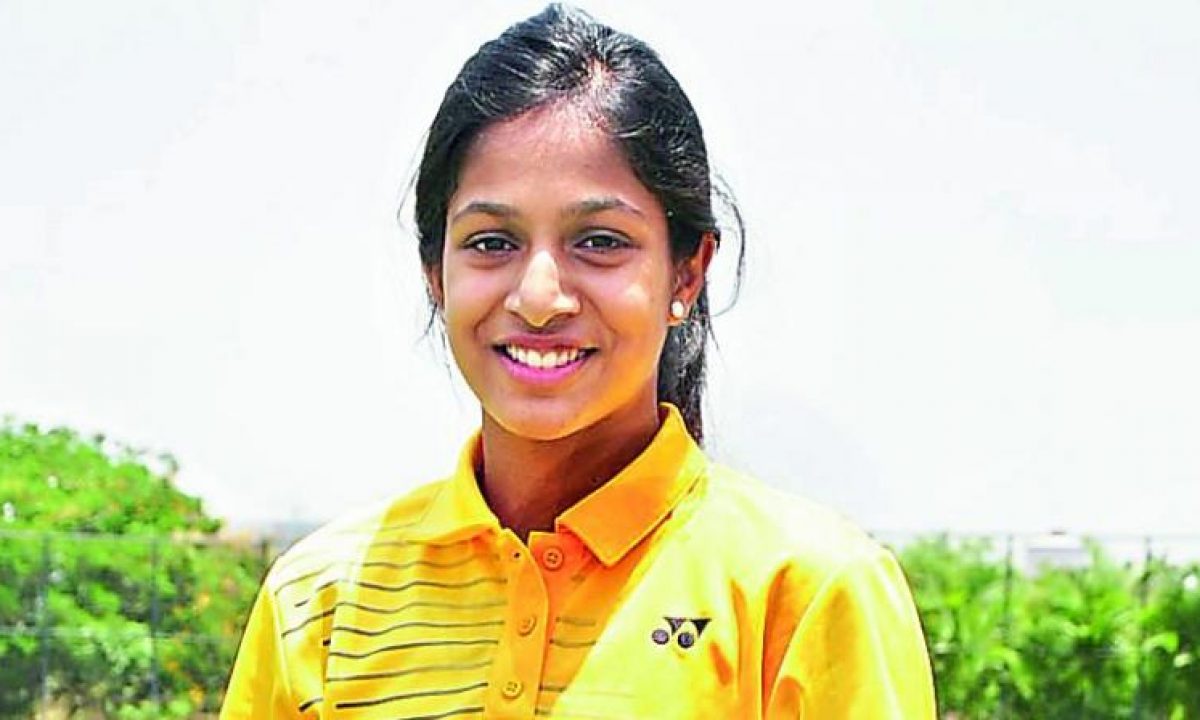 Hailing from Hyderabad, Telangana, Gayatri Pullela Gopichand is the daughter of one of the greatest Indian badminton players of all time Pullela Gopichand and P.V.V Lakshmi, who is an eight-time national women's badminton champion.
From an early age, Gayatri Gopichand knew her destiny to become a badminton player as she was born into a family, where badminton was in their genes.
With her early introduction to the badminton sport as she was fortunate to observe world-class Indian badminton players observe and train with them from a young age.
Youngster Gayatri Gopichand trained with the likes of Saina Nehwal and PV Sindhu at the Pullela Gopichand Badminton Academy which was started by Pullela Gopichand and PVV Lakshmi.
Pullela Gopichand made Gayatri and Sai Vishnu work out at the academy and as the result both the kids made rapid progress in their game.
Gayatri Gopichand Professional Life: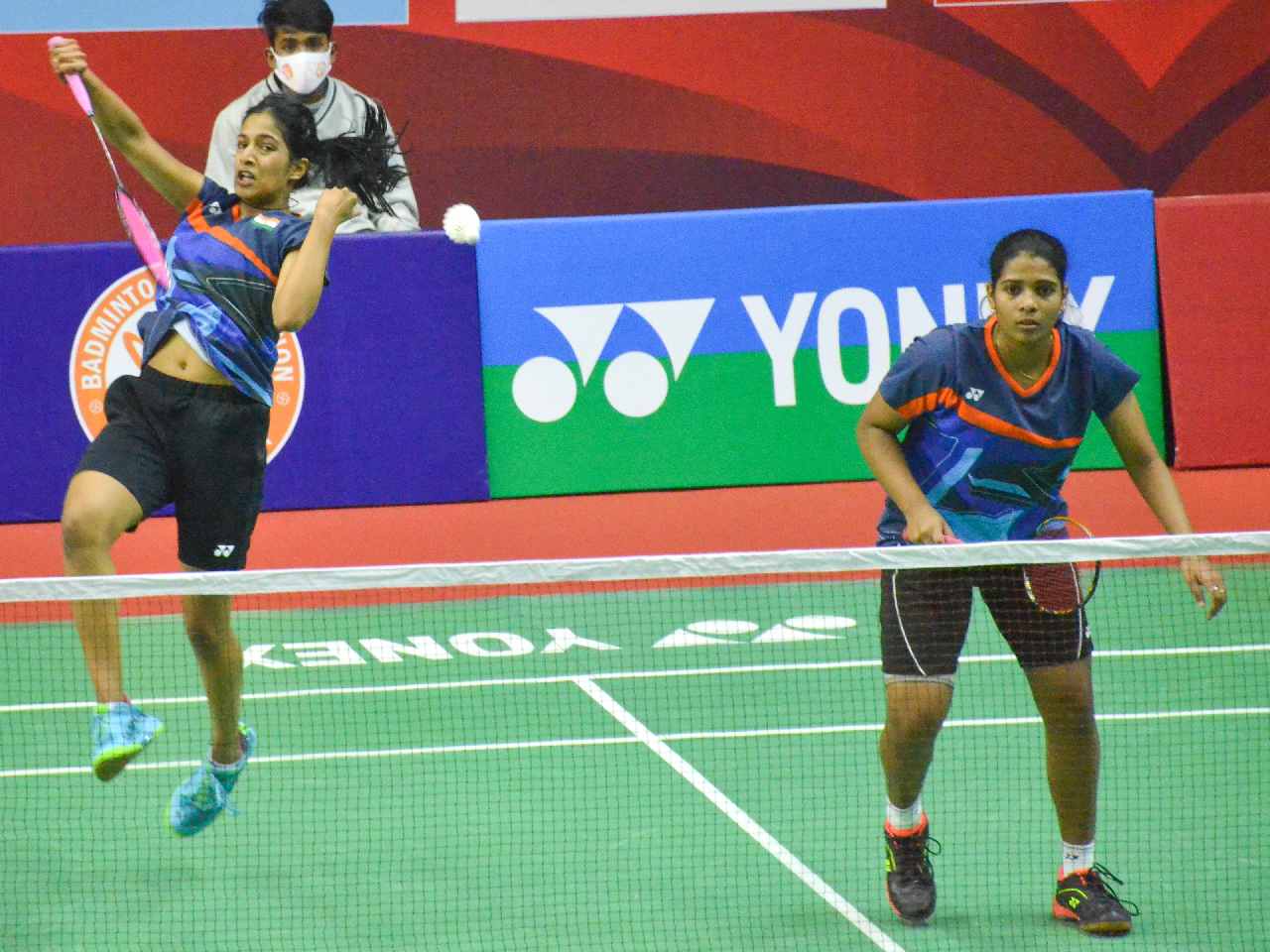 At age of 15-year-old, Gayatri Gopichand was ranked India's No.1 in the U-17 age group and was regularly defeating her senior players at domestic level tournaments.
With her heroic performance at a young age, Gayatri earned her place on the Indian Badminton team for the Jakarta 2018 Asian Games. Gayatri was also the youngest player to make the Indian badminton squad for Asian Games.
Gaining an experience from such a major tournament at such a young age, Gayatri won her first single silver medal at the 2019 South Asian Games in Nepal.
In 2021 after the post lockdown, Gayatri's main focus shifted to the doubles category, where she met Treesa Jolly and the two youngsters instantly clicked and finished runners-up in their first tournament 2021 Polish tournament. 
In 2021 Welsh International, the Indian duo went on to win their first major title at the Indian International Challenge and runners up in the Welsh tournament.
In the same, Gayatri also participated in the mixed doubles with K. Sai Pratheek and finished second in the same tournament.
After Saina and Sindhu who are the next budding Indian women's badminton players?
Gayatri Gopichand Commonwealth Games 2022:
Indian Shuttler, Gayatri Gopichand started by competing in the singles tournaments but later on, her father and junior coach, Anil Kumar started training her for doubles where she found her match in heaven, Treesa Jolly who joined the Pullela Gopichand Academy in 2020 during the lockdown.
Gayatri Gopichand and Treesa Jolly will be joining the Indian badminton squad for the Commonwealth Games 2022 and will be hoping to return with the medal in their respective categories.
Best Indian Badminton Players | Female Indian Badminton Players | Male Indian Badminton Players
Gayatri Gopichand Family: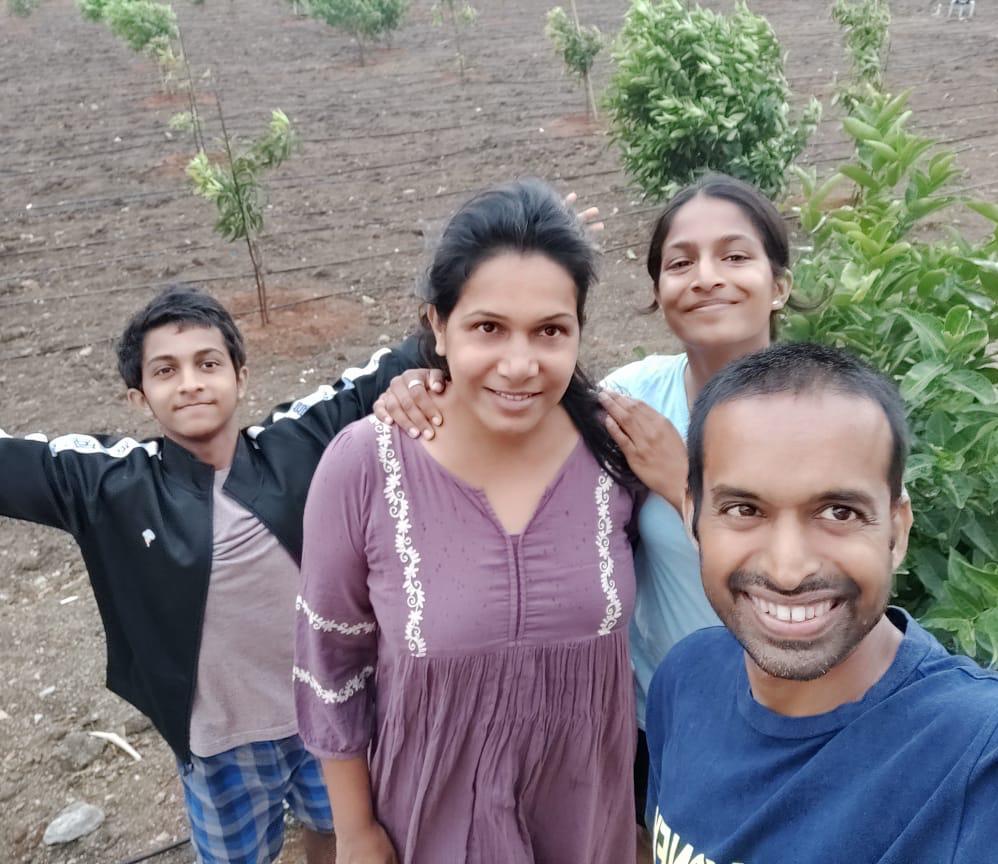 Gayatri was blessed to be born into a sporting figure family as her father also her coach, Pullela Gopichand is considered the best-known personality in modern Indian badminton and currently runs India's most successful badminton academy.
After the legendary Prakash Padukone, Pullela Gopichand was also the second Indian to win a medal in the England Open badminton championship. Gopichand finished third in the Commonwealth Games in 1998. Gopichand has the highest number of awards and International achievements after Prakash Padukone.
Pullela Gopichand has several awards some of the best are the Arjuna Award in 1999, Rajiv Khel Ratna in 2001, Padma Shri in 2005, and Padma Bhushan in 2014.
Gayatri Gopichand mothers name is P.V.V Lakshmi, who is an 8-times Indian national champion in badminton and also participated in the 1996 Atlanta Olympics. 
Gayatri Gopichand has one younger sibling, Sai Vishnu Pullela. He plays in the Under-15 age group and ranked India No.3 in the singles category and No.1 in the doubles category.
Also Check: Treesa Jolly Badminton Player
Gayatri Gopichand Records and Achievements: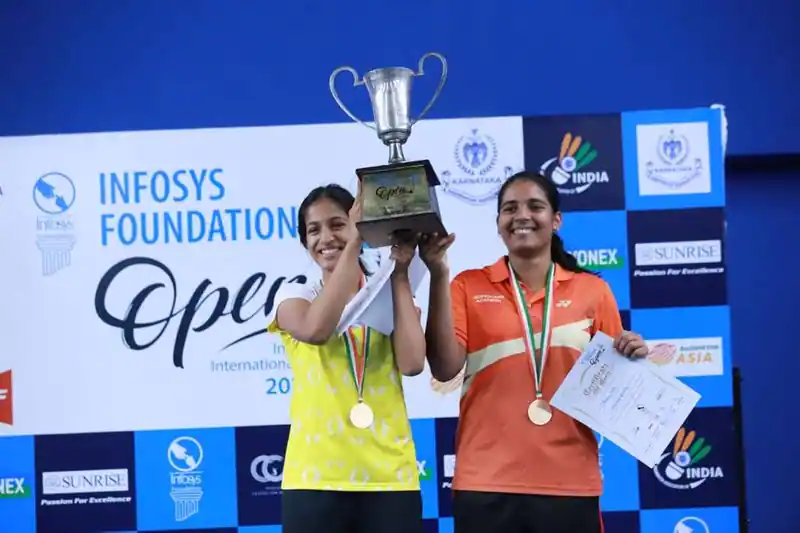 Gayatri Gopichand won a silver medal in the women's singles at the South Asian Games in 2019.

Gayatri Gopichand won the bronze medal in women's double with Treesa Jolly in U-19 doubles at the Yonex German Junior Cup.

The young duo, Gayatri-Treesa won their first Super 100 title at the Odisha Open 2022.

Gayatri-Treesa finished runners-up in Syed Modi International 2022.

Gayatri Gopichand-Treesa Jolly grabbed the gold medal in the 2021 Indian International Challenge after beating Tanisha Crasto and Rutuparna Panda.

Gayatri-Treesa finishes second at Welsh International Badminton Championship 2021.
Gayatri Gopichand Controversy: NA
Gayatri Gopichand Unknown Facts:
BWF badminton rankings in September 2021, Gayatri-Treesa ranked 433rd in the world. After the spectacular performances in the All England Open 2022, the duo was ranked a career-high 35th rank.

Gayatri Gopichand is the daughter of Pullela Gopichand and P. V. V. Lakshmi, who both have represented Indian Badminton in the Olympics.

Gayatri Gopichand's younger brother, Sai Vishnu Pullela is ranked No.1 in Double's category in the U-15 age category.
Gayatri Gopichand Social Media:
Gayatri Gopichand Facebook: NA
Gayatri Gopichand Twitter: NA
Gayatri Gopichand Wikipedia: https://en.wikipedia.org/wiki/Gayathri_Gopichand
Gayatri Gopichand Instagram: https://www.instagram.com/gayatri.pullela/?hl=en