The silver medallist, Mathias Boe, has a basket full of achievements in the field of badminton. Mathias Boe is an exceptional badminton player from Frederikssund, Denmark and is among the top doubles players in the World.
Mathias Boe is a southpaw and is known to be a player who plays with the opposition's mind and is a cheeky campaigner. He is an Olympic medallist and is a big name in the badminton circuit.
The Danish star is rumoured to be dating Bollywood actress Tapsee Pannu and is also a part of her team 7 Aces Pune in the Premier Badminton League.
Early Life of Mathias Boe
The 39-year-old badminton player was born on 11th July 1980 in a Danish family. The left-handed badminton player started playing badminton when he was 6 years old. Besides the hard work, his family also has a major role in his remarkable success in his career. Mathias's family were badminton players and this has somewhere helped him to establish himself as an excellent badminton player. Mathias Boe has been an active member of the Denmark National Team.
In 1998, the Danish badminton player made his international debut and at Glasgow, Mathias Boe made his senior debut at the European Junior Championships in 1999. Ever since the player has achieved every bit of success.
Mathias Boe Personal Life
Current talk of the town is "Mathias and Taapsee Pannu's love affair". The duo has been spotted having lunch and dinner together. Although both have not confirmed their relationship status yet, the Indian actress dropped a hint to the media that she is in a serious relationship with a sportsperson and also that he is not a cricketer and neither from India. Both media and their fans are eagerly waiting for their official announcement about their relationship.
Boe and Taapsee are apparently dating for as long as four years. Mathias had put a picture of them together and wrote, "my beautiful GF @Taapsee". The picture went viral and took all by surprise. Taapsee does not talk about her relationship much in public.
Mathias has been very supportive of Tapsee and her work and has been often spotted on twitter, asking fans to catch-up Tapsee's new releases.
Namaste India, today is the release of #Mulk, go watch in a cinema near you. I will be in the country next week, expect full resume from every single person I meet😍.

— Mathias Boe (@mathiasboe) August 2, 2018
Hello 🇮🇳, today u only have one thing to do, and that is to watch #Soorma in the cinema. The same goes for tomorrow and Sunday. Let's go let's go let's go 🕺🏻🏃🏽‍♀️🏑

— Mathias Boe (@mathiasboe) July 13, 2018
Mathias Boe Professional Life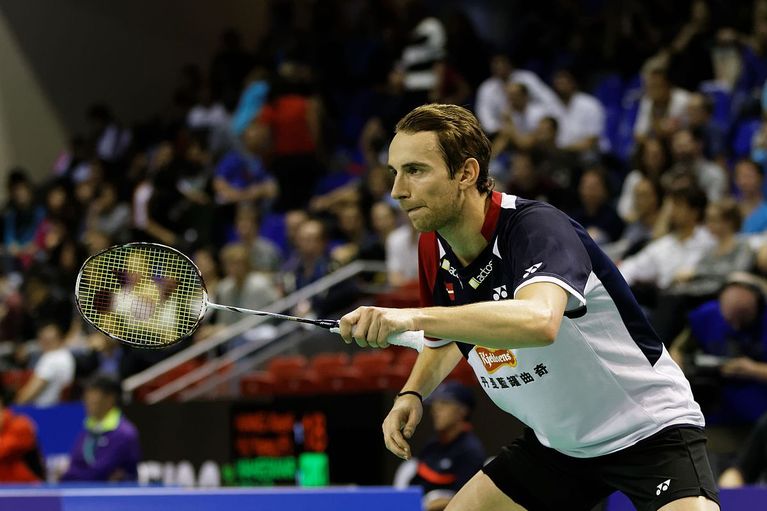 The Danish badminton player has acquired titles at French Super Series, Denmark Super Series and Super Series Final that was held in Taipei.
In 2011, Mathias Boe achieved victory at the China Open tournament and also BWF World Superseries Finals. In the process, they, fortunately, became #1.
In 9 years, i.e, from 2008 to 2017, he has won the men's doubles category 16 times and also been in the second position 14 times at the BWF Superseries tournaments.
He is known to be one of the best players in the double's category with a total of 609 wins throughout his badminton career.
Awards
The badminton star won the silver medal in the men's doubles at the Summer Olympics 2012 with Mogensen.

In 2006, Boe won the silver medal at the European Badminton Championships in men's doubles.

In 2013, Boe and Mogensen achieved the silver medal in World Championships.
Mathias Boe Achievements
Olympics Games: Silver: 2012 Wembley Arena, London
Mathias Boe with the partnership with Carsten Mogensen defeated Cai Yun & Fu Haifeng and successfully earned the silver medal in Men's doubles.
World Championships: Bronze: 2014 Denmark, Silver: 2013 China
In 2014, Mathias Boe and Mogensen achieved a bronze medal by defeating Lee Yong-Dae and Yoo Yeon-dae.

In 2013, attained a silver medal against Mohammad Ahsan and Hendra Setiawan with a score of 13-21, 21-23 in men's doubles.
China Open: Runner up: 2017
China Open: Runner up: 2016
China Open: Winner: 2012
China Open: Winner: 2011
China Open: Runner up: 2008
Mathias Boe Personal Information
Name: Mathias Boe
Nickname: Mathias Boe
Profession: Badminton Player
Father's name: yet to be updated
Mother's name: yet to be updated
Date of birth: 11 July 1980
Age: 39
Birthplace: Frederikssund, Denmark
Zodiac sign: Cancer
Nationality: Danish
Hometown: Frederikssund, Denmark
Religion: Christian
Physical Measurements
Height:1.85 m (6 ft 1 in)
Weight: 75 kg
Eye colour: light brown
Hair colour: brown
Mathias Boe Controversy
Rumours of Badminton player, Boe dating the Indian actress Taapsee Pannu is the hottest news in B-town.
Latest reports suggest that the Mission Mangal actress has confirmed that her boyfriend is from a sports background. Meanwhile, the duo has been spotted spending quality time with each other.
All these clearly demonstrate that Mathis Boe and Taapsee Pannu are dating but neither of them has admitted the same officially.
Net Worth of Mathias Boe 
Mathias Boe's net worth is $18 million
Social Media Handles
Mathias Boe Facebook- https://www.facebook.com/BoeMogensen
Mathias Boe Instagram- https://www.instagram.com/mathias.boe/
Mathias Boe Twitter- https://twitter.com/mathiasboe