Sachin Tendulkar's Personal Life
| | | |
| --- | --- | --- |
| | Full Name: | Sachin Tendulkar |
| | Education: | High School |
| | Mother: | Rajni Tendulkar (Insurance Agent) |
| | Father: | Ramesh Tendulkar (Novelist) |
| | Siblings: | 2 (Brothers), 1 (Sister) |
| | Marital Status: | Married |
| | Marriage Date: | 24th May 1995 |
| | Wife: | Anjali Tendulkar (Pediatrician) |
| | Son: | Arjun Tendulkar |
| | Daughter: | Sara Tendulkar |
| | Houses: | Mumbai |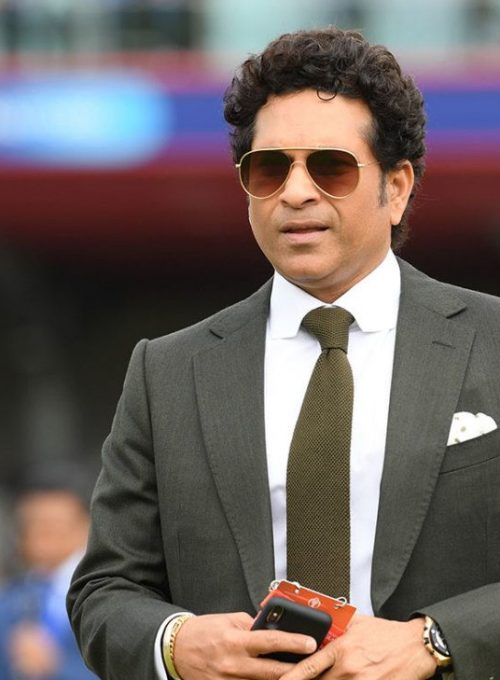 Sachin Tendulkar, a name that made people fell in love with cricket. India has become a cricket-mad nation, today, and we owe a lot to Sachin Tendulkar for that. From playing cricket in streets to become the greatest batsman the game has ever seen, Sachin Tendulkar's journey is worth applauding.
Sachin Tendulkar's Family
Sachin Ramesh Tendulkar was born on 24 April 1973 to Ramesh Tendulkar and Rajni Tendulkar and was the youngest of the four siblings in the family. His father Ramesh Tendulkar was a Marathi novelist whilst his mother Rajni Tendulkar was working as an employee in an Insurance company. Sachin Tendulkar's father was also a professor at the Kirti College, Prabhadevi. Ramesh Tendulkar was an open-minded man, one who is always willing to learn. Sachin's father had a huge impact in shaping his career.
Apart from becoming the best batsman, the former instilled a lot of life lessons which is why he is also known to be a great human being. He never stopped his son to follow his dreams and also allowed him to change his school to realise his dream of becoming a cricketer. Moreover, Sachin got his name from Famous Indian Musician Sachin Dev Burman who was also his father's favourite music director.
Sachin's Father's Demise: During 1999 World Cup, one night before Indian squared up against Zimbabwe in a league stage game, Sachin's father passed away. The news came as a shocker to world cricket and Mumbai cricketer rushed to attend his father's funeral. Sachin came back in a few days and struck a beautiful century against Kenya and kept India's hopes alive in the World Cup.
The man compiled 140 runs off just 101 deliveries, including 16 fours and three sixes. It was a knock for his father. He scored a ton and looked to the skies, not to God but his father and thanked him for making him become a phenomenon in world cricket.
Mother: Rajni Tendulkar – Sachin's Mother, Rajni Tendulkar was his father's second wife and was also an extremely hard-working person. It was his mother from whom Sachin learnt the traits such as hard work, perseverance, etc. She worked was a LIC Agent in the Foreign Department of Santacruz, Mumbai. Despite having problems in her legs, she kept working even when Sachin became a known figure in International Cricket. She would often take Sachin to her office where he would play and enjoy with Ranji's colleagues. It was Sachin's mother who convinced him to play in 1999 World Cup despite his father's death.
Sachin's Siblings: Sachin Tendulkar was the youngest of the four siblings. He has 2 elder brothers and one elder sister. Since his childhood, Savita loved playing Tennis, while Ajit was a cricket lover. It was Ajit who witnessed Sachin's talent in cricket. Sachin, in his childhood days, used to be a big-time bully and used to indulge in lots of irrelevant fights with the kids around.
Ajit Tendulkar made him join cricket by enrolling in Ramakant Achrekar's cricket academy. After looking at his cricketing skills at an early age, his coach asked him to switch to Sharadashram Vidya Mandir high school due to the school's better sports facilities.
That's where "Sachin" the cricketing star started grabbing the attention of numerous people around him with his breathtaking cricketing display in the school cricket. Moreover, he hogged the spotlight for the first time after being a part of the world record partnership of 664 runs in a school championship with another famous Indian cricketer Vinod Kambli.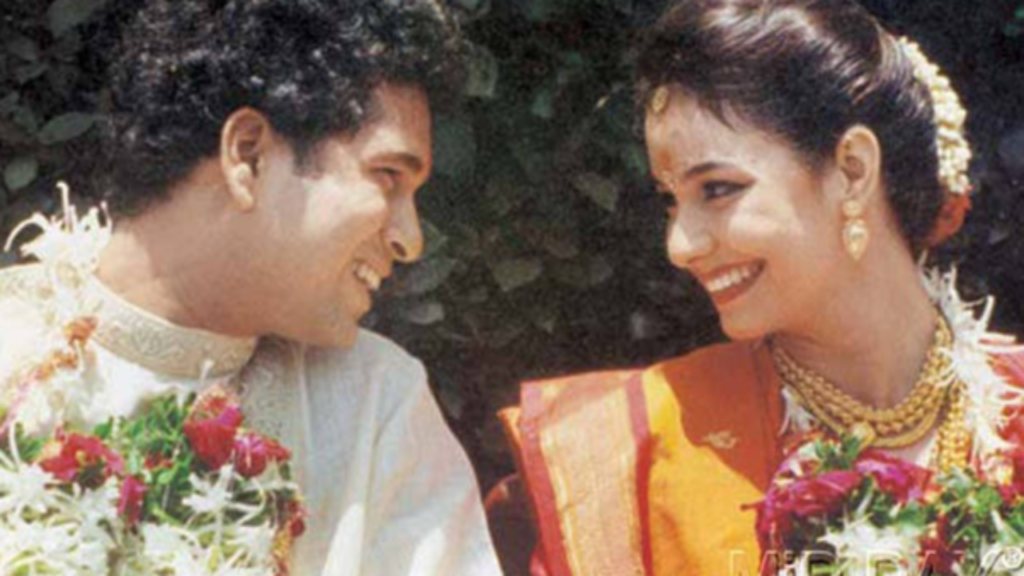 Anjali Tendulkar was born on 10th November, 1967 to Anand Mehta, who is a renowned Gujarati industrialist and Annabel Mehta, who is the founder of a famous NGO called Apnalaya. She loves doing philanthropic works, traveling, and listening to music.
Sachin saw Anjali for the first time at the Mumbai international airport while returning from his debut tour. He was just 17-year-old boy at that time. Fortunately, he got to meet her with the help of a common friend and the duo started dating. The couple tied the knot on 24th May 1995 after dating for five long years. Anjali is a pediatrician and six years older than Sachin Tendulkar.
Despite having a successful career, Anjali gave up her career to take care of her children and help Sachin devote fully to cricket. Sachin too has immense respect for his wife for her contribution to shaping her career and raising kids. She has always been a support system to Sachin Tendulkar, one who always stood by his side and helped him pass every obstacle in life.
Arjun Tendulkar was born on 24th September 1999 at the Breach Candy Hospital in Mumbai. He is an aspiring cricketer. Standing 6ft tall, Arjun is a bowling all-rounder and has bowl to some of the cricketing greats in the nets on different tours. He made heads turn after picking 19 wickets in just five games for Mumbai under-19 team in 2017-18 Cooch Behar Trophy.
Arjun is currently striving hard to make a successful career in cricket. In July 2018, he was selected in India's under-19 squad that toured Sri Lanka.
Sachin Tendulkar's Daughter
Born on 12th October, 1997, Sara Tendulkar is two years older than Arjun. She is a graduate in Medicine from University College, London. Sara is also well known for her dressing sense and style quotient. 
Sachin Tendulkar's Affair
Sachin Tendulkar once grabbed the headlines for his rumored affair with actress Shilpa Shirodkar. Both were from Maharashtrian families and shared similar values and this led to more speculation about their relationship.
However, Sachin Tendulkar later dismissed the speculations, saying that it was the stupidest thing he ever read about himself. Sachin later married Anjali and put an end to all his dating rumors.
Popularly known as the God of cricket, Sachin Tendulkar in his illustrious career has made a plethora of runs in international cricket as well as domestic cricket. He holds the record for scoring the most number of runs in international cricket.
To know more about Sachin Tendulkar's stats in international cricket: Click Here
Sachin Tendulkar's Social Media
Sachin Tendulkar has been quite active on all social media platforms and enjoys plenty of followers on his social media handles. The master blaster might have retired from international cricket but still, give regular updates to his fans on his social media handles.
To know more about his social media activities and controversies: Click Here