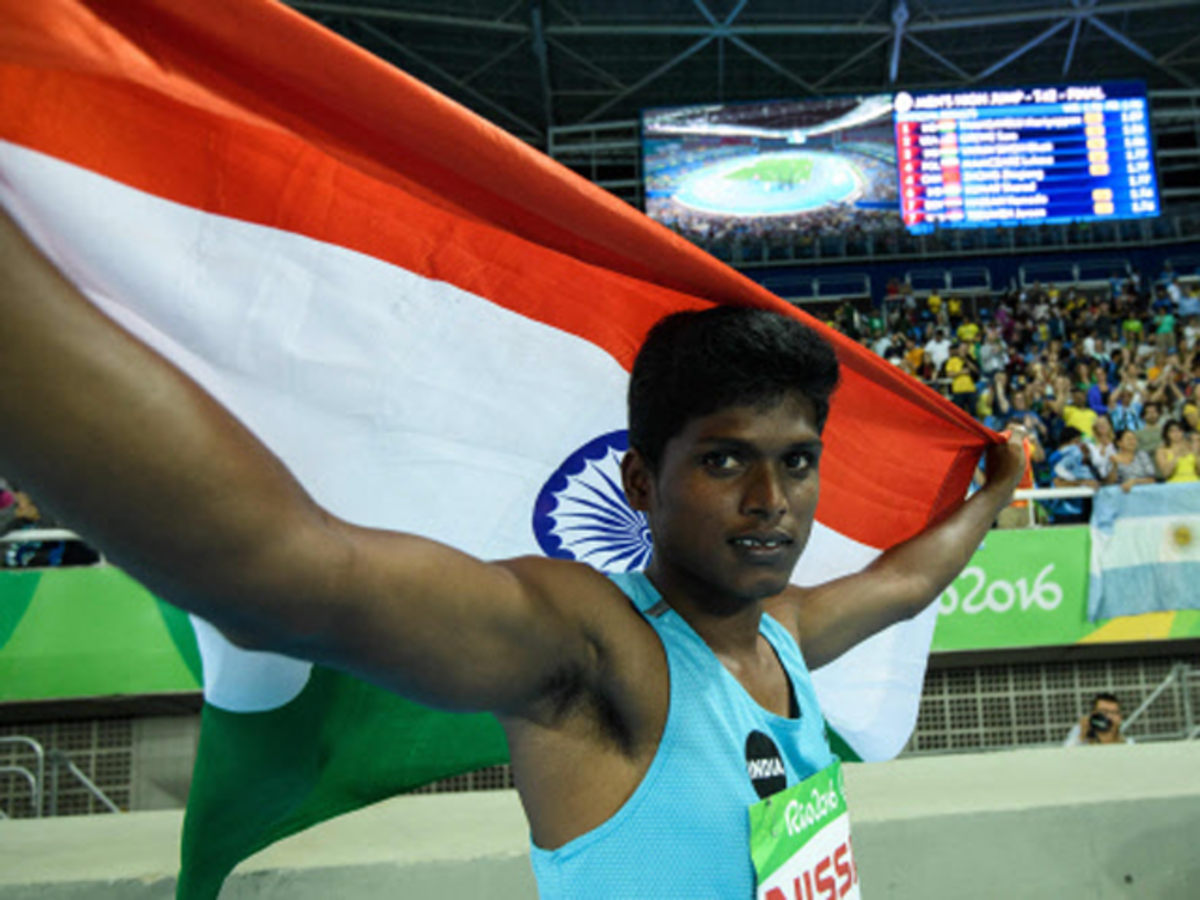 Mariyappan Thangavelu: They say when the going gets tough, the tough get going. They say it is only during adversities that we find out what we are actually made of. It is not how many times life pushes us down, but how many times we pull ourselves up again that actually defines us and makes us who we are.
For Mariyappan Thangavelu, life took an extremely cruel turn when he was a child. However, the man refused to bow down and challenged himself to face every hurdle life threw at him, head-on. His life is a story of sheer will power and determination and it is one that is worth knowing. Today, we look at his story.
Mariyappan Thangavelu Early Life
Mariyappan Thangavelu was born on 28th June 1995 in Periavadagampatti, a small village in the Salem District of Tamil Nadu. When he was still an infant, his father Thangavel walked out of the family, never to return and never to be heard of again. Mariyappan was too small to understand the complexities of the situation, and his mother, Saroj, ensured that he would never feel the absence of his father again. He had two brothers and one sister; the family was in deep waters all of a sudden. However, Saroj buckled up and took responsibility for all six children herself.
She did odd jobs to make ends meet, working as a daily wage labourer, carrying bricks throughout the day and coming home in the evening with just 100 rupees. It was an extremely hard life for the lady, but she was willing to do everything for the sake of her children. After working as a labourer for some time, she became a vegetable seller and managed to make ends meet by working extremely hard throughout the day.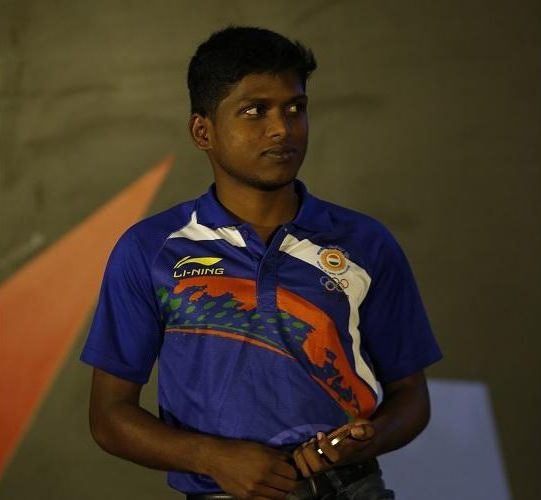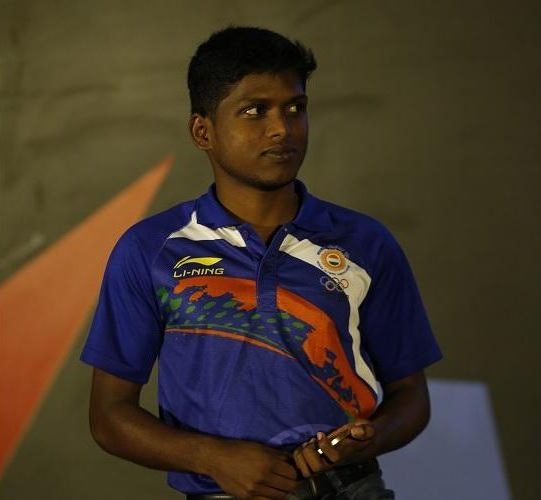 Mariyappan Thangavelu grew up watching his mother toil from dawn to dusk and some of her qualities got instilled in him as well. He joined the school and dreamed of becoming a successful man someday. However, tragedy struck his life when he was just 5 years old. The young boy was walking back home from school one day when he was hit by a vehicle driven by a drunkard. The driver was so inebriated that he failed to notice a little child walking ahead of him by the side of the road. He lost control, and the unimaginable happened. The vehicle went over the child's tender legs and crushed them below the knee. The scene was too horrible to imagine for the average person. As young Mariyappan cried out in pain, he saw his dreams shatter. It was the darkest hour of his life and it would change him forever.
He was immediately rushed to the nearest hospital, where it was clear that his condition was quite critical. Emergency treatment was necessary and his life was in danger. One drunk man's carelessness had destroyed an innocent life in the blink of an eye. For Mariyappan's mother though, it seemed that the sky had fallen on her head.
Saroj was desperate to save the life of her son. Extensive treatment was required, which was costly, but where would the poor women find so much money? Yet she could not stand to see her son withering in pain. When she failed to gather the required amount, Saroj took a loan of 3 lakhs in order to pay for his treatment. Sadly, the doctors could not do much as the damage on his right leg was permanent. Mariyappan Thangavelu was left with a permanent disability and stunted right leg. It would forever retain the shape and structure of a 5-year-old's leg and every single day, it would remind Mariyappan of the tragedy that had changed his life forever.
The young boy was shattered. His dreams and aspirations had evaporated and he has plunged his family into further crisis due to the loan that they had to pay off now. There was every reason for him to go into depression and lose his way. However, the boy who had seen his mother fight from a very young age was not about to give up on his life. He was determined to face his adversities head-on and his battle had just started.
Finding Solace in High Jump
Mariyappan Thangavelu did not let his disability bring him down; rather, he wore it around like an armour. He did not feel any different from the other able-bodied students in the school and never felt pity on himself. Despite the fact that he had been riddled with tragedies, Mariyappan had a very positive outlook towards life. He had seen extreme hardship and had learnt that life was too uncertain to live with caution. However, he was aware that education was extremely important as well to lead a successful life. As such, he worked extremely hard at his school and completed his senior secondary education.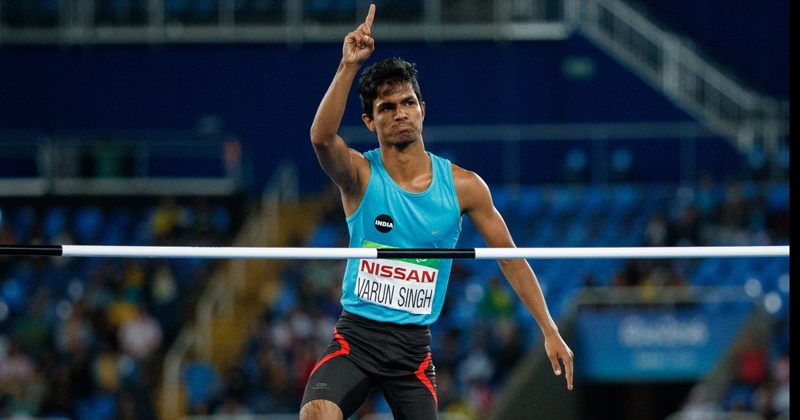 In his school life itself, he discovered a new found love for volleyball. Mariyappan longed to play the game, but his disability caused a problem as he was not able to match up to the physical aspect of the game. He spent hours watching the game from the sidelines, encouraging the players and living the game as a fan. After the matches, he would try his hand on the game during practice but had a problem balancing himself. However, he had a splendid jump and this was first spotted by his school sports teacher, who advised him to try his hand in high jumps.
It was like a match made in heaven. Mariyappan Thangavelu was brilliant in high jumps and even defeated many able-bodied athletes in practice. It was clear that the young boy had a future in the athletes and as such, he prepared to take part in the National Para-Athletics Championship to find a platform to showcase his skills. It was here that he was spotted by coach Satyanarayana, in 2013. Satyanarayana was dumbstruck with the talent in front of him and immediately knew that the young boy was destined for greatness. Mariyappan was taken to Bengaluru, where he was introduced to world class training facilities. In Satyanarayana's own words, the young boy was a confident and disciplined kid. His lifelong struggle had instilled a hunger for success within him and he strived hard to achieve his goals.
With the right people to guide him in his endeavours, Mariyappan Thangavelu went from strength to strength and became an expert in the high jump in no time. He had a determination made of steel and there was no stopping him now. With just one and a half years of practice, the young boy lit up the National as well as the International circuit and became the world No. 1 in 2015. It was a fantastic achievement for the youngster, but there was more to come from him soon.
Mariyappan Thangavelu | Rio Paralympics 2016
SALUTE #Mariyappan!!#MariyappanThangavelu creates history by winning #GOLD in high jump at #Paralympics . pic.twitter.com/WovfbvUm5l

— Doordarshan National दूरदर्शन नेशनल (@DDNational) September 10, 2016
The Rio Paralympics were held from 7th September to 18th September 2016 in Rio de Janeiro, Brazil. It was the 15th summer Paralympic Games and was the second most attended Paralympic Games in history. For Mariyappan Thangavelu, it was a big step from a small village in Tamil Nadu to the grand stage of the Paralympics. He had trained all his life for this event and was a part of the Indian contingent that flew to Brazil to take part in the tournament. However, his journey to the event had started in March of the same year, where he took part in the Olympic qualifiers held at IPC Grand Prix in Tunisia. Mariyappan cleared a height of 1.78 meters or 5 feet 10 inches and qualified for the main event
During his event in Rio, Mariyappan was a picture of concentration. The young man was focused and had eyes only for the big prize. He cleared a distance of 1.89 meters or 6 feet 2 inches and won a historic Gold in the event. It was a huge achievement, for it was only the third time that an Indian had won Gold in the prestigious event.
India is elated! Congratulations to Mariyappan Thangavelu on winning a gold & Varun Singh Bhati for the bronze at the #Paralympics. #Rio2016

— Narendra Modi (@narendramodi) September 10, 2016
For the man, it was a moment to savour, to enjoy, and to cherish. His years of hard work, the blessing of his mother and her steely determination had taken him to his goal. Mariyappan was in seventh heaven and rightly so. From the crushing accident as a 5-year-old to the memorable day in Rio, his life had been nothing short of a fairy tale.
The Reception Back Home
Mariyappan's win brought him a lot of attention in the International as well as the National arena. He had become a big star overnight and a lot of people, including the Honorable Prime Minister of India Sri Narendra Modi took to the social media to congratulate him. India had won a Paralympics Gold medal after 14 years and it was a time to celebrate.
He was given a hero's welcome when he reached his home town in Tamil Nadu. Along with the award and the recognition, Mariyappan also had won decent prize money as a reward for winning the Gold medal. Instead of wasting it on worldly pleasures, he decided to use the amount on something good. And he instantly remembered the hardship that his mother had endured all her life. It was Saroj's year-long struggle that had shaped his destiny and it was time to ensure that she did not have to worry about making ends meet. Mariyappan used a portion of his prize money to buy his mother a paddy field and a new house. It was his own way to express his gratitude to the woman who had made him into the champions that the world knew.
Mariyappan Thangavelu continued to practice hard, as he dreamt of a career in athletics. Very soon, the Tamil Nadu Government came up in his aid, providing him 2 crore rupees as a recognition of his brilliant achievement in the Paralympics. This was followed by another 75 Lakhs from the Ministry of Youth Affairs and Sports, 50 Lakhs from the Madhya Pradesh Government and 30 Lakhs from the Ministry of Social Justice and Empowerment. The young man now had the financial stability that he desired and it helped him concentrate on his practice.
The 2018 Asian Para Games
The 2018 edition of the Asian Para Games was held at Indonesia, from 6th to 13th October 2018. Mariyappan took part in the T42/63 high jump and finished 3rd. Even though he picked up a Bronze, he was not satisfied with his performance, as he could only manage to cross height of 1.67 meters. Mariyappan was left disappointed but has decided to train harder than ever to attempt for excellence again.
Later Life and Achievement
After passing out from his school, Mariyappan got admitted to AVS College of Arts and Science and completed his Bachelor of Business Administration degree. It is important to note that Mariyappan is extremely determined to complete his Master in Business Administration degree someday soon. While he concentrates on his practice, he also hopes to find out the time and complete his MBA degree.
In December last year, Mariyappan was offered a job with the Sports Authority of India, in a Group A post as a Coach. He was awarded the Padma Shri in 2017 and the Arjuna Award in the same year, as a recognition for his excellent service to sports in the country.
A movie about his life is currently under production. It is being directed by Aishwarya Rajinikanth Dhanush and has music by Sean Roldan. The film is being shot simultaneously in Tamil as well as in English. The actual release date of the movie does not know, but it is expected to hit the theatres by next year.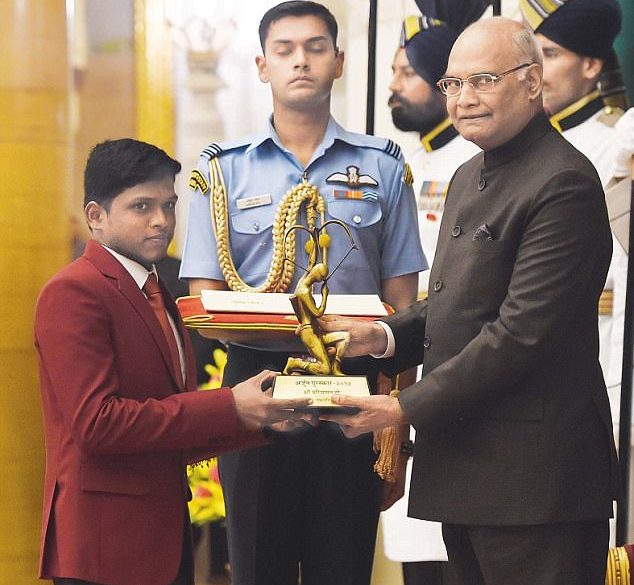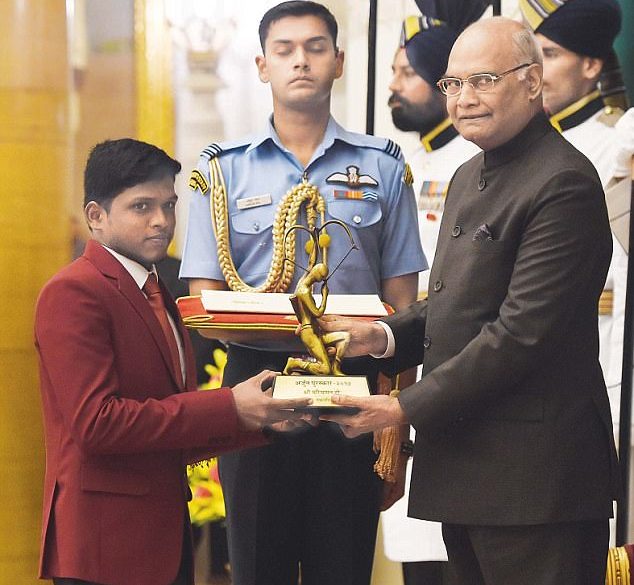 Mariyappan Thangavelu himself is very excited about the project and has openly spoken about the inspirational effect of films in the lives of budding sportsmen. He is hopeful that the movie depicting his life will be successful in motivating thousands of youngsters around the country to embrace sports.
The man himself is busy preparing for the 2020 Summer Paralympic Games to be held in Tokyo. The event is scheduled from 25th August to 6th September 2020 and will have 540 events covering 22 sports. One of them will be high jump and Mariyappan will be ready for a big fight. He will be desperate to get his hands on the coveted gold once again and bring further glory to his country.
In the end, Mariyappan's life is no less than inspiration itself. It is a powerful depiction of hope and positivity. For a helpless teenager who had just lost his leg, life could have easily come to an end. However, it was the fight in him that is worth learning from. Mariyappan never gave up on life and became the master of his own destiny. This is the biggest lesson that Mariyappan Thangavelu can give to the budding athletes in the country and for that reason alone, he is a hero. Not your costume hugging, high flying, super-powered beings from the storybooks. No, Mariyappan is bigger and grander than them all, for he shows that human spirit is the greatest superpower and in this world of ordinary men, he is a superhuman beyond compare. We wish him all the very best in his preparation for the 2020 Paralympics and hope that he touches the sky once again.
Also Check: