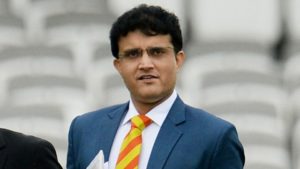 Nasser Hussain, the former England captain, has said that he didn't use to like Sourav Ganguly during their playing days.
While leading their respective sides, the duo had been involved in some of the most thrilling encounters, with the Natwest final being the biggest of them. Hussain scored 128 runs from 115 deliveries but his knock went in vain.
Hussain credited Ganguly for turning an Indian side into a brute force. Hussain also put forth some instances when Ganguly made him wait for the toss. However, Hussain mentioned that he has loved his commentary stint with his Indian counterpart.
"I have always said, and this is a generalization, but I have always said about Ganguly, that he made India a tougher side. So, before Ganguly, there was a very talented side, but you felt they were also a nice side – very down to earth, would meet you with morning greetings, morning Nasser, it was a very pleasant experience," Hussain told.

"Playing against a Ganguly side, you knew you were in a battle, you knew that Ganguly understood the passion of Indian cricket fans and it wasn't just a game of cricket. It was more important than a game of cricket," Hussain stated.

"He was feisty and he picked feisty cricketers whether it would be Harbhajan or Yuvraj or whoever – feisty in your face cricketers – that when you met him away from the game, was lovely, nice. Sourav's like that. When I played against Sourav, I hated him, he used to make me wait for the toss every single time and I'll be like, Ganguly, it's 10.30, we have to toss," he added.
Ganguly took over the captaincy from Mohammad Azharuddin in 2000 after match-fixing scandal. He gave chances to promising youngsters like Yuvraj Singh, Harbhajan Singh, Virender Sehwag and Zaheer Khan, who went onto play important roles in India's victory in 2011 cricket World Cup.
He also took India to the final of the 2003 World Cup in South Africa, though the Men in Blue were beaten at the hands of Australia. The former Indian captain left behind a rich legacy for the youngsters to follow.