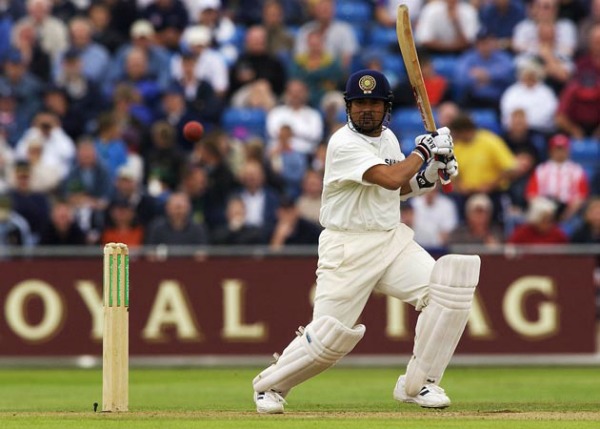 India was on a long tour of England, having won the Natwest tri-series final from jaws of defeat Indians were trying to take the confidence into 4 match test series. England test team in their den is a tough nut and they proved that way by winning the first match comprehensively which saw an Ajit Agarkar scoring a century at Mecca of Cricket. Indians were put under the cosh in Nottingham and saw a rearguard action from Indian batting and saved the test. But scoreline was 1-0 to England and third test in Headingly it looked the wait of winning a test in England will continue for some more time. But as saying goes "Desperate time call for desperate measures".India team included Sanjay Bangar to partner Sehwag at top. To make it more challenging Sourav Ganguly on calling correctly opted to bat, many pundits call the decision equivalent to bite a cyanide pill, as the pitch had a tinge of grass.
Day 1: Bangar and Sehwag opened, but it wasn't long before England struck with the wicket of Sehwag. England were look put for more wickets and had placed 5 fielders behind the wicket. Hoggard, Caddick, Flintoff, Tudor were all probing and testing the batting duo of Bangar and Dravid, who had came at fall of the first wicket, but both batsmen showed resolve and played patiently. They were courageous and took blows on their body as well.
Only four boundaries were scored in the first session but eventually, this session decided the final outcome of the match. Post lunch both batters continued with the same process and slowly runs started to flow. Both batsmen completed their half-centuries. After adding 170 runs, Bangar fell to Flintoff. In came Sachin  Tendulkar and joined Dravid, who was going strong and England had no answers for his tight batting. Before the end of day's play, Dravid completed his century. At stumps India had reached 236/2, Dravid was unbeaten on 110 and Tendulkar giving company on 18.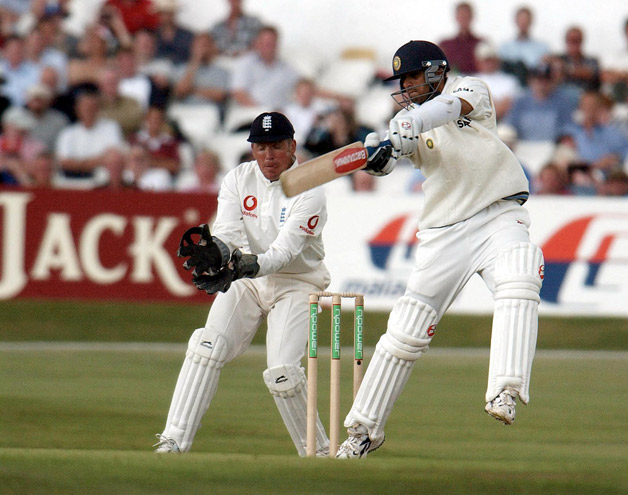 Day 2:  England's only chance was 2-3 quick wickets in the first session but both Dravid and Sachin started playing shots and took the score past 300. Dravid was dismissed on 148. In came Ganguly and started taking the attack to England. Tendulkar soon brought his 30th test century and overtake the legendary Don Bradman's tally. The light was an issue and was offered to Ganguly and he said that will continue to play.
Again taking the bold route and after that, it went downhill for England as Ganguly and Sachin plundered 96 runs in 11 overs. Ganguly smashed Giles for 23 runs in an over. Ganguly also scored his century in 156 balls. England were chasing leather and were forced to set defensive fields. When Ganguly was finally dismissed for 128, Sachin was on 185 and India went off-field to end day 2 at 584/4. Dravid, Sachin, Ganguly all had scored hundreds in the same test for first and last time.
Day 3: Indians were waiting for Sachin to complete his double hundred but he has trapped LBW on 193. Indians did lose a few wickets in pursuit of quick runs and Ganguly declare the innings at 628/8. India then took wickets at regular intervals to peg back the home team. In form, Vaughan got out on 61 after playing a loose shot. Some got decent starts but couldn't capitalise.
Naseer Hussain was out to one that darted in and was caught before stumps. At 140/4, the home team needed a partnership but Ganguly brought on turbinated and he dismissed Crawley and Flintoff in successive deliveries to put England in bother. Stewart and Giles put on 80 runs to frustrate the Indian team but Indian bowlers managed to strike twice before the end of day's play. England ended at 264/9.
Day 4: It took India just 13 minutes to dismiss Hoggard and dismissed England for 278. Ganguly enforces the follow on and England had to bat for 6 sessions to avoid innings. Agarkar dismissed the dangerous Vaughan cheaply to put India in the ascendency. Like first Innings, India managed to take wickets at regular intervals to reduce them to 148/4. England was not ready to throw in towel, Nasser Hussain and Stewart started a rearguard action and played out the remaining day with grit. They added 91 runs in 38 overs and England ended the day at 239/4
Day 5: India knew they were a couple of wickets away from breaking the game. Hussain completed his 12 test ton and England was hopeful of a comeback. Indians were still operating with the new ball and Stewart was struggling but against the run of play Hussain fell to Zaheer khan and that was opening India needed. Flintoff was dismissed for his 2nd duck of match. Stewart followed him and England were looking down and out. Wickets keep tumbling one after the other When Caddick was the last man out India had clinically finish the game in first session only.
This win gave India the belief and it further prospered under the astute leadership of Ganguly. It was test victory in England after 16 years. Indian record overseas was not impressive for a long time and victory was just the kickstart which changed India's mindset and they started thinking of winning test matches abroad rather than just competing.