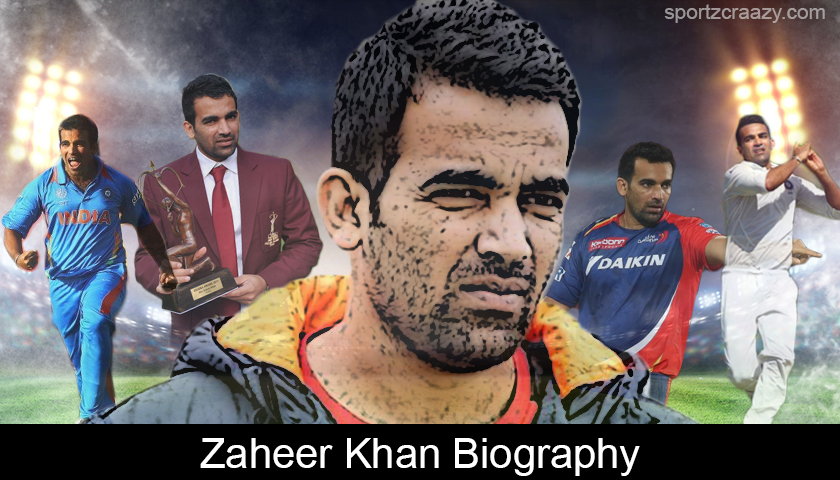 Zaheer Khan Biography : Although Indian cricket has seen a lot of marquee players and legendary performers on the cricket field over the years, they have always lacked the presence of genuine left arm fast bowlers to match the quality of Wasim Akram and Chaminda Vaas around. This void has been filled to a great extent by Zaheer Khan, former Indian cricket player, with his breathtaking left arm bowling over the past decade.
Not only he played the role of India's most trusted bowler for quite a while, but picked more than 600 wickets in both test matches and ODIs for his country. Even when he was into the last days of his career, he played the role of a mentor to all the aspiring fast bowlers in the team with great impact.
Early Life and Childhood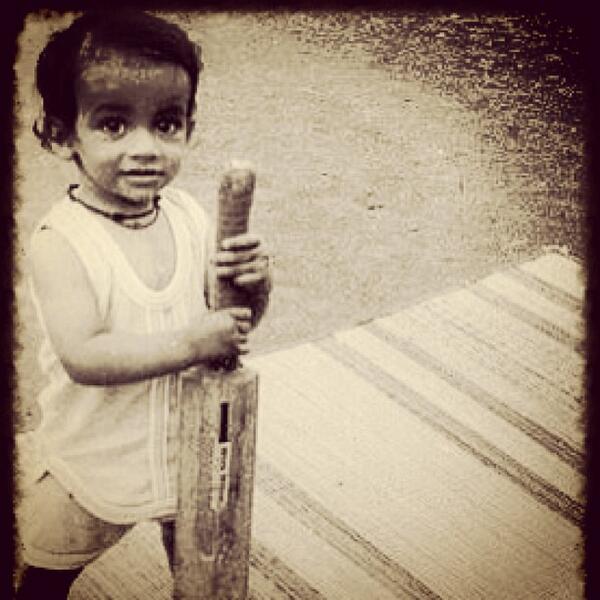 Zaheer Khan was born to a Marathi Muslim family on October 7, 1978 in Sri Rampur, Maharashtra. His father Bakhtiyar Khan was an employed person whilst his mother Zakia khan was a housewife. Apart from him, he has two siblings with the name Zeeshan and Anees. Talking about his studies, he did his initial schooling from New Marathi primary school and KJ Somaiyya Secondary school in Srirampur along side.
As far as his initial days in cricket is concerned, he played most of the cricket at the Local revenue colony cricket club in Srirampur only and later moved to Pune in order to seek his aspirations in the cricket world.
Getting Along with his Journey at Domestic Level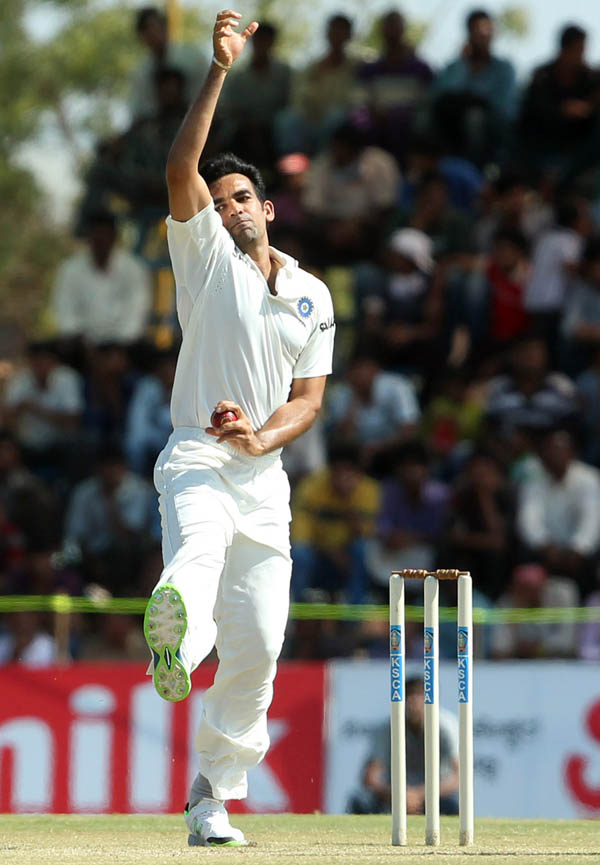 Zaheer Khan Biography : Zaheer Khan's family shifted to Mumbai in order to let him chase his passion in the cricket field. That was when he went on to join the National cricket club in the Division A and played in various leagues like Kanga cricket league, Comrade Shield, and the Purshottam shield. His unmatchable talent was been witnessed by his then captain Sandeep Mahadkar who was all praises for his ability to reverse swing a ball that was even 50 over's old.
That was the same match where he bowled ten maiden overs on a trot and also held a partnership of 102 runs for the ninth wicket whilst scoring a 62 not out in the process. One of his splendid performances came in the Purushottam shield where he scalped 7 for 74. He then went on to join the MRF pace foundation in Chennai coach TS Shekhar insisted him to play for the Baroda team in the Ranji trophy.
Splendid Run in the Ranji and County Championship 
Zaheer Khan Biography : Khan has had a dream debut against the Baroda team as he went on to had a blistering start to his career in the finals of the 2001 season against the team of Railways. Not only he scalped a five wicket haul in the second innings, but went on to secure a figure of 8 for 145 in the match whilst taking his team to victory.
At the end of the season 2006-2007, khan shifted to Mumbai and went on to play for same city only for the rest of his career. Apart from the Ranji Trophy, khan also signed for the Worcestershire country team as one of their overseas players. Although the county team went on to lose the first match, Zaheer Khan scalped 10 wickets against the Somerset team on his debut. This was for the very first time that a player has scalped 10 wickets in his debut match for the county team. Right in his very next season, he also grabbed 9 wickets in a match and if there wasn't a catch dropped of his bowling in the same innings, he could've ended up in taking all the 10 wickets in the match.
Putting his First Step on to the International Cricket
Zaheer Khan Biography : After getting along with a prolific run in the domestic season, Zaheer finally had been able to secure a spot in the national team in an ODI against the Kenyan team during the ICC knockout trophy in 2000. Zaheer Khan never looked back again and kept on continuing with his great run for the Indian cricket team. Still he went through a rough patch later in his career and by the year 2005, he was been demoted to a grade B contract by the BCCI and other bowlers like Sreesanth and Rp Singh did get more priority instead of him in the matches played during that time.
Still Khan made a splendid comeback in the national team in 2006 for the ODI and test series against South Africa. This was the tour which marked his comeback in the International cricket after quite some time and also secured him a spot in the World Cup 2007 squad.
Zaheer's Struggle with Injuries During his Career
Zaheer Khan Biography : Just like any other fast bowler, Zaheer Khan also struggled a lot with all the injuries to his name in the initial parts of his career. Whilst he was going through a brilliant run till the conclusion of the test series against Australia(when he picked 54 wickets in a span of 16 matches within the same year), he got himself injured in the second test only even while picking up 5 wickets in the first innings. This went quite unfortunate for the Indian team as they lost the series badly to the Aussies.
This injury kept him away from the International cricket for a long time and he was also not a part of the winning squad for the Pakistan tour in 2004.
Zaheer Khan Career Stats
Left-Arm Fast Medium Bowler
Career Batting Stats
Right-Handed Batsman
The Man for the Big Tournaments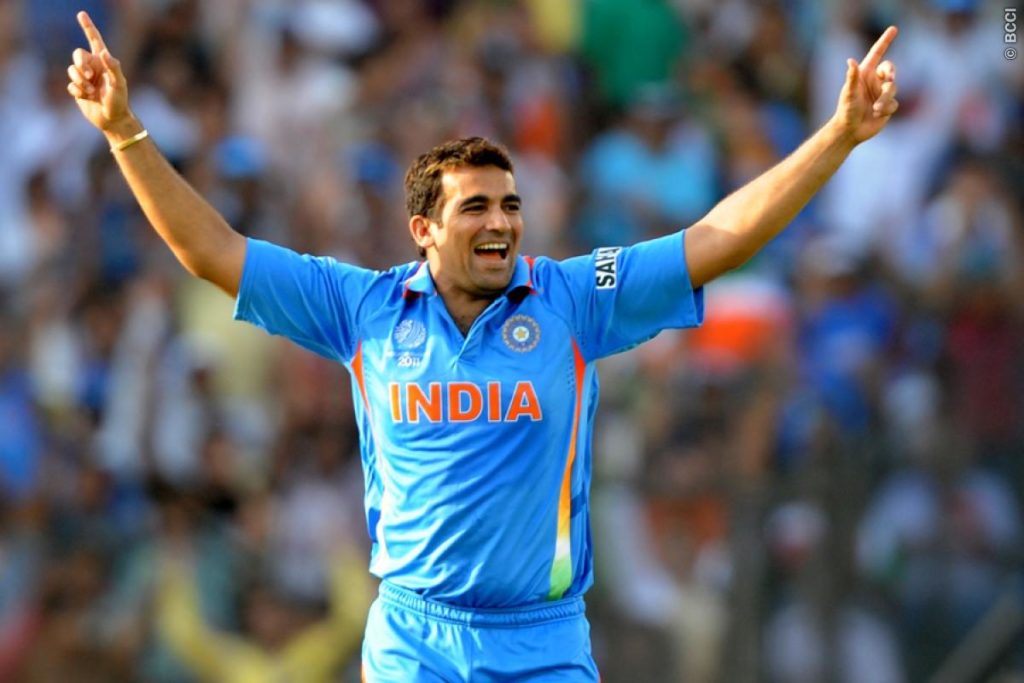 Zaheer Khan Biography :  Zaheer Khan was always been deemed as a special player for a special occasion and he has proved the same effect quite a number of times. Starting from the world cup 2003 till the world cup glory in the 2011, he grabbed 44 wickets which put him the fifth position of the players with the most wickets in the World cup tournament after Glenn Mcgrath, Muttiah Muralitharan, Wasim Akram and Chaminda Vaas. It was quite interesting that two of the other bowlers in the list were also left arm fast bowlers.
Coming to an End to his Prolific Run in the International Cricket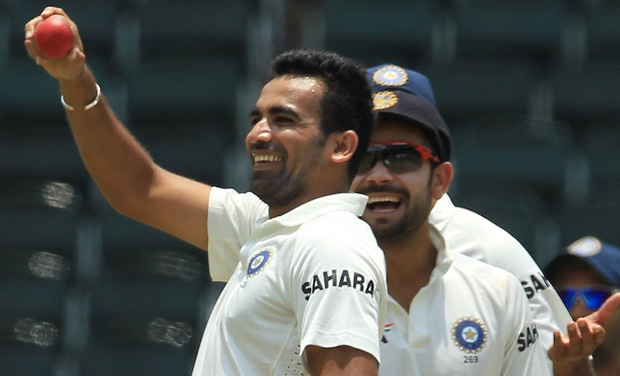 Zaheer Khan Biography : It was during khan's return on India's tour to England in 2011, when he stretched his hamstring within the first match of the series and ruled out of the whole series eventually. Although he made a comeback 6 months later and played a test match against the Australian team in the Boxing Day test match, he wasn't the same Zaheer khan he used to be at his 100%. He delivered in best and pieces ever after that and finally in the year 2015, he declared his retirement from all forms of cricket with immediate effect.
Although he continued his run in the coaching and mentoring role and got appointed as a bowling consultant of the Indian national team in 2017.
Awards and Records in Zaheer Khan's Career
Zaher Khan still holds the record for being the highest scorer whilst playing at number 11 spot for his team against Bangladesh in 2004 when he scored 75 runs in the match.

He was the 4

th

highest wicket taker in the 2003 world cup

He along with Sachin Tendulkar still holds the record for the highest partnership for the 10

th

wicket in International cricket (133 runs)

Whilst playing for the Worcestershire county team in England, he became the first ever player for them to grab 10 wickets in his first match only.

He also got awarded with the Arjuna award by the president of India in 2011.
Personal Life and Getting Married with Sagarika Ghatge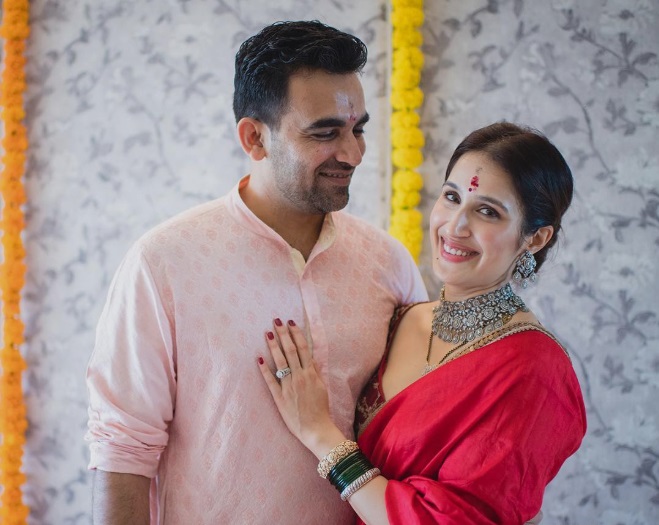 Zaheer Khan Biography : While most of the people have switched onto more modernistic approach in making love around, the love story of Zaheer Khan and CHAK DE INDIA girl, Sagarika Ghatge was no less than a Fairytale for all the love birds around. Even though there were lots of rumors about their alleged relationship in the gossip word around, it was only be confirmed once this power duo made that announcement on the social media after dating for quite a while.
Whilst Zaheer was earlier been connected with names like Isha Shravani and Koena Mitra, all of them shut down after the confirmation made by the couple themselves to their global fans on twitter. Finally after lost of hassle and tussle they both announced about their engagement in 2017 and got married to her within the same year only.
Some Unknown Facts about Zaheer Khan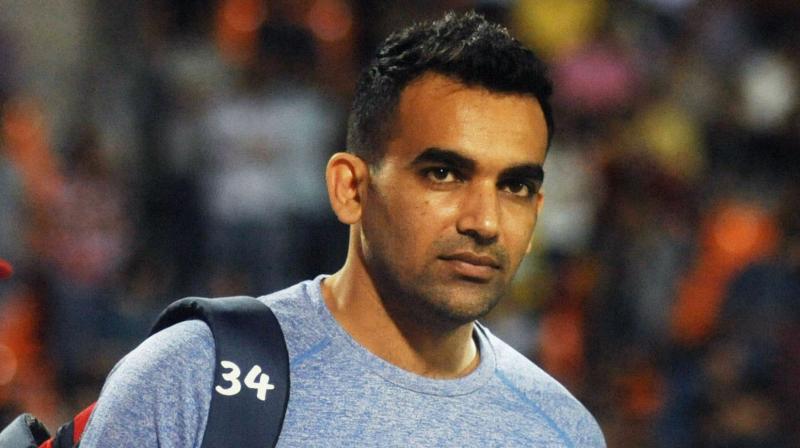 Not many people know that Zaheer Khan was an intelligent engineering student and whilst his coach Sudhir Naik asked him to put his focus on cricket only, he left engineering for the sake of his career

Zaheer has always carried the phobia of flying in planes and it was during his first trip for his Ranji match when he asked his coach to accompany him on the flight

Zaheer dated Isha Shravani for almost 8 years but he later broke up with her on unknown grounds. Later he tied the knot with Indian Bollywood actor Sagarika Ghatge in 2017.

Former South African Captain Graeme Smith has been dismissed for 14 times by Zaheer Khan during his whole career

Zaheer got his name as ZAK after he performed phenomenally for the Worcestershire team whilst grabbing 74 wickets for them in the whole season.

During his IPL stint, khan has played for 3 different franchises namely Mumbai Indians, Royal Challengers Bangalore and Delhi Daredevils
He still stands as the hist wicket taker for the Indian team after the great Kapil dev with 682 wickets in total in both ODIs and Test matches
Controversies During Zaheer Khan's Career
Zaheer Khan Biography : Zaheer Khan has always been the most calmed person on and off the pitch for the Indian team but there have been an instance when this gentleman cricketer has also been surrounded by a list of controversies in his career.
His Affair with Isha Sharvani
Zaheer Khan and Indian actor Isha Shrvani were rumored to be dating each other for a period of 8 long years and even though he was all sure to tie knots with the love of his life, they both broke up suddenly for an unknown reason and that's where Zaheer started dating another Indian actor SAGARIKA GHATGE. They both got married after a relationship of almost two years in a low key affair in November 2017.
Involved in a Heated Moment with the Security Guards
It was during New Zealand's tour of Indian when the Tamil Nadu police filed a complaint against Indian bowling spearhead Zaheer Khan after he involved in a hassle with the security guards at the hotel entrance. It was been said that Khan was not happy with the fact that guards didn't allowed one of his friends to come to his hotel room and that's what led to the whole controversy between them.
Putting his Perspective in the "Chappell Saga"
Whilst everyone from Saurav Ganguly and Sachin Tendulkar were criticizing the role of Greg Chappell during his coaching stint with the Indian team, Zaheer also sparked the controversy by claiming that Greg was no good for any player in the cricket team and it was due to him only that the whole spirit of the dressing room has been disturbed.
Net worth of Zaheer Khan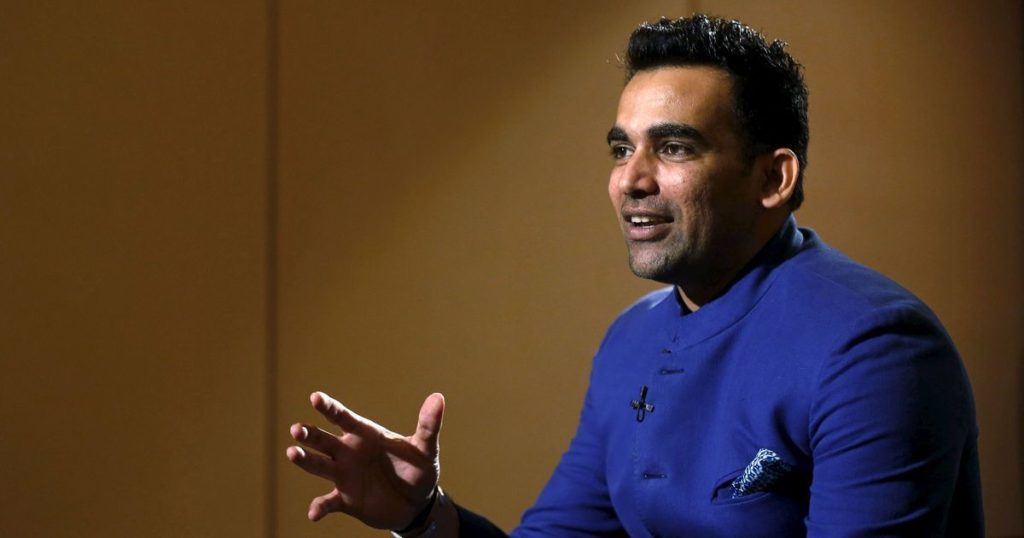 Zaheer Khan Biography : Ever since he took retirement from his playing career, he has mostly been busy with his stint as a cricket commentator and coach. Moreover, his net worth stands at $8 million where most of his money is been coming from his official commitments to his IPL franchisee Mumbai Indians along with his contract with BCCI as a mentor to young bowlers in the domestic circuit.
He has been the brand ambassador of clothing brand "Sher Khan" and also holds a partnership in the same business. He has also started a restaurant under his own name "Zaheer khan's Dine Fine" and also own the fitness chain "Pro-sport Fitness and Services". Apart from that, he had a sports lounge in Pune named ' TOSS' and also done endorsements to various brands like Pepsi, PUMA, Nike and so on.
Also Check: