Ankita Das Biography: Ankita Das is one of the well-known table tennis players from India. Ankita became the only woman to secure a berth in the London Olympics in 2012. At the age of 18, the TT player defeated the national stalwarts Mouma Das & Poulomi Ghatak in creating a cut for the 2012 London Olympics.
EARLY LIFE
Since her cadet days, Ankita Das's growth graph has shown a steady rise. In 2007, Ankita emerged as a national champion leaving behind all age groups & earned a gold medal at the World Cadet Championship. Ankita's big break came when she made successfully made it to the quarterfinals of the 2011 Junior World Championship. Although she has lost many major tournaments but Ankita never let her defeats to crush her energy. After every loss, Ankita took it in her stride & doubled her effort.
PERSONAL LIFE
Ankita Das was born on 17th July 1993 in Darjeeling, Siliguri, West Bengal, India. She was born to Late Asim Kumar Das and Sangeeta Das. Ankita's hometown is Rabindra Nagar in Siliguri. Ankita is the only child of her parents. Her father worked as a Group C field staff in the Tista project. Not only in sports but Ankita is excellent in her studies also. When Ankita was 5 years old, she was diagnosed with major digestion problem. Her doctors advised Mr. Asim to encourage his daughter into any physical activity for a quick recovery. That is when Ankita took up sports under her father's guidance. Her sporting journey started off as a medicinal thing and by the time she was cured, Ankita became addicted to the sport and her father didn't stop to encourage her.
In 2015, Ankita lost her father. In the same year, she became the first Indian woman to earn a gold medal in 44 years of the 20th Commonwealth Table Tennis Championship. The 22-year-old Ankita Das created a history for her homeland. Meanwhile, her father had passed away due to serious blood-sugar problems. She spent most of November in a state of mourning. But Ankita didn't stop her career there and went on to participate in a tournament in Surat and also won the competition with her partner G Sathiyan. Ever since her father's demise, Ankita's mother has been her only support system who helped her both emotionally & financially.
PROFESSIONAL LIFE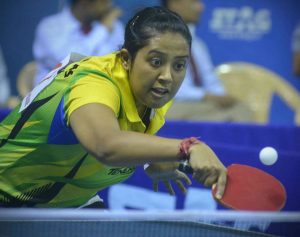 Ankita's family comes from no sporting background. After being put into sports by her father, the little Ankita emerged as a table tennis star in her locality. At a tender age, she managed to achieve a lot of things in her sporting career. Mr. Amit Dam was the first coach of Ankita who guided her in her initial days. She has also trained under Mantu Ghosh and Shubroto Roy. Her table tennis career has taken an excellent turn after she started training under the ex-national champion, Mantu Ghosh.
ACHIEVEMENTS:
LUSOFONIA GAMES
Gold: 2014, Goa
Gold: 2014, Goa
Bronze: 2014, Goa
ASIAN GAMES
STATE & NATIONAL LEVEL PERFORMANCES
2003 – Ajmer Cadet girls singles table tennis – 2 gold medals
2004 – Chennai Cadet girls singles table tennis – Gold medal
2004 – Chennai cadet girls, double table tennis – Gold medal
2005 – Pondicherry Sub Junior girls singles – gold medal
2005 – Shillong Junior girls team table tennis – gold medal
2005 – Senior National Jaipur Women's team – Silver Medal
2006 – Kerala Sub Junior Girls singles – 3 gold medals
2006 – Cuttack Junior Girls Doubles – silver medal
2006 – Senior National Ajmer Women's team – Bronze medal
2007 – National level Indore Junior Girls Singles – Gold medal
2007 – Siliguri Women's National Team table tennis – silver medal
2008 – 70th Junior National Girls Singles – gold medal
2009 – Youth Girls singles silver medal, Junior Girls bronze medal, Junior Girls doubles in 71st Junior National at Raipur, bronze medal
INTERNATIONAL PERFORMANCES
2006 – WJC China Cadet Girls Singles – Runner Up
2007 – WJC Canada Cadet Girls Singles – gold medal
2007 – Cape Town, South Africa Cadet Girls, Asian Team – Gold
2006 – World Junior Circuit – Gold in the team event, a quarterfinalist in singles
2006 – Japan Junior Asian Cadet – participation
2007 – China, WJC, girls singles runner up
2007 – Poland PY Open Cadet Girls – pre-quarter
2007 – New Zealand, WC Cadet Girls – gold
2007 – Korea 12th Asian Under 15 – Bronze
2007 – Goa Open India Cadet Girls – Silver
2008 – US Open Junior Girls – Bronze
India representation in 2009 Kuwait Open and Qatar Open
India representation in 2009 in 15th Asian Junior Table Tennis Championship, Jaipur
India representation in 2009 in Taiyuan Open, ChinaIndia representation in 2009 English Open, Sheffield, England
PERSONAL INFORMATION:
Name: Ankita Das
Nickname: Ankita Das
Sport: Table Tennis
Events: Women's Singles & Team
Country: India
Father's name: Late Asim Kumar Das
Mother's name: Sangeeta Das
Coach: Mantu Ghosh, S Roy, Bhawani Mukherjee, Kuchaski
Height: 5.6 m
Weight: 59 kg (130 lbs)
Plays: Right-hand offensive
Eye colour: Black
Hair colour: Black
Date of birth: 17 July 1993
Age: 26
Birthplace: Darjeeling, Siliguri, West Bengal, India
Zodiac sign: Cancer
Nationality: Indian
Hometown: West Bengal
Residence: Siliguri, West Bengal
Religion: Hindu
CONTROVERSY:
Apart from her glorious performances and achievements, table tennis player Ankita Das has also made headlines when she was crashed out of the London Olympics in 2012.
NET WORTH: 
The primary net worth and income of Ankita Das comes from her sporting profession.
SOCIAL MEDIA HANDLES: 
FACEBOOK- NOT ACTIVE
INSTAGRAM- https://www.instagram.com/ankitadas.93/?hl=en
TWITTER- https://twitter.com/ankita_tt