One of the excellent table tennis players from India, Sharath Kamal Achanta is the first TT player from India ever to become 9 times Senior National Champion after breaking the national record of Kamlesh Mehta who earlier had a record of 8 times.
The Indian table tennis player from Tamil Nadu has earned many titles in his long table tennis career.
EARLY LIFE
Sharath started playing table tennis at the age of 4. As a kid, the player was always short on patience like most of the kids.
He always wished to win & hated to carry losses in his stride.
Defeats frustrated little Sharath which resulted in some serious outbursts.
His uncle helped him deal with his weakness that gradually helped Sharath tackle frustration without revealing it to the opponents.
Kamal started his professional table tennis journey when he was in the 10th standard.
Soon, he started playing at the state level after finishing his 12th board exams.
Right from his schooling days, Sharath used to practice every day.
No wonder he has owned 9 National titles!
PERSONAL LIFE
Sharath Kamal Achanta was born on 12th July 1982 in Chennai, Tamil Nadu, and India. He was born to Achanta Srinivasa Rao and Annapoorna  Rao.
His father & uncle hand held him towards the TT world. They were also his initial coaches.
He was not only guided by them but they taught Sharath the technicalities of the game and built him as a grounded & tough sportsperson.
PROFESSIONAL LIFE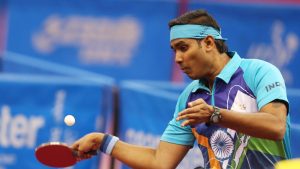 In the year 2008, Sharath became the first Men's table tennis player from India to get qualified for the Beijing Olympics.
He also owns an excellent record in the Commonwealth Games. The player earned a gold medal at the Melbourne Commonwealth Games in 2006.
In 2010, Sharath also earned a gold in the Men's Doubles at the Commonwealth Games held in Delhi.
In 2018, Kamal further added three more medals to his tally at the Commonwealth Games in Gold Coast. At CW, he earned a gold medal in the Men's team discipline, a silver medal in the Men's double event and a bronze medal in the Men's Singles event.
Tamil Nadu based TT player has also represented his country at the 2016 Olympics but Sharath lost in the very first round.
AWARDS
Arjuna Award for Table Tennis in 2004

Padma Shri in 2019
ACHIEVEMENTS
COMMONWEALTH GAMES
Gold: 2006, Melbourne: Men's Singles

Gold: 2006, Melbourne: Men's Team

Gold: 2010, Delhi: Men's Doubles

Bronze: 2010, New Delhi: Men's Team

Gold: 2018: Gold Coast: Men's Team

Silver: 2018, Gold Coast: Men's Doubles

Bronze: 2018, Gold Coast: Men's Singles

Bronze: 2018, Gold Coast: Mixed Doubles
ASIAN GAMES
Bronze: 2018, Jakarta: Men's Team

Bronze: 2018. Jakarta: Mixed Doubles
PERSONAL INFORMATION
Name: Sharath Kamal Achanta
Nickname: Sharath Kamal Achanta
Sport: Table Tennis
Events: Men's Singles
Country: India
Father's name: Achanta Srinivasa Rao
Mother's name: Annapoorna  Rao
Coach name: Dejan Papic
Playing Style: Right Handed, Shake hand and grip
Height: 1.87 m (6 ft 2 in)
Weight: 82 kg (181 lb)
Eye colour: Black
Hair colour: Black
Date of birth: 12th July 1982
Age: 37 years
Birth place:  Chennai, Tamil Nadu, India
Zodiac sign: Cancer
Nationality: Indian
Hometown: Tamil Nadu
Religion: Hindu
CONTROVERSY
Apart from his achievements, awards and performances, the table tennis player from India made headlines when he complained about Asian Games food facility in 2018.
The player raised an issue about not getting a proper meal after three hours of his match. He posted a picture on social media with a plate with bread, muesli and Nutella that he was served with at the end of the match.
NET WORTH OF SHARATH KAMAL ACHANTA 
The primary income and net worth of Sharath Kamal Achanta come from his job as an officer in the Indian Oil Corporation & also his sporting career.
SOCIAL MEDIA HANDLES OF SHARATH KAMAL ACHANTA 
FACEBOOK– https://www.facebook.com/sharathkamal/
INSTAGRAM– https://twitter.com/sharathkamal1
TWITTER– https://www.instagram.com/sharathkamal/