Ankur Poseria is one of the fastest swimmers from India. The Indian-American swimmer once held the top time in the 100m butterfly.
He was considered fast enough to be an Olympian to compete against the top swimmers from other countries.
From the age of 21, Ankur Poseria is acquiring medals for India. From the beginning of his sporting journey, he was poised to enhance significantly.
PERSONAL LIFE
Ankur Poseria was born on 16th March 1987 in Hartville, Ohio, United States.
He studied in the Hoover High School, North Canton in Ohio where he earned a title of multiple-time-All America & Ankur was also a three-time YMCA national finalist.
Ankur finished his graduation in International Public Relations from the University of Southern California in Los Angeles.
The swimmer also faced a lot of hurdles in his athletic journey. Following his parent's divorce, Ankur struggled to seek sponsors to meet his expenses.
He chose to represent India in swimming as he loves his family & culture.
His heart is with India and he has always wished to keep it that way only.
PROFESSIONAL LIFE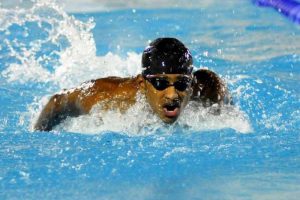 Ankur Poseria was an Indian record holder in the 100m butterfly that was later broken by swimmer Virdhawal Khade at the 2009 Asia Age Group Championships held in Tokyo, Japan.
In 2008, Ankur qualified for the 100m butterfly (men's category) at the Summer Olympics held in Beijing where he was also established as an Indian record holder & cleared the FINA B-standard entry time (53.68).
Poseria even challenged seven swimmers in the fourth heat including Juan Veloz from Mexico, Michal Rubacek from the Czech Republic and Sotirious Pastras from Greece.
The Olympic swimmer has also proudly represented India at the World Championships in 2008, the World Championships in 2007 and the Asian Games 2006.
PERSONAL INFORMATION
Name: Ankur Poseria
Nickname: Ankur Poseria
Sport: Swimming
Events: Butterfly
Country: India
Father's name: NOT AVAILABLE
Mother's name: NOT AVAILABLE
Coach name: Dave Salo
Height: 1.85 m (6 ft 1 in)
Weight: 80 kg (176 lb)
Eye colour: Black
Hair colour: Black
Date of birth: 16th March 1987
Age: 32 years
Birth place:  Hartville, Ohio, United States
Zodiac sign: Pisces
Nationality: Indian & American
Hometown: Hartville
Religion: Hindu
CONTROVERSY
Apart from his achievements, awards, and performances, the Indian-American swimmer has never been a part of any controversy.
NET WORTH OF ANKUR POSERIA   
The primary income and net worth of Ankur Poseria come from his sporting career.
SOCIAL MEDIA HANDLES OF ANKUR POSERIA   
FACEBOOK– https://www.facebook.com/aposeria
INSTAGRAM– NOT AVAILABLE
TWITTER– NOT AVAILABLE